Puerto Vallarta Art Galleries and Culture,
Art Walk, Puerto Vallarta Art Scene, Artists, Crafts, Stores
- Gay Vallarta Mexico Travel
On this Vallarta Art Gallery and Culture page:
Art walk | Bustamante | Corsica | Contempo | Cuale River Museum | Dante art gallery | de Ollas | Galeria Pacifico
Galeria Uno | Malecon walking art tour | Olinala | Omar Alonso | Peyote People | Puerto Vallarta theater | Vallarta culture
Xiutla folkloric dance | Watakame artesanias
Condos & Villas
Gay Vallarta Condos
- Condominiums LP
- Beach condos PB
- Beach condos ED
- 3 bedrooms MDA
- Beach rentals PDS
Vallarta Gay Hotels
Gay Vallarta Villas
- 2 bedroom villas
- 3 bedrooms

Gay Puerto Vallarta
Art Gallery scene
Botanical Gardens
Cafes - internet
Calendar of Events
Community-Charities
Contact Info
Fun - Activites
Gay Bars & Clubs
Gay Beach
Gay Cruises Tours
Gay Links, etc
Gay Vallarta Home
Gyms
Law and Custom
Lesbian Vallarta
Malecon
Map
Marina Vallarta
More Gay Bar photos
More Gay Beach pics
More Malecon photos
More Vallarta Condos
Other Beaches
PV Day of the Dead
PV Sunset
Quick Gay Travel tips
Restaurants
Services
Shopping & stores
Straight Nightlife
Tourist Information
Vallarta Events
Vallarta Gay Pride
Vallarta Photos
Weather

Puerto Vallarta Art Galleries
A good number of fine art galleries in Puerto Vallarta, Mexico showcase many different kinds of indigenous art and crafts as well as many works by contemporary Mexican national and local artists, painters and sculptors, including expatriates. The city's art gallery scene is quite active especially from November through April when the art galleries have occasional cocktail party inaugurations for individual and collective artist exhibitions. There are now some 25-30 galleries and art stores in town. There is also a large amount of quality public artwork to be seen, especially on the downtown malecon with its many sculptures and statues. Listed here are most of the best known Puerto Vallarta art galleries with a number of others thrown in for good measure, please call them for further details and their hours of business. Plenty of articles and up-to-date information on openings and artists, etc, can be found at Banderas News - Puerto Vallarta Art Talk. Also see below on the new Teatro Vallarta Theater and read more about the weekly art walk. These are among the main cultural attractions in town. Gay owned art stores and galleries that I know of are marked with **

Art VallARTa Studio and Classes - South Side / Zona Romantica - 213 Pilitas. Tel: 322-222-6473 ext 104
A relatively new collaborative space featuring the works of the their local studio artists and from around Mexico, as well as a variety of art classes and workshops including fused glass, ceramics, mosaics, painting, pottery, watercolor and live model drawing. Classes for all levels. Offering plein air painting on playa Los Muertos beach each Tuesday morning from 9am-12pm, December to April with instructor Adrian Rojas. Also has an art supplies store with ceramic and glass kilns, pottery wheels, canvases, paints, natural and synthetic brushes, glazes and easels. Also with an art gallery of changing exhibitions by local and international artists. For more information on what's happening visit artVallARTa. Mon-Fri, 10am-4pm; Sat, 10am-2pm

Artesanias Watakame - Central/Downtown - 327 Libertad street. Tel: 322-223-0773
A large selection of Huichol arts: yarn paintings, prayer bowls, alebrijes (handcrafted fantasy figures) from Oaxaca, masks, and beaded sculptures of such revered animal figures as deer, iguanas, turtles and tigers. The owners of this Puerto Vallarta art store have extensive knowledge of arte Huichol, Indian art and their culture. One of the best stores for indigenous native handicrafts or artesanias, and known for its personal attention by Hilda and her family. Mon-Sat, 10am-9pm; Sun, 10am-3pm.

Contempo Galeria - South Side/Old Town - 252 Basilio Badillo. Tel: 322-223-1925 **
One of the newer major art gallery in town, with very contemporary Puerto Vallarta artwork, paintings and bronze statues. Representing well-known and avant-garde Mexican artists such as Cecilia Garcia Amaro, Marilo Carral, Jesus Cantu, Abelardo Favela, Irma Griza, Meg Munro and Lucille Wong. Four new artists have recently joined the talented list at Contempo: Yoel Diaz Galvez (originally from Cuba), Alejandro Mondria, Luis Carlos, and Miguel Lopez Vazquez. An impressive and excellent collection on two levels. Contempo Gallery is located across Basilio Badillo from the Galleria Dante at the corner of Ignacio Vallarta street. Same owner and location as the old Adobe cafe. Friendly and knowledgeable service with owner Rodolfo Choperena Tiemann, who worked at the Dante gallery for 5 years. Mon-Fri, 10am-2pm and 4pm-8pm; Sat 10am-2pm.

Dante Gallery - South Side - 269 Basilio Badillo. Phone: 322-222-2477, Cell: 322-150-5148
The Galleria Dante specializes in original works by contemporary sculptors and recasts of well known bronze statues as well as quite a large collection of paintings. More than 55 artists from throughout Mexico including Hector Buiges, Guillermo Brockmann, Oscar Capache, Gabriel Colunga, Rogelio Diaz, Guillermo Gomez, Jonás Gutiérrez, Juana Cortez Salazar, Rocio Sanchez and gay artists Jean-Gabriel Lambert and Alvaro Zardoni. An eclectic and interesting collection by Claire and Joe Guarniere, two of the more respected members of the local art community. Since 1995. Includes a painting and sculpture garden and fountains. In my estimation among the most vibrant and best of all Puerto Vallarta art galleries. Galleria Dante opening night showings during the winter months, 6pm-10pm. Closed off-season summer months Jun 1-Oct 1, by appointment only. To see more photos and info. Mon-Fri, 10am-5pm, Sat, 10am-2pm.
Demetro Galeria - South Side - 169 Lazaro Cardenas. Tel: 971-201-6998 and 907-344-3344
Offering a multifunctional, working fine arts gallery which owners Jim Demetro and his daughter Christina use for their creative studio, sculpting classes, and displaying the artwork some thirty artists. Located just off the Cardenas Park in Old Town, the Demetro Galeria hosts the works of many talented artists, painters and sculptors including Jose Baldi, Marcia Blondin, Alicia Bueno, Juan Ezcurdia, Francisco Marugan, Ann Rowley and Roberto Vazquez. Jim himself is famed for his many art bronze sculptures around the city including Andale Bernardo, the lovely Vallarta Dancers on the Malecon extension, and The Washer Woman in front of the Molino de Agua condominiums just before the pedestrian bridge over the Cuale River into downtown, to name but three. Mon-Fri, 11am-8pm; Sat, 10am-2pm.
Galeria Browne - Downtown/el Centro - 230-C Leona Vicario. Cell: 322-318-1436 **
Newest gallery in town located in the heart of the art district of downtown. Owners David E. Brown and Santiago Redmond have a mission to connect a variety of talented artists to a wider audience both locally and abroad. Contemporary artists now displaying their works include Adria, Mario Avila, Indira Castellon , Alejandro Cerecero, painter Omar Garcia de Alba, Gabriela Girbau, Josue Jimenez, Ismael Martinez, ceramicist Nora Medina, and Petru Voichescu. The Galeria Browne staff also offers interior design and art curation services, bringing together over 15 years of experience in design and residential art curations. An interesting collection of art. Mon-Fri, 11am-8pm; Sat, 10am-2pm.
Galeria Corsica - Central - 756 Guadalupe Sanchez at Leona Vicario. Tel: 322-223-1821, 322-128-1467 **
Contemporary fine Mexican art exclusively, with one of the largest and more impressive collections of paintings, sculpture and art objects in town. Representing such artists as Ada Colorina, Manuel Felguerez, Ana Fuentes, Rosario Guillermo, Ulices Licea, Diego Luz, Jorge Marin and Fabio Shiro among many others. Founded by partners Jean Pierre Renucci and Jose A. Villavicencio in 2002 and "dedicated to the promotion of contemporary Mexican artists". Galeria Corsica galleries also in Punta de Mita and San Jose del Cabo. To see more info and pictures. Mon-Sat, 10am-9pm, except Weds open until 10pm.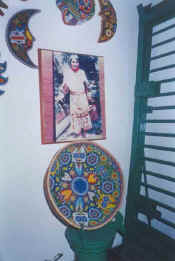 Galeria Indigena - Central - 628 Juarez. Tel: 322-223-0800, 322-222-3007
PV art store with an extensive collection from various indigenous cultures of Mexico: dance and ceremonial masks, handcrafted Oaxacan black clay pottery by Zapotec indians, unique Day of the Dead items in ceramic and paper mache, sacred Huichol Indian bead and yarn work, hand blown glass, Nahua Indian lacquer art from Guerrero, religious arts and figures, majolica pottery from Tlaxcala and talavera ceramic pieces from Puebla with some 800 designs, Mata Ortiz pottery, as well as extraordinary bark paper etchings by internationally-known Nahua artist Nicolas de Jesus. The Indigena gallery is one of my personal favorites for gifts. More info and many photos. Mon-Fri, 10am-8pm; Sat, 10am-6pm; Sun, 11am-3pm.
Galeria de Ollas - Downtown/el Centro - 176 Corona. Tel: 223-1045
Beautiful Mexican pottery from the village of Mata Ortiz in the state of Chihuahua, Mexico (see two photos at page bottom) made in the same manner as the inhabitants of the ancient city of Paquime 500 years ago. These beautiful polychrome ceramics with their meticulously crafted designs reflect much of the pre-Columbian culture's mythology, with modern designs and style, and the Galeria de Ollas (since 1998) has a great selection, some of the best in town. Mon-Fri, 10am-2pm and 4pm-7pm; Sat 10am-2pm.
Galeria Omar Alonso - Central - 249 Leona Vicario. Tel: 222-5587 **
This gay-owned Puerto Vallarta art gallery has mainly dedicated its space to antique and contemporary photography, engraving and sculpture. Photos and pieces have been displayed by artists such as Anderson & Low, Flor Garduño, Gabriel Figueroa, Michal Macku, Rodrigo Moya, and Luis Gonzalez Palma from Guatemala, one of the most successful Latin American photographers today. Galeria Omar Alonso is across the street from restaurant Cafe des Artistes. Mon-Fri, 11am-9pm.
Galeria Pacifico - Downtown - 174 Aldama, 2nd floor. Tel: 222-1982
One of the leading Puerto Vallarta art galleries since November 1987. Mexican art with an emphasis on local painters such as Marco Alvarez, Hugo Barajas, Brewster Brockmann, Alfredo Langarica, David Leonardo, Laura Rubio, and sculptor Ramiz Barquet (1920-2010), whose splendid work "Nostalgia" is one of the main pieces on the malecon. Another of Barquet's statue, "El Pescador" (the fisherman), can be found in the little square on Insurgentes Street near the main municipal/flea market. Galeria Pacifico is recommended by Frommer's and Fodor's guides to Mexico as among the best in the country. Sculpture, paintings, graphics and posters. Respected owner Gary Thompson. See below for details about the walking art tour of the malecon sponsored by the Pacifico gallery. Mon-Sat, 10am-8pm.
Galeria Uno - Central - 561 Morelos. Tel: 322-222-0908
Now with over 40 years at the same downtown location, Galeria Uno is the oldest Puerto Vallarta art gallery. Showcasing works by over forty famous Mexican and international artists such as Manuel Adria, Alejandro Colunga, Francisco Curiel, Alberto Fregoso, Raymundo Gonzalez, Stefan Lokos, Manuel Martinez, Luz Elena Moreno and Jesus Lopez Vega, to name just a few. An eclectic and fine collection of paintings, posters, graphics and sculptures; Galeria Uno is recognized as one of the best and most interesting galleries in the city. Established in 1971. Mon-Sat, 10am-8pm.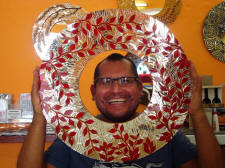 Galerie des Artistes - Central - 248 Leona Vicario. Tel: 322-223-0006, 113-0265
Decorative items, art and Mexican antiques. A nicely displayed collection of paintings and sculptures represented by Diego Rivera, Rafael Coronel, Feliciano Bejar and Evelyn Boren, among other traditional and modern artists, including famed local painter Marta Gilbert. Located across the street from the highly-acclaimed Vallarta restaurant Café des Artistes. Mon-Sat, 11am-11pm.
Muy Guapo Vallarta - Old Town - 310 Venustiano Carranza. Tel: 322-100-0405 **
Showcasing the color and sophistication of old and new art from Mexico and Latin America. Mid-century and contemporary fine art, vintage textiles of varied sizes and periods, antique Mexican folk handcrafts, decorative pillows, leather goods, vintage and contemporary pottery and wood crafts, 19th century devotional art as well as beautifully framed prints and maps. Gay-owned by Enrique Zepeda and Richard Parkman, who moved to town in 2011 to open Muy Guapo so that he could combine his passion for Latin American art with a keen decorative eye. Closed from June to October. Mon-Fri, 10am-4pm
Olinala Gallery - South Side/Romantic Zone - 274 Lazaro Cardenas. Tel: 322-222-4995, Cell: 322-121-3576
Opened in 1978, Olinala is the most established and oldest folk art-ethnographic gallery in PV, with some contemporary art as well. The masks in their fine collection are ritual objects that have been worn in ceremonial performances from various ethnic groups in Mexico, many from the southern states of Michoacan and Guerrero. They embody the magic, mysticism and religion of the cultures which produce them to define the fervor and vigor of their respective communities. Over the years Galeria Olinala has had high ratings in respected travel guide books such as Fodors and Frommers. Owned by well-known local sculptor Brewster Brockmann. Mon-Fri, 10am-5pm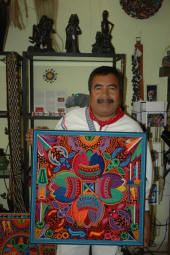 Peyote People - Centro - 222 Juarez and South Side - 259 Basilio Badillo. Tel: 322-172-3937, 322-222-2302, 322-222-6268
Fine selections of Huichol yarn paintings and the bead art of these indigenous peoples of the Sierra Madre Mountains in Western Mexico. Peyote People is a fair trade co-operative gallery/museum based in Puerto Vallarta that provides most of the carvings to the artists, as well as new iridescent glass beads that are imported exclusively into Mexico for their craftsmen to use in their ethnic folk art and crafts. Visit Peyote People for a good read into the people, culture and the Huichol Indian ceremonial cycle. This page at Mexconnect Huichol people, culture, symbolism, art has very extensive info and links. Peyote People features such artists as Santos Bautista, Hilaria Chavez Carrillo, Luis Castro, Santos Daniel Carrillo Jimenez (see photo left), Mario Moreno, Neikame (Jose Carrillo Morales), Pedro Mendoza, and Luis Ruiz Ramirez. Friendly service at Peyote People - Huichol Indian and Folk Art (facebook) with Kevin Simpson and staff. Mon-Fri, 10am-8pm; Sat, 10am-6pm.
Sergio Bustamante Gallery - Downtown - 275 Juarez. Phone: 322-223-1405, 322-222-8321 **
Modern sculpture and original jewelry by one of Mexico's most famous living sculptors. Life-size animals done in bronze, ceramic and paper mache. Since 1975. Bustamante has several large public art sculptures on the Vallarta Malecon boardwalk. Also with art galleries located in Mexico City, Cancun, los Cabos and Guadalajara. Mon-Sat, 11am-7pm
Sheol Art Gallery - el Centro - 726 Morelos. Tel: 114-1069, Cell: 044-322-229-8560
Now closed, alas. Located one block up from the Malecon boardwalk in a hacienda-style house with outside gardens, Sheol is one of larger galleries in town with approximately 750 pieces exhibited. A significant assortment of artwork from Mexican artists, many of whom have international reputations such as Sergio Bustamante, Raul Fombona, Hector Massiel, Rodo Padilla, Carlos Vega, Yuri Zatarain, and Ana Lilia Zepeda among others. Private collections from Mexican art collectors such as Jose Eduardo Gomez, Pedro Delgado and Lupita Covarrubias are also on display. Paintings, sculptures, objects and exclusive jewelry. Friendly service with owner Jose Eduardo Gomez, who is happy to give advice and info on any of the pieces. More info and photos. Mon-Sat, 11am-2pm and 5pm-9pm
The Loft Galeria - Central - 176-A Corona, upstairs. Tel: 222-6353 **
Unique works at the Loft Gallery by Carmen Alarcon, Javier Arevalo, Marianela de la Hoz, Rodolfo Morales, Norma Pardo, Fernando Sandoval, Francisco Toledo and many other fine artists. Contemporary paintings, sculpture, photography and works on paper by emerging, mid-career and recognized masters of The Americas. Established by Ruben Cham and John C. Strawn. Independent art dealer and advisor John Strawn will assist individuals and corporations in developing and rounding out their collections. Mon-Fri, 11am-6pm; Sat, 11am-3pm.
Briefly, here are quite a good number of the other art stores and galleries in Puerto Vallarta: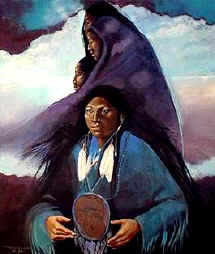 Angeline Kyba Studio - Gringo Gulch - 635 Cuauhtemoc street. Tel: 322-147-0955, 322-222-4238
Long-time Vallarta resident and painter Angeline Kyba has a studio/gallery exhibiting her latest work open to visitors by appointment only. Her work has been shown and collected in Canada, Germany, Great Britain, Mexico and the USA. Her portrait Carmen was used in the National Geographic/Hampton Brown publication Edge, and is now in its second printing. Visit her website Angeline Kyba to see her art work and for further information. Mon-Fri, 12pm-7pm
Atelier 2020 - Downtown / Centro - 226-B Leona Vicario. Tel: 322-103-6095
Combination gallery and workshop (atelier) for printmaker and owner Petru Voichescu, who along with his artist-friends present their exciting techniques and art works. The space focuses on contemporary abstract art: collages, works on paper, prints, paintings, mixed media and glass sculptures. Petru Voichescu has received a number of awards and has had exhibitions primarily in Canada and Mexico. Visit the website for Atelier 2020 to see work and for further info also check them out on the facebook page. Tues-Fri, 11am-8:30pm; Sat, 11am-2pm
Caballito de Mar Galeria - Central / Downtown - 424 Hidalgo. Tel: 322-129-5209, 322-113-0363
A curated fair-trade collection of Mexican ceramics, graphic arts, textiles, as well as antique and vintage jewelry. The graphic art collection includes lithographs, woodcuts, linocuts; woodblocks by Mario Guzman Olivares from Oaxaca. Artisans represented include Hector Aguilar, Elena Felix, Enrique Ledesma, Hilario Alejos Madrigal, Jose Martinez, Jainite Silvestre and Margot de Taxco. Talk with friendly owner Gloria. Check out many more details at the Galeria Caballito de Mar website. Mon-Fri, 10am-6pm; Sat, 10am-3pm
Kathleen Carrillo Galleries - Old Town - 325 Constitucion street. Tel: 322-222-9879, Cell in USA: 1-858-261-8129
Originally from California, Kathleen Carrillo resides in the jungles just outside of town where she runs an art retreat center and studio with her husband, writer Andrew Marcus. Carrillo has a masters degree in fine art specializing in painting and printmaking from the University of Oklahoma, has been painting for over 30 years, and has some national and international acclaim. Showcasing paintings, giclee prints and painted sculptures. "Celebrating the colorful magic of life." Further info see website Carrillo galleries
Colectika - el Centro/Downtown - 858 Guadalupe Sanchez at Allende. Tel: 322-222-1007, 322-222-2302
The Mexican Ancestral Contemporary art Gallery Colectika, from Kevin Simpson and the kind people at Peyote People, is for the newer generation of artists and their folk art in a new space where they hope that you will look at some very old traditions in a whole new way. Colectika features alibrije wood carvings of Jacobo and Maria Angeles (from Oaxaca), carvings and paintings by Julia Fuentes, wool rugs by Jacobo Mendoza, painting and ceramics by Demetrio Aguilar, as well as the traditional and lovely high quality Huichol bead and yarn artwork. For much more Colectika folk art photos and info. Mon-Fri, 10am-8pm; Sat, 10am-6pm
Cuale River Museum - Rio Cuale Island, West end. Tel: 322-222-1007
On the Cuale River island this small museum traces the pre-Hispanic cultural history and art of this part of western Mexico from as far back as 5000 BC. The museum showcases some of the pottery and other objects found at the Ixtapa Archeological Zone along the Ameca River. Free. No pets, food or pictures. Tues-Sat, 9am-2pm and 3pm-6pm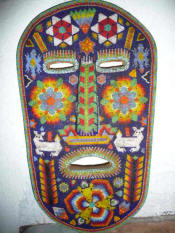 Galeria Alpacora - South Side/Old Town - 232 Ignacio Vallarta. Tel: 322-222-4179
Art store with a wide selection of arts & crafts, baskets, Alpaca clothing, jewelry, altarpieces, gourds, sculptures, wall hangings, exquisite Mata Ortiz pottery, textiles and mirrors. Most items are meticulously handcrafted in small workshops or by individual artists. More than 14 years at the same location. Across the street from the gay bars Mr. Flamingo and Paco's Ranch. Recommended. Mon-Sat, 10am-6pm
Galeria Internacional - Marina Vallarta - Locale #7, Marina Las Palmas 1. Tel: 322-221-0267
International art, jewelry, Shona stone sculptures, and decor with some unique items from all over Africa. Mon-Fri, 10am-8pm; Sat, 10am-6pm; Sun 12am-4pm
Galeria Nativa - South Side - 268-B Francisco Madero.
Authentic native Indian art: hand painted gourds, ceremonial and contemporary masks, figures, Huichol Indian art.
Galeria Robles - Downtown El Centro - 400 Juarez. Tel: 999-453- 4513
Exhibiting the paintings of Michael Tolleson Robles, a recognized autistic savant artist, whose works of art are based in powerful colors and emotion. Galeria Robles has recently remodeled the PV upstairs art gallery space into a fine dining cuisine restaurant, D' Cortes. Check them out. With two locations in both Merida in the Yucatan and Puerto Vallarta. Mon-Sat, 9am-10pm; Sun, 11am-6pm
Historical Naval Museum - Downtown - 4 Zaragoza street. Tel: 322-223-5357
Operated by the Government of Mexico since November 2006, this is one of only 4 such Navy museums in the country that presents the nation's maritime history. The Historical Naval Museum features cartography, navigation instruments and charts, images, and scale models. Free guided tours, audio-visual hall, gift shop and cafeteria upstairs. Located adjacent to the Los Arcos Amphitheater near the Vallarta downtown main plaza. No charge, free. Tues-Fri, 9am-7:30pm; Sat-Sun, 10am-7:30pm
MannMade Mexico - El Centro / Downtown - 672 Guadalupe Sanchez. Tel: 322-182-7453
A modern design gallery for the home where art is presented in a salon style environment. Mann Made Mexico is located on the famed Guadalupe Sanchez street where artists and art galleries are the staple. Owned by part-time resident and enthusiast of all things Vallarta, the designer Louise Mann. A selection of unique furniture, lamps, lighting, pendants, fixtures, chairs, sconces, tables and others all designed and made in Mexico. Also with ongoing exhibitions in every media. Mon-Fri, 11am-5:30pm; except Weds, 11am-10pm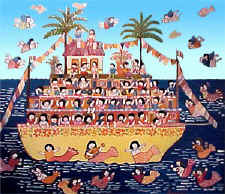 Manuel Lepe Museum - South Side - 485 Jacarandas at Francisca Rodriguez. Tel: 322-222-4255, 322-294-0530
The house where famed Vallarta painter Manuel Lepe, 1936-1984, lived (see photo of his art at left) now showcases some of his fine works, as well as photographs and reviews. Guided tours of Lepe's workshop now preserved as a Vallarta museum and gallery are offered by appointment. Also providing cultural workshops and painting for children. Admission. Mon-Fri, 3pm-9pm
Mata Ortiz Art Gallery - PV Airport Duty-free Shop, Locale 78-A. Tel: 322-221-0467
Enchanting and splendid Mexican pottery from the village of Mata Ortiz at the Puerto Vallarta airport duty-free area. Daily, 9am-7pm
Red Gate Gallery - South Side - 288-B Lazaro Cardenas street. Tel: 322-197-5740 **
Check out the hand-made, unique selections of pottery, jewelry, ceramics, wall art and other treasures. Red Gate Gallery is located in the heart of Old Town near the corner of Constitucion and Cardenas streets, a few doors down from Los Muertos Brewing Company and the restaurant Tre Piatt. Pottery by Marie Fenez, Joan Kagan, Paul Kirkpatrick, Kirk Rowe and Debra Kent, as well as oil and acrylic paintings by local artist Anastacio Vargas. Their studio is equipped with 3 wheels, a slab roller, many glazes and a kiln for the firings. Red Gate Gallery (facebook), with friendly owners Paul and Kirk, has limited pottery classes and studio artist times available. Mon-Sat, 10am-3pm
Talavera Etc - South Side / Old Town - 275 Francisco Madero street. Tel: 322-222-4100
For some 30+ years, Talavera has offered a wide selection of fine traditional quality Poblana Talavera pottery from workshops in Puebla, hand-painted murals and ceramic tiles, dinnerware sets and jewelry boxes. Talavera Etc handcraft collections includes dolls, angels, masks, Oaxaca woodcarvings, Day of the Dead and other unique folk-art pieces from around Mexico. Mon-Fri, 10am-5pm; Sat, 10am-3pm
Tierra Huichol - South Side - 246 Olas Altas street and Downtown - 592 Paseo Diaz Ordaz. Tel: 322-113-0323, 322-222-9953, 322-779-7718
A nice selection of Huichol artworks, yarn paintings, handcrafted wax-and-bead figurines and masks, and Catrina dolls at decent prices. The Tierra Huichol store downtown apparently has a time-share component to the sales, while the Old Town shop on Olas Altas street does not. You may also on occasion meet or watch some of the local artists at either of the Tierra Huichol stores working on these intricately detailed pieces, which is a real treat. The staff in the Romantic Zone shop were helpful and knowledgeable when I have visited. Daily, 9am-10pm
Travel Note: Unfortunately the Great Recession has not been kind to some of Vallarta's art galleries such as Ambos, Ana Romo, Arte 550, the Jalisco Institute of Handicrafts, 8 y mas, Galeria A.L. Arte Latinoamericano (which had been around since 1998), Artesanias Flores, Galeria Colibri, Galeria Corona, Lucy's Cucu Cabana Puerco Azul, PV Santana, and gay-owned galleries T. Fuller Fine Art, Galeria Sol y Luna, La Pulga, Miralo, and Quadro, among others, who have had to close their doors these past few years. A number of new ones including Colectika, Contempo Galleria, Demetro Gallery, Galeria Rodo Padilla, Sheol and the Tierra Huichol have come along to add to the active, colorful and lively art and culture scene in Puerto Vallarta. It should be noted that the information in this Gay Travel Guide was considered accurate when posted but changes can and do occur, so you may want to confirm details directly with the businesses in question before planning your time out and around town.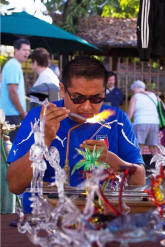 Art Studios/Individual Artists
Ada Colorina Studio & Art Gallery - Colonia Paso Ancho - 242 Felipe Angeles. Telephone: 322-122-0108
Located on the outskirts of town in the Paso Ancho neighborhood up the Cuale River. Best to call beforehand to make sure she's in. Check out the facebook page of Ada Colorina for further info and photos of her art work. She is represented in town at the Corsica Gallery. Mon-Fri, 10am-5pm
Cristi Fer Art Studio and Workshops - Downtown - 776 Juarez - Tel: 322-153-1906
Since 1989 at the home of artists Cristiana Mar and Fernando Gonzalez. Recognized and collected painters with "an innovative approach and experimental attitude." To maintain a fresh touch to their work their topics expand from realistic, magic realism, expressionistic to abstract. Workshops and private classes focused on technique, composition or drawing. More info here.
Javier Nino - South Side - 322 Lazaro Cardenas. Tel: 322-222-0800, Cell: 044-322-131-4895
His workshop of dreams/fabrica de suenos has for many years been in the Romantic Zone. Mon-Sat, 10am-9pm
Jose Marca Taller/Studio & Gallery - South Side - 326 Lazaro Cardenas. Tel: 322-222-3748
Artist Jose Marca has lived in the city since 1971 and has a unique personal style. Mon-Fri, 9am-2pm and 4pm-8pm; Sat, 10am-4pm
Mara Diaz - Cell: 322-124-0780 or 322-159-0561
Paintings and murals, hand-painted lamps, furniture, unique pieces and accessories. "A concept full of life, color, happy passion and above all, personality." Further info at her Facebook page or contact via Email at mara.diaz@hotmail.com
Meg Munro Studio - Colonia 5 de Diciembre - 1225 Ecuador. Tel: 322-223-1142
You can call for your private viewing of Puerto Vallarta artist Meg Munro at her studio. Weds, 10am-7pm. A local resident for over 25 years, she has recently started exhibiting her watercolors at the Contempo Galleria.
Special Notes - Vallarta Art and Puerto Vallarta Culture & Cultural Attractions

Act II Entertainment/Stages - Romantic Zone - 300 Insurgentes street, upstairs. Tel: 322-222-1512
Theater, cabaret and piano bar. Vallarta's new theater company, with the mission of providing to "Puerto Vallarta residents and visitors the opportunity both to attend and to participate in quality theatrical and musical productions. We strive for community inclusion and excellence in all aspects of production, with the goal of developing local talent to the maximum extent possible, as well as presenting national and international performers." Another significant cultural asset by the local straight and gay community. Their annual programming includes: Main Stage musicals and plays, Red Room cabaret shows, and the Encore piano bar. The 2014-2015 season includes: Luna Rumba world class fusion, Jan-Mar; Broadway Baby starring Miss Conception, Monday at 7:30pm; Kim Kuzma every Sunday at 7:30pm and every Weds at 9:30pm; Dame Edna, Dec 27-Feb 14; the extraordinary play Equus by Peter Shaffer, Weds-Sat at 8pm; Forever Plaid the heavenly musical, Feb 26-March 14; The Voice of Vallarta, presenting some of the town's best vocal talent, every Sunday at 8pm, Dec 7-Apr 12; Forever Elvis with Rob Knight; Divas, a one woman show with Bonnie Kilroe, Feb 27-Mar 10; and also Banderas Bay Jazz all stars, Jason Brock, the Golden Girls live, Lorna Luft, Joelle Rabu, The Kinsey Sicks and many others. Act II is located at 300 Insurgentes Street at Basilio Badillo on the South Side, 2nd floor and above Wing's Army restaurant. Check the Act II facebook for plenty of info. Box office daily, 11am-10pm.
Art Walk Puerto Vallarta downtown 2022-2023
The ever-popular Old Town Art Walk this year (27th anniversary year in 2023) has 16 participating Puerto Vallarta art galleries and workshops which host complimentary cocktail receptions and expositions on Weds nights from 6pm-10pm during the high season winter months starting this year October 26, 2022 until June 28, 2023. People will wander from gallery to gallery in search of art, conversation and the perfect glass of wine. This is undoubtedly a good way to meet some local Vallarta artists, see plenty of superb paintings, ceramics and fine sculptures, have an interesting evening out, and perhaps even make a few new friends. The galleries participating this past year or two include: Colectika, Cristi Fer Art Studio and Workshops, Diseno Natural, Emotions by Corsica, Galeria Browne, Galeria Corsica I and II, Galeria de Ollas, Galeria Pajaro Rojo, Galeria Robles, Jovian, LOD, MannMade Mexico, Only One Jewlery, Pacifico Gallery, Posters International, Sergio Bustamante Gallery, The Loft Galeria, and Uno Gallery. Look for a map around town, at your hotel or in participating galleries. Main info here for this important city cultural activity: Vallarta Art Walk map. The ArtWalk Association also recommends the splendid Cafe des Artistes restaurant for your dining pleasure while out and about in the Historic Center.
Cuale Cultural Center
Located at the east end of the Cuale River Island, past Le Bistro restaurant and the statue of John Huston and among many big beautiful trees is the rather secluded Puerto Vallarta Cuale Cultural and Art Center, where popular daily artistic activities include sculpture, painting and music lessons, storytelling and modern dance workshops. Apparently there are also 3 city groups open to the general public: theater, choir and dance. Tel: 113-0107, 223-0095
Incanto Cabaret and Piano Bar - Old Town - 109 Insurgentes street. Tel: 322-223-9756
Incanto cabaret, piano bar and cafe, owned by long-time local Tracy Parks (who used to run the entertainment at cabaret bar The Palm) is the newest entertainment hot spot in town, featuring music, theater, comedy and literary events. Opened in early 2017, entertainers so far have included group Azucar, Alberto Cuevas, David Hernandez, Chris Kenny, Moelle Jazz Quartet, The Joanie Show with Joan Houston and musical director Bob Bruneau, and bingo with Pearl. Incanto Vallarta takes its name from the charming and elegant setting along the Cuale River that divides downtown from Old Town. Breakfast/brunch, 9am-2pm; Happy hour with available small bites, 2pm-6pm; Evening dinner, Tues-Sun, starts 4pm. For more info & pics. Daily, 9am-11:30pm
South Side Shuffle - Old Town. Tel: 322-222-9734
Started in 2010, the South Side Shuffle along Basilio Badillo and Constitucion streets is something of a street party every Friday night at 6pm-10pm during the winter season, from the end of November until the beginning of April. Local merchants are out in force displaying their jewelry, clothing and fashion items, art work, food and live music. The area is bustling as people roam the streets and businesses hawk their wares. Participating restaurants and stores include such local notables as Ambos Galeria, Banderas Bay Trading Co., Kathleen Carrillo Galleries, Lucy's Cucu Cabana, Cassandra Shaw Jewelry, Tonalli Tienda, Peyote People, Di Vino Dante and Galleria Dante. Fridays, 6pm-10pm
Walking Art Tour of the Puerto Vallarta Malecon
Galeria Pacifico sponsors a Public Sculpture Walking Tour that starts at 9:30am every Tuesday at the Millennium sculpture near the Hotel Rosita at the north end of the PV Malecon. You might be able to meet some of the sculptors of the statues, such as Mathis Lidice and Jim Demetro, and hear them speak about their work along the mile-long malecon. Owner Gary Thompson acts as your guide and talks about the present local art scene, and Kevin Simpson of Peyote People also speaks on the significance of the Huichol Indian depictions on the new boardwalk promenade. The Walking Art Tour every Tuesday, 9:30am-11:30am, starting Nov 13 through April. Free, no reservation. For further info call Pacifico Gallery, Tel: 222-1982
Puerto Vallarta Artists Open Studios
As Alex Gomez reported in the PV Scene Puerto Vallarta Artists Open Studios, from January through March a dozen local artists were allowing guests to visit them in their studios so they can be observed working at their art. Artists included Ada Colorina, Rogelio Diaz, Angeline Kyba, Fernando Sánchez and Irere Topete. Open studios were from 10am-10pm on January 23-24, February 20-21 and March 20-21.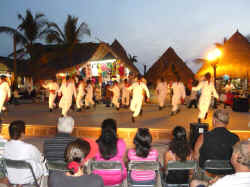 Puerto Vallarta Theater / Teatro Vallarta - 5 de Diciembre/Downtown - 184 Uruguay. Tel: 222-4525, 222-4517, 222-4475
Theater Vallarta recently opened in March 2010. The auditorium of the Puerto Vallarta performing arts center has a seating capacity of around 960 people and has/will put on mainstream and avant-garde productions and presentations by Fandango, Vienna Strauss Orchestra, Get Back! Beatlemania, Presidance, Don Quixote by the Bolshoi Ballet, 3 Tenors, Bajo Cero, Jesus Christ Superstar, European Cabaret, Yuri, Snow White and the 7 Dwarfs, and a variety of other cultural activities. There's also Close Up Vallarta an International Festival of Video Creation, with categories of video art, performance, and experimental shorts. An offshoot of the Puerto Vallarta Theater will be a non-profit school which will promote art, dance, music and culture among children through its Fandango Foundation. Teatro Vallarta is located across from Ley supermarket, between Avenida Mexico and Peru street. Tickets are available at the box office: Mon and Tues, 11am-7pm and Weds to Sun, 11am-9pm. For further info visit Puerto Vallarta Theater/Teatro Vallarta for current and coming concerts, spectacles and dance.

Xiutla Folkloric Dance & Ballet
Now in their 20th year. During the winter months the Xiutla Folk Dance troupe performs January through mid-April at Lazaro Cardenas Park on the South Side on Friday nights at 7:30pm (photo just above & to the right) and at the Los Arcos Amphitheater on the Puerto Vallarta malecon boardwalk Sunday evenings at 8pm. Further local info on the Xiutla Ballet can be found here at Visit Vallarta's Xiutla Folkloric Dance & Ballet Troupe and also at the Puerto Vallarta Scene -Xiutla Folkloric Ballet where there is a nice video from YouTube of them performing the Bolero de Rabel at Los Arcos amphitheater during the Art Festival in May. Don't miss these exciting dancers. The folkloric dance group has traveled and toured throughout the Americas, from Brazil to the USA and Canada, as well as in Europe. Xiutla was the first name of Vallarta and means in Náhuatl "the Place where the Vegetation grows".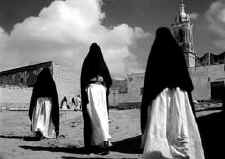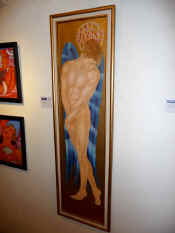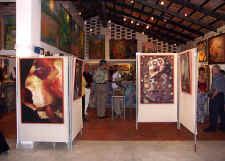 G. Figueroa photo at gay-owned Omar Alonso gallery; artist David Leonardo painting Galeria Pacifico; Dante gallery art scene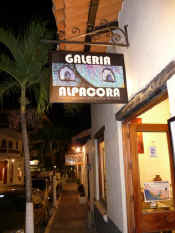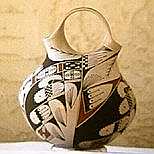 Mata Ortiz pottery pieces from Galeria de Ollas; Galeria Alpacora art store during Vallarta art walk (middle photo)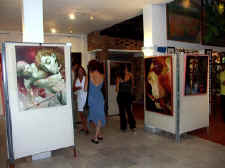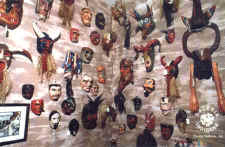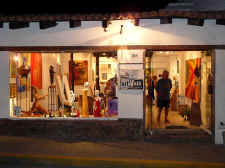 Galeria Dante artwork opening; traditional masks in Galeria Indigena; Art walk the Corona gallery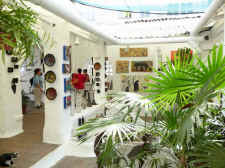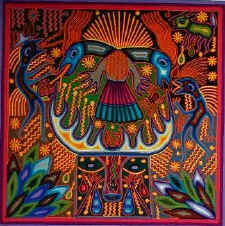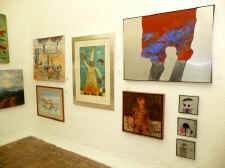 Vallarta Galeria Uno; Huichol yarn painting artesanias by Jose Benito Sanchez; contemporary paintings at gallery Uno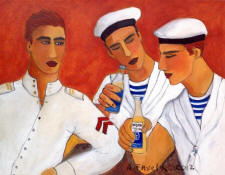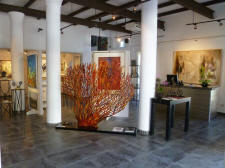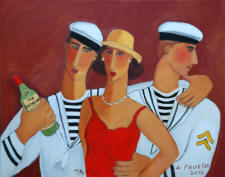 The excellent Puerto Vallarta, Mexico art gallery, Galeria Contempo, gay-owned;
Amigos (left) and Trio (right), by Mexican artist Abelardo Favela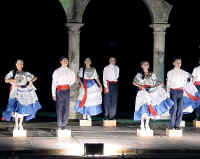 Xiutla folkloric ballet performing at Los Arcos/The Arches downtown
(picture thanks to the Vallarta Online staff)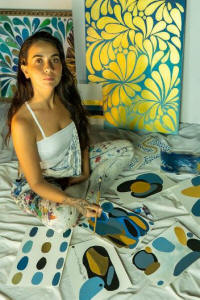 Local artist Mara Diaz, Dec 27, 2019
For further info & photos here at her Facebook page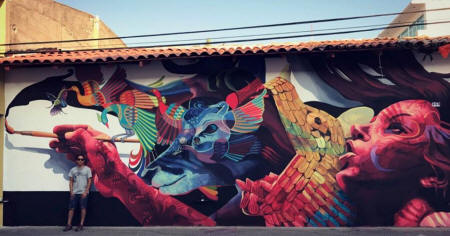 The splendid street-side facade art work from the Colectika Mexican folk art gallery
Many thanks to Kevin and Peyote People for this art work and the photo
Gay Puerto Vallarta Art, Culture & Craft Pictures
Vallarta Art & Culture photos II

"Never ask God to give you anything; ask him to put you where things are." - Mexican proverb
---
top of page | Andale condos AND | restaurant photos | 7-11 bedroom villas | PV photos 2 | Gay Puerto Vallarta guide
important phone numbers | guadalupe celebrations | gay bar photos 2 | 5-6 bedroom villas | gay beach pics 2
photos nightlife | whale watching tours | Torre Malibu apartments BTM | Email contact