Gay Puerto Vallarta Villa Vacation Rentals -
Five & Six Bedroom Villas Beachfront and Ocean View
To view photos of the villas listed below, and for additional villa information and prices, click on the reference number after the Puerto Vallarta villa description. Please allow time to download the pictures. Most of these villas are within a short taxi ride or walk to the lively gay bars & clubs and the world-renowned Blue and Green chairs of the Vallarta gay beach.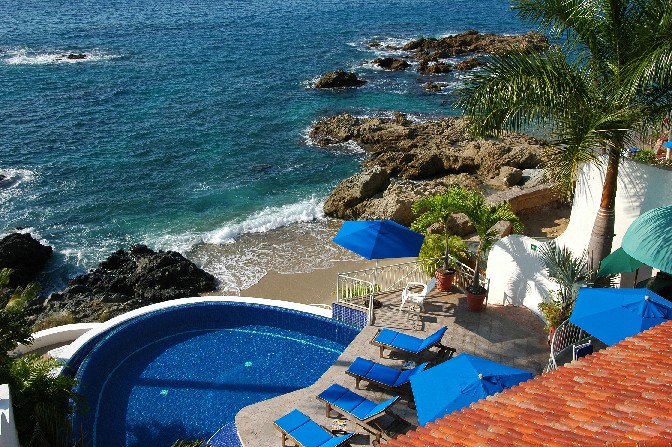 Puerto Vallarta villa CK-6 six bedroom ocean front


Puerto Vallarta Villas - Five and Six Bedroom Puerto Vallarta Villa Vacation Rentals
A lovely hacienda colonial style villa on the heights of Conchas Chinas has five bedrooms and five and a half baths on three levels. The large master bedroom has its own jacuzzi. Some 8,000 sq. ft. of living space with a large entry courtyard and wood beamed ceilings in the living and dining areas, which open to the 35 foot infinity pool, smaller patio fountain and a large terrace. The amenities include satellite television, VCR, stereo with CD/cassette player, purified water system, fully equipped kitchen, off street parking, washer/dryer, full staff and a/c in each of the bedrooms which have king beds and terraces that overlook the bay. Many of the beautiful furnishings in the house, from the light fixtures to the inlaid ceilings and dining room table, have been especially handcrafted for the owner and imported from various parts of Mexico. Ref. CDQ-1

Situated just above the Conchas Chinas beach with 6,000 sq. ft. of living space, the Villa Marea Alta offers four spacious air conditioned bedrooms, with an additional fifth bedroom in the "mother-in-law" apartment downstairs. The villa is beautifully furnished with antiques and Latin American art. One of Vallarta's loveliest beachfront properties, the villa features fully equipped kitchen, infinity pool, living and dining areas with balconies and ocean views, sun terrace, gas burning fireplace, hand carved stone fountains, four televisions with satellite, sound system, telephone for long distance, in-house water purification system, 5.5 baths with hand made ceramic tiles or Mexican marble, enclosed garage and an elevator to the beach. The crescent-shaped terrace finished in Mexican tile provides ample space for sun bathing, with lovely views of Banderas Bay. Staff of three: Houseman, cook and maid. The Marea Alta may be rented with 4 or 5 bedrooms. Nov 1-Apr 30, 4/5 bedrooms: $1025/$1225 per night; May 1-Oct 31, 4/5 bedrooms: $850/$1050 per night; Christmas and New Years weeks, 4/5 bedrooms: $2250/$2500 per night. Ref. VMA-4 Marea Alta
This elegant Mexican style 10,500 sq. ft. four, five, six or seven bedroom villa on five levels has been completely remodeled to provide guests with every amenity for a luxurious stay, including a large gourmet kitchen, heated pool in the inner courtyard with garden views, mini-split air conditioning in all bedrooms, and seven baths. Six bedrooms with king beds; five of those ensuite with private bath. An additional 7th bedroom, with two twin beds, adjoins the master suite and shares its bath. Four bedrooms with ocean view, one with garden view, one with no view. The Villa Las Puertas features various terraces with ocean views, five cable televisions, wireless internet, DVD player, large jacuzzi/splash pool capable of fitting a dozen and with sunset/ocean views, and a water purification system. cook who can prepare two meals per day, except for Sunday and Mexican holidays Beautifully decorated with native and imported crafts and original art work. Winter: Nov 1-Apr 30, 4/5/6/7 bedrooms: $900/$1100/$1200/$1300 per night; Summer: May 1-Oct 31, 4/5/6/7 bedrooms: $800/$900/$1000/$1100 per night; Christmas week: $2,000 per night; New Years week, $2,250 per night. Ref. LSP-6 Las Puertas

This spectacular, recently completed four-level Conchas Chinas beach front villa in its own private cove has six air-conditioned bedrooms each with a private terrace with ocean view. The fourth level down in this hillside villa is the main living area with kitchen, dining area, and the ample terrace opening off the living room with its jacuzzi and heated infinity pool where one can sun bathe and then catch the incredible sunsets. A beautiful indoor pond and garden on this level is a special addition to the ambiance of this unique villa. Villa amenities include purified water system, elevator, full a/c, heated infinity pool, jacuzzi and poolside wet bar, high-speed internet and free long distance telephone service, stereo, DVD player, and three satellite televisions. Ref. CK-6

Taking its inspiration from the beautiful San Angel Hotel in Mexico City, this newly constructed two-story contemporary hacienda-style villa in upper Conchas Chinas enjoys panoramic vistas of beautiful Banderas Bay, Puerto Vallarta and the shoreline sweeping north to Punta Mita with the majestic Sierra Madres in the distance. Built around a central downstairs courtyard, the main level offers tremendous bay views from the living room, dining room and bedroom. Villa features include five bedrooms, 6.5 baths, heated infinity pool, a/c in bedrooms, satellite TV, DSL wireless internet, phone with unlimited local calls, outdoor gas grill. Staff includes maid, gardener and cook. Ref. CSE-5

The stately Casa Ileana is built largely of stone in the Mexican tradition and giving the feel of a European castle, but with all the modern amenities. Tastefully decorated & recently remodeled, this five bedroom villa has a total of 10,000 sq ft of living space, lush gardens and heated pool in the Alta Vista area. Fully equipped kitchen with ample living and dining areas opening onto the spacious sun-deck terrace with pool and lovely views of Vallarta and Banderas Bay. Two bedrooms on the main floor have king bed, wood beamed ceilings, private bath and common balcony with city/mountain view. The back bedroom of these two is larger and opens onto a palapa roof patio and garden area. The second floor master is quite large, with king bed, high beamed ceilings, sitting area, walk in closet, balcony with city and bay view and a jetted tub with a dome ceiling. Casa Ileana villa amenities include satellite TV with Apple and Netflix, DVD player, Ipod/phone hookup, an excellent cook, and a water purification system. Welcome drink and snack. Nov 1-Apr 30, $1,100 per night; May 1-Oct 31, $900 per night; Holiday weeks, $1,600 per night. Ref. CI-3 Casa Ileana

With more than 7,600 sq ft of living space, this lovely vacation rental villa in the traditional Mexican hacienda-style combines the best of the old and new worlds, with its jacuzzi and state-of-the-art heated infinity pool, and spectacular views of Vallarta and Banderas Bay. The beautiful Hacienda de los Santos offers considerable comfortable modern amenities and antiques throughout the estate, with 4 bedrooms in the main villa and a 5th bedroom in the Casita. Features and amenities also include seven bathrooms, a well equipped kitchen, wireless internet, a/c mini splits in all rooms, open air dining and living area, 'Local' Apple system with thousands of movies and international programs, unlimited calling to the US and Canada, washer and dryer, hair dryers, iron and ironing board, and purified bottled water. Staff of three to serve you. Nov 1-May 1, $1,200 per night; May 2-Oct 31, $800 per night; Christmas and New Years weeks, $1,600 per night. Add tax. Ref. HLS-5

Recently constructed contemporary multi-level 4 or 6 bedroom Puerto Vallarta villa with 9,000 sq. ft. of meticulous finishing, infusing traditional and modern Mexican design with attention to detail. Located on the hillside above the Romantic Zone this vacation rental provides expansive views of the city skyline and Banderas Bay. Villa property includes bedrooms each with a/c, bath and terraces with ocean view - includes 2 master suites with king beds and plasma TVs. Large heated infinity pool, jacuzzi, two+ story vaulted brick ceilings, natural stone counter tops and custom hardwoods,gourmet kitchen, indoor/outdoor Bose sound system, media room, satellite TV, washer-dryer, water purification system. Cook service twice daily. Winter: Nov 1-Apr 30, 4/6 bedrooms: $1,150/$1,450 per night; Summer: May 1-Oct 31, 4/6 bedrooms: $950/$1,150 per night; Christmas and New Years: $1,900 per night. Special: One free night with a minimum 7 night reservation. Ref. VEN-4

One of the original homes built in the Conchas Chinas residential area, the owner recently remodeled the five bedroom, six bath casa, retaining the best of the classic Vallarta style with a Mediterranean influence. The result is simple, elegant and very comfortable, with over 4,000 sq. ft. of living space that includes a large pool and terrace, full kitchen, den, and spacious front porch. The villa's five bedrooms all with private bath, terrace and ocean views. The pool and nearby palapa are surrounded by lush tropical vegetation for privacy. The spacious upper terrace is perfect place to enjoy the sunset or lounge away the afternoon in the shade. Features include a purified water system, air conditioning in all bedrooms and fans throughout the house, cable TV, VCR, Stereo (CD's & tapes) & telephone. Nov 1-May 15, $1250 per night; May 16-Oct 31, $950 per night; Holidays extra. Ref. CAMA-5

The recently constructed and spacious 5,000 square foot, 5 bedroom Villa Enantada in the upper Amapas area is in sight of lush tropical jungle and boasts amazing views of Banderas Bay and the surrounding Sierra Madre mountains. Architectural details by well-known local architect Arturo Ramos include cantera stonework, beautiful hardwoods and vaulted ceilings. Property features large upper level terraces off three bedrooms, solar heated dipping pool and Spa tub, satellite TV, high speed wireless internet, DVD/VCR with movie and games library, stereo CD player, Vonage with unlimited calls, purified water system, fully equipped kitchen and BBQ. The clean lines and dramatic open spaces contrasted by vibrant art works throughout the house create a luxurious place to spend an enjoyable vacation. Winter: $1050 per night; Summer: $675 per night; Holidays $1050 per night. Ref. VEN-5

Located just one block from Banderas Bay and overlooking Conchas Chinas beach is this three-five bedroom, five bath villa with contemporary design that is fully air conditioned. Villa Vista de Aves amenities and features include CD and ipod dock, gas grill and outdoor dining, wireless internet, satellite TV, mini-split a/c units, a water purification system, high beamed ceilings and a fully equipped kitchen. The private heated pool, together with large upper and lower terraces, makes a great spot for entertaining and viewing the beautiful Vallarta sunsets. Full time housekeeper and a cook. Short taxi ride to gay bars and beach. Winter: Nov-April, 3/4/5 bedrooms: $900/$1000/$1100 per night; Summer: May-Oct, 3/4/5 bedroom: $600/$700/$800 per night; Christmas and New Years weeks: $1750 per night. Ref. VDA-5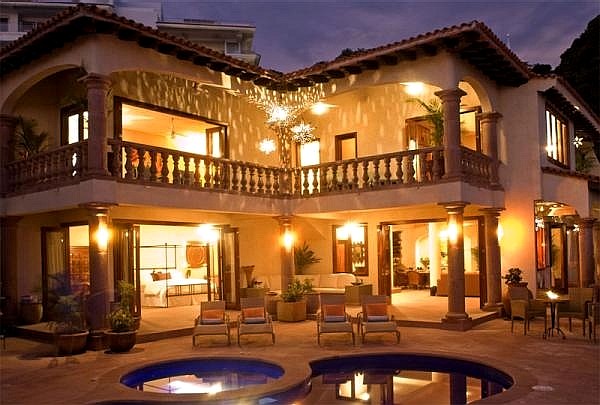 Puerto Vallarta villa VEN-5 five bedroom
Spectacular and contemporary Puerto Vallarta vacation villa with breathtaking views of Banderas Bay and the town. Sleeps up to sixteen (16) persons, available as a 6, 7, 8 or 9 bedroom villa rental. Living/entertaining area on the main level opens onto an expansive terrace and pool area featuring heated infinity pool and jacuzzi. Beautifully decorated with custom made furniture and antiques, original artwork and hand woven textiles along with luxury architectural details such as natural stone countertops and sumptuous baths. Each of the nine bedrooms with custom furniture, marble bathrooms, 30" cable/satellite TV and a/c. Villa boasts gourmet kitchen, elevator, giant flat screen in living area satellite & cable service, high speed wireless internet, free long distance service to US & Canada (vonage), gym with large screen TV. Full staff with cook service optional twice daily except Sunday. Walking distance to Los Muertos beach and the Blue Chairs. Rates: Winter, Nov 1-Apr 30, $225 per night per bedroom, five (5) night minimum; Summer, May 1-Oct 31, $225 per night per bedroom, five night min; Holiday weeks of Christmas and New Years, $3,400 per night, seven (7) night min. For villa photos and full description Ref. CYV-8

Lovely five bedroom plus apartment, seven baths oceanfront villa in Conchas Chinas with over 6,000 square feet of living space and 2,000 square feet of terraces and patios. The main level features a large living room with a huge fireplace, a dining room, a deck overlooking the sea and a fully equipped kitchen. There is a large bedroom with a king bed and a fireplace on this level. Downstairs is the fountain courtyard off which are a small bedroom with two twins, a large suite with two queens and the master suite, with a king bed and his-and-his-bath with jacuzzi. On this level is the heated dipping pool, sun deck and a palapa roofed bar. A separate apartment on the lowest level, overhanging the sea, has a kitchen, two baths, a bedroom with two double beds and the living/sleeping area with two twin day beds. The villa features a purified water system, heated pool, satellite TV, DVD, CD sound system, telephone, wireless internet and fax. Sleeps 12 max. Nov 1-Apr 30, $1835 per night; May 1-Oct 31, $1265 per night; Holidays, $2150 per night. Ref. VVE-6

This property offer a total of 5 bedrooms and 4.5 baths in the main house and the additional 2 bedroom Casita. Both houses offer living, dining and kitchen areas. Built in classic Puerto Vallarta style with beautiful tiles, dark wood doors, tile roof and open living spaces, offering views of Banderas Bay and a private pool. Bedrooms in main house with private bath and a/c. Spacious and beautiful living room with vaulted wood beamed ceiling and large, arched windows with a fireplace, TV with DVD and stereo with CD/tape player. The living area opens onto a large outdoor terrace which stretches the width of the house with a view of Banderas Bay. The terrace overlooks the outdoor patio and dipping pool, garden and the palapa covered bar. All bedrooms with king bed. Staff includes maid and houseman. Winter: Nov 1-May 31, $625 per night; Summer: June 1-Oct 31, $500 per night; Holiday weeks, $795 per night. Ref. VDC-5

Villa with six bedrooms on three levels and all terraces have spectacular Pacific views. The main level has a large living room with vaulted ceiling and full dining area. The kitchen is fully equipped and can service up to twelve guests. The spacious master bedroom with handsome marble flooring, Roman bath, wall to wall closet, king size bed and ocean view, and a second bedroom with two double beds, a closet and full bath are on this level. The next level down has three bedrooms, each with beautiful ocean view. The penthouse above the main level offers its own living and dining area, full kitchen and spiral staircase to the rooftop area for sunbathing. The penthouse bedroom has a king bed with ocean view. The villa also features landscaped terraces, large dipping pool, palapa bar, washer and dryer, two televisions with VCR and maid service. Ref. CCR-6

Spacious and incredible luxury villa located less than one block from the Conchas Chinas Beach. This beautiful house has ten bedrooms, eight of which are located in the main section of the house, the other two bedrooms are private casitas attached to the house, each have their own kitchen. Six bedrooms have king beds, three with twins and one with a queen. The large heated swimming pool has a natural stone waterfall and there is an over-sized outdoor splash pool. There are terraces on all three levels that run the length of the villa and the views of Banderas Bay are fantastic. Over 11,000 square feet of lovely Mexican architecture of wooden beams and terra cotta tiled floors makes this a perfect vacation hideaway. Features include poolside BBQ and dining area, media room with satellite television, DVD and CD players. Cook, maid service, houseman. May be rented as a five to ten bedroom villa. Ref. VVI-10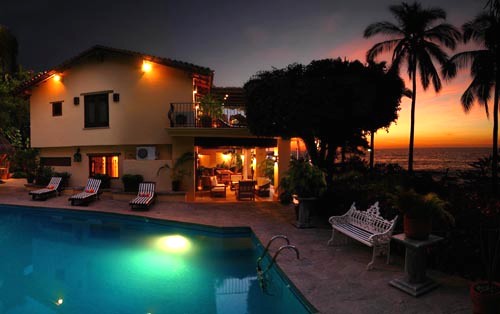 Puerto Vallarta villa CAMA-5 five bedroom beachfront
A private beach-front 5 bedroom, 6 bath villa located in the Conchas Chinas area. The villa's 6,500 sq. ft. on four levels cascades down the hillside between the coastal road and the beach below. The house is designed in the traditional classical Mexican colonial hacienda-style with large windows and doors open to the sea breezes, and includes all the amenities and comforts. There is direct access to a secluded sandy beach with great snorkeling. The pool deck features a large, heated infinity pool and adjacent Jacuzzi spa. Property includes 5 bedrooms each with a/c, ocean view and private bath, media room with big screen cable/satellite TV, ceiling fans in the bedrooms, living room, and the pool deck, DVD and CD players, dial up internet access, heated infinity pool & jacuzzi, and a pool deck with wet bar, fridge & gas BBQ. Winter, $1000 per night; Summer, $700 per night; Holidays, $1500 per night. Ref: CAR-5

A traditional hacienda-style five bedroom villa in Conchas Chinas. With perhaps one of the largest swimming pools in the neighborhood, this property is perfect for those who consider sun worshipping a sport. There are expansive areas for sunning, dining or just relaxing outside, with a terrace running the full length of this exclusive gated villa, and with excellent views. Villa features satellite television, DVD, internet access, stereo with CD player, a/c in all bedrooms. Recently renovated with attention to detail this property has a spacious sparkling pool, large sun terrace, outdoor barbecue, poolside bar, outside dining areas as well as interior dining. Winter: $1350 per night; Summer: $800 per night; Holidays extra. Ref. VT-5

Mexican hacienda style villa located on the beach in Conchas Chinas. Large and open and encompassing a total of five bedrooms and seven baths, this villa accommodates ten or more people. There are large terrace and patio areas, perfect for lounging in the afternoon tropical sunshine, and a large, deep swimming pool with poolside bar and cabana room. The master bedroom features a king bed and its own marble spa tub overlooking the ocean. The other upstairs bedroom has king bed and a view of its own enclosed courtyard. Two of the hacienda style bedrooms downstairs have two queen beds each, and the third has a king bed. There are original antiques, an ample living and dining area, cable television, private garage and air conditioning in all bedrooms. Ref. VC-7

Magnificent luxury hillside Conchas Chinas villa that offers a vast beautiful view of the ocean and all of Puerto Vallarta, from one end to the other, and from every room! Fifteen thousand sq. ft. of fully air conditioned luxury, the largest five bedroom villa in Puerto Vallarta. The five master bedroom suites each has its own decor and private bath. Relax in the heated oversize pool or play tennis on your private lighted court built to USTA standards. One block walk to Los Muertos beach. Other amenities include AM/FM Cassette and CD sound system, direct satellite television, large sun deck terrace, and a filtered water system. Cook, housemaid and houseman. Ref. VTI-5

One of the most spacious and magnificent of Puerto Vallarta's villas, located just south of Los Muertos beach in Conchas Chinas. This beach front villa has 20,000 square feet of luxury and comfort, with six spacious air conditioned bedrooms, nine bathrooms, ceiling fans, large heated swimming pool and sun deck patio, full staff with gourmet cook, water purification system, exterior and interior elevator, exercise room, Satellite TV, DVD/VCR, CD/stereo system, private fax and phone and an incredible collection of Mexican and Latin American antiques and art. The master suite has 3,500 sq. ft. with its own kitchenette. The whole villa provides lovely views of Banderas Bay and direct access to the beach. Accommodates twelve (12) persons. Winter: Nov 1-Dec 18 and Jan 5-Apr 29, $3,500 per night; Summer: Apr 30-Oct 31, $2,300 per night; Holidays, Dec 19-Jan 4, $4,100 per night. Add 16% tax to prices. Ref. EM-1
Poised on a cliff above the Mismaloya coast, this 6 bedroom, 7-1/2 bath villa offers luxurious accommodations and an extraordinary view of Los Arcos Islands. The blue Venetian tile infinity pool is the focal point of this Casa for relaxing or simply marveling at the glorious sunsets. The master suite features an oversized Jacuzzi tub and all upper level bedrooms have their own balconies offering breathtaking views of the ocean and the mountains. The large living and dining area opens onto the pool and sun deck. Below the main living level there are two bedrooms with ensuite baths. Also available is a casita with living area, kitchen and lovely bedroom with sweeping views of Banderas Bay. Two full marble baths complete the accommodations in the casita. Villa is fully air-conditioned, with satellite TV, and a full-time staff. Ref. CLC-6

High ceilings, gleaming marble floors and spacious terraces with breathtaking views of the bay add a sense of romance to this recently constructed six bedroom multi-level villa. Built to offer all the best in resort design with sweeping vistas, arches and columns, carved wooden doors, and fabulous stained glass windows. The large foyer opens onto an elegant living and entertaining area that extends onto two terraces. Floor to ceiling windows provide stunning views. A dramatic staircase takes you up to 3 bedrooms and a media room on the upper level. The villa has 6 bedrooms total on 3 different levels providing plenty of privacy for guests. Villa features six bedrooms with private baths and a/c, heated pool, wireless high speed internet, satellite TV with 200+ channels, DVD/VCR player, music system with radio/MP3/iPod/USB memory stick/CD player, precor treadmill, outdoor grill on kitchen terrace, and full staff. Winter: $1200 per night; Summer: $900 per night. Holidays extra. Ref. VRO-6

Located in Conchas Chinas, Puerto Vallarta's most exclusive neighborhood, the five bedroom Conchas Chinas Villa is just minutes south of Old Town PV. The living room, dining room and kitchen are all open to the outdoors on the ocean-side of the house, blurring the distinction between the indoors and outdoors; a classic example of the Vallarta Lifestyle which is so envied. This luxurious Puerto Vallarta vacation rental is graciously furnished in each room and has a heated infinity pool, great bay views and is fully air conditioned. Ref. CCV-5

Impressive old "Vallarta style" villa in the middle of Conchas Chinas beach with over 12,000 sq. ft. of living space. All bedrooms are nicely appointed in the Mexican style and with mini-split a/c. The architecture has a Mediterranean influence with vaulted ceilings with massive wooden beams & red tile roof. Dining room and living room are under the huge 50 ft. palapa, over 1800 sq. feet total, the largest in town. Oversized dipping pool and sun deck terrace extend naturally from the living room. Villa includes five air conditioned bedrooms, 5-1/2 baths, heated dipping pool, poolside bar and large sun deck, high speed internet access, satellite TV, free long distance calling, water purification system, tropical gardens. Ref. VV-5



Clicking on a link below will take you to a separate page.
Please be sure to note the important information below.

Puerto Vallarta Two Bedroom Villas Puerto Vallarta Three Bedroom Villas
Puerto Vallarta Four Bedroom Villas
Puerto Vallarta Seven - Eleven Bedroom Villas

Important Villa Rental Information
Villa rates: Rates, details and availability on all vacation rental listings are subject to change without notice, so please inquire. Rates quoted on listings may be for informational purposes only and do not represent a final quote or rental rate. Rates are quoted per night in US dollars. Accommodation rates do not include staff gratuities, food, beverages, long distance phone usage or any ground transportation. Unless otherwise noted, rates include taxes. Staff tips are not included, so please be generous to the staff as I am sure that you will receive good to excellent service.
Inquiries: For further information or to make a reservation contact michaelmayo72@prodigy.net.mx; From US or Canada you can call direct, Tel: 011-52-322-222-6918
Terms: Villa rentals are payable by cashier or official bank check, wire transfer or through PayPal, no personal or business checks or Post Office money orders. Credit cards are not accepted, sorry. To confirm your reservation, the 50% non-refundable deposit needs to arrive within four-six (4-6) days. The final payment is generally due at 60-65 days before arrival, though the time varies from villa to villa. Many villa owners now consider the initial deposit to be non-refundable unless the villa can be re-rented for the exact same time period. Accommodations are subject to availabilit, and all details and tariffs are subject to change without notice until your reservation is confirmed. Most villas require a refundable security deposit, often equivalent to one night's rent, which is held in case of damages and sent back within a week or so of your departure. Maid service is usually six days per week, except for Sunday and Mexican holidays (Sunday is almost always the one day off for the staff). If you want a written confirmation of your rental or a rental agreement, please ask, otherwise the email correspondence and confirmation are sufficient.
Arrival Information: Please note that in the deposit instructions and confirmation letters, we ask that you send us your airline name, flight numbers and the arrival and departure times. This is for our records and so that the villa staff/manager can know when to expect you and thus be on hand to greet you. It is also helpful for me to have a home/work phone number in case I need to contact you that way regarding the reservation.
Tipping: Tipping of the household employees is voluntary although customary in Mexico. Tipping is always appreciated. The amount of the tip would of course depend on the service required, the length of your stay, the number of guests in your party and any special needs you might have had. To provide assistance in this matter, note that the standard tip for the staff in Puerto Vallarta villas is now considered $8-10 per day per guest divided among staff members, and tips are generally given to the staff at the end of your stay. Please be kind enough to take good tipping into consideration while planning your vacation in Vallarta.
Check in: Check in time for villas is generally around 3pm-4pm and check out is 11am-noon.
---
top of page | playa bonita rentals | gay pride & events | shopping | vallarta gay nightlife | Discovery Vallarta
gay excursions | vallarta condos | gyms & health spas | lesbian | puerto vallarta downtown
la palapa condos | gay travel tips | vallarta nightlife | Email contact