Festivities and processions during the first twelve days of December each year involve tens of thousands
of Puerto Vallarta inhabitants and visitors, who pay homage to commemorate the appearance of
the Virgin Mary to the peasant Juan Diego on December 12, 1531. According to tradition, the image of
Our Lady of Guadalupe was imprinted on the cloak of Juan Diego, and to this day it is on display in Mexico City
at the Basilica of Guadalupe which was constructed at the site of the miraculous appearance.
Hundreds of local PV businesses, unions, neighborhoods and organizations and their employees
parade from their place of employment through the streets of Puerto Vallarta
during the Celebrations of Our Lady of Guadalupe
and end up at the local Our Lady of Guadalupe Cathedral, which was built starting in 1903.
The candlelight processions generally start from in front of the Woolworths store
and go the 11 blocks down Juarez street to the Guadalupe church and
include plenty of banners, music, singing and colorfully decorated floats
which usually portray the Virgin Mary and Juan Diego.
Indigenous pagan and Christian rituals are mixed together.
Along the way on the side-streets and in the main Puerto Vallarta downtown plaza/zocalo
are many vendors selling food, sweets, handicrafts and other trinkets and souvenirs.
The feast of the Virgin of Guadalupe is one of Puerto Vallarta's most beloved and popular celebrations
drawing crowds of many thousands each year from December 1-12.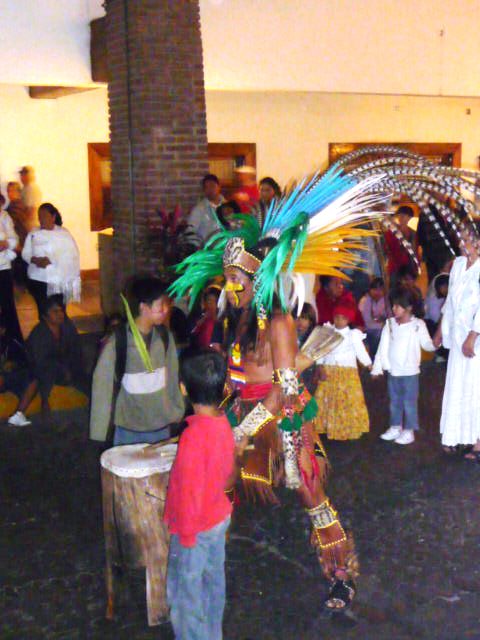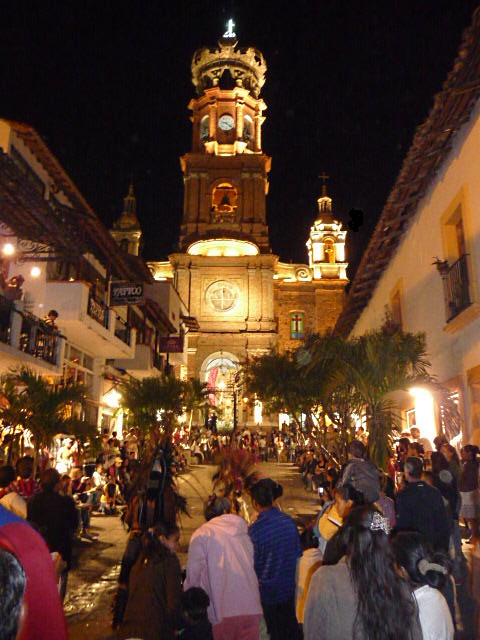 Puerto Vallarta Our Lady of Guadalupe church in downtown off the main plaza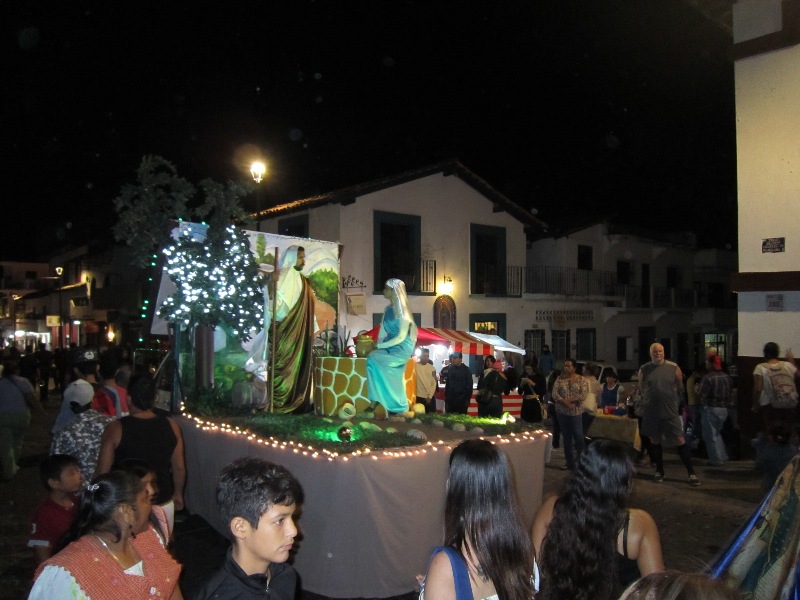 Float showing the apparition of the virgin Mary to the peasant Juan Diego in 1531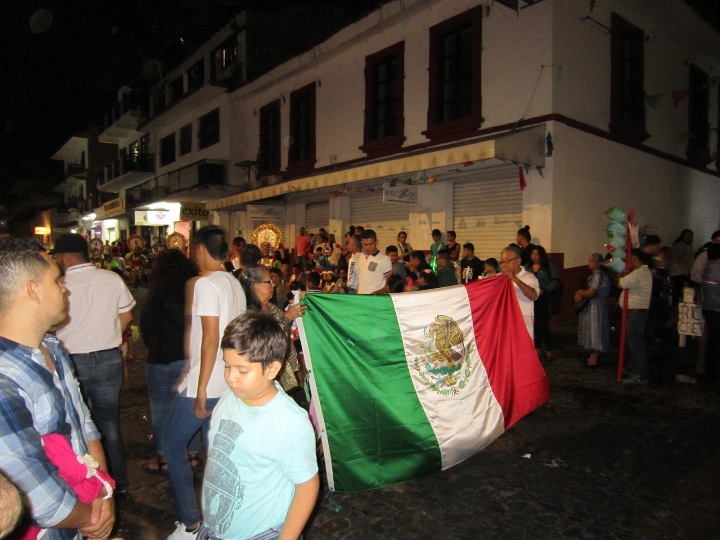 -----------
Next 8 photos from the grocery store Gutierrez Rizo annual parade or peregrinacion pilgrimage
in December 2009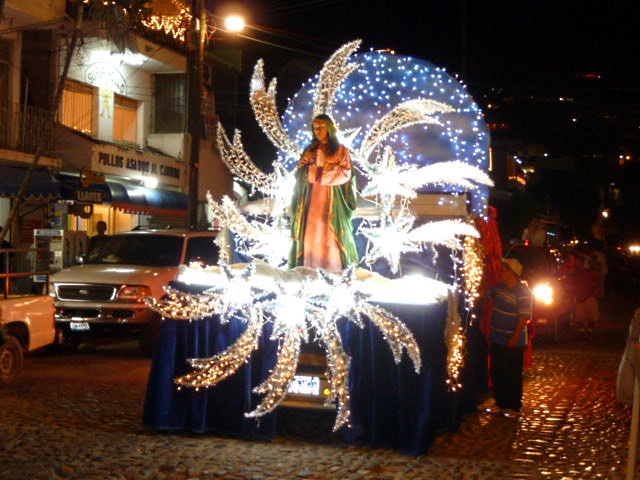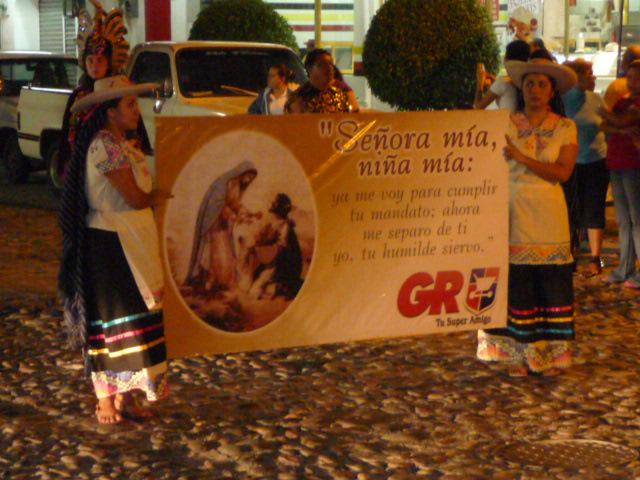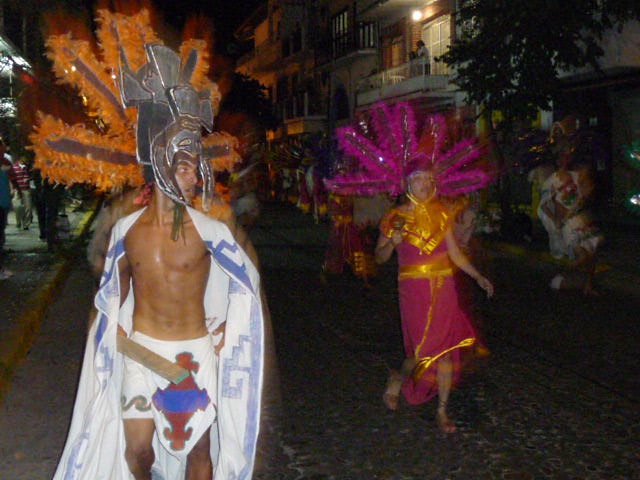 Puerto Vallarta attractions things to see during the Feast of Our Lady of Guadalupe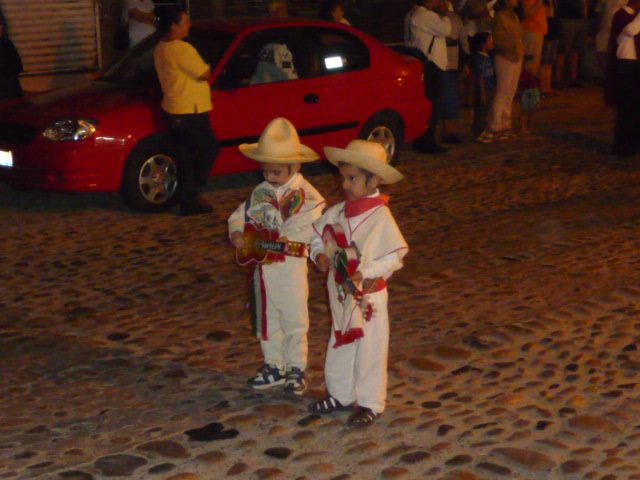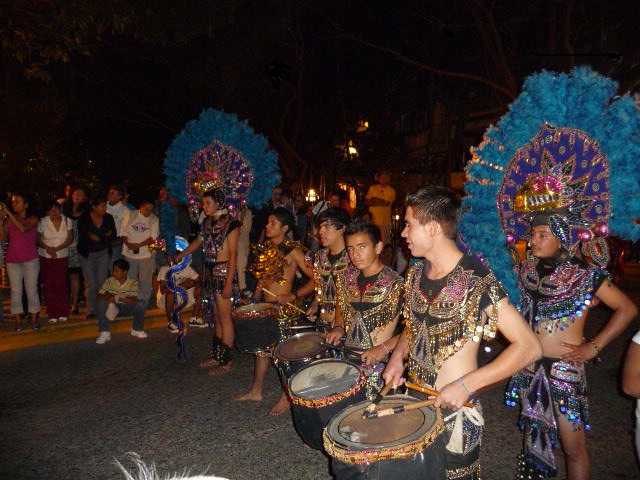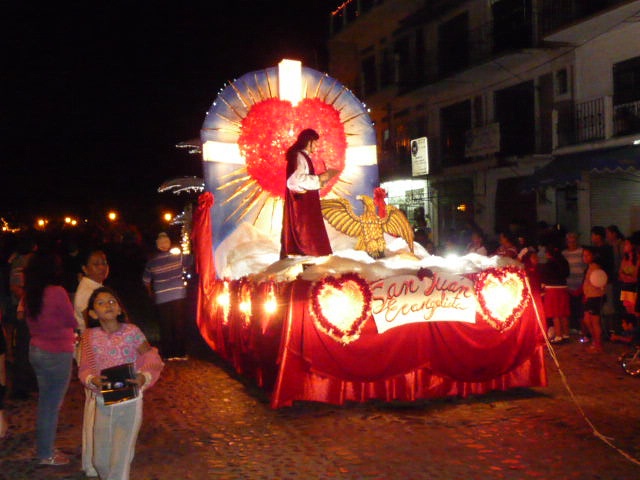 Saint John the Evangelist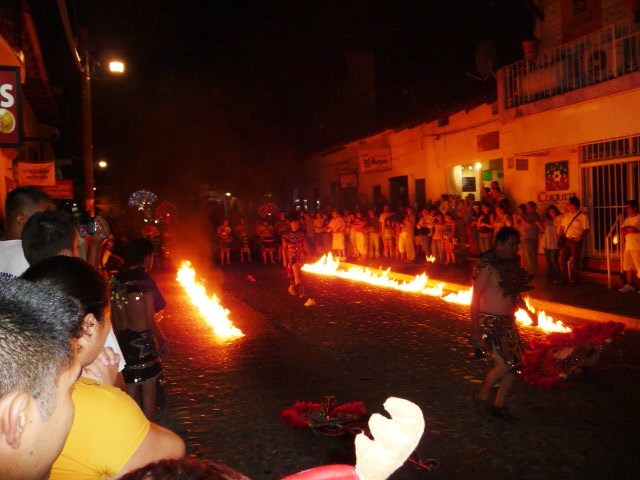 combining Indigenous pagan and Christian rituals during the Virgin of Guadalupe festival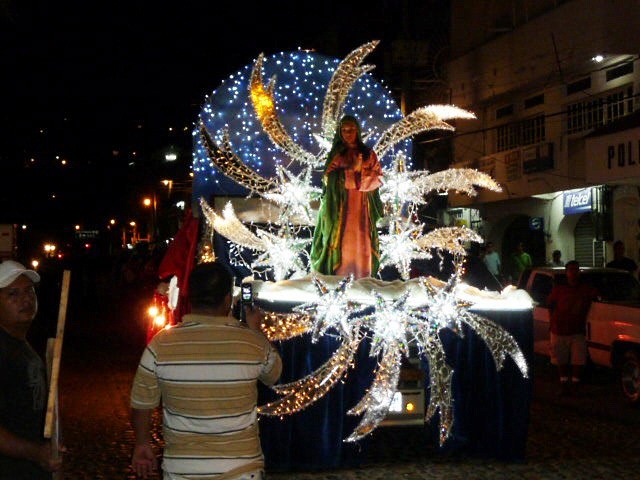 For years Gutierrez Rizo had the largest and most festive procession-floats in this annual event

---------


More photos from the Puerto Vallarta Our Lady of Guadalupe Festival processions on Juarez street downtown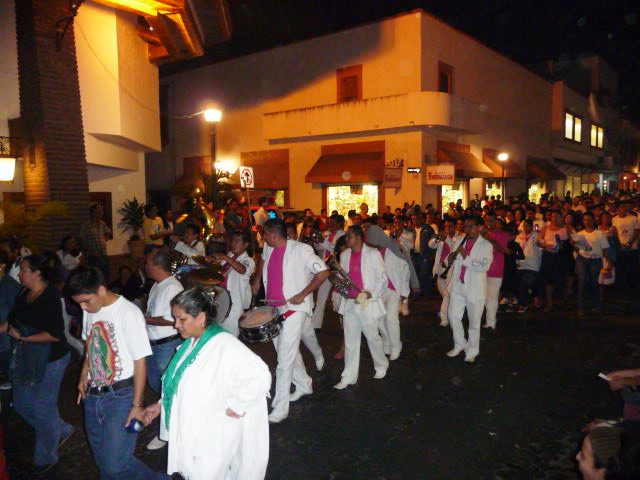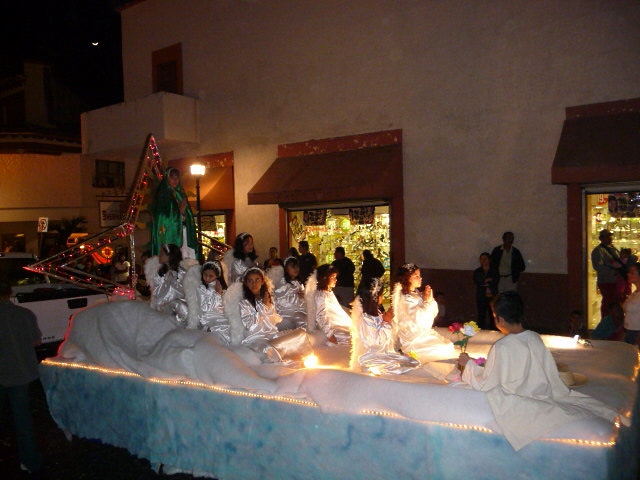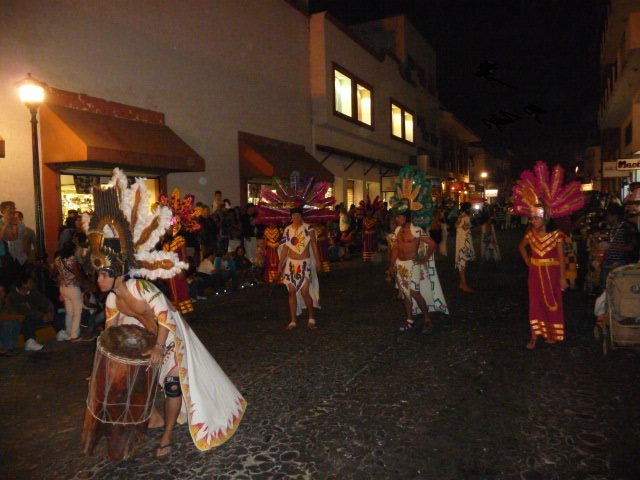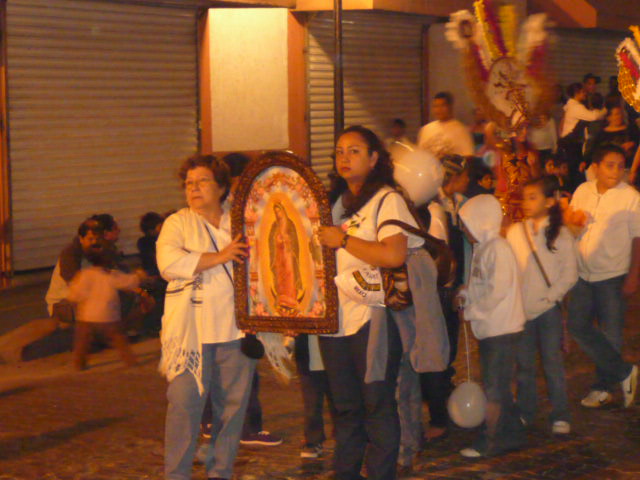 Late evening celebrations include lots of street food and visiting among friends -
catching a bite to eat on Iturbide street during the yearly Guadalupe festivities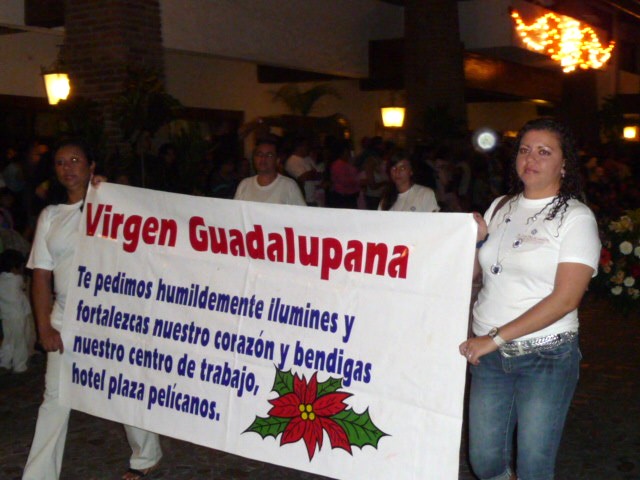 Puerto Vallarta Guadalupe celebration December 2009 - group from the Hotel Plaza Pelicanos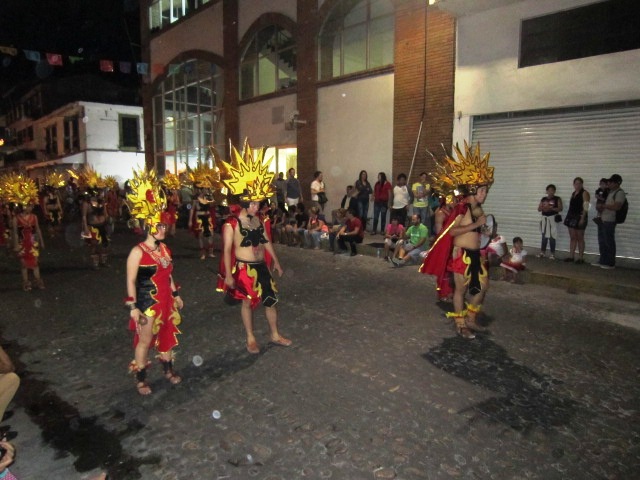 Along Juarez street, December 2015 - The 12 days of celebrations are among the more prominent
tourist attractions and things to see during the winter months, and are attended
by tens of thousands of Vallartense (locals) and visitors alike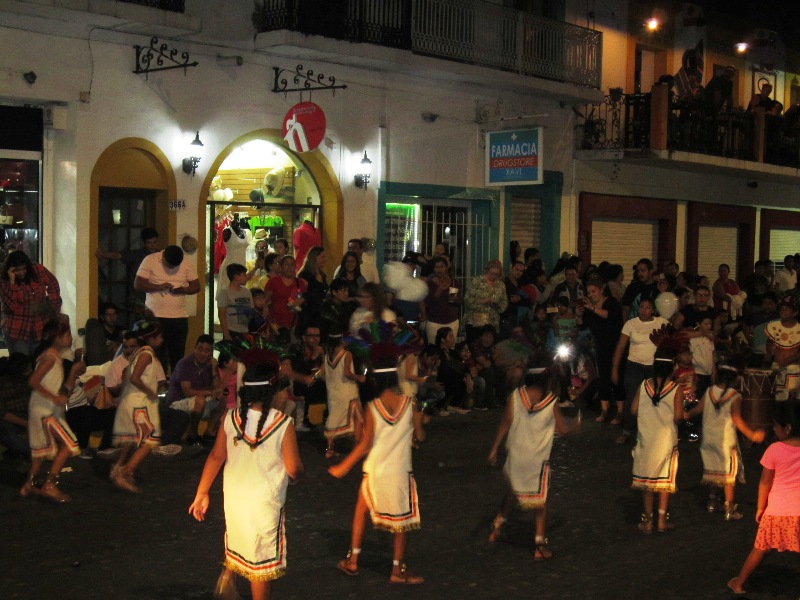 Images from December 2017 - above and below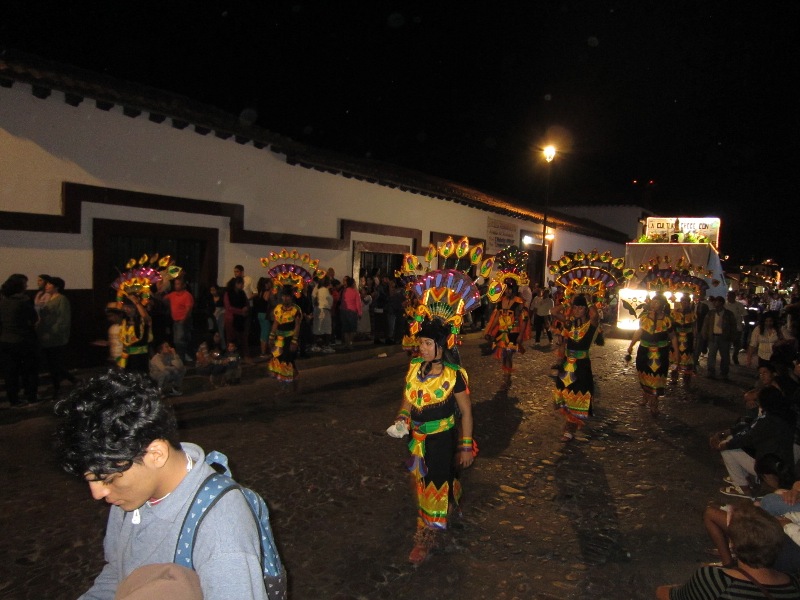 Puerto Vallarta Guadalupe , more photos III
"God does not hear you if you do not speak." - Mexican proverb