Rentals & Lodging
Gay Vallarta Condos
- Condominiums LP
- Beach condos PB
- Beach condos ED
- Molino de agua
- Beach condos PDS
- Condominiums PM
Vallarta Gay Hotels
Gay Vallarta villas
- Two bedroom villas
- Three bedrooms
- 4 bedroom villas
- 5 & 6 bedrooms
- 7-12 bedroom villas

Gay Puerto Vallarta
Art Galleries & Culture
Cafes - internet
Calendar Gay Events
Charities - Community
Contact Info
Excursions & tours
Gay Bars
Gay Beach
Gay Cruises
Gay Tours photos
Gay Links etc
Gyms - Spas
Law and Custom
Lesbian Vallarta
Malecon downtown
Map
Marina Vallarta
More Gay Bar photos
More Gay Beach pics
Pics Art & Art galleries
Quick Gay Travel tips
Restaurants
Services
Shopping & malls
Straight Clubs
Straight Nightlife pics
Straight Nighlife pics 2
Sunset pictures
Tourist Info
Vallarta Beaches
Vallarta Pictures
Vallarta Weather
Whale Watching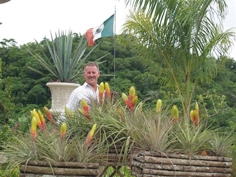 Puerto Vallarta Botanical Gardens
With native and non-native plants such as cactus, palms, ferns, orchids and bromeliads, as well as a restaurant and river swimming - the Botanical Gardens are located approximately 16-18 miles (at Km. 24 Highway to Barra de Navidad) south of Puerto Vallarta, Mexico in the Sierra Madre mountains. Located on over 20 acres of land, the botanical collection features over 3,000 different species of plants. "Our gardens are in a unique tropical dry forest ecosystem at 1,300 feet above sea level. Against the breathtaking backdrop of soaring mountain peaks, there is much to experience: Palm Gardens, Rose Garden, Tree Fern Grotto, Orchid House, Jungle Trails, Tropical Bird Watching, Agave Gardens, displays of Mexican Wildflowers and the Carnivorous Plant Collection. Bringing your swimsuit and enjoy a refreshing dip in the crystal clear Rio Los Horcones." The Hacienda de Oro Restaurant on the premises also offers good food and refreshments at reasonable prices, open six days a week, 10am-6pm. Open to the public since 2005 there is an admission cost of 150 pesos (approximately $8.50 USD). Children under 4 are free. Daily, 10am-6pm, except for Apr 1-Nov 1, when they are closed on Monday. Gay-friendly owner and friendly staff. Recommended by Fodor's travel guides, Lonely Planet and National Geographic.

Visit the Vallarta Botanical Gardens website. It's a great and lovely natural attraction to spend some quality time with your friends and many locals and visitors now consider this a Puerto Vallarta must thing to see and do. Groups from schools and universities and sightseeing tours are always welcome. In order to arrange a field trip and guided tour of the garden for children or a school, contact them at Telephone: 223-6182. There are some special rules that apply to children and younger persons, and these young people are required to be supervised by a responsible adult at all times. Also, special visiting times for field trips can be scheduled in the mornings from 9am-12:30pm. As an additional bonus, the Gardens doesn't charge an entrance fee for students' or teachers' nature tours and field trips. Their stated Mission is to create one of the outstanding botanical gardens in Mexico "for the propagation, study, discovery, conservation and display of Mexican native plants for enjoyment by Puerta Vallarta's residents and its visitors." Ecotourism at its best, one of the top Puerto Vallarta attractions, and one of the best natural wonders of our Banderas Bay/Flags Bay area. Perhaps those of you who love Nature and plants would also like to know about and consider the Vallarta Orchid Society which has monthly meetings and occasional forays into the Sierra Madre mountains in search of some of the 240+ indigenous species of orchids.

Location: Puerto Vallarta Highway or Carretera a Barra de Navidad at Kilometer 24, Las Juntas y los Veranos, Cabo Corrientes, Jalisco. To Get to the Garden: You can take the local "El Tuito" bus from Aguacate and V. Carranza streets on the South Side which leaves about every 30 minutes - the bus should say "Botanical Gardens" on the front windshield. Or just jump in a taxi, but be sure to ask the cost before going; I believe the price should be around $20 USD or so one-way. Daily, 10am-6pm, Dec 1-Mar 31; from Apr 1-Nov 1, they are closed on Monday. Also closed for Christmas and New Years day. Admission cost: 150 pesos (Kids 4 and under free). Local phone: 223-6182.

They offer a complimentary 30-minute tour of the Garden everyday, from December to April, at 1pm. Between May and November, there may be tours if a volunteer is available. If you would like additional tours, tours for school groups or large group tours, please contact them directly for more information. Pet friendly but all pets must remain on leash at all times & owners must pick up after their pets.

Several areas of the Garden are wheel chair accessible, including the Vallarta Conservatory of Mexican Orchids, Garden Gift Shop, Hacienda de Oro restaurant, aquatic plants pond and the Flag Trail. Trails going through the jungle are not wheel-chair accessible.

On January 26, 2013, there was the 3rd annual Diversity Day at the Botanical Gardens for the Puerto Vallarta gay and lesbian (LGBT) community and its supporters, 11am-9pm. This fun-filled day includes the River Jamboree, Tea dance with deejay Jesus, workshops, speed dating, line dancing, the Vendor Mart and their famous "Bonfire of the Vanities" - starting at 250 pesos person, which includes the entrance fee and a free cocktail. One of the goals is to raise awareness, meet and enjoy our community, as well as show our appreciation of and raise funds for the gay-founded Gardens themselves. Diversity Day is a "mix-in" with the other guests that day, but gay guys and women are encouraged to wear green shirts to show solidarity and turn out in good numbers. Find more Puerto Vallarta annual events here.

The Botanical Gardens had it's 3rd annual Flower and Garden show on March 23-30, 2011 open to plant nurseries, cooperatives, gardening workshops and everyone related to the flower and garden industry. The interested public was also welcome.

Most of these Botanical Garden pictures which capture so well the local natural beauty of the area were taken by Benoit Gagnon, gay Canadian friend extraordinaire, and I am once again grateful for his kindness in granting me permission to reproduce and share these fine photographs. Several photos here are also thanks to Chuy (Jesus Reyes) the Director General of the Vallarta Gardens who was kind enough to send them to me for us to view and admire. For TripAdvisor reviews.