Condos & Villas
Gay Vallarta Condos
- Condominiums LP
- Beach condos PB
- Beach condos ED
- 3 bedrooms MDA
- Beach rentals PDS
Vallarta Gay Hotels
Gay Vallarta Villas
- 2 bedroom villas
- 3 bedrooms

Gay Puerto Vallarta
Art Gallery scene
Botanical Gardens
Cafes - internet
Calendar of Events
Community-Charities
Contact Info
Fun - Activites
Gay Bars & Clubs
Gay Beach
Gay Cruises Tours
Gay Links, etc
Gay Vallarta Home
Gyms
Law and Custom
Lesbian Vallarta
Malecon
Map
Marina Vallarta
More Gay Bar photos
More Gay Beach pics
More Malecon photos
More Vallarta Condos
Other Beaches
PV Day of the Dead
PV Sunset
Quick Gay Travel tips
Restaurants
Services
Shopping & stores
Straight Nightlife
Tourist Information
Vallarta Events
Vallarta Gay Pride
Vallarta Photos
Weather

Galeria Corsica Fine Art Gallery



Downtown/el Centro - 756 Guadalupe Sanchez, at L. Vicario
and South Side - 412 Constitucion at V. Carranza
Tel: 223-1821, 128-1467, 178-1132


One of the largest and oldest fine art galleries in Puerto Vallarta, located both in the Historic Center of Puerto Vallarta
and in the Romantic Zone on the South Side.


Contemporary fine Mexican art exclusively, with one of the largest and more impressive collections of paintings,
sculpture and art objects in town, with two convenient locations: the older established spot downtown
and near other such notable landmarks as the Cafe des Artistes restaurant and gallery,
and the newer gallery at 412 Constitucion street on the South Side.


"Since 2001 we have been a presence in this Mexican paradise and we are honored to show you
the masters of Mexican contemporary art.."

Representing such artists as Ada Colorina, Alejandro Columbia, Vladimir Cora, Carlos Dienerm, Benoit Erwann, Xavier Esqueda,
Ana Fuentes, Sergio Gomez, Ulices Licea, Agustin Castro Lopez, Diego Luz, Jorge Marin, Annie Meza, Alexis Rios,
Aguado Rivas, Conchita Rivera, and sculptor Marco Vargas.


Founded by partners Jean Pierre Renucci and Jose A. Villavicencio in 2002
and "dedicated to the promotion of contemporary Mexican artists".

Galeria Corsica galleries also located in Punta de Mita and San Jose del Cabo.



The Galeria Corsica (facebook) team is made up of people from diverse origins who share a passion for art
and a desire to make it accessible to everyone.

Located just three blocks up from the downtown Malecon boardwalk,
the Corsica is one of largest galleries in Vallarta with many fine pieces of art exhibited and is one
of the art galleries that has changed, revolutionized and set trends in this increasingly cosmopolitan coastal city,
bringing some of the best masters of Mexican art. For inquiries you can email corsicavallarta100@gmail.com



Hours of operation: Mon-Sat, 10am-9pm, except Weds, open until 10pm for the Art Walk





Promotion for a November exposition for artist Antonio Castro Lopez


Pictures thanks to the friendly folks at the Galeria Corsica, trip advisor, and to other contributors


The entrance to the Galeria Corsica Centro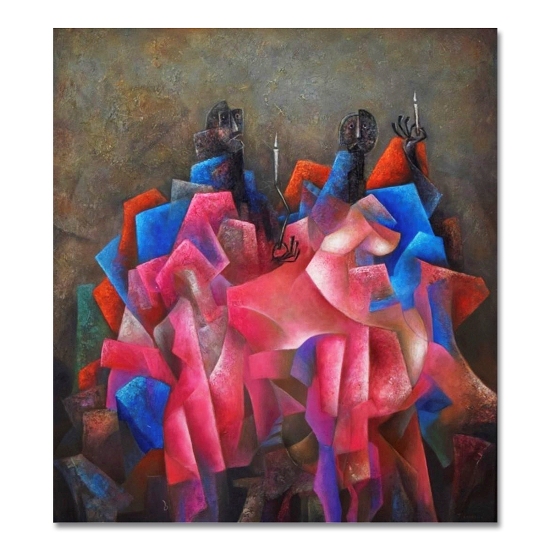 Raul Fombona was born on December 6, 1977 in the town of Real de Guadalupe in the municipality of Zihuatanejo de Azueta.
He is a graduate of the Academic Unit of Social Sciences of the Autonomous University of Guerrero,
and has art studies in the workshop David Alfaro Siqueiros de Morelos.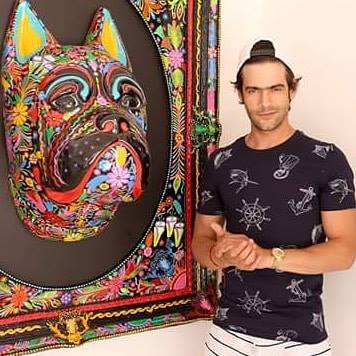 Actor Andrés Zuni visits the Galeria Corsica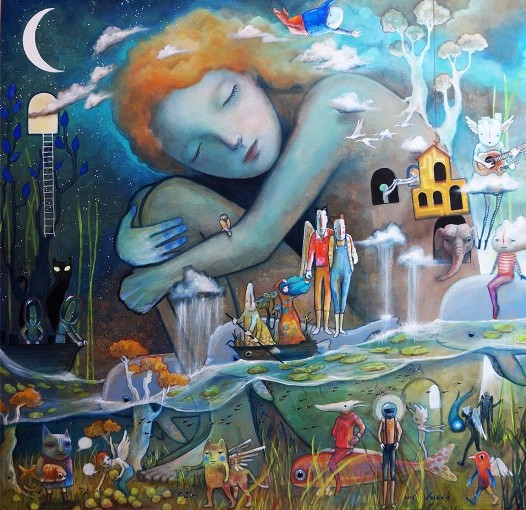 Photo thanks to the gallery management, December 2019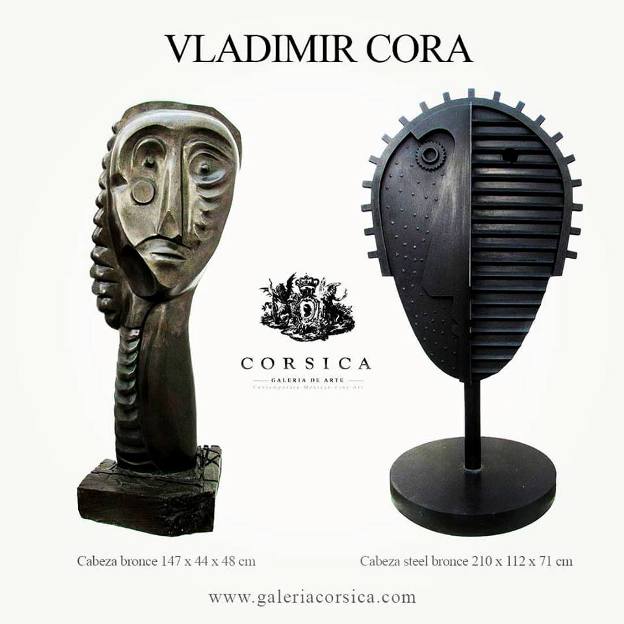 Bronze sculptures from Vladimir Cora, one of the prominent artists displaying his work at the Corsica.
Cora is a Mexican painter and sculptor, born in Acaponeta, Nayarit in 1951.
Among his works are portraits, sculptures, paintings and drawings.
He is internationally recognized and has had some 150 solo and collective exhibitions.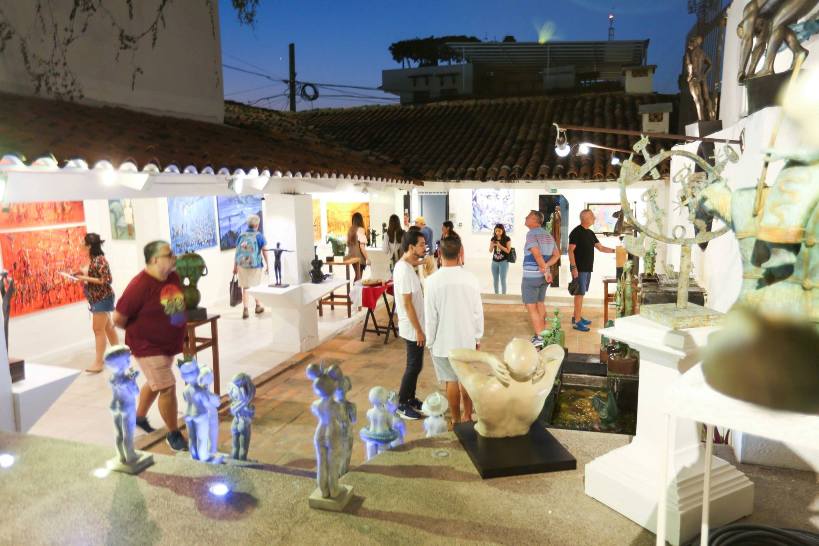 The inner courtyard at the Guadalupe Sanchez gallery displaying paintings and sculptures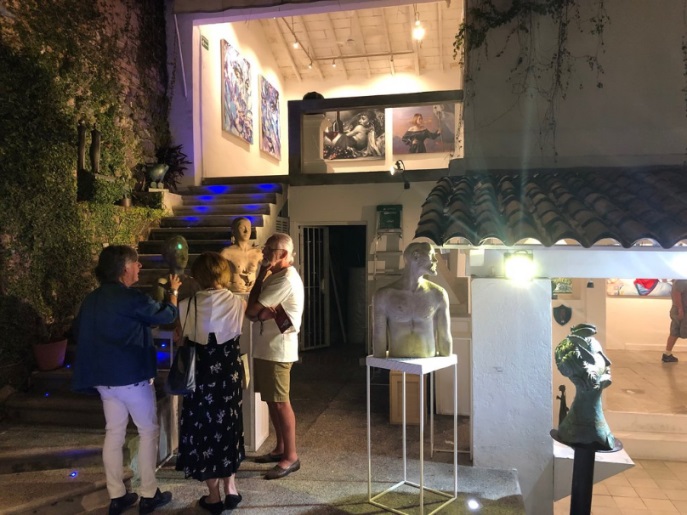 Stairs leading to the second floor where there are three more rooms of works to be seen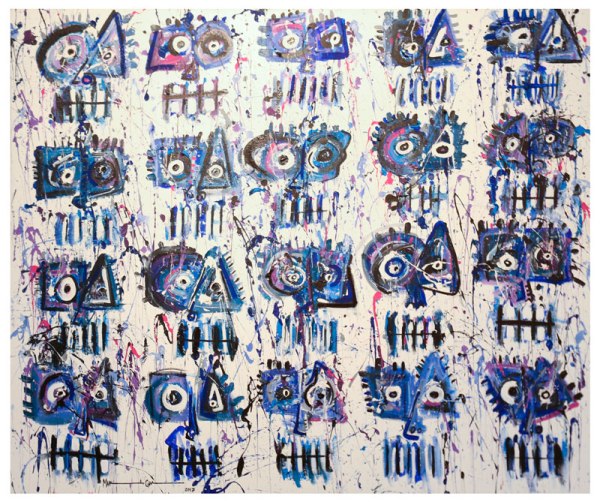 Miguel Cuauhtemoc (born October 28, 1988) is a young, emerging Mexican painter with a distinct style who has said,
"My work as an artist combines expressionism with Mexican culture.
On the one hand, expressionism deforms reality according to the perspective of the artist and,
on the other hand, Mexican culture is full of history, colors and surrealism."
The goal of Cuauhtemoc is for each person to perceive his works according to their imagination and
to recreate a meaningful story for themselves.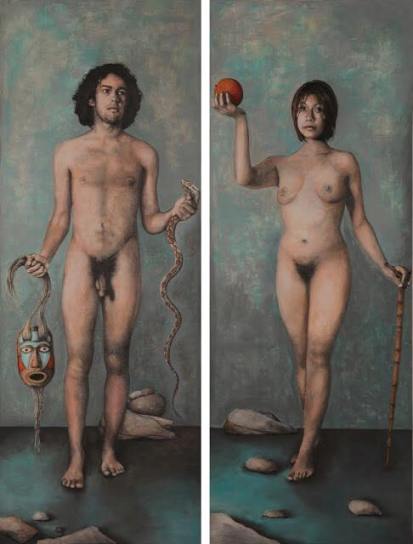 "Adan y Eva", Adam and Eve, by Olga Chorro, 2010.
Grafito y acrílico sobre papel 160 x 120 cm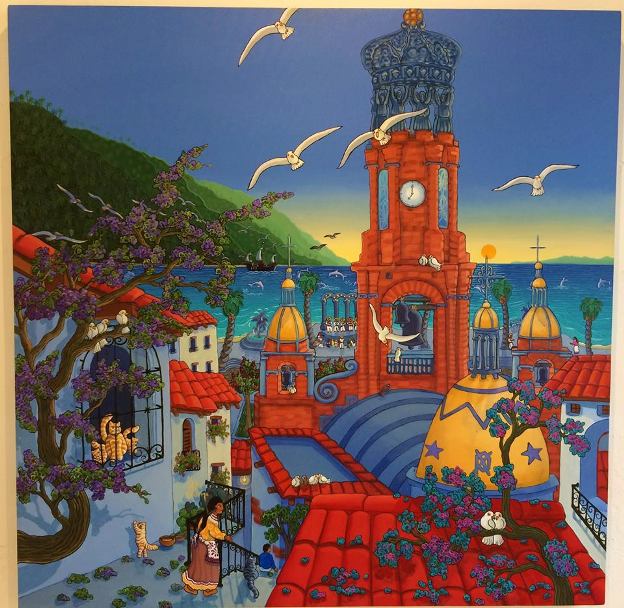 Towers of Vallarta and little cats / Torres de Vallarta y gatitios, 120 x 120 cm, by well-known local artist Ada Colorina (Dec 2016).
She was born in Puerto Vallarta, Jalisco in 1970
and has been active on the art scene here in town for many years.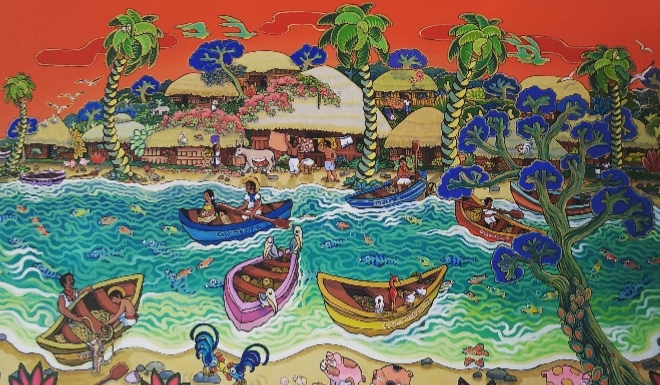 A recent work of Colorina entitled, Small town of boatmen and fishermen on a hot hay.
She "gives life on canvas to what she enjoys most and makes her heart vibrate."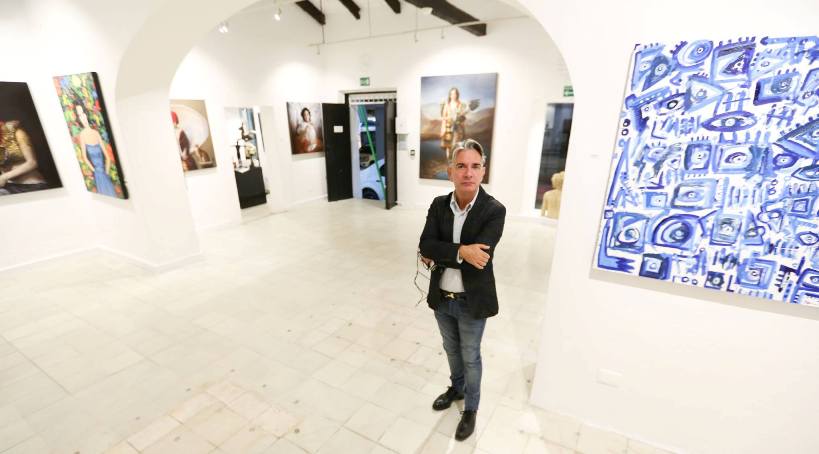 "Some of the finest art of Mexico! I wish I could have a Felguerez or Cuevas and
now Ulices Licea we discovered in Paris !
Just the best Corsica offers in Mexico."
- Alain Figadere, April 2017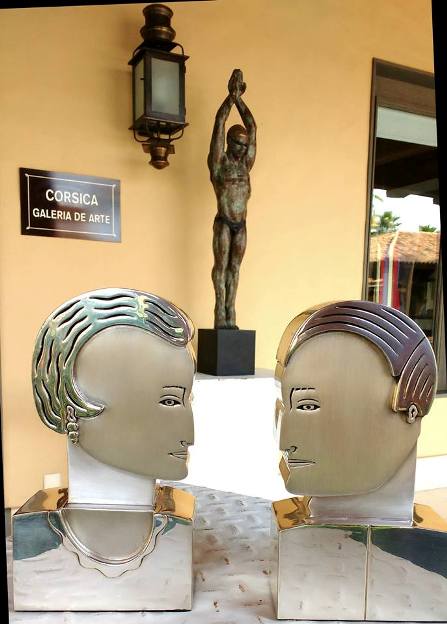 The Kissing Doors by Noe Katz, from November 2016.
Katz was born in Mexico City in 1953 and has ventured into drawing, sculpture, painting and mural works.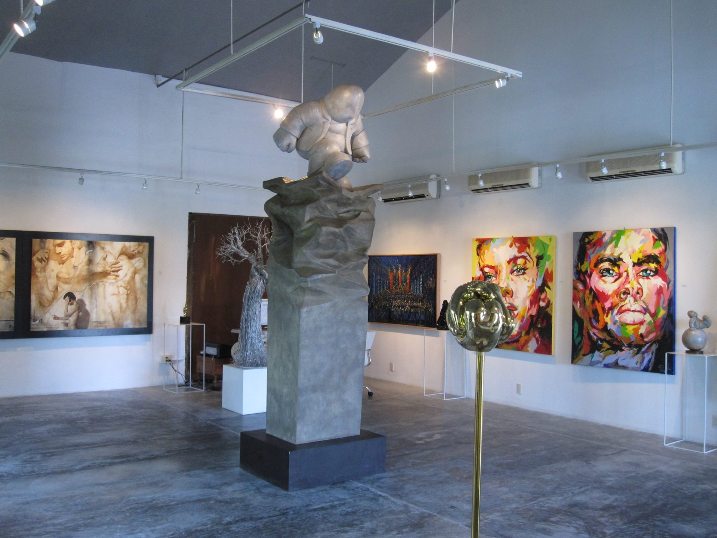 Interior photo showing some Galeria Corsica paintings and sculptures, fine art June 2014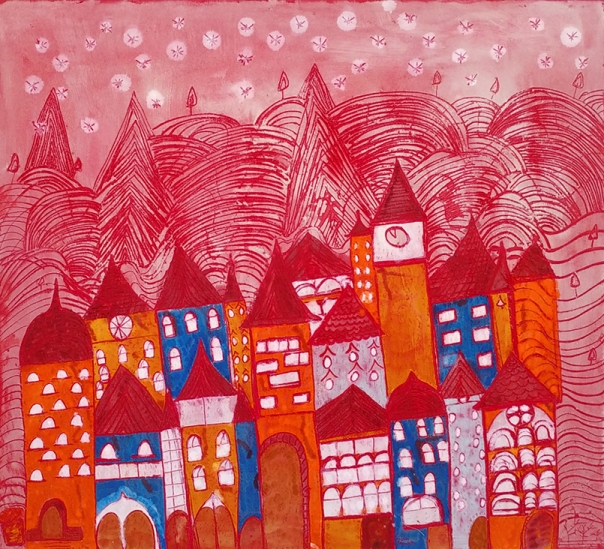 Gina Daboud was born in Mexico City, she is a member of the Society of Plastic Artists.
She has had exhibitions in Latin America, Europe, the USA and Asia.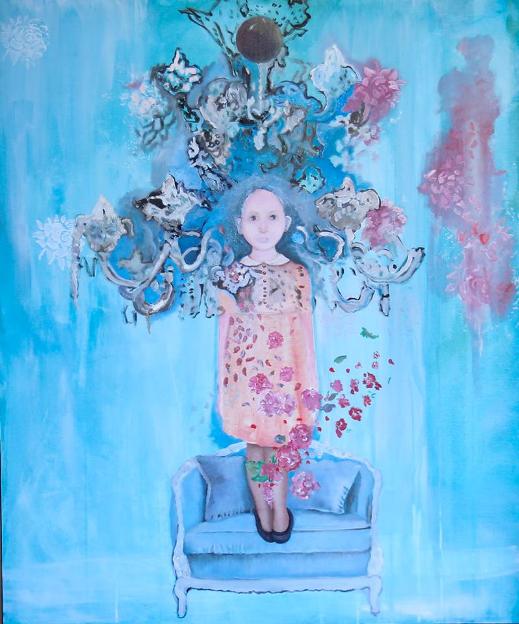 Ana Fuentes, The Secret Garden series

"Es un lugar con mucha Elegancia y refinado y muy comodo para toda la gente
gue va alli muy bonito todo me gustaria conoser."
- Brigida Marquez Ruiz, May 2018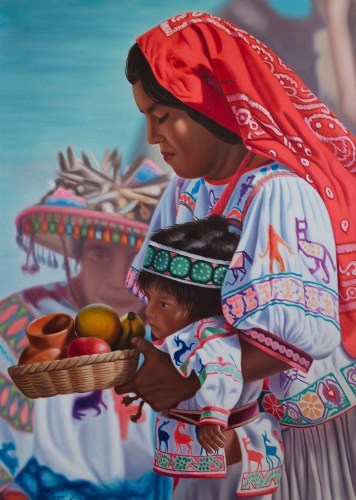 by Sergio Gomez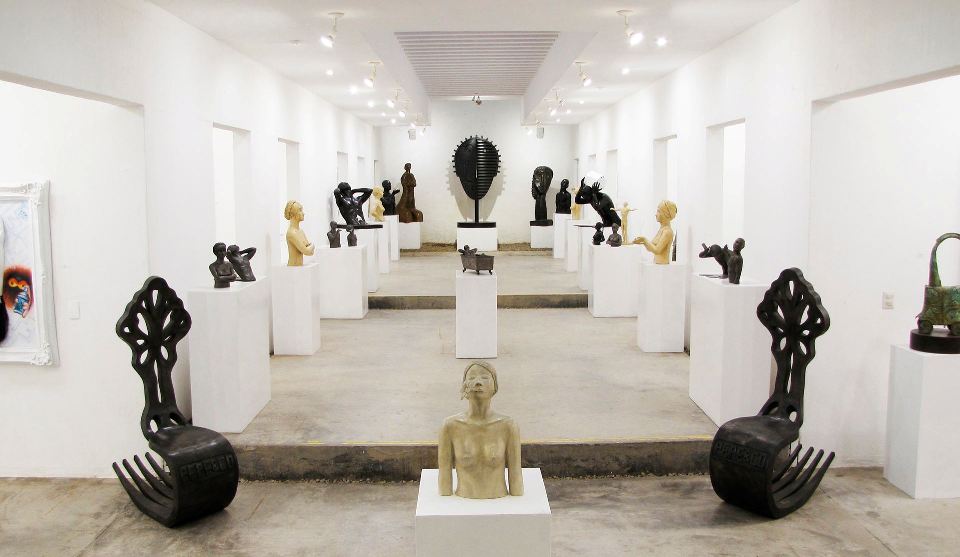 Nice representation of some of the fine art sculptures on display at the Corsica Gallery