Gay Puerto Vallarta Shopping, Stores, Galleries,
Boutiques, Shopping Malls and Centers, Supermarkets
- Gay Vallarta Vacation & Rental Guide
On this Puerto Vallarta Shopping page
Angels Store | Colors | Coral Reef Surf | Coral Skate-Surfing | Corsica Gallery | Liquid Men | Lucy's Cucu Cabana
Mundo de Cristal | Omar Alonso Art Gallery | Papito | Rainbow T-Shirts | Safari Accents | Shopping malls & markets
Sonido Rana music | Xocodiva
Rentals & Lodging
Gay Vallarta Condos
- Condominiums LP
- Beach condos PB
- Beach condos ED
- 3 bedrooms MDA
- condos PDS
Puerto Vallarta Villas
- Three bedrooms
- 4 bedroom villas
- 5-6 bedrooms

Gay Travel Guide
Art Galleries
Botanical Gardens
Cafes - internet
Calendar Gay Events
Community Groups
Contact Info
Fun - Excursions
Gay Clubs & Bars
Gay Beach
Gay Cruises & Tours
Gay Travel Links, etc
Gym & Health spas
Law and Custom
Lesbian Vallarta
Malecon & downtown
Map
More Gay Beach pics
More Gay Bar photos
More Malecon pics
Other Beaches
Photos Art Galleries
Photos Carnival
Quick Gay Travel tips
Restaurants
Restaurant pictures
Services
Shopping
Straight Nightlife
Tourist Info
Vallarta Annual events
Vallarta Photos
Vallarta Pride parade
Weather

Shopping in Puerto Vallarta Stores
Gay men love to shop, especially while on vacation in a new and exotic place like Puerto Vallarta. This area of Mexico is known, among other things, for its locally made arts & crafts, ceramics and beautiful hand blown colored glass available at the many gift shops throughout the city. Talavera pottery is still locally made using the centuries old techniques of the Spanish. Excellent leather goods from the city of Leon are available in here at a third of the cost in the States. The Huichol Indians of Nayarit and Jalisco are among the great artisans of Mexico, producing intricate yarn paintings and beaded masks, animals and prayer bowls. The yarn paintings by such masters as Jose Benitez Sanchez and Jose Bautista are extraordinary and collected by museums around the world. Quite a few of the Vallarta shops and art galleries carry work by the Huichols and other native tribes like the Cora, and a number of these are gay-owned too. Beautiful black pottery from Oaxaca, all sorts of handcrafts and simple Mexican leather sandals (huaraches) can be had for a song.

It's great to go shopping here as so many interesting stores and boutiques in Puerto Vallarta are filled with quality pottery, stained and etched glass, knickknacks, women's clothing and accessories, Cuban cigars, trinkets, beach wear and summer clothes, handicrafts/artisanry and native artifacts, paper mache, home furnishings and furniture, wood carvings, colorful blankets (sarapes), embroidered clothing, gold jewelry and hand-made gifts and items of just about every imaginable design, material and fabric. There are an abundance of specialty stores in all different parts of town which adds to the city's attraction as a tourist destination. Mexico is among the world's leading producers of silver, and dozens of jewelry shops sell high quality sterling silver items. Prices in retail stores are marked in pesos and are fixed. There are three general and especially gay-friendly districts you might want to take a walk around in to look and shop: Downtown, Cuale River Island and the South Side. Most of the main Puerto Vallarta shopping malls and centers (listed page bottom) are in or near the hotel district on the North side or else around Marina Vallarta.

Downtown
The street along the downtown boardwalk sea-wall or malecon, Paseo Diaz Ordaz, has many designer stores that generally sell goods at high prices. It's perhaps better to do some shopping instead along the Juarez and Morelos street areas, which run parallel to the malecon, and also the cross streets in-between. Prices are more reasonable and many small locally owned stores, fashionable boutiques and quite a number of fine art galleries such as the Galeria Pacifico, Corsica and Uno are in the area. Farther south on Insurgentes street along the Cuale River is the large Municipal Market or flea market (9am-8pm), with its many of stalls on two levels for great Puerto Vallarta shopping where you can and are expected to bargain before buying just about anything under the sun, including 30 dozen or more different types of T-shirts, as well as jewelry, handicrafts, glassware, sombreros, pottery, trinkets, mirrors, sarapes/blankets, silver, souvenirs of all sorts, key chains and clothes to name a few items. There's also the Pueblo Viejo Artisans Market at Morelos and Agustin Rodriguez streets with its wide variety of handcrafts and economical items. Many colorful and fun shops are nearby and waiting to be explored.

Cuale River Island
Puerto Vallarta is divided by the Cuale River, which runs from high in the Sierra Madre mountains into Banderas Bay. In the middle of the river is an long and narrow island that has several very good restaurants on it including the well known Le Bistro, Oscar's and The River Cafe. One can feel the tropical energy of Mexico on this island as in no other part of town, with its botanical gardens, Anthropology Museum, Cuale Cultural Center and small stalls, stores, kiosks and boutiques that sell fine clothing, tapestries, obsidian carvings, women's clothes, Mexican handicrafts and some unique gifts such as individual watercolor paintings. Many of these buildings are dwarfed by enormous, ancient trees which add to the beauty and charm of the entire island. Take time for a leisurely stroll through this lovely part of Puerto Vallarta.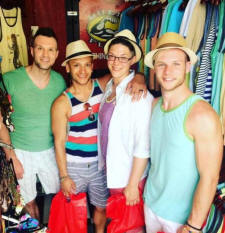 South Side / Old Town / Romantic Zone
It's enjoyable to do walking and looking around the cobblestone streets of the South Side area (sometimes called Old Town or the Zona Romantica) especially on the main streets Ignacio Vallarta, Olas Altas, Lazaro Cardenas and Insurgentes. There are many stores filled with beautiful home furnishings and accessories, decorative items and gifts, jewelry and silver from Taxco, handicrafts, sandals/huaraches, women's clothing, unique collectibles, colored glass and the ubiquitous beachwear and souvenirs. Lazaro Cardenas street has some interesting native art stores/galleries on it, such as Artesanias Flores and Olinala Gallery, as well as the gay bars CC Slaughters, La Noche, Dreams and Reinas. Quite a number of good restaurants are in this general area. Vallarta's "Restaurant Row" on Basilio Badillo street has more than eighteen eateries in six or seven blocks, and a good number of interesting stores to boot. Most of the gay-owned bars, restaurants, nightclubs and shops are within several blocks or a short walk of one another on this side of town.
Gay-Owned Puerto Vallarta Stores & Other Interesting Shops
Excellent quality goods from all over Mexico can be found by shopping in Puerto Vallarta. Here are the gay-owned and operated shops and such (**) that I know about, as well as some others that I consider to be unique or of special interest. There are hundreds of smaller stores and boutiques in town and now a good number of larger shopping malls or centers and supermarkets as well, so what we have here is a very modest list. Shopping tips: The exchange rate offered in most places is rather poor, so visit an ATM or change dollars at a Casa de Cambio/Money Exchange House before going out shopping. Also, use your credit card when possible as that gives you the best rate, although a good number of Vallarta shops only accept cash. I advise you to check prices carefully before purchasing anything and be certain to count your change. Please note that store prices are fixed, while you can bargain on the beach or at the flea markets and in the municipal markets.
Alfareria Tlaquepaque - Centro - 1100 Avenida Mexico. Phone: 322-223-2121
One of Vallarta's oldest stores and an original source of arts and crafts, ceramics and handicrafts for over 55 years. A wide variety of vases, ceramic pots, colored jars and glasses, talavera pottery, baskets, lamps, dishware, and blown glass by artisans from all over Mexico. Alfareria Tlaquepaque (facebook) has had decent prices since 1953. Mon-Sat, 9am-9pm
Alphonse Swimwear - South Side - 373 Pino Suarez C-17 at condos Loma del Mar. Tel: 322-222-7053, 322-229-9217 **
Alphonse swim wear features unique, classic and contemporary designer swimsuits for men. This boutique-concept company, based in Vallarta since 1998, offers five (5) original styles: Atletico, Bikini, Olympic, Mini B-twini and B-twini. Each crafted swimsuit is manufactured in limited edition in a variety of the best quality fashion forward prints and fabrics. Uniquely suited for gay men. "He uses his innate knowledge of the beauty of the male form to construct a contemporary style to enhance each man's natural attributes." By appointment only with Alphonse Deserville, with more info about his swimwear here.
Amsterdam - Zona Romantica - 269 Lazaro Cardenas. Tel: 322-294-1385, 322-222-2933 **
Gay-owned store focusing on men, with clothing, shoes, beach shorts, swim suits, briefs and other fun, colorful and fashionable accessories as as Burberry glasses, Armani Exchange, Prada, Havaianas sandals, Dupe and Squalo. Also notable is their variety of t-shirts and shirts, collections of men's underwear, and a wide selection of footwear, leather sandals, their main brand AMS. Located down the street from La Noche gay bar. Pet friendly; credit cards accepted. Info and photos at Boutique Amsterdam PV on facebook. Sun-Thurs, 9am-10pm; Fri and Sat, 9am-11pm
Angels Store - South Side - 267 Lazaro Cardenas street. Telefono: 322-365-1666 **
Boutique for men with stylish clothing, gifts and accessories for the modern Vallarta gay boy. Angels Store PV (facebook) carries Jor pop underwear and swimwear, sweats, dress shirts, Gigo underwear and erotic wear, jock straps, leather items, and a selection of poppers. Located for many years next door to La Noche gay bar. Recently introducing their new fetish collection. "Angels are not just in heaven." Daily, 10am-10pm
Banderas Bay Trading Company - Old Town - 319-A Constitucion street. Tel: 322-223-9871
Antiques, crafts, contemporary and custom furniture including tables, chairs, armoires and trasteros, talavera, mirrors and religious art. Banderas Bay offers a variety of lighting accessories in metal, wood and ceramic, from traditional Mexican talavera to contemporary brushed steel or pewter. The owners will occasionally travel in Mexico and Central America to visit local fairs, artisans and dealers for one-of-a-kind decorative objects. Mon-Fri, 10am-5pm, with Fri also open 6pm-10pm; Sat, 10am-3pm
Barber & Booze - Romantic Zone / South Side - 122 Rodolfo Gomezs. Tel: 322-222-8554
Barber-shop whose services include classic shave, moustache styling, gentlemen's hair cuts, head shave, or a hair cut with a classic shave. Barber and Booze (website) offers a variety of men's grooming products as well. Exclusive drinks include barber Negroni, hot mustache, Sweeney Todd, ginger spirit and many others. They tell me they can also help with planning your bachelor party. Since 2015. Mon-Sat, 9am-9pm; Sun, 11am-7pm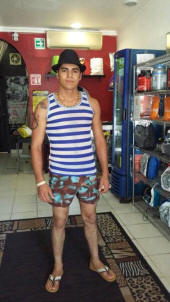 Cassandra Shaw Jewelry - South Side - 276 Basilio Badillo. Tel: 322-223-9734
Contemporary and personally-designed jewelry for men and women, with a much wider selection for women. Sterling silver, precious stone, coral, pearl, onyx, turquoise, jasper, rings, pendants, necklaces, bracelets, earrings, as well as accessories such as handbags and scarves. Cassandra Shaw Jewelry (website) features some fifteen Mexican and international designers who live and design in various regions of Mexico, and their pieces come in a range of styles from traditional Mexican, rustic and edgy, to contemporary and sleek. Since October 2007. Mon-Sat, 9am-9pm; Sun, 10am-6pm.
Christopher Wynn - South Side - 146 Pulpito. Tel: 322-222-9390 **
Fine home furnishings and furniture shopping for the well-to-do. Since 2005. Mon-Fri, 11am-5pm
Colors - South Side - 111 Rodolfo Gomez at Hotel San Marino, Local #2 and Los Muertos Beach - calle Malecon, Local #5. Tel: 322-222-7764 **
Beachwear, clothing, accessories and other mens boutique items. There are now two stores, one at the Hotel San Marino where the Best underwear and beachwear shop used to be; and the other, the original store, which is a colorful gay-owned boutique, located just down the block from the Blue Chairs gay hotel resort and across from the Sapphire Ocean Club on Los Muertos beach. With owner Jose Antonio Orozco, cellular: 044-322-182-0152. Daily, 10am-6pm
Contempo Galeria - South Side - 252 Basilio Badillo. Tel: 322-223-1925 **
One of the newer art galleries in the city, with very contemporary and avant-garde Puerto Vallarta artwork, bronze statues and paintings. Representing well-known and up-and-coming Mexican artists such as Cecilia Garcia Amaro, Jesus Cantu, Anna Cooke, Abelardo Favela, Daniela Riquelme, Arturo Santana and Lucille Wong. An impressive art collection on two floors for some upscale shopping. Contempo Art Gallery has the same owner and location as the old Adobe Cafe - knowledgeable and friendly service with gay owner Rodolfo Choperena Tiemann, who worked at the Galleria Dante for five years. Since October 2010. Mon-Fri, 10am-5pm; Sat 10am-2pm
Coral Reef Surf Shop - 114-F Heroes de Nacozari, just off Coastal Highway 200, Bucerias. Tel: 329-298-0261
Puerto Vallarta surfing equipment, new and used surf boards and lessons, surfboard rentals, surfing related clothes, boardie shorts, leashes, t-shirts, wax, wet suits and other beach and surfer necessities and accessories. Since 1997 the Coral Reef Surf store has served Bucerias, Puerto Vallarta, Punta de Mita and the greater Banderas Bay area. David and Maneula, owners. Mon-Sat, 9am-7pm; Sun, 10am-2pm.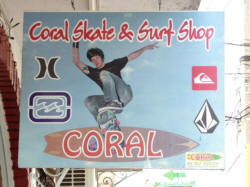 Coral Surf and Skate Shop - 322-B Insurgentes - South Side. Tel: 322-222-7785
All sorts of surf, sports and beachwear and clothing for our local surfers and skaters with skim and skate boards, shirts, sandals, kewl caps, boardie shorts and body boards. Coral Surf recently remodeled and expanded to include more surfing items. Since 1992. Mon-Sat, 10am-2pm and 4:30pm-9pm
Dulceria Con Orgullo Azteca - Downtown - 294 Agustin Rodriguez and 449 Juarez at Mina. Tel: 322-223-0707
All sorts of typical and traditional Mexican sweets, preserves, dried fruits, fresh nuts, caramels and candies. There are several of these traditional candy/sweets stores in the main municipal or flea market area.
Elements of Design - South Side - 242 Aquiles Serdan at Ignacio Vallarta. Tel: 322-113-0236
Upscale fine home decor and furnishings, mirrors, art work, designer furniture, rugs, lighting and accessories. The Elements of Design store offers interior design services as well. Mon-Sat, 10am-8pm; Sun, Noon-5pm.
Encore Boutique - South Side - 584 Lazaro Cardenas. Tel: 044-322-111-5567
First and only women's consignment clothing store in Puerto Vallarta and the Banderas Bay area. A bit off the beaten track but has many brand names such as Christian Dior, Gucci, Prada, Ferragamo, and Anne Klein. Owned and operated by Mikki Prost who has lived over 20 years in Puerto Vallarta. She's also a yoga instructor. Winter hours: Mon-Fri, 10am-2pm and 3pm-6pm; Sat, 10am-4pm
Flowers To Go - South Side - 126 Rodolfo Gomez. Telefono: 223-5686 **
Flowers and more flowers, nicely arranged and they can deliver anywhere in Puerto Vallarta. Official florist for the Gourmet Festival. Gay-owned flower shop and arrangements by Bob Bruneau and Gerardo Lugo. Further info at Flowers to Go Vallarta. Mon-Sat, 10am-7pm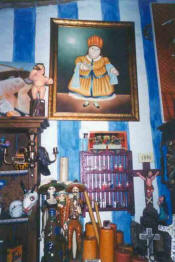 Galeria Corsica - Central - 230 Leona Vicario, Tel: 223-1821 and 735 Guadalupe Sanchez. Tel: 222-9260 **
Contemporary Mexican fine art exclusively, with paintings, art objects and sculptures. Representing such artists as Rocio Caballero, Miguel Carrillo, Xavier Esqueda, Ana Fuentes, Ulices Licea, Flor Minor, Rodrigo De La Sierra and Teresa Zimbron. Founded in 2002 by gay owners Jose A. Villavicencio and Jean Pierre Renucci and "dedicated to the promotion of contemporary Mexican artists." Galeria Corsica has galleries in Puerto Vallarta and San Jose del Cabo and an office in Mexico City. Mon-Sat, 11am-3pm and 6pm-10pm
Galeria Omar Alonso - Central - 249 Leona Vicario. Tel: 222-5587 **
This gay-owned gallery has its artistic specialty in contemporary and antique photography, engraving and sculpture. Pieces and photos have been displayed by artists such as Anderson & Low, Gabriel Figueroa, Flor Garduño, Ron Van Dongen, and Luis Gonzalez Palma from Guatemala, one of the more successful Latin American photographers today. Omar Alonso is located across the street from ritzy restaurant Cafe des Artistes. Mon-Fri, 11am-9pm
Lalo Morales Boutique - South Side - 241 Basilio Badillo. Tel: 223-0295 **
Decorative handbags, lampshades, home accessories and other unique handcrafts. A fair trade shop, they only buy from the artist or craftsperson, do not consign, and so help create new revenue streams for the people most in need, i.e. the worker. In certain cases owners Mark Patton (actor) and Hector Morales Mondragon give micro-loans or stipends to help begin a new company. Most of their artists are women with children. Mon-Sat, 10am-10pm
Lix - South Side - 178 Basilio Badillo. Cell: 322-147-0858 **
Ice cream, shakes, yogurt, old-fashioned sundies and banana splits, etc. Woman-lesbian owned and operated by Charlotte and Carole, the owners of Xocodiva chocolates. Daily, 3pm-10pm
Liquid Men - South Side - 222 Basilio Badillo and 286 Lazaro Cardenas, Tel: 322-222-2878 **
Fashionable clothing store with accessories for the modern gay boy on the South Side in two locations. A stylish selection of accessories, club attire, jeans, shoes, shorts, shirts, swimwear, t-shirts as well as wallets, belts, sunglasses, pipes, poppers and lubes. A fine place on Cardenas street for men to shop, and nicely located just down the street from C.C. Slaughters, the popular gay nightclub; Liquid Men also with a larger well-stocked store on Basilio Badillo. Luis Alberto Rivero, general manager. Daily, 10am-10pm
Londres PV Boutique - Emiliano Zapata - 265 Aguacate. Tel: 222-2450
Find here some of the better youth fashion in town. They carry some of the latest trends for men and women at reasonable prices. Gay-friendly service.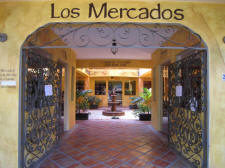 Los Mercados - South Side/Old Town - 265 Aquiles Serdan. Tel: 222-0383
Puerto Vallarta Los Mercados/The Markets (photo right) is a newly remodeled market located in Zona Romantica which offers a variety of shops: Don Fresco offers fresh produce including locally grown heirloom tomatoes, sweet white corn and a selection of lettuces; Cork+Bottle has red, white and sparkling wines plus premium imported and national spirits, including sherrys and ports; k'rico for baked-goods, coffees, pastries and cakes; Mikey's has fresh pastas including handmade ravioli and gnocchi, fresh-baked lasagnas and quiches, salads, gourmet cheeses, breads, and premium deli meats; at Fireworks you can choose and paint your own ceramics. The open-air courtyard hosts cafe tables, water fountain and plants making it a the good place to relax. For more info visit Los Mercados - Puerto Vallarta Market. Mon-Sat, 9am-8pm

Lucy's Cucu Cabana - Romantic Zone - 295 Basilio Badillo. Tel: 222-1220
Now closed. Unique Mexican folk-art store including items from Oaxaca and also talavera ceramics and jewelry which they often purchase on their journeys around Mexico during the summer. Co-owner Gil Gevins, Lucy's husband, is also the author of several hilarious books of Vallarta misadventures, one entitled, Puerto Vallarta on Forty-Nine Brain Cells a Day, which you can purchase at the shop. Since 1993. Mon-Sat, 10am-10pm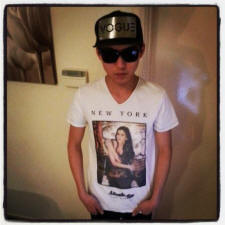 Marino Jewelry - South Side - 110 Rodolfo Gomez. Tel: 322-222-8839
If you're in the market for a nice selection of silver from Taxco, handcrafted jewelry and precious gems, check out Marino Jewelry store which has been in the neighborhood for many years and are gay-friendly Mexican locals. Repair and manufacture as well. Across the street from the San Marino Hotel. Daily, 9am-10pm
Mercurio Swim - Emiliano Zapata - 279-C Lazaro Cardenas. Tel: 322-688-4111 **
An exclusive line of men's swimwear designed and hand sewn in town, as well as off the rack bikinis, boxer, crop tops, shorts, tank tops, tangas, underwear. Mercurio Swimwear (website) is just down Cardenas street from the gay bar La Noche, and is associated with the gay Hotel Mercurio. Their beach and casual clothing for men is made in their own workshop in Vallarta, using top quality imported fabrics, elastics and threads. Their swim suit designs and many of their prints are unique, designed by Pablo Mercurio. Fashionable wear since 2018. Daily, 10am-10pm
Metro Cuadrado - Old Town / Emiliano Zapata - 314 Basilio Badillo. Cell: 044-322-174-3811 **
Street wear. Small new gay-owned and operated store with one of a kind pieces (picture left) and some of the best European brands such as Uniqlo, New Yorker and Milk fashion at affordable prices. T-shirts, caps and shoes. Owner Orlando Santamaria. Mon-Sat, 11am-2pm and 4pm-8pm
Millan - Romantic Zone - 129-1 Amapas. Tel: 322-137-3519 **
Stocked full of colorful and stylish clothing and beachwear, swim suits, shirts, sunglasses, tank tops, sandals, board shorts and t-shirts galore. Down the street from popular Blondies gay bar. Daily, 10am-8pm.
Mundo de Azulejos (World of Tiles) - South Side - 374 Venustiano Carranza. Tel: 222-5402, 222-2675
The only talavera tile factory in town. Specialty in talavera and artistic tiles, murals, pots, vases, personalized plaques, pottery and home accessories, with thousands of hand painted items in stock. The beautiful things at Mundo de Azulejos have been produced locally in the Valle de Nayarit by this family owned business for some 25+ years. All products hand-made. Website info talavera-tile.com Mon-Sat, 9am-7pm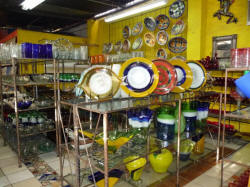 Mundo de Cristal (World of Glass) - South Side - 333 Insurgentes. Tel: 222-4157
The first hand blown glass factory in Puerto Vallarta. Mundo de Cristal is local family business that produces and sells lovely colored glasses, decanters, pitchers, pewter, candle holders, centerpieces, vases and decorative pieces as well as talavera and ceramic work (photo left). A quality gift shop. Mon-Fri, 9am-7pm and Sat, 9am-2pm
Natural Mystic Smoke Shop - Old Town - 265 Fco. Madero. Tel: 222-1839
Pipes, vaporizers, e-cigarettes, handmade incense, rolling papers, water pipes, incense, dabbing equipment, with many major brands such as Bee Line, Iolite, Raw, Zig-Zag, Vapor Brothers, etc. Natural Mystic is located next door to gay-owned Bravo's Restaurant. Mon-Sat, 10am-8pm; Sun, 11am-6pm
Organic Select Mexico - Colonia Versailles - 169 Francia. Tel: 222-1015
The largest organic foods place that I know of in town: breads, cereal, free range eggs, coffee, dairy products, fruits and vegetables, herbs, grass grazed beef, sprouts, jams and yogurts, virgin oils, grains and flours. Organic Select is a member-supported organic agricultural educational project. They deliver each week to Vallarta, Punta de Mita, Sayulita and the surrounding areas along the Coast of Jalisco and Riviera Nayarit. Mon-Fri, 9am-5pm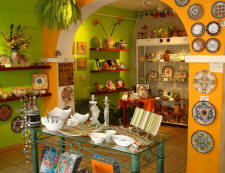 Parisina - Downtown - 402 Juarez, Tel: 322-222-2022 and 2747 Francisco Medina Asc. Tel: 322-221-1165 and Pitillal - 1526 Ave. Francisco Villa.
One of the main Puerto Vallarta fabric/telas stores. Main location on Juarez street across from City Hall, another on the North Side Hotel Zone and a third store in the new Macroplaza Vallarta on Avenida Francisco Villa. A 75 year old nation-wide chain of ready to wear and decorative fabrics for dresses, scarves, rugs, sewing machines/maquinas de coser, etc. Mon-Sat, 10am-8:30pm; Sun, 9am-7pm

Papito - Los Muertos Beach - 162 Malecon street. Tel: 178-2790, Cell: 044-322-181-1721 **
Beachwear and swim wear for the young gay male and swimsuits for men. Located in the block behind the gay beach at the Blue Chairs and the new Sapphire Ocean Club. Daily, 10am-7pm

PV Technology Solutions - South Side - 141-A Pulpito. Tel: 113-0024, 044-322-194-8431
Computer repairs and accessories, iPads and iPods, PC and Mac computers, formatting and system installation, tutoring, operating system and program upgrades, network troubleshooting, installation and service with Cheyenne. Tim and John in the same office space publish the handy and very useful new Gay PV magazine guide booklet which is widely available in town at more than 100 locations. Located across from popular gay piano bar Garbo. Cheyenne makes house calls for work on your computer. Mon-Fri, 9am-6pm; Sat, 9am-2pm

PVRPV Laundry Service - Old Town / Romantic Zone - 141 Pulpito and 212 Pino Suarez. Tel: 322-223-5544, 322-222-7011 **
Machine or hand wash, ironing, upholstery, mending, stain removal with Patti and Julia on Pulpito street. Reasonable pricing. Home delivery is available. Mon-Sat, 7am-5pm

Quicksilver - Downtown - 1320 Avenida Mexico Local B, at Chile street. Tel: 222-9453
New surf boards, Quicksilver shirts, pants, shoes, skateboards, surfing-related clothes, boardie shorts, leashes, t-shirts, wax and other beach and surfer accessories, attire and necessities. Mon-Sat, 11am-9pm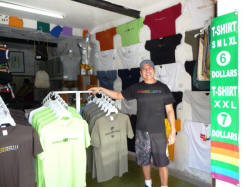 Rainbow T-Shirts - South Side - 137 Pulpito. Tel: 223-2868, 044-322-138-1475 **
Exclusively designed colorful and inexpensive t-shirts. Friendly service with owner Martin (photo left). Across the street from the old Hotel Abbey. Mon-Sat, 10am-5pm
Rebeca's Vallarta - South Side / Romantic Zone - 403 Olas Altas. Tel: 322-222-2320
Located on Olas Altas street, Rebeca's has a wide variety of men's, women's and children's clothing, swim wear, foot wear, and souvenirs. Fashion wear for men by Bobois, Lyon, Andrew Christian and Jor among others. Find them down the street from popular gay bar Apaches. One of the oldest clothing stores on this side of town, since 1967. Mon-Sat, 9am-10pm; Sat, 10am-6pm
Rio - South Side - 499 Olas Altas at Rodolfo Gomez. Tel: 322-137-3519, 322-370-4543 **
Men's clothing store on Olas Altas street across from the La Piazzetta restaurant. Tops, beach wear, swim suits, sunglasses, sandals. Mon-Sat, 10am-7pm; Sun 10am-3pm
Ropero de Jovany - Downtown / el Centro - 227 Hidalgo. Tel: 322-596-1713, Cell: 322-178-1799 **
"Vallarta's premier Vintage restoration - thrift consignment store", Jovany has hand picked vintage, ready to wear, top designer brands and women's clothing. Mon-Sat, 12pm-8pm
Safari Accents - South Side - 224 Olas Altas. Tel: 322-223-2660 **
A wide selection of handsome home furnishings, colored glass, candles and decorative candle holders, Mexican religious art such as painted icons, statues and other special gifts, to name a few items. Safari Accents has been a popular Vallarta gift shop for handcrafts for over 30 years, with friendly service from Gerardo for some 27 years. "This is a nice little shop with an assortment of decorations from Mexico. Hand-blown glass hearts, Dia de los Muertos decorations, crosses etc. Most of it is made locally." Since July 1991. Daily, 10am-10pm.
Sergio Bustamante - Downtown - 275 Juarez. Tel: 322-223-1405, 322-222-1129 **
Modern sculpture and original jewelry by one of Mexico's famous artists. Sergio Bustamante has produced life-size animals done in bronze, ceramic and paper mache since 1975. Also with gallery locations in Cabo San Lucas and Tlaquepaque. Daily, 10am-9pm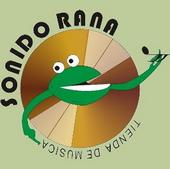 Serendipity - South Side - 228 Ignacio Vallarta. Tel: 322-223-1828 **
Selection of Mexican handicrafts. Talk to Chuy at the Serendipity shop on Ignacio Vallarta street. Another one of the gay-owned stores that has been in the neighborhood for many years now. Mon-Sat, 10:30am-3:30pm and 5pm-8pm.
Sonido Rana - South Side - 325 Francisco Madero. Tel: 322-222-4176
With an extensive collection of CDs and musical DVDs, Sonido Rana is the largest Vallarta music store as far as I know. From classical and new world music to salsa, jazz, traditional Mexican, norteno, banda, hip hop, disco, rock and international pop. Sonido Rana / Frog Sound also sells musical instruments including guitars, accordions, organs, violins and harmonicas, also with music books, sheet music, study methods, audio equipment and accessories. Location also in Bucerias, Nayarit. Mon-Sat, 10am-8pm
The Computer Store - Colonia Lazaro Cardenas - 153 Guayana at Cuba. Tel: 322-223-2939, Whatsapp: 322-241-9005
Sales and services of new and used personal computers and laptops, with computer parts and supplies. Over 25 years experience in Puerto Vallarta with owners Daniel de le Torre and Carlos Herrera. Formerly owned and operated by Tom Barrington, the Computer Store is located at the corner of Cuba and Guayana streets, around the block from the Red Cross headquarters. One of the main and best computer sales and service stores in town, if not the oldest, since 1997. Everything from adaptors, motherboards, RAM, and voltage regulators to CPUs, cables and cameras. This is where I take my computer for repair and tune-up. Mon-Fri, 9am-6pm
The Loft Galeria - Central - 176-A Corona, upstairs. Tel: 322-222-6353 **
Unique art works at the Loft Gallery by Carlos Cortes, Marianela de la Hoz, Rodolfo Morales, Norma Pardo, Rufino Tamayo, Alejandro Zenker and many other fine artists. Sculpture, painting, photography and works on paper by emerging, mid-career and recognized masters of The Americas. This gay-owned gallery was established by Ruben Cham and John Strawn. Further info visit The Loft Galleria. Mon-Fri, 11am-6pm; Sat, 11am-3pm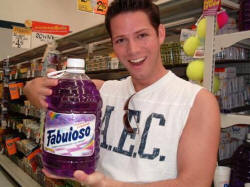 Tops and Bottoms - South Side - 156 Basilio Badillo. Tel: 322-171-2942 **
Hip clothes & fashionable accessories for the growing gay guy and his straight friends. Right next down the street from the famed Cade de Olla restaurant. Manager, Ausel Diaz Arguello. Mon-Sat, 10:30am-2pm and 4pm-10pm
Xocodiva - Zona Romantica - 277 Basilio Badillo and Emiliano Zapata - 369 Aquiles Serdan. Tel: 322-113-0352, 322-244-0856 **
Hand made truffles, gourmet nuts, confections and delicious chocolates for those with a sweet tooth, "artisan chocolates". Xocodiva PV is woman-lesbian owned and operated by Charlotte Semple and Carole Fast. Daily, 9am-10pm
Vallarta Ink - Colonia Lazaro Cardenas - 1580 Puerto Rico street. Tel: 322-278-9736, 322-223-8412
Tattoo art and piercing studio with tattoo artists Kiki Guerrero, Mario Toloza, and Vera Lugo, and body piercing with Melany and Dante Porcino. Since 2009 when Kiki came to visit from Salt Lake City, fell in love with the culture, tropical weather and terrific views and then quickly decided to relocate. Vallarta Ink tattoos emphasizes a clean, sanitary and artistic environment with a diverse customer base. Daily, 10am-9pm
------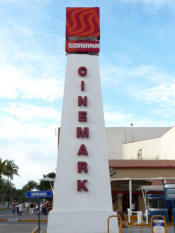 Puerto Vallarta Department Stores/Shopping Malls/Supermarkets (for detailed information on these and other stores and shopping malls go to the link)
Casa Ley - Central/Downtown - 1150 Avenida Mexico. Phone:224-3009, 223-1978, 223-1863. The main supermarket downtown, with groceries, bakery and cleaning items downstairs; appliances, clothing, house supplies upstairs. Typical older style supermercado, catering mostly to local Mexicans Daily, 7am-Midnight.
Coppel - North Side/Hotel District - 190 Blvd. Francisco Medina. Tel: 222-8461, 224-8460 Department store. Mon-Sat, 10am-8:30pm; Sun, 10am-6pm
Costco - Fluvial Vallarta/North Side - 134 Fluvial Vallarta Ave just off Francisco Villa street. Tel: 226-2580. Fresh meat, fresh produce, bakery, optical department, pharmacy, televisions, computers, iPods, cameras, cellular phones. Membership required. Since March 2008. Mon-Sat, 9am-9pm; Sun 9am-8pm
Galerias Vallarta Centro Comercial - North Side - 2920 Francisco Medina Ascencio. Tel: 209-0923. Newest upscale shopping center in Puerto Vallarta, with the huge upscale Liverpool department store, MMCinemas movie theaters with 12 screens, and over 200 shops and restaurants on two levels.
Lans - Central - 867 Juárez, Tel: 226-9100 and Hotel Zone - 2216 Blvd. Fco. Medina Ascencio in Plaza Caracol, Tel: 226-0204, 223-2829. Modern well stocked department store in downtown Vallarta. Mon-Sat, 10am-9pm; Sun, 11am-7pm
Macroplaza Vallarta - Pitillal - 1526 Avenida Francisco Villa at Gonzalez Gallo Avenue. Tel: 224-9178. The newest Puerto Vallarta shopping mall complex located two blocks from the Soriana Pitillal shopping plaza, with a large Wal-Mart as its main store among some 200 other clothing and furniture stores, eateries and a movie cinema theater as well.
Mega - North Side - Km 6.5 Highway to the Airport. Tel: 221-0490, 221-0053, 222-7709. Comercial Mexicana grocery store near the Sheraton hotel that reminds me of a Safeway in California, with a large department store section as well. One of the largest markets in the city, carrying a wide variety of items from food products and fresh pastries to major kitchen appliances, clothes, liquors, cookware, a variety of seafoods and deli meats, and a well stocked pharmacy.
Municipal Market/Flea Market - Downtown - Insurgentes at A. Rodriguez. Tel: 293-3971, 224-1175. Located along the north side of the Cuale River with lots of everything from souvenirs and trinkets to clothing, t-shirts, glassware, silver and jewelry, pottery and your basic comida/food upstairs. A good place to practice your bargaining skills as they will always start out asking too much; bargain away!
Plaza Caracol - North Side- Francisco Medina Km 2.5. Tel: 224-3239. Vallarta's oldest and principal shopping mall, recently expanded, with the Cinemark movie theaters with 11 screens. Daily, 9am-10pm
Plaza Marina - North Side - Highway to the Airport Km 8. Tel: 221-0490, 223-0338. Large shopping mall on the north end of Puerto Vallarta near the Marina. Daily, 9am-11pm
Soriana - North Side - Blvd. Francisco Medina, in Plaza Caracol. A huge department and grocery store in Puerto Vallarta's principal shopping mall. Clothes, appliances, hardware, food.
WalMart - Marina/North Side/Hotel zone - 2900 Blvd. Francisco Medina Ascencio. Tel: 221-0562, 221-0870. You know the story about Walmart. One of the newest and largest of the dry goods-grocery stores in Puerto Vallarta. Good bakery and deli and a fine selection of vegetables and fruits. Frequented by foreigners and locals alike. Located just next door to Sam's Club and across the boulevard-highway from the Port Terminal where the cruise ships dock. Open 24 hours a day, 7 days a week
Wal-Mart, New - Pitillal - 1526 Ave. Francisco Villa. Tel: 224-9178. At the Macro-Plaza Vallarta shopping mall in Pitillal. Daily, 7am-11pm
Woolworth - Downtown - 880 Juarez street. Tel: 223-1568. Yes it's here too at least 20-25 years, the age old relatively inexpensive department store. Daily, 9am-9pm

Note: The information on this and other pages of the Vallarta Gay Travel Guide was deemed accurate when posted, but changes can happen without prior notice. You may wish to call to check on details directly with any businesses or shops in question before planning your time out around Puerto Vallarta, Mexico. And you can go to the Gay Links, etc page in order to see links along the left-side navigation for all the main pages of the Travel Guide.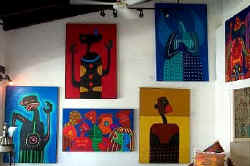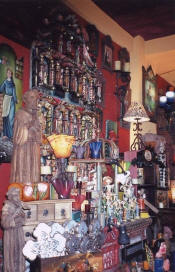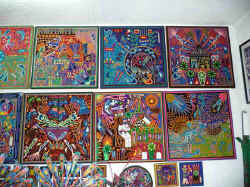 old Puerto Vallarta art gallery Galeria Corona; Mexican handicrafts; Huichol Indian art at Artesanias Watakame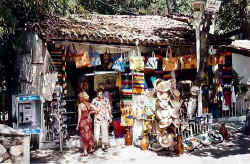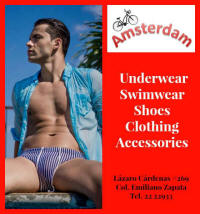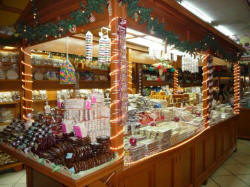 Puerto Vallarta shopping on Cuale River island; Amsterdam boutique on L. Cardenas street; downtown candy store Dulceria con Orgullo Azteca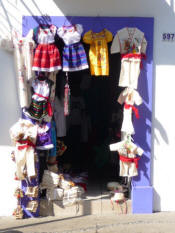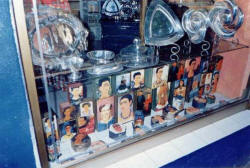 Shopping for handicrafts and clothing at stores on the Cuale River Island, downtown, and the South Side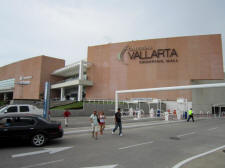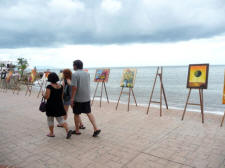 Galerias Vallarta mall on the north end of town; some downtown arts & crafts on display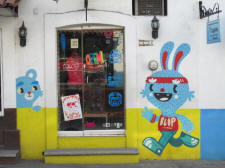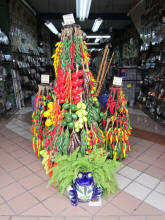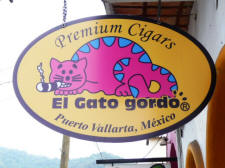 shopping at Blop clothing on Libertad street; World of Pewter shop on V. Carranza;
El Gato Gordo cigar store on Ignacio Vallarta and also now on Olas Altas street
---
top of page | guadalupe festival | gay beach photos 2 | 2 bedroom villas | whale watching | Discovery Vallarta home
town images 6 | PV sunset photos | 7-11 bedroom villas | day of the dead pictures
vallarta photos 4 | important phone numbers | gay hotels | Email contact