Rentals & Lodging
Puerto Vallarta Condos
- Beach condos LP
- Condominiums PB
- Beach rentals ED
- Molino de Agua
- Vacation rentals PM
Gay Hotels Vallarta
Puerto Vallarta Villas
- 2 bedroom villas
- Three bedrooms
- 4 bedroom villas
- 5-6 bedrooms
- 7-12 bedroom villas
Vallarta condos

Gay Travel Guide
Art & Culture
Botanical Gardens
Cafes - internet
Calendar Gay Events
Community Groups
Contact Info
Day of the Dead
Excursions & Tours
Gay Beach
Gay Club and Bars
Gay Cruises & Tours
Gay Links, etc
Gay Puerto Vallarta
Gyms
Law and Custom
Lesbian Vallarta
Malecon
Map
Marina Vallarta
More Downtown pics
More Gay Bar photos
More Gay Beach pics
More Gay Tour pics
Other Beaches
Quick Gay Travel tips
Restaurants
Services
Shopping & malls
Straight Bars Clubs
Sunset pictures
Tourist Info
Vallarta Photos
Vallarta Pictures V
Vallarta Weather

Ocean Friendly - Responsible Whale Watching Tours - North Side at Los Peines Pier, Marina Vallarta - Telephone: 225-3774, Cellular: 044-322-294-0385, from US or Canada: 011-52-322-225-3774. Oscar Frey is an Oceanologist and whale photographer and started his Puerto Vallarta whale watching tours in Banderas Bay in 1994, while also running a research program involving humpback whale distribution, numbers and behavior in this area of the Mexican Pacific. Oscar is a consultant to the Department of Oceanography and Eco-Tourism. His Puerto Vallarta Responsible Whale Watching Tours includes lunch, refreshments (non-alcoholic) and hydrophone system (underwater microphone to listen to the humpback whales and dolphin songs while aboard). Oscar is gay but the whale tours are open to all, and for 4-8 people. Advance reservation is required. I have received excellent reports of the Ocean Friendly nature tours, which is one of the most highly rated and regarded of all local excursion adventures. Highly recommended. Note: Whale tours season is from December 8 to March 23 only, $99 USD per person, $79 USD for children 2-8 years old. Office hours, daily, 10am-6pm.

The Puerto Vallarta Whale Watching Forum has called Oscar and his Ocean Friendly Tours "...the most responsible whale watching tour operator in Puerto Vallarta." All of their tours are led with complete compliance to the official Mexican whale watching regulations and with the safety of guests and the whales being their 2 most important considerations. Currently #1 of 95 traveler recommended excursions at T.Advisor.

The Puerto Vallarta whale tour with Ocean Friendly also includes: Oceanologist as your specialized bilingual guide; Complete briefing of the geographical make up of Banderas Bay and morphological overview of the humpback whale and it's migration, mating and birthing activities; certified boat captain and crew; Hydrophone and speaker system to listen in to the whale songs; VHF radio communication system; safety equipment; comfortable West Marine auto-inflating life vests for adults and life vests specifically designed to ensure the safety of young kids; restroom facilities (on the daily operated 30-foot boat); dry bags for camera equipment and clothing protection. Lunch and beverages onboard the Twin Dolphins (Delphines Gemelos) boat includes homemade sub sandwiches, condiments, fruit, bottled purified water and soft drinks. Private gay and/or gay-friendly tours and charters are also available, the cost varying by group size and itinerary. Whale watching has certainly become one of our great Puerto Vallarta tourist attractions and one of the most interesting activites in the Banderas Bay area.

Oscar informs me that Banderas Bay is almost exclusively a breeding ground for humpback whales, they do not normally feed here. They come here for mating and calving purposes and the migration cycle is synchronized with the gestation of the babies which is 50 weeks. So the pregnant female whales then leave to the feeding grounds up in the North Pacific (from California up to British Columbia) to eat in order to gestate and accumulate reserves for the next migration to Mexico where they give birth to the healthy calf in the warm waters of Banderas Bay.

It is suggested that you dress in layers and wear comfortable sandals or shoes, and that you bring along the following for any one of the many whale watching photo safari tours in Puerto Vallarta, Mexico: sunglasses, hat, towel, a high SPF sun-block, a light jacket, wind breaker or sweater, and your video recorder or camera. Many local whale watching companies such as Ocean Friendly also offer private charters for larger gay or lesbian/straight groups or for a special occasion day trip-excursion. Don't miss the chance to see some of these Puerto Vallarta natural wonders (along with the dolphins and manta rays) while visiting the Banderas Bay area.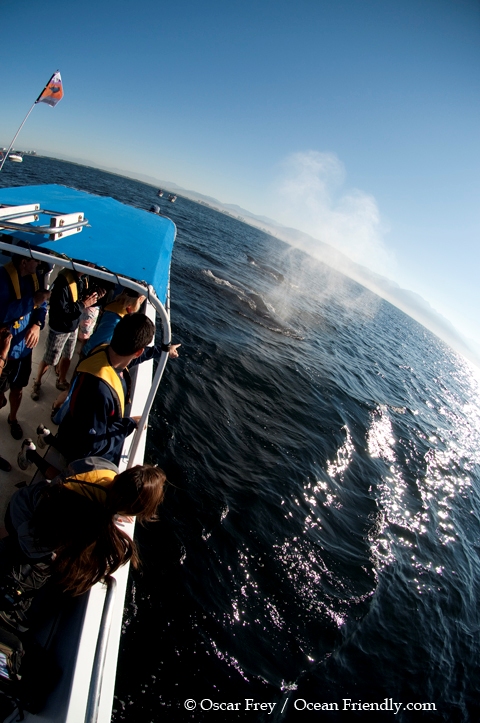 Up close Puerto Vallarta whale watching, for some of the best views,
as four whales surfacing to breathe in the picture here.
The nature photos here were provided by Oscar Frey at Ocean Friendly Tours, to whom I am very grateful.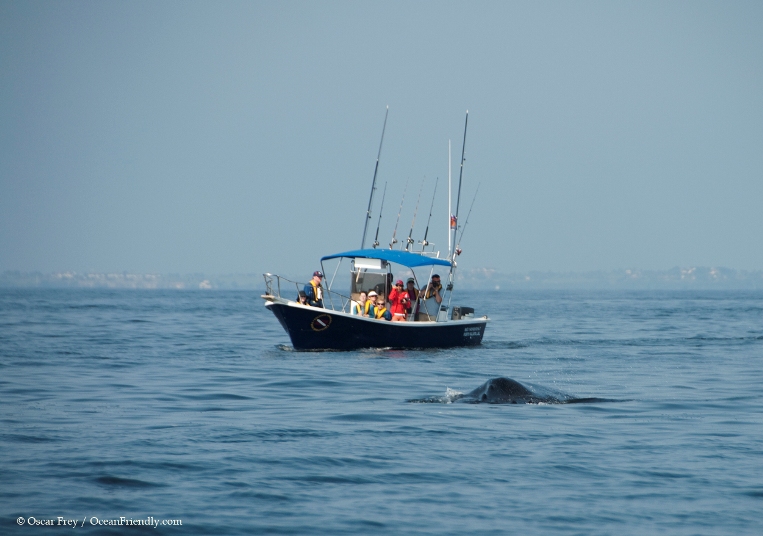 Oscar reports that the population of these beautiful humpback whales that visit the Puerto Vallarta-Banderas Bay area
each year to give birth and mate is somewhere in neighborhood of 2,200 or more individuals.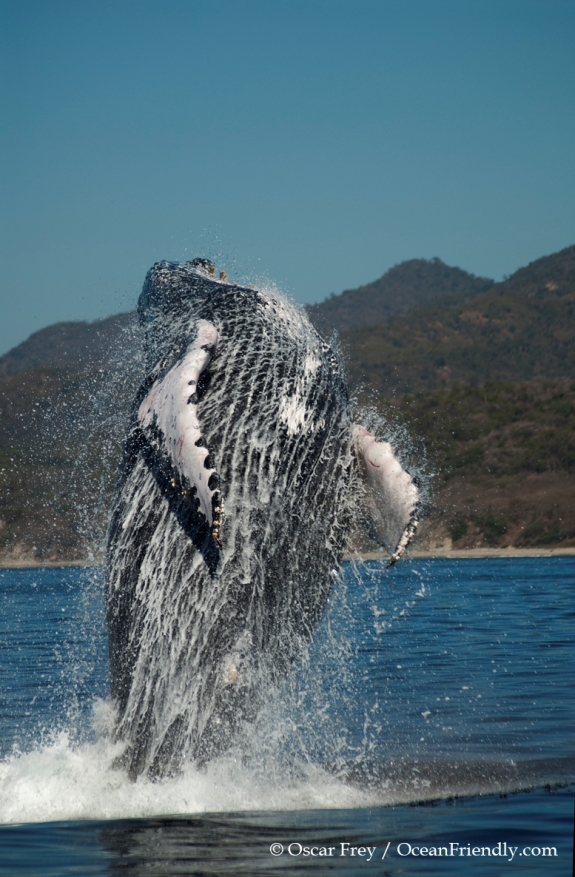 Puerto Vallarta whale breaching along the South Shores near Caletas or Yelapa
This mature humpback whale is around 40-45 feet in length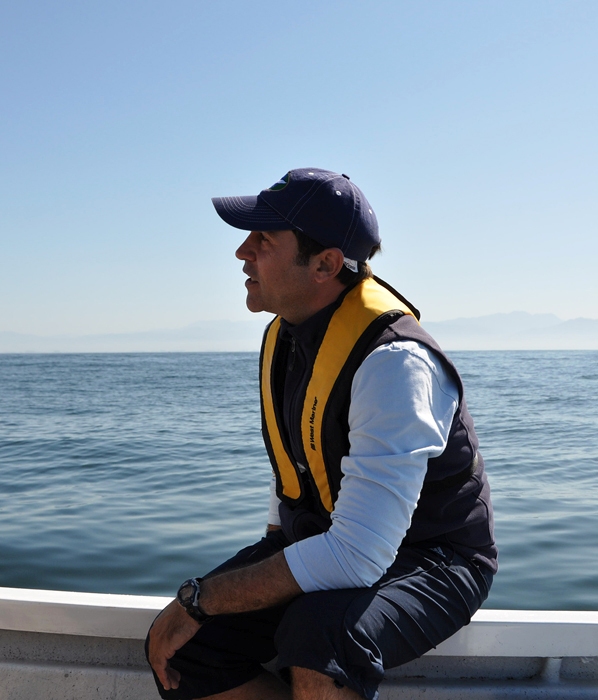 Puerto Vallarta humpback whale watching tours with one of the best - skilled Oceanologist and
whale photographer Oscar Frey of Ocean Friendly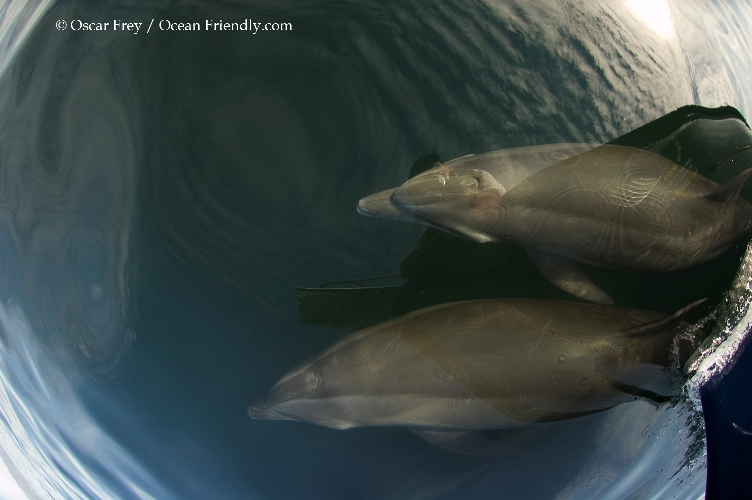 A pair of lovely dolphins as they tag along the whale watching boat tour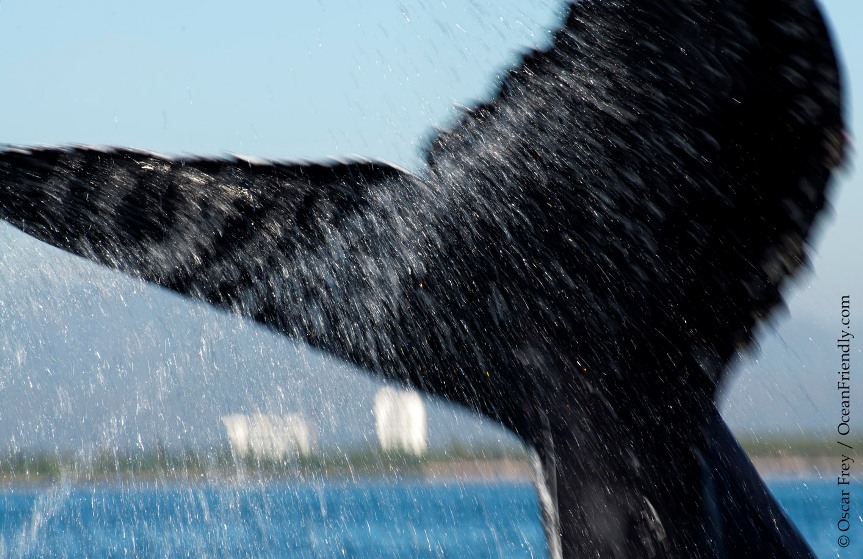 Here we see a younger humpback whale fluking, or diving.
A whale's flukes are its tail fins, which are not made of bones but composed of dense muscle
and fibrous tissue and are not anchored by skeletal anatomy.
In all whale species, the tail fins are flattened horizontally.

------
Another good local website with many photos and plenty of information about
Puerto Vallarta whales and marine mammals in Banderas Bay is the Western Ecological Society
which works to develop and support specific projects of conservation and ecosystem restoration.
They have non-commercial ecological sea turtle tours (July 15-Oct 15)
as well as bird watching, photo-hiking, and whale watching tours with biologist Oscar Saul Aranda Mena
and Oceanologist Izabela Cardenas, you can visit Whale Watching in Puerto Vallarta, Mexico.
Also here for a list of approved vessels for Puerto Vallarta Whale Watching by
the PV whale watching forum which is a privately funded, ecological organization that proposes
public education and raising awareness as a way to ensure responsible
whale watching in the Banderas Bay (Flags Bay) of Puerto Vallarta.
And of course there's the fine folks at Ecotours de Mexico who have been running
Puerto Vallarta whale watching tours and doing humpback whale research in Banderas Bay
since 1992, so they and their tour company have some nineteen years of experience under their belts.
------


Video above of whales in Puerto Vallarta's Banderas Bay thanks to Benoit and posted
on February 25, 2012 - check out the spectacular jump by the humpback whale


The two Puerto Vallarta action photos below thanks to Benoit Gagnon February 2011 on the Boana gay cruise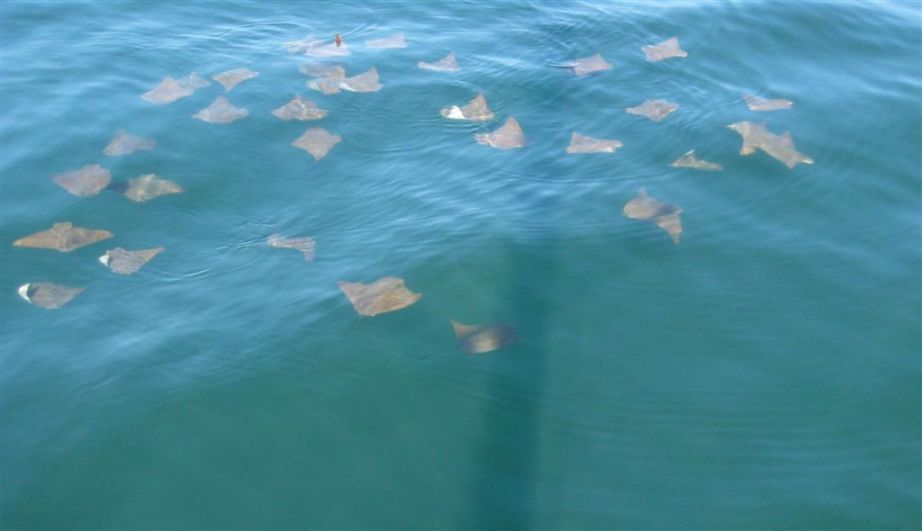 A school of Manta rays in Banderas Bay.
Recent scientific studies suggest that there are two different species of manta rays,
the giant manta which migrates, and another smaller one called the reef manta which does not.
Other scientists claim that there is but one manta ray species, Manta birostris.

The three Puerto Vallarta Mexico photos below thanks again to Benoit from Feb 2012 during another
Boana gay tour-cruise in Banderas Bay with downtown Vallarta in the background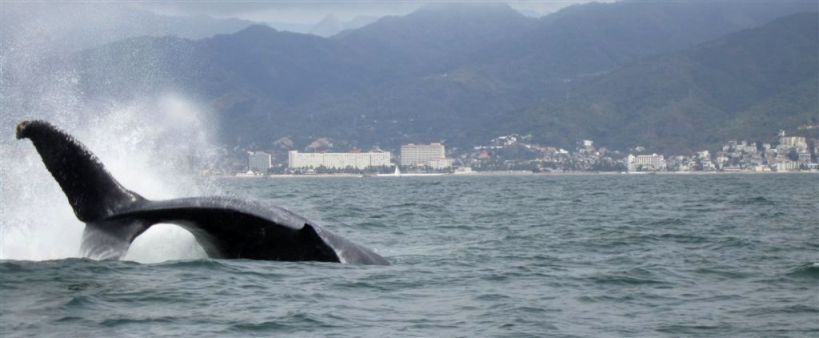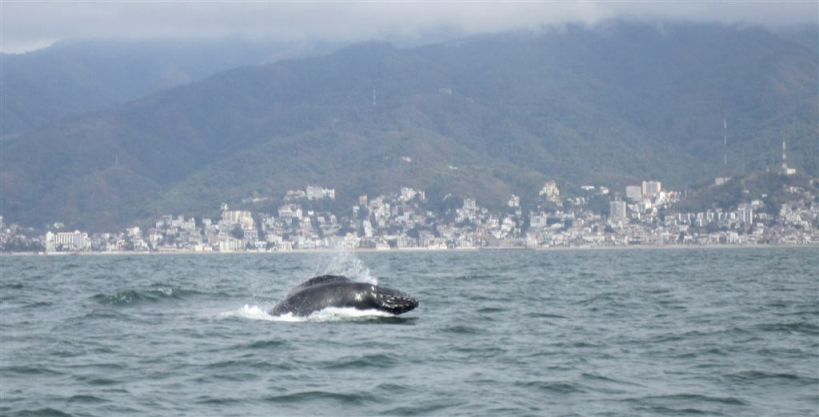 ---
top of page | apartments BTM | gay bar pics | art culture pics | gay hotel blue chairs | Discovery Vallarta home
important phone numbers | condos AND | nightlife photos | vallarta pictures | gay hotel casa cupula
vallarta rentals PDS | gay restaurant pics | vallarta annual events | Email contact