Puerto Vallarta Nightlife -
Straight Bars, Night clubs, Dancing & Music scene Guide
On this Vallarta Nightlife page:
Andale | Bar La Playa | Bar Morelos | Club Roxy Rock | Day Off Beach Bar | El Sonador cantina | J&B salsa | La Bodeguita del Medio
La Regadera | La Santa nightclub | La Vaquita | Liberty karaoke | Los Muertos Brewing | Mandala | Nacho Daddy | Party Lounge
Pour Favor sports bar | Senor Frogs | Strana night club | The Palm Caberet & Bar | Twisted Palms | Zapata | Zoo bar
Rentals & Lodging
Puerto Vallarta Condos
- Condominiums LP
- Beach condos PB
- Beach condos ED
- 3 bedrooms MDA
Gay Hotels Vallarta
Vallarta Villas
- 2 bedroom villas
- Three bedrooms
- 4 bedroom villas
- 5 & 6 bedrooms

Gay Travel Guide
Art Galleries
Botanical Gardens
Cafes - internet
Calendar of Events
Community - Charities
Contact Info
Fun - Attractions
Gay Bars
Gay Beach
Gay Cruises & Tours
Gay Links, etc
Gyms
Important phone #s
Law & Custom
Lesbian Vallarta
Malecon & downtown
Map
More Gay Bar photos
More Gay Beach pics
More Malecon images
Other Beaches
Pics Day of the Dead
Quick Gay Travel tips
Restaurants
Services
Shopping & stores
Tourism Info
Vallarta Annual events
Vallarta Pictures
Vallarta Weather
Whale Watching tours

Nightlife in Puerto Vallarta, Mexico
Here's a guide to and reviews of many of the straight bars, discos, nightclubs, antros, entertainment joints, pubs, cantinas and sports bars in Puerto Vallarta, Mexico if you want to check them out, have to decide on fun places or want to know about where to party in town. This page does list most of the frequented and best Puerto Vallarta nightlife fun spots for drinks, music, partying, dancing and sports watching, and gives their locations and phone numbers. The most bustling and popular bar and clubbing scene is the general downtown-El Centro malecon neighborhood which includes such hangouts as Mandala, Senor Frogs, and La Vaquita, the newest party locale downtown, which is right next door to the Zoo. So now three of the best downtown night life venues: Mandala, the Zoo and La Vaquita are lined right up alongside each other on Díaz Ordaz street. The restaurant and bar La Bodeguita del Medio presents excellent live Cuban and salsa music; The Jazz Foundation and La Dulce Vita Italian restaurant have jazz; La Chata and El Andariego restaurants have mariachi; Paradise Burger, Wingman and Murphy's Irish Pub have live rock on a regular basis, while Wing's Army sometimes has live rock, ska and reggae. Wingman is perhaps the top choice for late night live rock 'n roll, drinks and views of the PV malecon boardwalk. Locals and tourists used to hang out on the malecon across from Carlos O'Brian's for socializing and people watching; now crowds tend to congregate around nightclubs Mandala and the Zoo bar.

On the North Side of town in the Hotel Zone or Marina area, there are a number of popular places to party that include the new Monkey Business (formerly Xtine Club), Strana nightclub, and La Santa, the newest upscale and posh Vallarta disco-dance spot which opened in late February 2014. And don't forget some of the smaller sports bars along the Marina malecon boardwalk promenade.

There's also a high energy nightlife party scene in El Centro or downtown at Liberty and La Regadera (both with karaoke) on Morelos street, one block up from the Malecón. Another area of straight night life in PV is the located in the South Side area, south of downtown and across the Cuale River, at times referred to as the Romantic Zone or Old Town. Centered along Ignacio Vallarta street near gay clubs CC Slaughters and Paco's Ranch (formerly Club Paco Paco), you can find live music & fun times at Club Roxy Rock House and El Torito, as well as a fair number of smaller cantinas, sports bars and watering holes like All Access, Bar La Playa and Gringo Loco in that general vicinity. Or head over a few blocks closer to Los Muertos beach to visit Nacho Daddy for dining, drinks, sports and music, or along Olas Altas street at Andale, a South Side favorite for well over 30 years now.

From what I see and hear I would rate Mandala, the Zoo, and La Vaquita as the current top trendy spots downtown for nightclubbing and a good time, and La Bodeguita del Medio as tops for live music. Señor Frog's is also popular and often crowded as they serve food and alcohol and have dancing and such. So as you can see the city has become quite the beach party-town in many ways, offering a wide variety of entertainment venues of all sorts.

Taking into account accessibility, affordability, popularity, proximity to local beaches and partying mentality, U.S. News & World Report considered Puerto Vallarta to be the best spring break destination in the world.

The legal drinking age in Mexico is 18, though a number of places don't card carefully. The bars and cantinas serve alcohol until 2am while dance clubs will go on until 4am-6am. The nightlife scene here has a relatively late start coming to life around 10pm or even later and going into the wee hours, and of course weekends are the most popular time to go out, drink, have fun, find some romance and boogie the night away. Holiday tips: I recommend checking prices before ordering, keep good track of your drinks, and count your change - in a word, watch your tab; it's best to pay in cash when served. Please be generous in your tipping as wages here are relatively low. The city in general is a rather casual and laid back travel destination, so most spots don't have much of a dress code except perhaps for the several that say no shorts, no caps, no t-shirts; basically dress up a bit the way you would when going out in the U.S. or Canada. Some of the high-end places like Strana and La Santa will charge a cover ranging from 100-400 pesos. And, yes, the downtown & malecon area along with other tourist locations are safe to walk around in and enjoy, day and night. Where to go out in Puerto Vallarta, Mexico? Well, here it is:

3rd Base Sports Bar Monchis - South Side - 245-A Lazaro Cardenas. Tel: 322-223-9354, 223-5394
Local neighborhood watering hole & sports bar cantina since 1986. "Forget the big-chain tourist joints and sketchy local dive bars and stop in to Monchis for a ridiculously cheap icy cold Corona or Pacifico...The friendly gang here likes to casually drink, laugh and swap local gossip." Two satellite TVs for NASCAR and professional sports. Daily, 10am-2am

All-Access Sports Bar - Romantic Zone - 175 Lazaro Cardenas. Tel: 322-365-2008
Sports bar and grill on the South Side located right down the street from A Page in the Sun coffee shop bookstore and across from the Lazaro Cardenas Park. Grab a beer and catch a game at All Access Sports Bar: NCAA, baseball, Nascar, NHL, PGA, soccer and football on six high-definition TVs. Sidewalk and indoor seating serving drinks and quite few eats for breakfast and lunch such as hot cakes, french toast, hamburgers, wings, burrito and chicken platters, biscuits and gravy. Wireless internet, pet-friendly. Daily, 9am-12 Midnight

Aloha Bar - Old Town/South Side - 228 Ignacio Vallarta Local 9. Tel: 322-105-9891
Cantina-style bar located in the Romy Plaza interior that attracts a largely young and national beer drinking crowd. With perhaps a dozen tables, a few TVs and a colorful ambience, it reminds me of the type of place you'd find in a popular surf town like Sayulita. Aloha Bar is most lively and loudest on the weekends and serves some traditional Mexican food. Located right below the Twisted Palm bar. Tues-Sun, 5pm-2am

Andale Restaurant & Bar - South Side/Old Town - 425 Olas Altas. Telephone: 322-222-1054
Andale's bar is on the first floor, which can be quite crowded and loud during the winter months with its music and dancing. The sidewalk restaurant has seating also on the 2nd and 3rd floors overlooking Olas Altas street, serving 7:30am-11pm. Recently celebrating 40 years Andale's is one of Vallarta's oldest family-owned restaurant bars. Daily, 7:30am-3am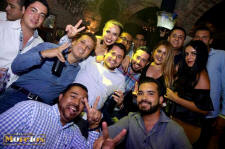 Bar La Playa - South Side - 179-A Lazaro Cardenas. Tel: 322-100-2272
A small but trendy bar with handcrafted mixes of refreshing and uniquely flavored cocktails, as well as imported beers. Excellent ratings and was the #1 out of 66 nightlife spots in town at TripAdvisor. Located across from the Lazaro Cardenas park, right next door to the Hotel Eloisa. Owner Alex is the main mixologist at Bar La Playa, with friendly assistants Paola and Lucy. Creative drinks and a fun lively atmosphere has served this new place well. Happy hour, 3pm-5pm. Mon-Sat, 12pm-Midnight
Bar Morelos - el Centro - 589 Morelos at Aldama street. Phone: 322-111-3940
Newer downtown bar, restaurant, mezcaleria and antro (photo left) with traditional drinks and a wide variety of mezcal cocktails; often with live music with the Liverpool Band. Good reviews and popular as well for its pizza and eats. Frequented more by Mexican locals and nationals rather than tourists, with a somewhat dressy attire. Bar Morelos is associated with the nightclub La Vaquita. Go to my page to see more info & pics. Daily, 7pm-3am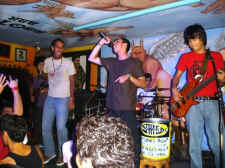 Bar Oceano - Central Malecon - 538-540 Paseo Diaz Ordaz, upstairs. Tel: 322-222-0959
Mexican restaurant and cantina overlooking downtown and with one of the oldest (since 1955) and most famous local histories as Elizabeth Taylor, Richard Burton and Peter O'Toole used to drink and socialize there in the '60s and '70s. Serving Mexican, seafood and sandwiches, Bar Oceano is still popular. Sometimes with live jazz, mariachi and salsa music entertainment in the evenings. Call for details. Daily, 8am-Midnight

Blake's Sports Bar - North Side/Hotel Zone - 1929 Francisco Medina Asencio. Tel: 322-260-9725
Mike and Sue Blake's restaurant bistro and bar features a variety of sporting events such hockey (NHL & WHL), football (Canadian & American), baseball, golf, Nascar, NBA and "the best in pay-per-view". Casa Blakes menu includes salads, fish, chicken, Italian and seafood dinners. Sometimes with live music, offering wifi. Popular. Mon-Tues, 4pm-1am; Weds-Sun, Noon-1am

Blue Wolf Bar & Grill - Downtown/el Centro - 173 Libertad. Tel: 322-305-7670
A small new downtown bar which will become a fun place to meet up with friends or make new ones. Often with live acoustic music, Tues at 7:30pm with Las Mambas Acoustic. A few big screen TVs with sports. The Blue Wolf and their Three Little Pigs menu includes burgers and wings, cheese steaks, pulled pork nachos or sandwiches, baja shrimp tacos, and their baby back ribs only on Sat. Every Thurs is pasta night. Cheap beer and house liquors. Opened in Dec 2022. Mon-Sat, 10am-10pm

Brando's Bar - Marina Vallarta district - Popa street local #11, at Condos Marina del Rey. Tel: 322-209-1059
Sports bar and restaurant overlooking the Marina harbor. Brando's Bar & Grill serves lunch, dinner, music, fun and libations along with the good time Mexican fiesta! Brando and now his family have been in the harbor area with their business for decades. Daily, 2pm-2am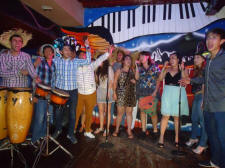 Captain Don's Sports Bar - Colonia 5 de Diciembre - 126 Honduras. Phone: 322-276-4118
At Captain Dons you can watch MLB, NBA, NFL, NHL, NCAA, boxing, golf, Mexican soccer, tennis, NASCAR, Formula One and more. Drink and food specials during major sporting events. Free wifi and free phone calls to the US and Canada. With owner Don Olson and manager Berenice Martin del Campo. Captain Don's sports bar is located near the Buenaventura Hotel and one block from the beach, between Paraguay and Avenida Mexico. The grill with chef Roberto Venegas offers appetizers, salads, wings, burgers, sandwiches, and a variety of nachos and burritos. Music with Las Mambas, Thurs 3:30pm-6:30pm. Daily, 11am-12am
Champions Sports Bar - Marina Vallarta - 435 Paseo de Marina Norte. Tel: 322-226-0000, 226-0017
Located in the Hotel Marriott Casa Magna and featuring two of the largest giant screens in town, nearly 5' by 8' and some 21 flat screen televisions showing a multiple selection of programs. Serving tourist American foods such as burgers, sandwiches, pizza, appetizers and tacos until 1am and alcohol until closing. Champions sports bar and grill with pool tables. I have seen good reviews. Daily, 11am-2am.
Chasers - Nuevo Vallarta - 570 Ave. Mexico at Blvd. de Nayarit. Tel: 322-297-7274
Sports bar and grill located just off of Highway 200 in front of El Tigre golf course, so a good place to meet friends after a round of golf. With NHL, NFL, NBA and other sporting games on six plasma TV screens. Under an open air palapa, their food includes wings, ribs, pizza, burgers and fajitas. Daily, Noon-1am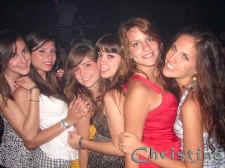 Club Roxy Rock House - South Side/Romantic Zone - 217 Ignacio Vallarta. Tel: 322-105-8515
Roxy Rock House is the only rhythm and blues venue in Puerto Vallarta, also playing rock n roll, Latin and reggae, even mariachi, with nightly music by the house or guest band. Often a lively crowd, especially when the bands get jamming on the weekends. The line up changes, so call. Banderas News reported "The house band is fabulous, playing popular and obscure blues, rock, samba, salsa, reggae and jazz tunes worthy of at least a few spins on the dance floor." Pool table. Music generally starts late at Club Roxy, 10pm-11pm until 3am during week and 4:30am on weekends. No cover. Daily, 9pm-6am
Cuates y Cuetes - South Side - 101 Francisca Rodríguez at pier Los Muertos. Tel: 322-223-2724
A restaurant-bar on Los Muertos beach is included here as it often has good live musicians playing jazz, salsa, light rock or reggae in the late afternoons and/or evenings from happy hour sunset until around 11pm. Seafood and Mexican specialties are on the food menu. Cuates y Cuetes is popular especially during the winter months for their sunset happy hour, 6pm-8pm. Daily, 8am-11:30pm
Day Off Beach Bar - Centro/Downtown - New Malecon street, Estacionamiento Benito Juarez Local #7. Tel: 322-222-1483
Not a beach bar but ocean-front on the New Malecon between the pedestrian bridge and Vitea restaurant. Cheap beer, margaritas and plenty of food on the menu, with sports or music videos on the several TV screens. Wireless internet available. Day Off Beach Bar is popular for the drinks and people watching. Casual attire. Daily, 10am-2am
El Barril - Centro - 225 Guerrero at Juarez, upstairs. Tel: 322-223-2155
Downtown Mexican cantina with cheap beer and street-side views of busy Juarez street. El Barril caters mostly to locals. Mon-Sat, 1pm-2am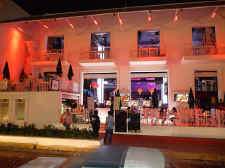 El Nido - Downtown - 520 Matamoros. Tel: 322-222-0161
Rooftop terrace bar at the famed Chez Elena restaurant. Enjoy a refreshing drink and the magic of the panoramic views of magnificent Banderas Bay and its sunsets from this hillside location; with long-time owner and innkeeper Gloria Whiting. El Nido is also a romantic setting for special occasions such as weddings, anniversary parties, birthdays and retreats. Daily 5pm-10pm
El Solar - Centro/5 de Diciembre - 1294 Paraguay. Tel: 322-224-4034
Beachfront bar El Solar and seafood restaurant La Barracuda together on Camarones beach just north of the downtown Malecon boardwalk, since 2007. Wireless internet available. Popular over the years for its fresh seafood and the gorgeous sunsets. Also in Nuevo Vallarta and Punta de Mita. Daily, 1pm-10pm
El Sonador - Romantic Zone - 229 Ignacio Vallarta street. Tel: 322-100-3828
Drinks, pool, music, rooftop. Cantina bar with a largely neighborhood crowd hanging out drinking, talking and playing pool. The place also has an open rooftop terrace where they play live rock 'n roll music several nights a week, usually on weekends. Monday is film night on the roof; on Weds there's pool competition starting at 8pm. Plenty of sports on the TVs. Formerly known as el Bolero, el Sonador (the Dreamer) opened in late October 2016, and is located next door to Roxy Rock House and across the street from Plaza Romy in Old Town. Mon-Sat, 7pm-2am; Sun, Noon-2am
El Torito Sports Bar & Grill - South Side/Old Town - 290 Ignacio Vallarta street. Tel: 322-222-3784
Sports bar and restaurant-grill with seven satellites and twenty-five televisions (straight central!) with capacity for some 250 fans and revelers. Showing all NCAA, NHL, NBA, NFL, MLB, UFC and NASCAR, El Torito sports bar & grill is known in town for their BBQ ribs and chicken wings. Since 1982. Happy hour, 5pm-7pm. Daily, 11am-2am
Garbo - South Side/Romantic Zone - 142 Pulpito. Tel: 322-223-5753
An upscale ambience and a well-dressed crowd make this martini and piano bar a popular choice for tourists and locals alike. Elegant "minimalist Deco". Live music starting around 10pm with various entertainers such as Bobby Broadway with his show tunes. Friendly owners Javier and German to serve you. More info and pictures for Garbo. Daily, 6pm-2am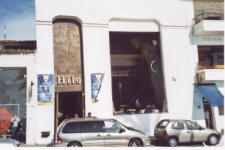 Gringo Loco - Emiliano Zapata - 403 Francisco Madero at Aguacate. Tel: 322-118-5893
A friendly, hidden neighborhood cantina on the east side of the Romantic Zone which appeals to expatriates and locals alike. The owners are from California and Mexico City. At Gringo Loco sports bar the happy hour is every day 12pm-6pm, with beer at 17 pesos and well drinks 25 pesos. Live music often during the winter months. Pool table, wifi, satellite TV, free long distance to the US and Canada, outdoor patio seating. Since November 2008. For more photos & info. Daily: Oct-April, 10am-2am; May-Sept, 11am-11pm
J&B Salsa Dancing Club - South Side - 178 Francisco Madero street. Tel: 322-224-4616
Latin-Caribbean based music: salsa, cha cha, cumbia, merengue and samba, and sometimes the DJ plays oldies from the 70s and 80s. Live bands on the weekends, Fri and Sat nights starting around midnight and they primarily play cumbia and salsa. One of Puerto Vallarta's finer live music and dance spots. Fodor's guide called J&B Salsa "the best club in town for dancing to live salsa." A number of my friends have raved about this place and love to dance there. Mon-Sat, 6pm-2am
La Bodeguita del Medio - Centro - 858 Paseo Diaz Ordaz. Tel: 322-223-1585, 223-1586
Cuban cuisine in the upstairs and downstairs dining areas with pleasant views of the malecon boardwalk and Banderas Bay. Live traditional Cuban music, salsa, boleros and rumbas from around 9:30pm to midnight or so. Popular and swinging. "Amazing atmosphere, food, dancing and super friendly staff." La Bodeguita del Medio (in Spanish) has locations also in Guadalajara, Mexico City, Monterrey and Playa del Carmen. Daily, Noon-3am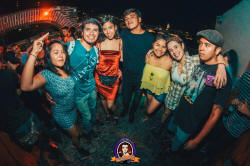 La Ingrata - Downtown - 169 Mariano Abasolo. Tel: 322-151-8711
Another popular and relatively new night-spot located just off the downtown Malecon. The place has three floors: ground level often with live music from some local bands, first floor with pool tables and comfortable seating, and the top floor is a half-covered, half-uncovered terrace where the DJ spins 'em. Reputedly some of the best electronic music in Vallarta. La Ingrata (see photo left) opened in August 2012 as a mezcaleria and pub, and is especially popular among locals and Mexican nationals. A varied and sometimes off-beat crowd, friendly staff, good drink prices. Mon-Sat, 9pm-6am
La Martina Karaoke Bar - Hotel Zone/Las Glorias - 1989 Blvd. Francisco Medina Ascencio. Tel: 554-988-5402
Very popular and relatively new karaoke bar, since 2018 in the northern Hotel Zone not far from the Plaza Las Glorias. La Martina (facebook page) is especially lively on the weekends, mostly with national or Mexican clientele. No cover but a minimum consumption to get a table. Located in the Centro Comercial Villa Vallarta. Tues-Sun, 8pm-3am except Fri-Sat, 8pm-4am
La Noche - Old Town - 257 Lazaro Cardenas. Tel: 322-222-3364
Gay nightclub featuring a two-level rooftop garden bar area with views of the town. The main ground floor has lots of conversation, DJ Mike spinning music and regular shows. Popular among locals and tourists alike, especially earlier at night before guys head out to dance at Paco's Ranch and CC Slaughters. Pics & info. Daily, 7pm-3am
La Regadera - Centro/Downtown - 666 Morelos street. Tel: 322-178-0221, 322-222-5735, 322-205-7351
Cantina, karaoke bar and downtown dance club on two levels. La Regadera is best known and popular with local and Mexican tourists as a top karaoke bar (one of several in PV) with more than 5,000 songs in English and Spanish to choose from and a dozen plasma screens. They will celebrate their 23rd anniversary as the first karaoke bar in town on Nov 30, 2023. Check out here for more info & pics. Mon-Sat, 9pm-4am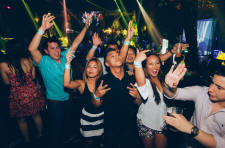 La Santa Night Club - Hotel Zone - 2468 Ave. Francisco Medina Ascencio at Fluvial Vallarta. Tel: 322-321-3994
The newest and hottest happening night spot in the city, this large discotheque (photo left) opened its doors in February 2014. Hip and very trendy, La Santa has become one of the places to be seen in town. Split into 2 sections, the club side has a large dance floor with house and guest DJs; the second part is the lounge with a retractable roof and swimming pool. La Santa has a rather high-end dress code, like, dress to impress. Somewhat mixed reviews on the service and drinks but really popular, especially among the younger upscale crowd, and with a capacity of well over 2800 people. More info & pics. Thurs-Sat, 11pm-6am
La Vaquita - Downtown - 610 Paseo Diaz Ordaz. Phone: 322-307-4004
The newest night-club bar along the boardwalk malecon. La Vaquita (the little cow) provides comfortable seating, chic decor and a live DJ that has been keeping them busy since opening in late December 2009. So now three of the best and hottest downtown Vallarta nightlife venues: Mandala, the Zoo, and La Vaquita are lined right up next to each other on Diaz Ordaz street. The Oyster bar & grill seafood restaurant completes the line-up on that very loud and lively city block. Casual attire. Always 2 for 1 on Weds. More photos & info. Daily, 7pm-6am
Liberty Karaoke Bar - Downtown - 676 Morelos. Tel: 322-230-0172, 222-1822
Cantina and karaoke bar. A friendly, pleasant atmosphere with some 8,000 songs on the jukebox. Liberty is next door to another popular local karaoke bar, La Regadera, but is larger and more spacious. Ask for waiters Victor or Lucio. Weds-Sun, 9pm-4am
Los Muertos Brewing Company - South Side - 302 Lazaro Cardenas. Tel: 322-222-0308 and 322-225-0416
The town's first craft brewery is an authentic, open-air cantina style brew-pub serving a variety of artisanal beers including stouts, malty ambers, IPA and even fruit-infused ales. Sports on the TVs, board games on the tables, foosball and a shuffle board table. Located in the heart of Old Town, the restaurant on the 2nd floor of Los Muertos brewing has New York style pizzas and other eats. There's also a smaller dine-in and takeout outlet over at 524 Francisco Villa avenue. Daily, 11am-12am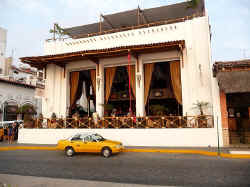 Mandala - Central - 640 Paseo Diaz Ordaz. Tel: 322-118-4965
Hip high-tech Puerto Vallarta club, restaurant & video bar, Mandala is next door to The Zoo and where Club 69/Mogambo used to be located (older photo at left). Quite popular with the tourist and upscale crowds for its Hindu style-concept interior and the Spanish pop, electronic and party music selections. Has a Sky Bar lounge rooftop for drinks and the view. Mandala draws a large people-watching crowd on the malecon too. Flashy, with formal dress; recommended. Locations also in Cancun, Los Cabos and Playa del Carmen. Cover often 100+ pesos. More photos & info. Daily, 6pm-6am
Monchis 3rd Base Sports Bar - South Side - 245-A Lazaro Cardenas. Tel: 322-223-5394
Local neighborhood watering hole & sports bar cantina since 1986. "Forget the big-chain tourist joints and sketchy local dive bars and stop in to Monchis for a ridiculously cheap icy cold Corona or Pacifico...The friendly gang here likes to casually drink, laugh and swap local gossip." Two satellite TVs for NASCAR and professional sports. Daily, 10am-2am
Monkey Business - Hotel Zone - 2581 Avenida Francisco Medina Ascencio, next to the Krystal Hotel. Tell: 322-365-3934
The newest bar restaurant in the Hotel Zone. Totally remodeled and recently opened, located where the nightclub Xtine Garden was since 2012. Monkey Business has a full bar and dinner menu, karaoke nights and also live music. Menu includes salads, monkey fingers, chicken wings, fajitas, flank steak, and the gorilla combo. "Drink like a man, party like a monkey." I'll drink to that! Traveler's Choice Best of the Best by TripAdvisor. There's more monkey business also in Cancun. Live music starts at 8pm. Daily, 3pm-11:30pm
Monzon Brewing Co. - South Side/Emiliano Zapata - 239 V. Carranza. Tel: 322-260-9718
Neighborhood bar and hangout with handcrafted beers since August 2017. Monzon Brewing features beer on tap, non-alcoholic drinks, shots, cocktails and wine. Their What's on Tap list includes ginger beer, American amber ale, choco mint stout, Schwarzbier, Lupita an India pale ale, and others. Food menu showcases local and seasonal food cooked in homemade Mexican style with some pub favorites added for good measure. Very favorable reviews, and in January 2023, Monzon was ranked as #33 of 1048 restaurants in Vallarta. Pet friendly. With owners Miranda and Reid Mortimer. Daily, 12pm-12am
Murphy's Irish Pub - Downtown - 484 Morelos, upstairs. Tel: 322-113-0373
Tavern opened in January 2011: whiskey, occasional live music with Charlie Higgins & Sunset Station, Calavera Beach, and others, the cable TV with sports like the NHL, NFL, NBA, a pool table, wireless internet, food, Negra Modelo and Modelo Especial on tap. Same address as the Viejo Vallarta restaurant bar, which is upstairs and serves Mexican and seafood. Check out Murphy's Irish Pub. Live classic rock and roll music starting at 9pm, usually on Thurs, Fri and Sat nights. Sun-Weds, 11am-1am; Thurs-Sat, 11am-2am
Nacho Daddy - South Side/Romantic Zone - 287 Basilio Badillo. Tel: 322-688-5566
"Mex-Tex" cuisine in the dining area, a popular sports bar area with some eight large 42" television screens and all with a lively atmosphere at night. Nacho Daddy is one of the newer additions to the growing number of restaurants and fun nightspots on the famed PV Restaurant Row. Live rock music Sat nights featuring Joe 'King' Carrasco, Friday with the Texas Embassy Blues Band. Please call for information about live music and entertainment. Celebrating their 13th season in autumn 2021 with owners Tammy and Sean. Mon-Sat, 11am-Midnight
Paradise Burger - Centro / Malecon - 740 Paseo Diaz Ordaz, upstairs. Telephone: 322-223-2328
All American fare with some Mexican specialties added to spice things up, and a great location oceanfront in the middle of the Puerta Vallarta malecón. Paradise Burger often has live rock 'n roll with The Black Beans band during the tourist season, Thurs-Sat, 10pm-2am. Call for details. Daily, 10am-2am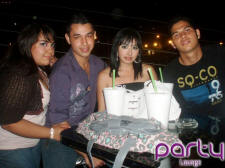 Party Lounge - Central - 993 Avenida Mexico, upstairs. Tel: 322-223-9406
(now closed) Downstairs it's take out beer by the liter from 1pm; upstairs with a pleasant open-air sitting area with views and music video entertainment. DJ sometimes spinning music from the 70s and 80s. The downtown Party Lounge bar (picture left) is located across from Hidalgo Park just before the Malecon when coming into town from the main Hotel District and Marina Vallarta. Dress: casual attire. Daily, 4pm-4am
Pinocho's Bar - Emiliano Zapata - 499 Lazaro Cardenas. Tel: 322-222-8571
Sports bar and cantina in the E. Zapata neighborhood with plenty of festive drinkers and conversation. A number of televisions for watching the sports games. A fair number of Canadians seem to patronize this place, which has indoor and side-walk seating. Pinocho's Bar used to be located downtown on Matamoros street. Pretty popular watering hole at times. No food served, just drinks like beer, margaritas, mojitos, pina coladas, etc. Daily, 9am-11pm
Players Sports Bar - Old Town - 138 Rodolfo Gomez. Phone: 322-222-1800
New hangout in the middle of the South Side, with sidewalk and inside seating, several TVs with mainstream sports, and reasonable prices on drinks and food. Stop by Players PV with owners Elezar and Lia. Daily, Noon-11pm
Pour Favor Saloon & cookhouse - South Side - 245 Lazaro Cardenas. Tel: 322-190-4966
Neighborhood sports bar & grill with five large 45" high-definition TVs with NASCAR, NBA, NCAA basketball and football, NHL and PGA. Cold beer, sports and live music with local bands. Kelly's Pour Favor serves lunch and dinner specials, appetizers, salads, sandwiches. Free wireless with purchase. Popular. Next door to Monchis 3rd Base. Every Thursday with country fried chicken and country rock with Bobbi & The Others. Call for details on the live music, and their drink and food specials. Happy hour, 3pm-6pm. Mon-Sat, 3pm-Midnight
Que Pasa - South Side / Old Town - 625 Aquiles Serdan at Cardenas. Tel: 322-223-4006
Gringo neighborhood townie bar since 2004 with daily food specials, satellite TV for sports events, wifi, and pool tournaments on Weds at 7:30pm. Que Pasa has open mike night on Fri at 5pm; live country and/or rock music, Thurs-Sat at 8pm. Bands that play here include Hoochie Coochie Men, Brittany Kingery, Beverly and Willow, Pacific Rock Company, Texas Embassy Blues Band, and once upon a time, Joe King Carrasco. More info & photos. Happy hour, 4pm-7:30pm. Kitchen, 11am-10pm. Daily, 11am-2am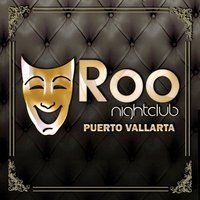 Sea Monkey - Los Muertos beach - 174 Aquiles Serdan. Tel: 322-222-2174
Beachfront bar and restaurant. Especially popular for the $1 margaritas, cheap beer, people watching and the great Puerto Vallarta sunsets. Same owners as the Cheeky Monkey restaurant-bar downtown. Sea Monkey is located at the Vista del Sol condos on Los Muertos beach, with 8-12 palapas on the beach for dining and drinking as well. Daily, 8:30am-10:30pm
Senor Frog's - Downtown - 786 Paseo Diaz Ordaz. Telephone: 322-222-1444
This restaurant and international night-club chain has a lively atmosphere, especially on the weekends. Big drinks, ample food portions and loud music make Senor Frogs is a favorite with the younger crowd for the Tuesday Foam party and for families who stop in for a bite to eat during the day. Often crowded; eats served until midnight. Dress comfortably, always casual. I was told some time ago that on Tues, Fri, and Sat with their open bar they often stay open until 4am. Daily, 11am-2am
Signature Lounge - Romantic Zone - 180 Pulpito street. Tel: 322-222-3556
Located above Olas Altas street in the Signature condominium building is this open-air stylish, contemporary and comfortable lounge bar. A good place to relax, unwind and watch the beautiful sunsets while you're in Old Town. Full bar, wine and beer in an upscale setting with dipping pool, wireless internet. Signature Lounge is popular for the sunsets and the attentive and friendly staff. Wheelchair accessible. Drink prices on the higher side, except for during happy hour, 5:30pm-8pm. Daily, 1pm-10pm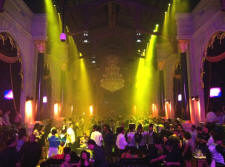 Strana - Hotel Zone - 2125 Francisco Medina Ascensio. Tel: 322-779-7079, 322-224-7793,
This upscale and posh discotheque-dance club opened in the Hotel Zone in early November 2011 (see photo left), apparently by the same owners as Roo and Hilo downtown. Strana sometimes has a cover charge, please inquire. "It's all about having a good time". Located near the Plaza Caracol, Strana is apparently quite popular and drawing sizeable, trendy crowds. Dress code: casual to formal-elegant; doesn't require reservation. See my page for more info & pics. Thus-Sat, 10pm-6am
The Palm Cabaret and Bar - South Side - 508 Olas Altas. Tel: 322-222-0200
The Palm Cabaret since 1999 has been Puerto Vallarta's original and longest running showplace venue on the South Side. It has a large inside bar and entertainment area and an outside terrace for street-side seating and people watching. Shows this coming season are scheduled for seven nights per week, usually with two different shows each evening. The line up for the 2015-2016 season, which will again spice up life in town, include: Amy Armstrong, Coco Peru, Kim Kuzma, Leslie Jordan, Miss Conception, Simply Barbra, Spencer Day, Well Strung and many others. Audiences will be more comfortable than ever in the intimate 90-seat space with its new upholstered furniture and renovations in the lobby and restrooms. You can check out the website and up-to-date calendar here. You can buy tickets for these performers on-line or at The Palm during the day. Rated as #2 on TripAdvisor for Nightlife in Puerto Vallarta. Info also on facebook. Daily, 7pm-2am
The Redneck Sombrero - Downtown - 868 Paseo Diaz Ordaz. Tel: 322-197-3557
New bar on the Malecon, oceanfront with nice views of Banderas Bay and catering to lovers of country music and loud classic rock. Serving food such as burgers, hot dogs, nachos, buritas and tacos. Featuring karaoke Weds at 9pm, and Redneck Reggae with King David Bailey and the Jamex band every Thurs throughout the winter season starting at 9pm mexican time. Visit for more info. Daily, 12pm-2am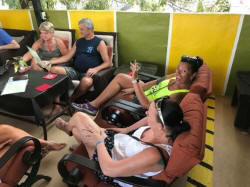 Twisted Palms Rooftop Lounge - Romantic Zone - 228 Ignacio Vallarta, upstairs in Plaza Romy. Tel: 322-223-8019
Well-established and casual, laid-back second floor rooftop bar lounge with friendly, welcoming bartenders and equally engaging customers who are out for a nice drink. Located upstairs in the interior of Romy Plaza. Lounge area is comfortable and quiet enough for conversation. Owner Al is from Vancouver and so the place has a fair share of Canadian clients. Menu including large list of martinis and cocktails. Twisted Palms (picture right) has a pleasant, relaxed ambience for drinks before a night out dancing or drinking. Popular for half-price martini madness Monday. Movies often on a large projection screen; wireless; parking. Many excellent reviews praising this long time establishment. Happy hour, 4pm-6pm. Mon-Sun, 4pm-Midnight
Wingman - Downtown - 552 Paseo Diaz Ordaz, upstairs. Tel: 322-276-4025, 113-0099
Chicken wings, beer and sports, often with bands and live loud rock and roll music. This restaurant and bar is located where popular nightspot Bebetero was for years, so Wingman Puerto Vallarta has excellent views overlooking the downtown Malecon and lovely Banderas Bay from the second level up. With 11+ outlets throughout Mexico, also serving burgers, salads and side orders. Daily, 6pm-2am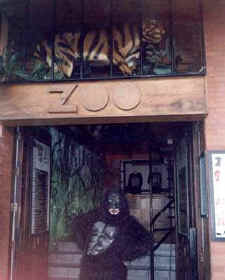 Zapata Mexican Bar - Romantic Zone - 308 Lazaro Cardenas street. Phone: 322-105-0464
New neighborhood bar and restaurant with pleasant spacious ambience, located on the South Side next door to Los Muertos Brewery. Serving a variety of craft and national beers, cocktails, mezcal, has a dance floor, pool table and multiple televisions. Zapata Bar sometimes features live music. Also with a menu including Mexican dishes, hamburgers, pizza, soups and salads. Good reviews on the food, drinks and service. Often popular. Daily, 3pm-1am
Zoo Dance Bar - Central - 630 Paseo Diaz Ordaz. Tel: 322-150-4152
Great sounds and a cool ambiance make the Zoo bar antro (photo left) one of the best nightclubbing and dance spots in Puerto Vallarta. The party music is a combination of techno, hip hop, dance, Latin, reggae and pop and the DJ at the Zoo bar disco knows how to mix 'em good. Nicely remodeled in March 2010; mixed reviews. There may be a cover charge on weekends around 100 pesos. Casual. The restaurant bar opens at Noon with some food such as fajitas, seafood, salad, hamburgers and the like. Restaurant and bar, Noon-9pm; Night club, 8pm-2am
Further information and Puerto Vallarta nightlife reviews and recommended hangouts can be found here: All Vallarta Message Board - Bar and Restaurant Reviews (probably the liveliest and most current Board-forum in town) and there's always Trip Advisor's Nightlife in Puerto Vallarta - Attractions, and the Nightlife in PV by Student Travel at About.com to check out. One of the finest overall local entertainment calendars of daily events are at Rick and Sarah Hepting's helpful The PV Scene (events, entertainment, art, etc); and one of the best websites with photos of fun revelers having a great time at many of the straight night spots is on the Vallarteando website (eventos, antros, bares, fotos - in Spanish) and Vallarteando facebook.
Remember, the info provided in the Puerto Vallarta Gay Travel Guide was considered accurate when posted but changes occur, so you may wish to confirm any details directly with the businesses in question before planning your time out. Travel advice: As in all of Mexico, I recommend that you check drink and food prices before ordering, always keep good track of your bill, pay in cash whenever possible (avoid use of credit cards), and be sure to count your change regardless of which places you go out to to party, eat, socialize or dance. Please be generous in your tipping to our friends and waiters here in Puerto Vallarta as wages in Mexico tend to be low. The tip rate is same as in the USA, 15-20%. Go here for some of my own excellent travel tips & vacation advice.
Note: The Pto. Vallarta, Mexico nightlife scene has changed considerably over the last few years. Along the malecon, Kahlua and Mogambo were sold together in 2007 and soon replaced by the now quite popular Mandala discotheque-bar. Senor Frog's moved over from V. Carranza street on the South Side to its current excellent locale. The age-old Carlos O'Brian's was sold in 2009 and replaced after over 30 years by the sleek new nightclub-restaurant Punto V, and the beautiful old No Name Cafe building (like O'Brian's) was demolished in 2009 to make way for the chic restaurant-disco Glam, which occupied that coveted Vallarta downtown location less than a year, and has itself just been replaced-remodeled into the upscale new disco-bar Roo which had its inauguration in October 2010. The new Plaza Peninsula by the Pitillal river in the Hotel Zone now hosts three popular nighteries: Barra Bar/Disco Rocki, La Isla, and de Santos (which moved over from Morelos street in mid-2011). After 24 years, Christine disco permanently closed in late September 2010, was taken over by the totally remodeled and expanded Hyde nightclub-disco (opening late December 2010) which has now been taken over and renamed as Xtine (opened December 2011). The younger crowds used to hang out on the malecon across from Carlos O'Brian's to socialize, drink and watch the passersby; now they tend to gather across from club Mandala and the Zoo bar.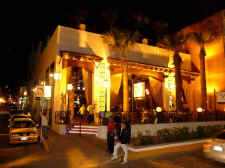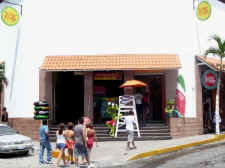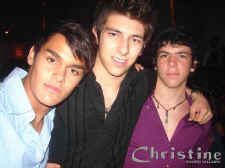 Puerto Vallarta nightclubs Punto V, Senor Frogs, and discotheque Christine (now known as Xtine Garden) for some great nightlife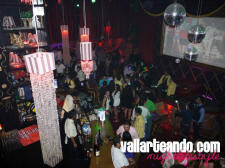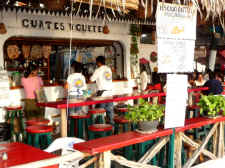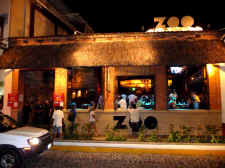 Dance club BarraBar in the Plaza Peninsula; Cuates & Cuetes on Los Muertos beach; Zoo night club downtown; Bar Oceano views of the Malecon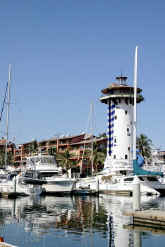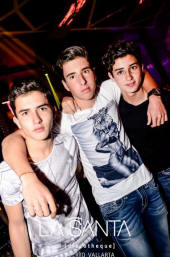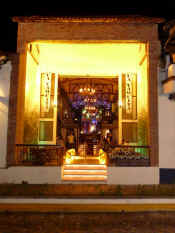 Marina Vallarta and El Faro lighthouse bar; La Santa disco; Vallarta downtown club La Vaquita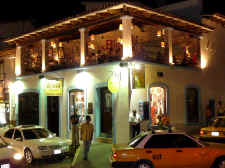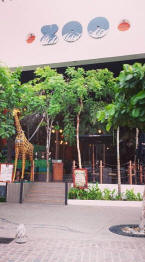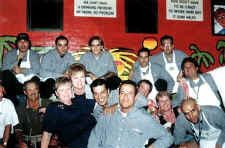 La Bodeguita restaurant-bar for Cuban music; downtown night club Zoo; the old Carlos O'Brian's staff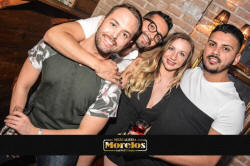 Party goers at the popular downtown Bar Morelos
Puerto Vallarta Club Photos
Nightclub & Bar Images II
Copyright 1998-2021 by Michael J. Mayo
All rights to my text and images on this website are reserved
---
top of page | condos one beach street | photos from carnival | apartment ALB-10 | town photos 5 | Gay Vallarta Travel home
gay beach photos | 7-11 bedroom villas | gay bar pictures | vallarta pictures 2 | guadalupe festivals
vacation rentals PM | more condos | Email contact