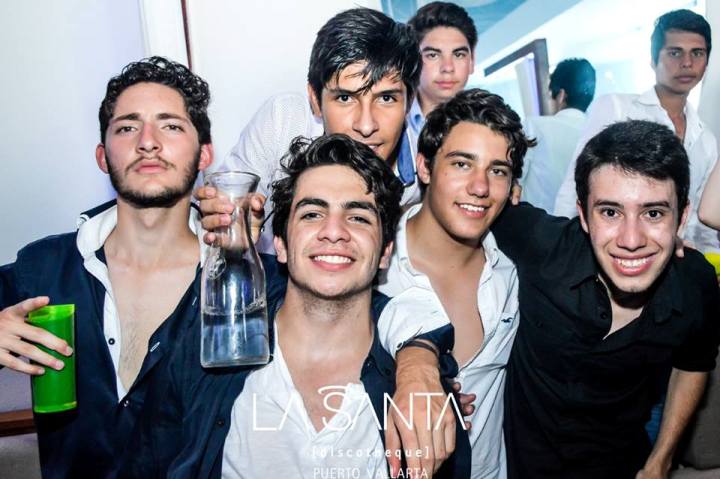 Handsome party goers at the new La Santa nightclub and disco
now one of the top places to party in town.
Located at 2468 Boulevard Francisco Medina Ascencio, at the corner of Avenue Fluvial Vallarta.
Check out La Santa Pto Vallarta more information and photos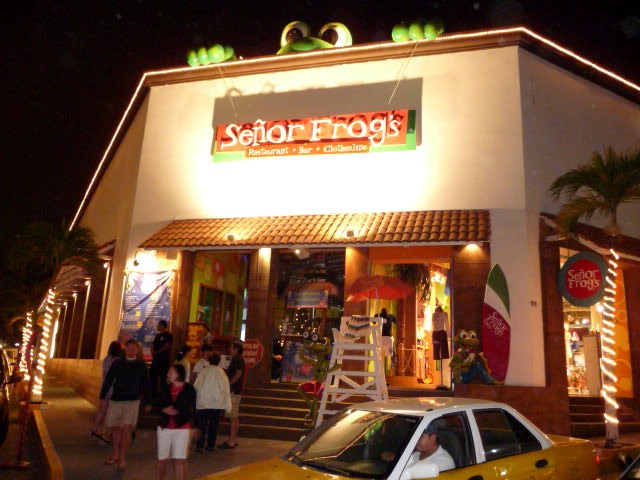 Senor Frogs restaurant and bar, one of the best places to party downtown
Photo above is from their old location at 518 Morelos street, they're now
over at their new location along the downtown Malecon at 786 Paseo Diaz Ordaz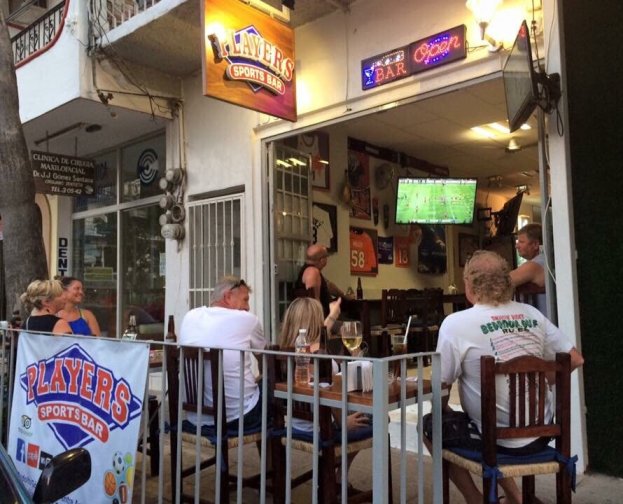 Players Sports Bar at 138 Rodolfo Gomez. Local phone: 222-1800
New hangout on the South Side, opened in early 2016, with sidewalk and inside seating,
several TVs and reasonable drink prices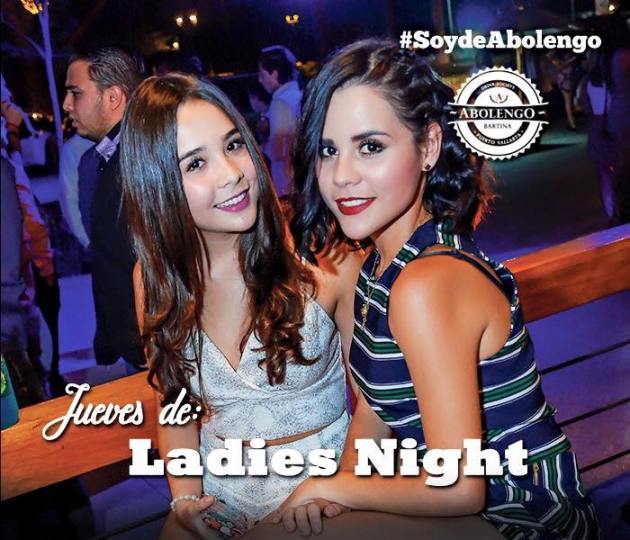 During Ladies Night at the new Abolengo Bar,
located at 2468 Francisco Medina Ascencio in the upscale Plaza Altamar.
Check out Abolengo Vallarta for more info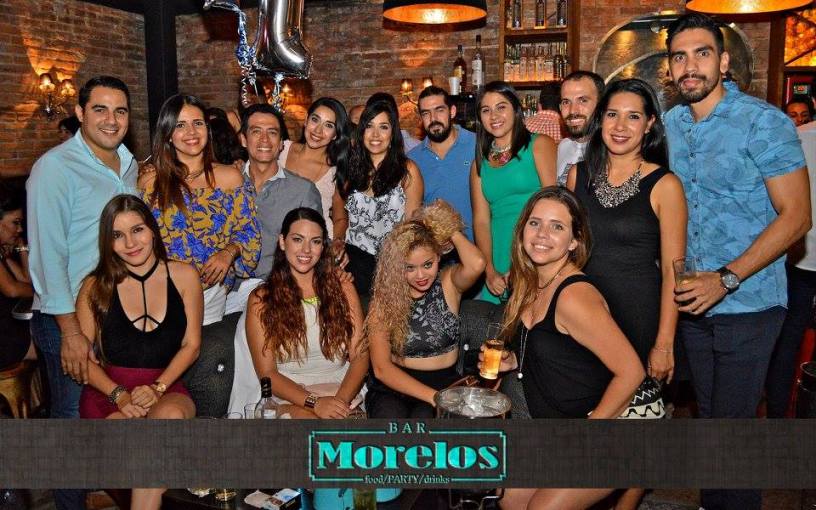 Friendly group at downtown Bar Morelos, restaurant, mezcaleria and antro with traditional drinks & a variety of mezcal cocktails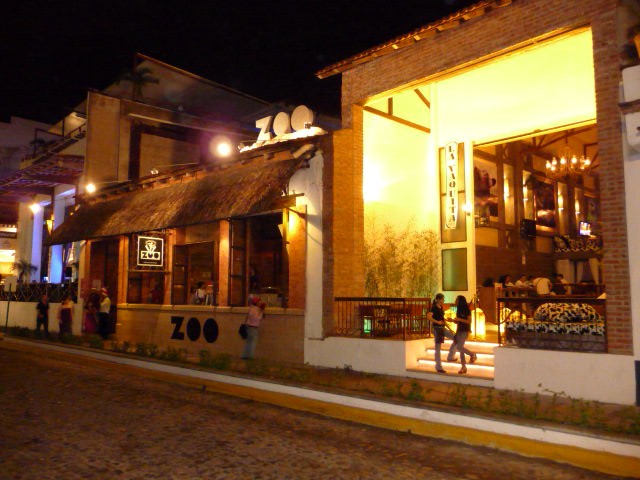 old Puerto Vallarta nightlife at downtown's best clubs antros La Vaquita, Zoo, and Mandala (right to left)
before the 2011 Malecon renovations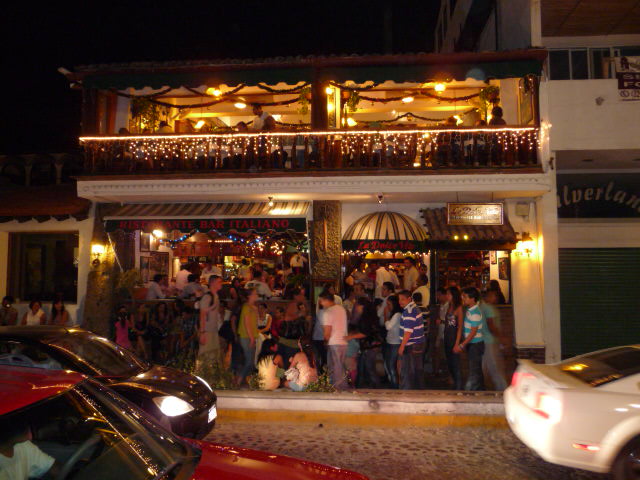 Downtown restaurant La Dolce Vita during Christmas-New Year holidays
Often with live light jazz music 11pm-2am, Weds and Fri only



The Palm cabaret-bar, 508 Olas Altas street, has been Vallarta's original and longest running showplace
venue since 1999. Shows almost every evening. Box office open, 10am-10pm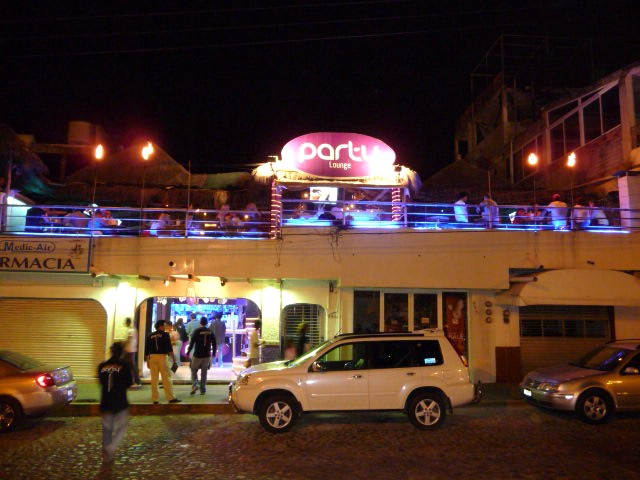 Party Lounge rooftop club bar across from Hidalgo Park downtown
at 993 Avenida Mexico, upstairs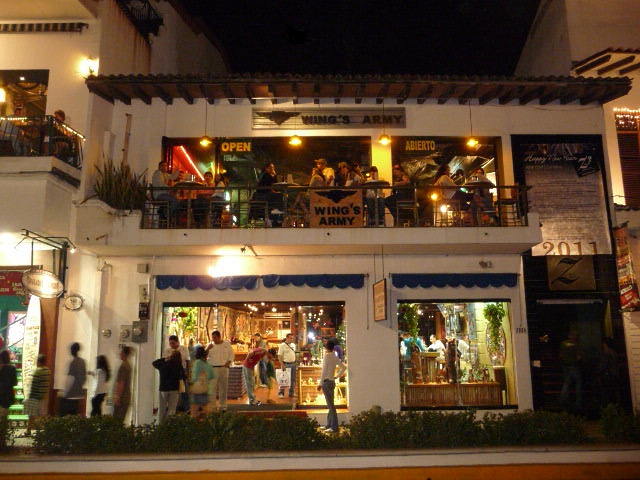 Wings Army bar, upstairs on Paseo Diaz Ordaz, and next to Paradise Burger restaurant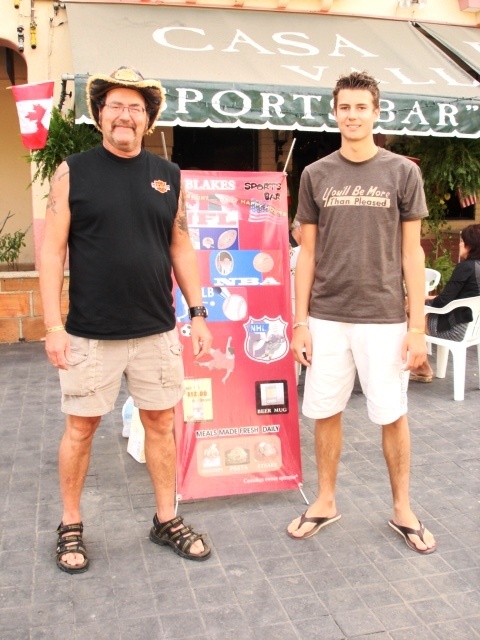 Blakes' restaurant and bar in Plaza Las Glorias
Good food. Mon-Tues, 4pm-Midnight; Weds-Sun, Noon-1am.
Tel: 293-2397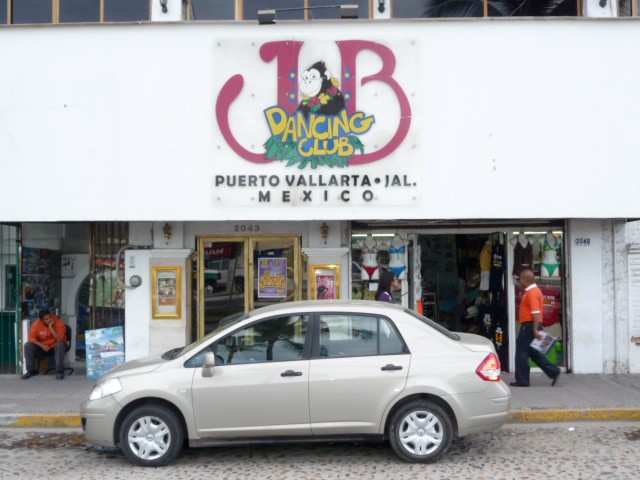 J&B the best salsa club rated #62 on TripAdvisor among some 180+ Puerto Vallarta attractions
Caribbean-Latin based music: cha cha, cumbia, merengue, salsa and samba, with live bands on
Friday and Saturday nights. J&B is noted for live salsa dancing.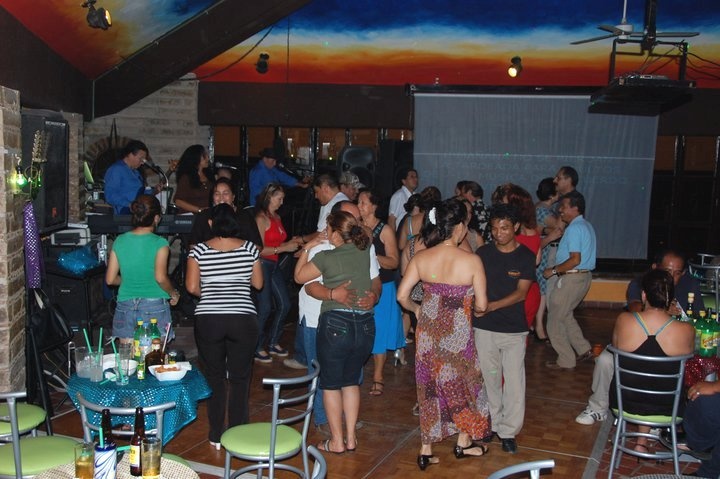 One of Puerto Vallarta's livelier nightlife spots, Kokopelli bar and Caribbean dance club (now closed) with live music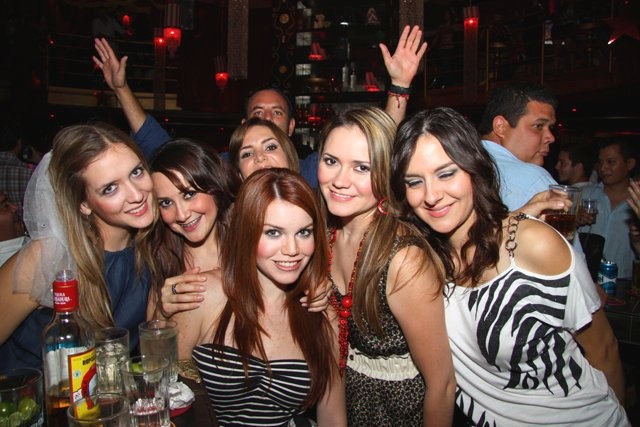 Happy party-goers at Puerto Vallarta Barra Bar (same owners as the old Disco Rockie)
located in the upscale Peninsula Plaza in the Hotel Zone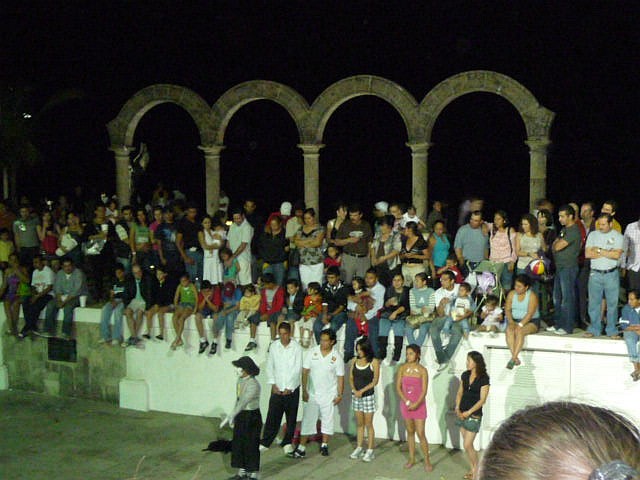 Clown entertaining the crowds Sunday nights at the Malecon Los Arcos amphitheater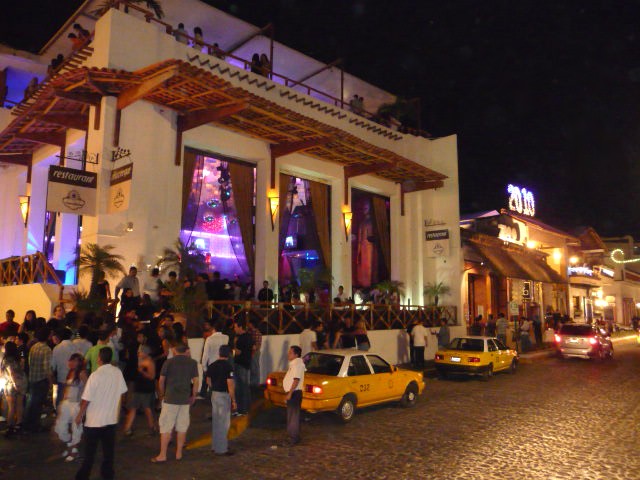 Vallarta night clubs Mandala, the Zoo, and the new bar La Vaquita during Christmas week
along the old Malecon before the 2011 renovations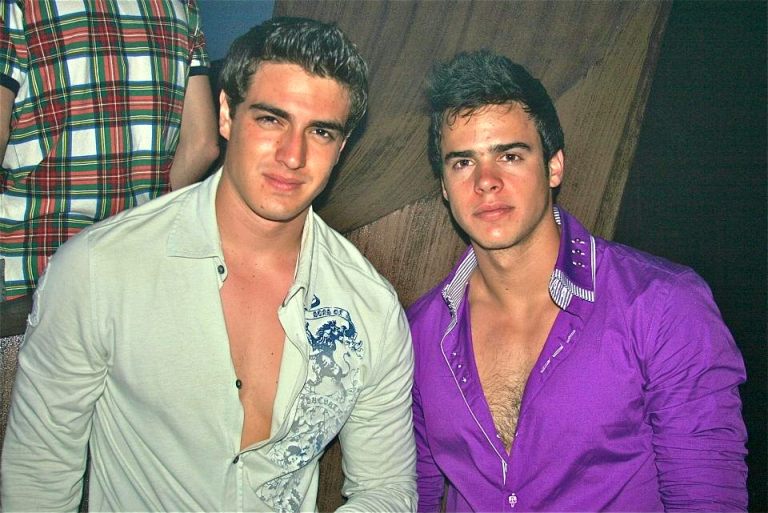 Handsome partygoers at one of Puerto Vallarta's newer nightlife spots, Xtine (formerly Hyde and Christine Club)
located on the Ave. de las Garzas next to the Krystal Hotel. Thurs-Sun, 10pm-8am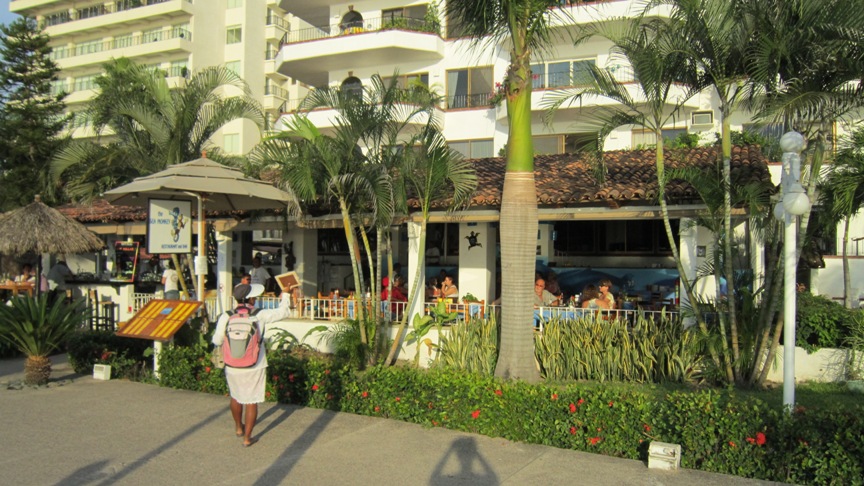 Sea Monkey seaside bar & restaurant
Especially popular for the $1 margaritas, inexpensive beer and people watching
It also has six or eight palapas out on Los Muertos beach
Same owners as the Cheeky Monkey bar in downtown Vallarta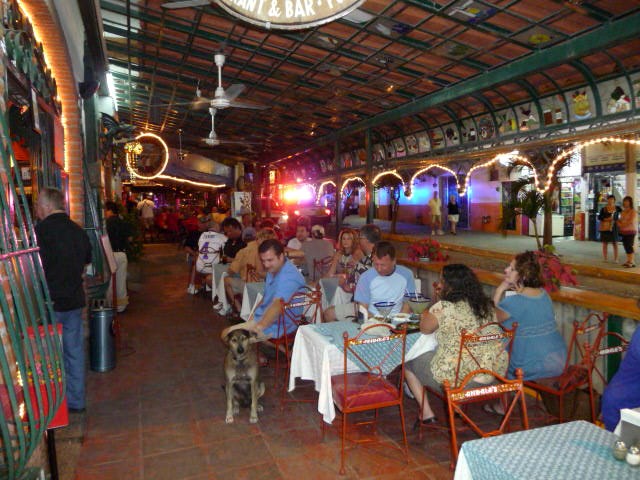 Andale restaurant & bar straight nightlife on the South Side for over 30 years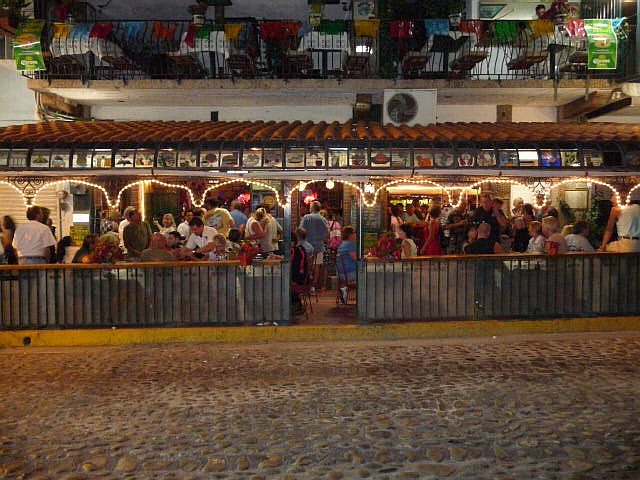 Andale bar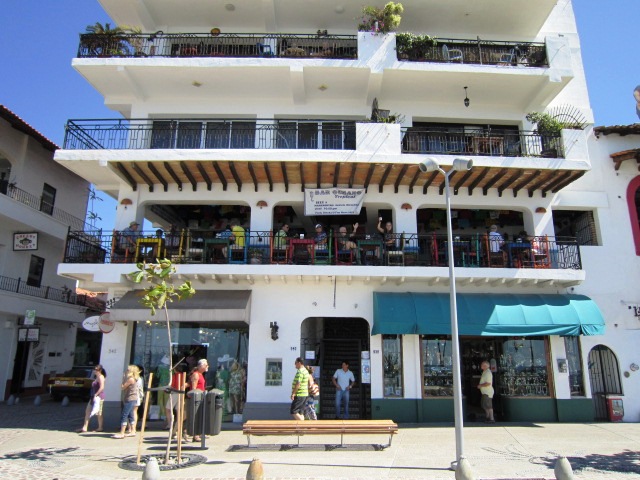 Bar Oceano, Vallarta's oldest Mexican cantina,
upstairs at 565 Paseo Diaz Ordaz along the Vallarta New Malecon in February 2012
Daily, 10am-2am. Tel: 222-0959


Sports bar and restaurant Nacho Daddy in the Zona Romantica or Old Town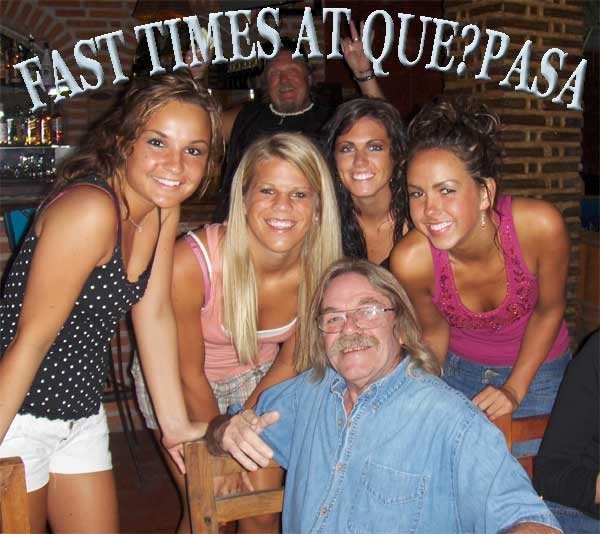 Que Pasa, a Puerto Vallarta neighborhood gringo bar on the South Side since 2004
625 Aquiles Serdan street at Cardenas. Telephone: 223-4006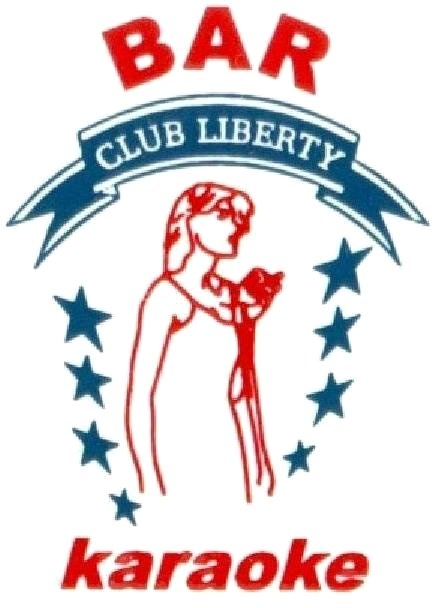 Club Liberty, a popular karaoke bar downtown on Morelos street, next door to La Regadera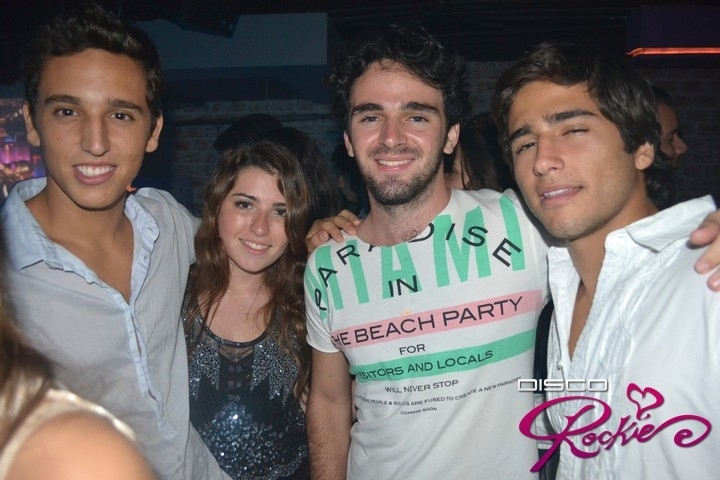 The colorful new Disco Rockie nightclub opened in November 2011 (closed 2015) in the Plaza Peninsula
2485 Blvd. Francisco Medina Ascencio, Locals B-18 and B-19.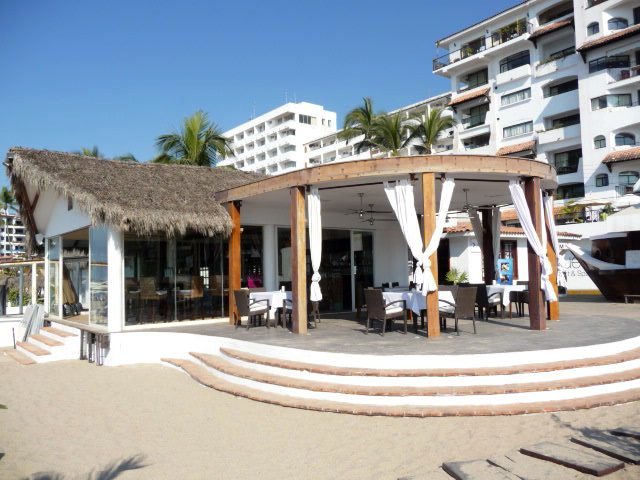 Sapphire Beach Club on the South Side along Los Muertos beach at #1 Calle Malecon.
Michel Pascal Ferrari also owns the fine Olas Altas restaurant-trattoria Michel.
Located at the One Beach Street Vallarta condos near the Blue Chairs of the gay beach,
Sapphire serves a variety of meat, fish and seafood dishes, 9am-6pm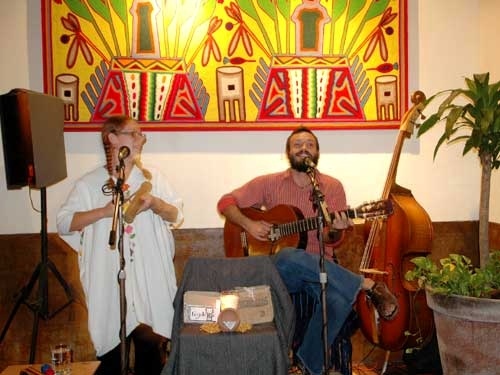 Local musicians at the Puerto Vallarta downtown Mexican restaurant El Arrayan
located at 344 Allende street.
Voted "Best Mexican" cuisine in Puerto Vallarta for five years in a row 2005-2010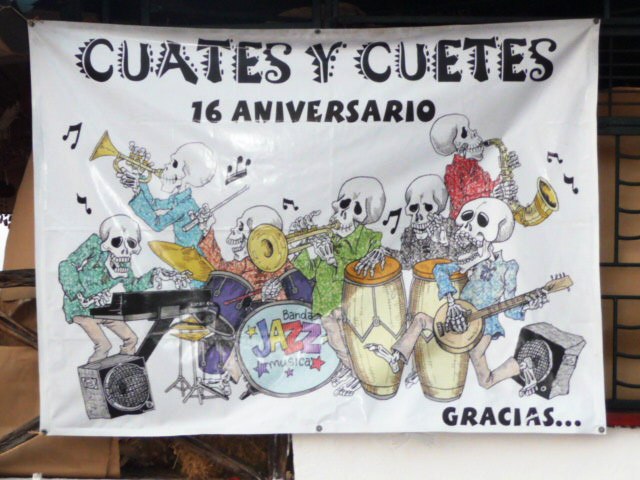 Cuates y Cuetes restaurant-bar on Los Muertos beach at the pier in Puerto Vallarta, Mexico
when celebrating their 16th anniversary.
Cuates has good live musicians playing
jazz light rock reggae or salsa in the evenings from the happy hour sunset until around 11pm.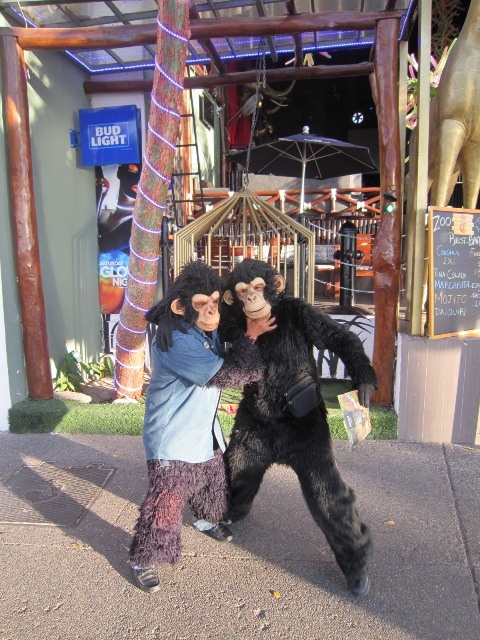 Monkey business! - out promoting the Puerto Vallarta nightclub Zoo on the Malecon downtown in January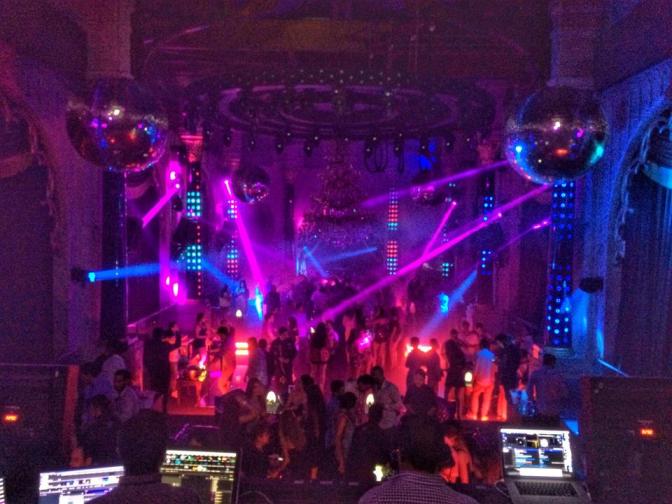 The upscale and posh Strana dance club in August 2016 - photo thanks to Xavo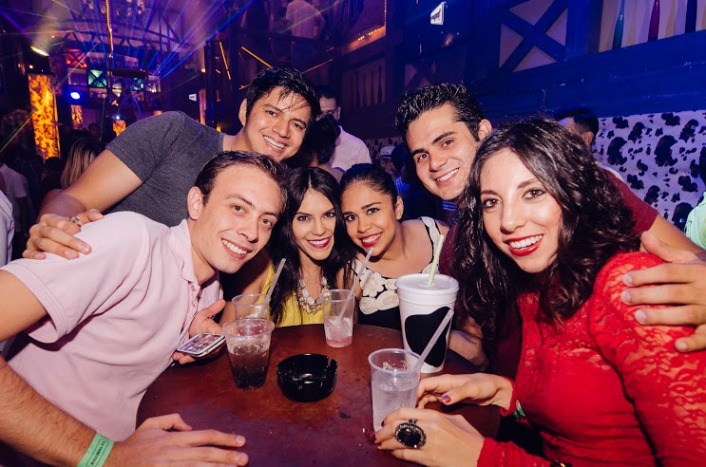 Fun downtown nightspot antro La Vaquita along the Malecon in 2016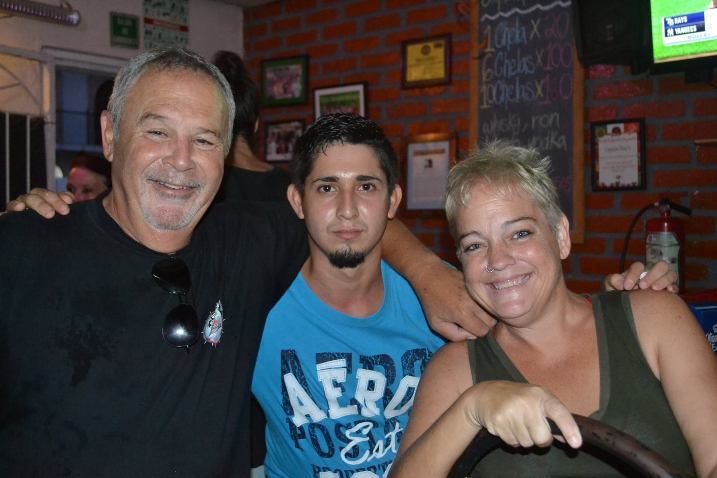 At Captain Don's bar with Jack Bramy and Crista Rogers in July 2017. Picture thanks to Capitan Don's which is
located near the Buenaventura Hotel and one block from the beach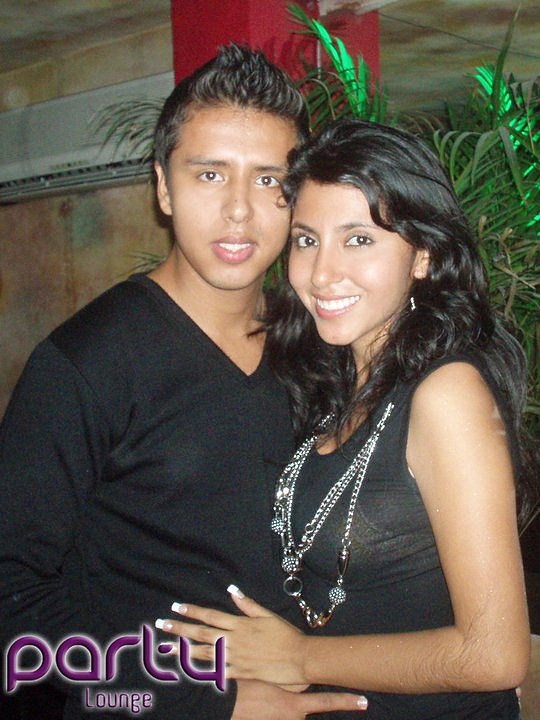 the Puerto Vallarta Party Lounge bar (now closed) on Avenida Mexico for over 12 years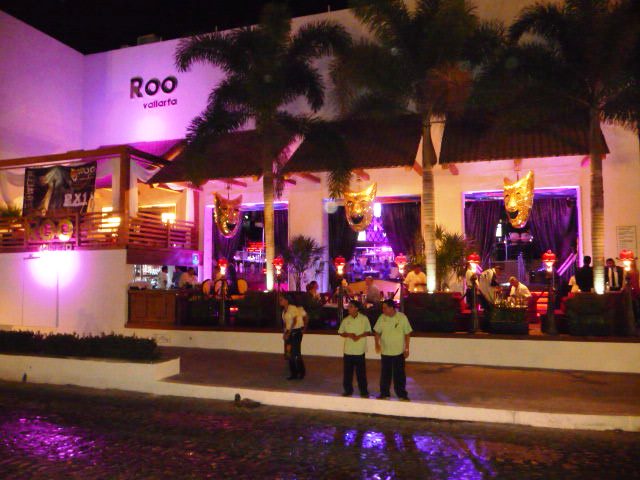 Vallarta club Roo (formerly Glam) - Opened in Oct 2010 and Closed in early 2015


Return to or visit
Puerto Vallarta Nightlife Pictures II
Puerto Vallarta Nightlife - Clubs & Sports Bars


---
top of page | 5-6 bedroom villas | PV photos II | 4 bedroom villas | vital phone numbers | Gay Puerto Vallarta travel
whale watching | vallarta annual events | penthouse condo MDA-PH3 | new malecon pictures
beach condos PB | gay beach pics | vacation rentals PDS | Email contact