Puerto Vallarta Beaches
and the Beaches of Banderas Bay
- Gay Vallarta Travel & Rental Guide
Rentals & Lodging
Puerto Vallarta Condos
Gay Vallarta Villas
Gay Vallarta Hotels

Gay Travel Vallarta
Art Galleries
Botanical Gardens
Cafes - Internet
Calendar of Events
Community Groups
Contact Info
Excursions - tours
Gay Bars and Clubs
Gay Beach
Gay Cruises
Gay Puerto Vallarta
Gyms - Spas
Law and Custom
Lesbian Vallarta
Map
Malecon downtown
More Gay Bar photos
More Gay Beach pics
Quick Gay Travel tips
Restaurant dining
Services
Shopping & stores
Straight Clubs Bars
Tourist Info
Vallarta Photos
Vallarta Weather



Los Muertos beach from the pier

Some Beaches of Puerto Vallarta and Banderas Bay
There are some 90-100 miles of sensational coastline (and an estimated 30-40 miles of sandy beaches) on Banderas Bay, the largest natural bay in Mexico and the seventh largest in the world. Along much of the central area (Puerto Vallarta) and northern parts of the Bay (Nuevo Vallarta, Bucerias, La Cruz and Punta de Mita), you can find beaches that often stretch for miles. To add to the pleasure of these beaches, from November to March a sighting of whales or schools of dolphins is not unusual. Swimming, parasailing, surfing, fishing, boogie-boarding, banana boat rides, sailing, snorkeling, scuba diving and the use of kayaks and jet skis are popular outdoor activities/facilities in the Banderas Bay area. One finds in Puerto Vallarta and the northern resort areas many beach restaurants and concessions, ranging from ritzy hotel dining to palapa covered restaurants with basic amenities, good food and local prices. Listed below are many of the beaches around the Bay, starting with Puerto Vallarta and heading south.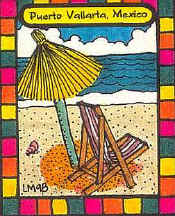 Vallarta Beaches
Playa El Salado is the Marina Vallarta District beach at the very northern end of the city where one finds some of the largest and newest Puerto Vallarta hotels including the Marriott, Mayan Palace, Melia, Velas Vallarta and the Westin Regina Resort.
Playa de Oro extends from the Marina Terminal to the Pitillal River in the North Hotel Zone in front of the Crown Paradise, Hacienda Buenaventura and Krystal Vallarta hotels.
Playa Las Palmas, Playa Los Tules, Playa Las Glorias and Playa Camarones run south nearly continuously for over two miles from the Pitillal River to just north of the downtown Puerto Vallarta malecon. Many of these lovely beaches are accessed by going through or around the main hotels in the area such as Holiday Inn hotel, Villa del Palmar beach resort, Friendly/Hola Vallarta resort, Los Tules, Plaza Las Glorias, Continental Plaza and the Sheraton Buganvilias Hotel resort and spa, one of the largest hotel complexes in Latin America. This set of beaches together comprise the longest stretch of beach in Puerto Vallarta: some areas are more popular than others with the public and some beachfront areas appear to me to have been largely taken over by hotels which rather unlawfully have built up to and occupy the federal zone.
Playa Dorada is the beach located downtown running the length of the Malecon boardwalk. It is not frequented much as the waves here can be rather strong and the area itself tends to be stony. Local Mexicans and most tourists staying downtown, in the South Side-Romantic Zone, or in Conchas Chinas head off to Playa Los Muertos beach which is the main area in this gay-friendly resort city.
Playa de Los Muertos: For many years Puerto Vallarta's principal beach has been known as Playa de Los Muertos, the beach of the dead. How it got this name is not really known: some say that a cemetery was located in the area; others say that there were battles at one time among pirates or between pirates and the men who went up to the mountains with their loads of gold and silver to be shipped back to Spain from the Gulf Coast ports. Whatever the case may be, it makes for a good story, and the name has stuck. Los Muertos/Playa del Sol beach is a mile long stretch of a wide sandy beach bordered by the Cuale River on the north and Conchas Chinas on the south end. There are a good number of restaurants, bars and drinking spots on the beach, where the clientele sit under the many round thatched palapas or beach umbrellas for shade to catch a bite to eat and order refreshing drinks. Los Muertos is the main beach for all South Side accommodations: hotels, beachfront condos and villas in the area, and also for the Blue and Green Chairs of the Puerto Vallarta gay beach which are located near the southern end.
Along Los Muertos beach are some of the most popular beachfront restaurants in Puerto Vallarta such as Coco Tropical, Daiquiri Dick's, El Dorado, La Palapa and The Blue Shrimp, as well as long-time hangouts and bars like Cuates y Cuetes, Fidencio's, Langostinos and Burros Bar (among many others), and the relatively new gay-owned Sapphire Ocean Club (formerly called El Lido). The main waterfront hotels include Los Arcos, San Marino, and the Marsol. The pier at Los Muertos is where many people board the daily cruise ships bound for a day trip-excursion to the South Shore villages of Las Animas, Quimixto or Yelapa (these villages are accessible only by boat; see info below). Water taxis from the pier will also take you directly to these tropical and relaxing destinations. You might want to charter a small boat (known as a "panga") for a private tour (cost at around 400-600+ pesos per hour) or even arrange a fishing expedition at the pier from one of the friendly Vallarta beach vendors situated in the area.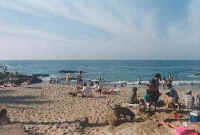 Playa Conchas Chinas: At the south end of Los Muertos Beach is a large rocky outcropping. There is a narrow path that leads up and over. This is the beginning of Conchas Chinas beach, which is not really one beach but several lovely small, sandy coves (photo at left) among a series of these rocky outcroppings. If you are looking for a more private beach experience, you may find it in Conchas Chinas. The waters are clear and shore fishing, swimming and small beach gatherings are popular, especially on weekends. These beach areas are accessible off Highway 200 which runs a block or two up from the coast. There are very few beachfront restaurants as one would usually find at many of the other Puerto Vallarta beaches, so bring your own food and drink for a picnic on the beach. Or head off the Lindo Mar restaurant, an excellent beachfront palapa covered spot for food and drink in Conchas Chinas. The hillsides overlooking these lovely Conchas Chinas beaches have become rather crowded with luxury condos and villas, which often offer spectacular views.
South Shore Beaches
South of Puerto Vallarta, beaches are shorter stretches of sandy areas among a generally rocky coastline. The Dreams Vallarta hotel (formerly Camino Real) on the south end of the Conchas Chinas residential area has its own beach, Las Estacas. A mile south at Km 3.5 on Highway 200 is the Playa Los Venados, a beach a few hundred yards in length, similar to the beaches that follow at Playa El Carrizo, Punta Negra, Garza Blanca and Playa Gemelas. These are all sandy beaches with moderate waves and currents. Playa Los Arcos is a relatively short stretch of sand near the famous rock formations known as Los Arcos, The Arches, where the waves have worn away the rock and there are arches or passageways through the small islands in this natural preserve.
Mismaloya Beach - It was here in the small village of Mismaloya, approximately 10 miles south of Vallarta, that the movie "The Night of the Iguana" was filmed by John Huston in 1963. A part of the original set is still in existence, and if one knows the movie, walking onto the set can be an experience. Nearby is a restaurant named in its honor, with views of Banderas bay. The small beach at Mismaloya has several restaurants and there are boats for rent for a trip to the rock formations at Los Arcos (photos below) or nearby beaches. The movies Predator (1987) and Gunmen (1994) were also filmed near Mismaloya at El Eden. Horses are available for jungle rides, and trips up the Mismaloya River to the restaurants Chino's Paradise or El Eden are popular. See Mismaloya photos below
Tourist Note: The following beaches and villages along the South Shore are accessible only by taking one of the day cruise boats, or you can get to these beaches by taking a water taxi from Mismaloya or the small village of Boca de Tomatlan, which is just beyond Mismaloya.
Playa Las Animas - This tranquil beach of several hundred meters long is very quiet, so you can easily relax, get a tan, do some swimming and have some good food at one of several beach front restaurants. The lovely beach is bordered by rocky promontories at either end. Located about 20 minutes from Boca by boat, there are no overnight accommodations here as far as I know.
Quimixto - A small village on the South Shore past Las Animas. Many of the day cruises drop anchor here for several hours so that their passengers can horseback ride up to the popular waterfall in the mountains. Several palapa roofed restaurants line the cove in Quimixto. If you want a quiet and still undeveloped area for relaxing and taking in some of the natural beauty of the Bay, try this getaway for an afternoon. You can spend some time at the beach or one go on a ride up to the waterfall.
Yelapa - Yelapa is the most remote fishing village on the South Shores, also accessible only by boat. It's popular because of its beauty and the slow pace of life, and has been known as something of an artist retreat and hippie hangout. Several day cruises stop there for a few hours and like Quimixto there is a river and popular waterfall. Yelapa is very laid back and has real charm, with palapas and seafood restaurants on the beach and small bungalows and houses that dot the jungle hillsides. There are no cars. Electricity has only recently made its way to the village, which used to go dark around 10pm after everyone turned off their generators. Lodging is still reasonably priced. There are water taxis from Puerto Vallarta and Mismaloya direct to Yelapa that run in the morning and afternoon.
North Shore Beaches
Boca de Tomates - About a half hour north of Puerto Vallarta downtown and just past the PV Airport is the rather hidden Boca de Tomates beach, located between the Marina and where the Ameca River (which divides the states of Jalisco and Nayarit) enters Banderas Bay. The Tomates estuary is one of the most important refugees for wildlife in the Vallarta Bay area and is protected. A short ways past the turn off to Las Juntas and before the bridge over the Ameca River is the exit on the left from the coastal Highway 200 to Boca de Tomates. This spot is favored by beach lovers, surfers, boogie boarders and windsurfers as well as turtles and crocodiles. Seven or eight palapa covered restaurants serving seafood completes the picture of another local tropical paradise.
Bucerias - Bucerias is a village of several thousand people located 15 miles north of Puerto Vallarta in the state of Nayarit and has five to six miles of uninterrupted shoreline, the longest stretch of beach on the Bay. Bucerias is more laid back than Vallarta and has a small expatriate community. Pleasant accommodations with moderate prices are on or near the water, and the town is popular with many Canadian tourists because of its more economic prices for food and lodging. Bucerias' architecture is noted for cupolas (domes) and there are hundreds of them on buildings throughout the town. Open air palapa roofed restaurants serve fresh seafood and the uncrowded beaches have gentle surf.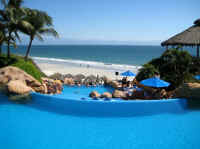 Destiladeras Beach - There are plenty of miles of wide sandy beaches and coves interspersed with rocky outcroppings north from Bucerias to Punta de Mita in Nayarit at the north-western most end of Banderas Bay. About five miles north of the beach town of Bucerias is Playa Destiladeras (picture left), with its palapa-thatched restaurants, stretches of white sands and a beach that gives good waves for surfing, of around two to five feet or so, near the north end at Punta el Burro/Punta Veneros. About 50-55 minutes north of the Puerto Vallarta South Side and a favorite of several of my friends.
Pacific Coast Beaches
Sayulita - Just to mention one: twenty miles beyond Bucerias, but on the Pacific coast, is a favorite gringo getaway, the small picturesque village of Sayulita with its two thousand or so inhabitants. Surfers like it because the cove there gives good waves pretty much the whole year (the best waves are Nov-Apr), and it is the favorite surf spot in the Banderas Bay area. A good number of Mexico's finest (and handsomest) surfers live and surf here, and one can take lessons from some of them or rent surf-boards on the beach; long board and short board surfing are both popular. There are pleasant beachfront restaurants, including the upscale Don Pedro's and the popular Capitan Pablo's, as well as bungalows, villas, guest houses and camp grounds. The dusty streets of the town converge on the small town square, which has several restaurants, an ice cream shop and grocery store, the Choco Banana coffee shop (owned by Tracy Willis), the church and town billiard hall, a row of houses and a bar or two facing it. This is the unhurried and rather simple but handsome look of hundreds of small towns and villages throughout Mexico. As Janelle Brown reported in the NY Times in 2003, the town still "retains its traditional lifestyle: residents buy fish off the beach, chicken from the woman in the square, and everything else (mops, strainers, plastic chairs) from the trucks that occasionally drive around town." Go to this page for some Sayulita beach photos. The town has been somewhat rather rapidly developed, alas. Still, the Sayulita beach is long and lovely and is one of my personal favorite day trip tropical getaways.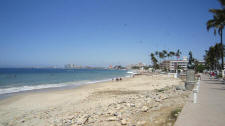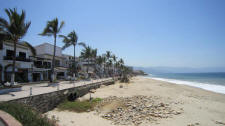 the Puerto Vallarta downtown beach - looking north and south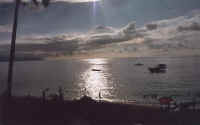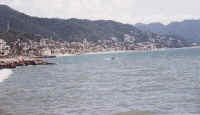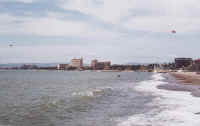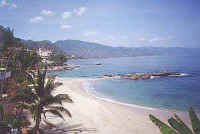 some Puerto Vallarta beaches: Los Muertos; north side hotel zone beaches; Conchas Chinas looking to South Shores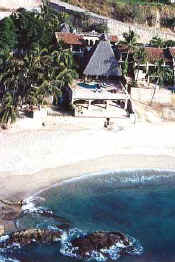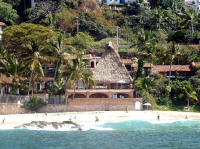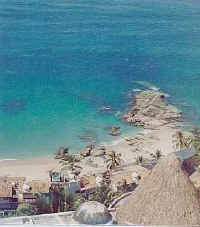 Conchas Chinas beaches in Puerto Vallarta, Mexico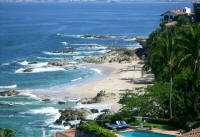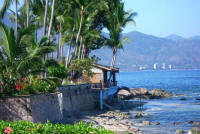 Conchas Chinas near villa CDM-4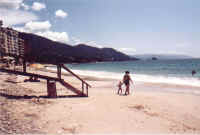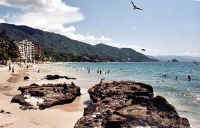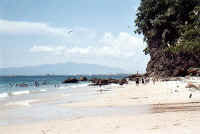 Some more swimmable beaches in the area - Punta Negra beach along the South Shores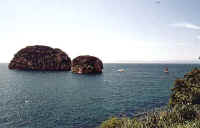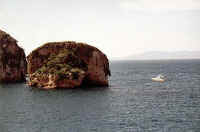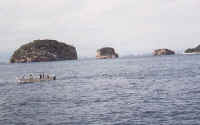 Los Arcos rock formation and the marine sanctuary area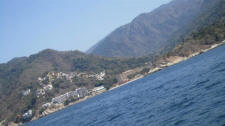 Three pictures above of Mismaloya approximately 10 miles south of Puerto Vallarta, Mexico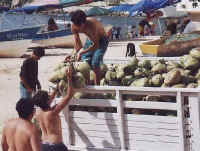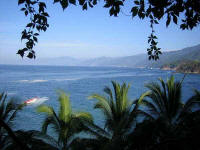 delivering coconuts on Mismaloya beach; Puerto Vallarta as seen from near Caletas beach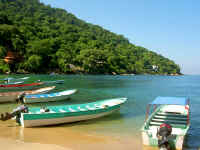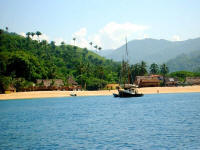 Boca de Tomatlan bay and pangas/launches; Yelapa a rather secluded village - Two images thanks to Daily Venture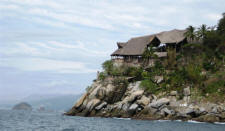 Le Kliff restaurant and bar perched on the hillside along the South Shore with Los Arcos in the background.
The restaurant appeared in the Guinness Book of World Records in the 1980s as the world's largest palapa.
Later on Le Kliff was featured on the Sony Channel as "One of the most beautiful spots in Latin America"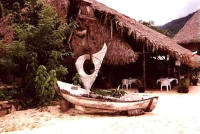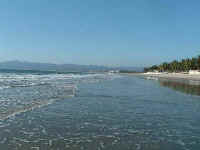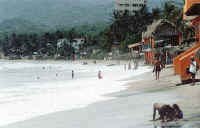 Yelapa beach restaurant; Nuevo Vallarta beach; Bucerias just to the north in the state of Nayarit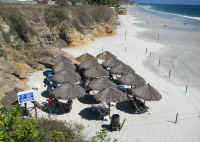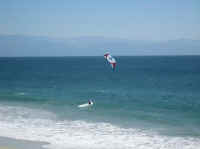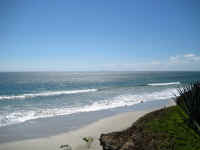 Playa Destiladeras a day trip approximately five miles north of the beach town of Bucerias, Mexico (still within Banderas Bay)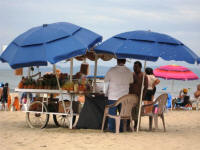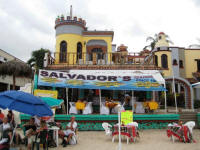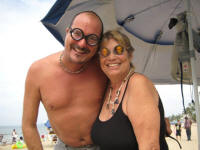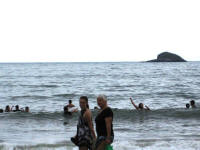 Guayabitos beach in Nayarit state, Puerto Vallarta fun places & getaways, about 90 minutes north of the city along the Pacific coast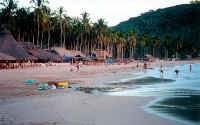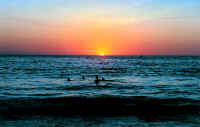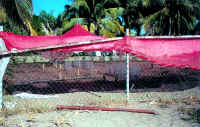 Chacala beach in Nayarit; Chacala Mexico sunset;
Playa Tortugas turtle beach and sanctuary near Platanitos village about 2 hours north of Vallarta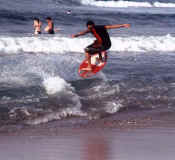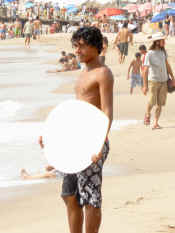 Some Puerto Vallarta attractions: Heriberto in Sayulita; Josue in Playa Tortugas; skimboarder on Playa Los Muertos

---
top of page | condos PB | important phone numbers | blue chairs gay hotel | 2 bedroom villas | Gay Puerto Vallarta
casa fantasia guesthouse | nightlife pictures | vallarta annual events | 4 bedroom villas | vallarta condos
vacation rental condos LP | guadalupe celebrations | malecon photos | Email contact