Quick Gay Travel Tips, Ideas and Gay Vacation Advice -
Gay Puerto Vallarta Mexico Guide
On this Gay Travel Tips and Holiday Planning page
Airport Pickup | Climate & Weather | Consulates | Dress & Clothing | Drugs | Forums | Geography | Gyms & Spas | Holidays
Homophobia | Inviting Someone Home | Language | Malecon | Medical Insurance | Money | Natural Resources | Passport & Visa
Puerto Vallarta Safety | Taxis | Time | Tipping | Vallarta Things to Do | Wildlife
Rentals & Lodging
Gay Vallarta Condos
- Condominiums LP
- Beach condos PB
- El Dorado rentals
- Molino de Agua
- Beach condos PDS
Puerto Vallarta Villas
- 2 bedroom villas
- Three bedrooms
- 4 bedroom villas
More Vallarta Condos

Gay Travel Guide
Art Galleries & culture
Botanical Gardens
Cafes - Internet
Calendar Gay Events
Charities & Community
Contact Info
Excursions - Fun
Gay Bars & Clubs
Gay Beach
Gay Cruises & Tours
Gay Links, etc
Gyms and Spas
Important Phone #s
Law and Custom
Lesbian Vallarta
Malecon downtown
Map
More Gay Bar photos
More Gay Beach pics
Other Beaches
Quick Gay Travel tips
Restaurants
Restaurant photos 2
Services
Shopping & stores
Straight Nightlife
Tourist Info
Vallarta Events
Vallarta Gay Pride
Vallarta Photos
Whale Watching

I note here some handy gay travel tips, ideas and friendly vacation advice for the gay and lesbian traveler planning to visit Puerto Vallarta, Mexico. Some of these travel topics are covered in greater detail on some of the other Gay Guide Vallarta pages such as at Tourist Information and Services, so I often simply summarize or else refer you to them. This page has grown so perhaps the vacation tips are not as "quick" as they used to be.

Gay Travel Tips & Advice in General - Spirit Journeys, one of the more interesting gay travel sites out there which hopes to "create opportunities for you to grow mentally, emotionally and spiritually; to create environments where you can feel safe enough to 'step outside of your box' and live a freer, more joyous life...." has some great general holiday tips & ideas for gay travelers that I might briefly summarize some of and add a bit to in parts for gay men and women on holidays in Mexico: Don't act like you are better than the people here, for example don't be a demanding or ungrateful tourist; show some respect for local customs and points of views; be patient when things don't 'go right' as it is a bit slower here and a good thing too; learn a few words of Spanish, use them and you can be sure people in Puerto Vallarta will appreciate that effort; pay attention to your surroundings when out and about; it might not be such a good idea to go home with someone you just met at a gay club or on the gay beach, or maybe so, listen to your intuition and perhaps get to know people a bit first; smile, a lot! hey, you're gay you're fabulous and you're on vacation and that's something to be happy about, eh?! (This page has expanded in detail quite a bit beyond my original intentions)

Airport Pickup - Discovery Vallarta and Diana's Tours recommend this gay-friendly VIP transportation service from the airport to your local condo, hotel or villa. Please be sure to read the info and instructions on the webpage completely. The price is $20 for a taxi for 1-2 people and a van is available for larger groups at $10 per person. Your representative will be standing just outside of the automatic double glass doors after you pass through customs, and have a sign with your name on it.

Auto Rentals - Go to this Services page for the PV auto rental information

Beaches - Banderas Bay (Flags Bay) is one of the larger natural bays in the world, approximately 500 square miles, and has some 30-40 miles of some of the best beaches in Mexico to enjoy - visit here for the Puerto Vallarta gay beach on Los Muertos, and here for other beaches in Vallarta & Banderas Bay.

Business Hours - Most stores in town are open from 9am or 10am until 8pm to 10pm, but some of them do close for an hour or two between 2pm-4pm for lunch. Some public offices work continuously from 9am-5pm and close after that. The stores at the shopping malls such as at Galerias Vallarta, Plaza Caracol, Plaza Las Glorias, Plaza Marina and Plaza Genovesa generally stay open continuously from 9am-10pm.

Climate - Close enough to be considered a tropical paradise, gay Puerto Vallarta has moderate temperatures throughout much of the year. The average high temperatures in this central Pacific coastal part of Mexico are 80-85°F in the winter and 85-92°F in summer. November to May is the dry season, with very little rain, the sky relatively cloudless and the nights mild, i.e. a good time to plan your vacation. Rains begin in mid-June and continue sporadically through late October. Learn more here about Vallarta climate and weather that includes a chart of monthly high and low average temperatures and precipitation.

Consulates - Trouble in paradise? Go here for important Puerto Vallarta phone numbers. American U.S. Consulate: Kelly Trainor, Consular Agent. Paradise Village Shopping Center Paseo de los Cocoteros, Locale L-7, Nuevo Vallarta. Tel: 222-0069, 223-0074, after hours: 01-333-268-2145. U.S. consular office hours, Mon-Fri, 8:30am-12:30pm. Canadian Consulate: Lyne Benoit, Consular Agent. 2485 Ave. Francisco Medina Ascencio in the Plaza Peninsula Locale sub F. Tel: 293-0098, 293-0099, fax: 293-2894, after hours: 01-800-706-2900. Office hours, 9am-1pm

Drinking Water and Food - Purified water is available in all Puerto Vallarta restaurants, hotels and bars, which also use purified ice as well. It's advisable to drink at least 4-5 glasses of water a day to help prevent dehydration. I would advise against drinking the water from the tap unless your accommodation has a purified water system. You can be pretty confident that food in city restaurants is washed in purified water and/or properly cooked. Go here for more detailed info on Puerto Vallarta water and food.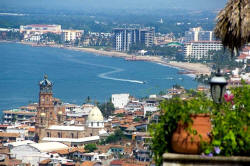 Dress & Clothing - The people in Puerto Vallarta dress casually. Most of the year can be spent in shorts and T-shirt, except perhaps for the winter months when it might be long pants in the evening as the nights can be a bit chilly, down to 58-65 °F. Upscale restaurants will expect you to wear long pants and a casual or dress shirt for dinner, though dress shorts are common in most places in the late spring through early autumn. At the Vallarta gay beach, Mexican gay men are much like their American counterparts and will wear speedos or swim trunks. Straight guys here are rather modest and wear swim trunks or shorts at the beach.

Travel tips - What to wear: For the late autumn, winter, and early spring months in gay Puerto Vallarta (November-April, the basic 'high season' of tourism here) my advice would be: Bring lighter clothing for the sunny warm days - most people spend their days at the beach or out and around town, so shorts, bathing suits, speedos, tank tops, t-shirts are the norm; at night it's shorts or long pants, dress or casual shirt perhaps even a light sweater or jacket for the cooler weather at night. Most guys who go out later on to visit with friends, drink and dance wear shorts or jeans and a light shirt. For summer months and early autumn (May-October): It is humid, sunny and hot weather during the day-time and still fairly warm throughout the evening, so it's casual and cool light clothing at the beach and also out to dinner and dancing at night; an umbrella from June through September is a good idea as there's often rain at night-time. I would suggest bringing several pairs of shoes and sandals for any time of year. And remember the 8-50+ SPF sunscreen, year round, is a good and healthy idea, as the sun is quite strong here south of the border.

Drugs - Drug offenses may be risky business in Mexico. Mexico's anti-drugs laws for those that sell in quantity are generally more reactionary and ridiculous than those of the United States, though I think Texas and some of the Southern states take the cake. Under Napoleonic law in Mexico you are guilty until proven innocent. If you must, be extremely discreet; if you are caught you may be deported, have a prison term or have to pay a fine (depending on the type and amount, etc). Police occasionally stop and frisk locals and tourists checking for drugs, though to my knowledge this has become rarer over the years. From what I have heard and read, penalties can be rather lax in Puerto Vallarta, though I wouldn't bet my liberty on it. The police have also been known to extort money if they find drugs on you.

Travel tip news: Decriminalization laws regarding the personal possession and use of fairly small amounts of marijuana/marihuana (5 grams, about 3 joints), cocaine (500 milligrams), LSD (0.015 milligrams), heroin (500 milligrams) and up to 40 milligrams of methamphetamine were passed by the Mexican Congress and signed by President Felipe Calderon in May-August 2009. These small amounts must be clearly intended for "personal and immediate use" and will not be criminally prosecuted. Selling drugs is still illegal. My impression is that the local police in Puerto Vallarta don't spend much time or energy worrying about small time use. Portugal's drug decriminalization policies are the best and most progressive in the world; Spain and Italy have also decriminalized personal use of drugs, and my advice is that the United States should end its absurd and counterproductive anti-drug policies and follow suit. It would certainly put an end to a lot of the drug violence on both sides of the Mexican-American border.

Electricity - Same as in the U.S. and Canada, 110 volts, 60 cycles, although many places in town will not have three prong electrical outlets. So bring along an adapter if you need one for your appliances.

Family Life - Mexican life centers around the family. You'll find Mexicans more devoted to their families than people are in America. Parents and elders are treated with respect and children are generally well loved and cared for. Many Mexican gay or bisexual men will not be out to their families as this is still a catholic and rather conservative country in many ways, though things are changing. Children will often live with their parents until they marry or leave the hometown to live in a larger city. Many gay Mexican men in Puerto Vallarta are from other parts of the country where they have left their hometown in search of employment and/or to come out here in a more accepting social atmosphere.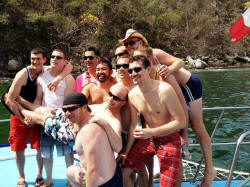 Fodor's Guide Tips - From an old Fodor's on-line guide page: "Puerto Vallarta is Mexico's prime gay destination. In the Zona Romántica (South Side - Romantic Zone) especially, mild displays of same-sex affection are common, and some gay-owned hotels, bars, restaurants, and beach clubs are no-holds-barred. These gay-oriented businesses are the place to ask about any blatantly anti-gay establishments in PV and beyond. In general, Mexican same-sex couples keep a low profile, and foreign same-sex couples should do the same. Outside the Zona Romantica, two men might have a hard time getting a cama matrimonial (double bed), especially in less sophisticated hotels, although for women this shouldn't be a problem."

Forums and Message Boards - There are a number of Pto. Vallarta forums and message boards that might be helpful to the gay traveler: the Puerto Vallarta Mexico Forums-Bulletin Boards, also those at All Vallarta Message Board for Puerto Vallarta and the Vallarta Scene Forum - these two are the best of the lot in my opinion, and can be quite lively as well as being informative.

Geography - Located along Mexico's Pacific coast, about halfway between the United States border and Guatemala, Puerto Vallarta is a few short hours by plane from West Coast cities and the Southwestern states. Here for a map of Mexico

Going Out - Do be generous if you go out with a Mexican national or have a date. It's commonly expected that the person of higher social wealth will pick up the tab and show generosity in other ways. Generally speaking that would be you, dude. So don't expect to go out Dutch unless it's already established or the other guy is of an equal or higher economic status, meaning Mexican upper middle class or above.

Gyms and Spas - Still gotta work out those pecs and abs in paradise? Pump Gym (gay owned) and The Fit Club are close to and within walking distance of most South Side or Old Town locations. The Fit Club is pretty much the largest, most popular and best equipped work-out place in the city and is popular with the gay guys too. Gold's gym, which was in the hotel zone in Plaza Las Glorias, has recently closed. Check out more information on Puerto Vallarta gyms.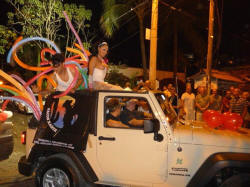 Holidays - Here are the main national and religious holidays in Mexico: New Years Day - January 1; Day of the Three Kings - January 6; Constitution Day - February 5; Flag Day - February 24; Ash Wednesday; President Benito Juarez's birthday - March 21; Semana Santa or Holy Week goes up until Easter Sunday, and then Semana Pasqua or Easter Week is the following week; Labor Day - May 1; the Battle of Puebla - May 5; Mother's Day - May 10; Independence Day - September 16; Day of the Race/Dia de la Raza - October 12; President's State of the Union address - November 1; The Day of the Dead - November 1-2; Revolution Day - November 20; Feast of Our Lady of Guadalupe - December 12 (there are twelve consecutive days of Virgin of Guadalupe celebrations in Vallarta, from December 1-12); Christmas Day - December 25.
Homophobia - In spite of the many advances and changes in consciousness in the last 10-20 years or so, social, economic and psychological conditions are difficult for many Mexican gay and bisexual men as homophobia is still widespread. (See Law & Custom page for more info). In a word, the culture is almost uniformly heterosexually dominant, macho and sexist (a very broad generalization indeed). Sexual stereotypes and gender roles are still pretty rigid, as in most Latin cultures, but this too is changing. Many Mexican gay men that I have met here have gone to live in the US or Canada. In general, for tourists and visitors to Puerto Vallarta it's unusual indeed to hear or read of reports of any type of harassment or violence based on perceived sexual orientation. Puerto Vallarta is known for its tolerance and local people appreciate our business, generous tipping and support for the local economy, even if some may not personally approve of our 'lifestyle'; hence so many businesses advertise trying to attract the gay dollar or 'pink peso'. In all of Latin America only Ecuador and Mexico, since 2003, have nation-wide protection against discrimination on the basis of sexual orientation. In December 2009, Mexico City legalized same-sex gay marriage and as such became the first and the most progressive gay-friendly city in all Latin American. That's what happens when a truly progressive Left-wing party, the PRD, runs one of the largest cities in the world.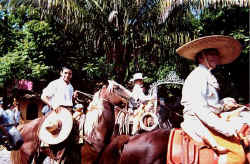 Internet Service - There must be at least a thirty to forty or more cyber internet places in town now, costing anywhere from 10-30 pesos an hour. Click here to find out about some of the Vallarta internet cafes and places to connect. Most restaurants, cafes and hotels as well as most vacation rental condominiums and villas now have wireless.
Inviting Someone Home - Most of the regular hotels in the Puerto Vallarta that I know about won't allow you to bring guests or friends back to your room. That's one good reason we have our own gay hotels, bed and breakfasts and gay-friendly condos and luxury villas here. I assume that their main concern is for the security of their guests. If you are going to stay at one of these straight hotels, why not call or email them and ask what the policy is beforehand. The age of consent in Mexico is 18 years old. Check the federal voter registration ID if in doubt about his age.
Use your discretion if you have someone over to avoid problems. I would advise not inviting anyone back whom you have just met, as your lodging is your home where you keep your valuables, documents, laptop, clothing and such. If you do, remember that it's a poorer country and we are in a recession, so it is a good idea to keep your money and valuables such as wallet, watch and rings out of sight. Assuming that you had fun, do be generous in helping out your date and vacation friends. I am sure they would appreciate any assistance you can offer.
Language - The official language in Mexico is Spanish, same as in most of Latin America (with the big exception of Brazil where the official language is Portuguese, and some nations where French is spoken). You'll likely find that a high percentage of people locally and especially those in the tourist industry speak English. Restaurants, hotels and condominium buildings have staff that are usually fluent in English and sometimes in a bit of French. People in Vallarta will appreciate you learning and using even just a few words of Spanish as a sign of respect for their language and culture. If you'd like to learn or brush up on some basic Spanish vocabulary about dining, directions and numbers before your stay here in Mexico, you can visit the Travlang website Foreign Languages for Travelers.
The Malecon - The Vallarta malecon is the seawall walkway or boardwalk promenade that stretches the length of downtown from the New Malecon Extension which begins on the South Side at the pedestrian bridge over the Cuale River, and goes all the way to the Hotel Rosita on the north end. Near the south end of the main stretch is the large outdoor amphitheater and Los Arcos, the Arches, where many open-air activities and entertainment attractions occur, such as folkloric dancing, live music, cultural events and the popular nightly clown shows. Here's a page with many Puerto Vallarta malecon pictures.
There are a good number of lovely statues, great sculptures and interesting local artists at work along the mile-long stretch. The downtown boardwalk is particularly popular from sunset up until around 10pm. Half the town dresses up and turns out to stroll on weekends, especially Saturday and early Sunday evenings. The main Malecon was totally remodeled in 2011 and is looking quite sharp and modern, though opinions vary widely on its aesthetics and utility. The downtown boardwalk and Extension can also be a good location to make some new friends, so check it out.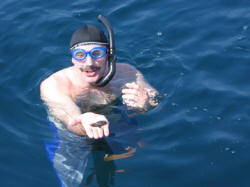 Marine Nature Sanctuaries and Wildlife - There are two National Marine Parks/Nature Reserves in Banderas Bay, one at Los Arcos (The Arches, a park since 1984) and the other at the Las Marietas Islands. Both are popular places for snorkeling and scuba diving adventures. In order to protect the bird and aquatic wildlife, no walking, camping or fishing is allowed in these natural reserve areas. During the summer months, seven of the eight species of marine turtles in the world lay their eggs on beaches in Mexico. These endangered turtles, their nesting sites and their eggs are all protected by law. Humpback whales winter in Banderas Bay every November to March, along with many dolphins and giant mantas. You may wish to consider a Las Marietas snorkeling and whale watching tour with the folks at Ocean Friendly or Vallarta Adventures, one of most well known Puerto Vallarta tour and activities companies. As Bird Watching - Puerto Vallarta, Mexico notes, there are over 300 species of birds living in Puerto Vallarta and the surrounding areas, quite a number of beauties.
Massage - Briefly here are names and contact numbers for some of the massage therapists in Puerto Vallarta who are gay: Edgar, cellular: 044-322-138-7794; Gerardo Dico, cell: 044-322-134-2816 and gedico8@yahoo.com.mx; Martin Mendoza (Blue Massage), Tel: 222-6034, 223-2292, cell: 044-322-888-7511; Osiel Echeverria Bercian, since 1990, cell: 044-322-278-0955 and 044-322-110-1143. For further info on massage and health spas
Medical Insurance - It sometimes happens that people on vacation have medical emergencies from accidents or an existing medical condition. I would strongly advise that you check with your insurance company to verify that you have international coverage that will cover you while here in Mexico. Your best bet is to purchase a good traveler's insurance policy. These policies are much more widely accepted in the area than your personal private insurance. Remember too that in Puerto Vallarta neither Canadian Government nor U.S. Medicare coverage are accepted. Pamela Thompson at Health Care Resources would be happy to assist you in finding the proper type of coverage for your vacation. Health Care Resources PV is a multi-faceted and independent resource network that offers multiple no-charge and minimal-charge services and invaluable info to the residents and visitors. Pamela handles referrals, medical tourism, home care services and insurance. Telephone: 222-9638, local cellular phone for Pamela Thompson: 044-322-107-7007. Remember, medical decisions can only be made by a blood relative unless otherwise indicated with legal papers (or their consular agent).
Money, Banks, ATMs - The national currency of Mexico is the peso. US dollars are readily exchanged at banks, hotels and any casa de cambio/money exchange house. New regulations require that you show your passport in order to exchange dollars and there is a maximum per month allowed. (I have heard that some places in the city will no longer accept or exchange Canadian dollars, so please inquire). Most businesses will accept dollars. Travel tip: Please be sure to count your change whenever exchanging money or paying the tab at any restaurants or nightclubs. The current exchange rate is fluctuating this year from around 17.5-18.8 pesos per US dollar at the banks and exchange places, and this rate changes daily. Go here for more info on money. You may want to buy a money belt to carry your cash underneath your clothing while on vacation. The best exchange rate comes by withdrawing money from an ATM located at a local bank, shopping mall or large supermarket.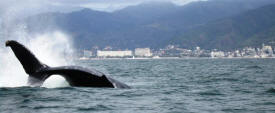 Natural Resources - Water, arable land, food and electricity are valuable and sometimes scarce resources in a third world country such as Mexico. Please help to conserve Mexico's natural resources by turning off lights, overhead fans and the air conditioners before leaving your hotel, condo or villa for any period of time. The government and people of Mexico put considerable effort and materials into the tourist areas such as Puerto Vallarta (and Cabo San Lucas, Cancun, Ixtapa and Mazatlan, to name just a few) to keep them clean, safe and up to international standards. And please think twice about using those noisy, polluting jet skis or ATVs.
On the make - Gay travel tip: Remember again to use caution when taking anyone home with you whom you have just met or don't know well. Try to avoid putting yourself into a potentially risky situation. It might perhaps be a good idea to get an opinion or advice from one of the waiters at the gay beach or gay night club as to whether your friend or date is reliable. If you do go home with him, take good care of keeping track of your personal possessions and valuable belongings, especially your jewlery, wallet, watch and credit cards. And then have a good time.
Passport and Tourist Visa - For U.S. citizens, proof of citizenship and photo identification are required for entry into Mexico. A U.S. passport is the simplest way. Keep your passport or other citizenship documents in a secure and safe place in your Puerto Vallarta condo or hotel. It may be a good idea to scan or photocopy your passport and drivers license and then send them to yourself in an email or bring copies with you in case the originals are lost or stolen. For the most recent State Department Consular Information Sheet for Mexico. More info about your visa or passport?
Phone - Ask at your hotel room or condo building before making any long distance calls, as phone calls can be quite expensive, up to several dollars per minute. Even if you use your own calling card, you may still be charged a connection fee. I would advise purchasing one of LadaTel phone cards available at many stores, for 50-200 pesos, which will supply 7-30+ minutes depending on what time of day you call. Rates usually go down after 7pm and all day and evening Saturday and Sunday. Many emergency and important Puerto Vallarta phone numbers are listed here.
Population - Estimates vary but most sources I have read say that the city of Puerto Vallarta has somewhere around 250,000 residents. Wikipedia Puerto Vallarta quotes the 2010 census with the city population at 178,000 inhabitants, while 255,000 people live in the greater Vallarta municipality, and I assume that figure includes such population centers as Pitillal, Aramara, Las Juntas, Coapinoli and Bobadilla - basically just about everyone from Boca de Tomatlan to the Nayarit state border. The local english newspaper the PV Tribune called the population at one time at 300,000 people. From what I have seen the entire Banderas Bay area, including everything from Yelapa and Quimixto on the South Shores to Nuevo Vallarta, Bucerias, La Cruz and Punta de Mita on the North Shores, and inland from Mezcales up the valley to San Juan etc. must now number somewhere around 350-400,000 residents or more. There are now upwards of 115 million people in the entire Republic of Mexico, and about 1 million ex-patriate Americans who live at least part of the year in the country.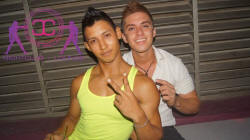 Puerto Vallarta Safety - Vallarta is a relatively safe beach town, especially in the tourist areas such as downtown, the north-side hotel district, and the South Side where most gay nightlife spots, restaurants, and gay hotels are located. I advise using the same safety precautions you would use in traveling to any other foreign country or new city: don't wear expensive jewelry; keep valuables and your passport in the hotel safe or stashed away in your room; avoid making withdrawals from an ATM at night; take a taxi home at night if you've been partying; and carry around only a reasonable amount of cash. Be particularly aware of your possessions at the Blue Chairs gay beach and when you invite someone home. I've walked in many parts of the city at different times of the day and night and felt safe. However, I sometimes have received reports of corrupt police working alone or in tandem with transvestites/hustlers to rip off tourists.
Travel tip: If you ever get stopped by the local police here's some advice: never stop in the dark, but step into some lighting; always get a truck number from the police vehicle; it is of course unlawful for them to search you without cause or to take money, watches or jewelry from you; report any wrong doing immediately to the hotel, restaurant or club owners you were in or are staying at; and if necessary contact the local Canadian or American consular agent.
Thomas Dale & Associates, a global investigative and security firm, released a study in May 2011 commissioned by the local Tourism Board which concluded that Puerto Vallarta "is one of the safest tourist destinations for international and national tourists." Overall the study found that visitors to this popular straight and gay vacation destination felt safe and continue to visit a number of times through their lives. There were many interviews with tourists, consular agents, ex-patriates, hospital and health care professionals, taxi drivers and gay business people, among others. As I would have expected from my personal experiences in the US and here, the Safety Study said that "the number of negative events involving foreigners or non-foreigners is fractional" compared to the large ex-patriate resident community population size and the approximately 1.5-1.7 million American and Canadian visitors that come to Puerto Vallarta, Mexico on holiday every year.
So please rest assured that in all likelihood your vacation will be relaxing, enjoyable and safe.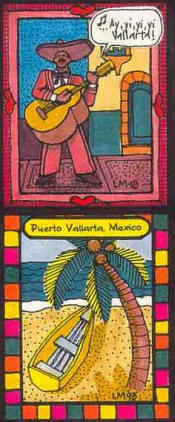 Puerto Vallarta Things to Do, Further Interest - For some gay vacation planning and ideas on where to go and what to do and see in Puerto Vallarta, check out the new Puerto Vallarta Annual Events calendar listings, the Special Events on the gay calendar page, Things to Do in Vallarta on the more Activities page, and this Yahoo travel page, Things to Do in Puerto Vallarta, Mexico. Probably the best overall Puerto Vallarta entertainment calendar of daily events and happenings is to be found at the Puerto Vallarta PV Scene (PV events, entertainment, art). I would recommend considering such things as: taking one of the Puerto Vallarta gay cruises; the Marietas Islands or whale watching with Oscar Frey; a getaway to Yelapa or Sayulita village; a Mexican Folklore and Tequila Tour; going sightseeing downtown taking in the Cathedral and the malecon with its many sculptures and statues, lovely ambience and nearby restaurants, Vallarta art and shopping-stores.
Sales Tax - Starting January 1, 2011 there is a 17% federal tax (IVA) automatically included in all your store purchases, tour and cruise tickets, restaurant and hotel bills. There is also now an additional 2% local tax on your Puerto Vallarta hotel stay, which is used by the government in "tourism promotion". So total sales tax starting in January 2011 will come to 19%. Food and grocery items as well as medicines are not (yet) taxed by the federal government of Mexico.
Taxis and Buses - Jump in a cab, step on the gas and go! Cabs are cheap and readily available, and will cost around 50-80 pesos ($3-$5 USD) to go to most places in town. If you've been out drinking at night and have any safety concerns, just take a taxi, easy. Buses run all over town every few minutes until near midnight and currently (summer 2016) cost 7.5 pesos one way, about 40 cents. There are no bus transfers good for a ride on another line within any time frame. Here for further information on taxis & buses.
Time - Life in general is more laid back in Mexico, even in modern Puerto Vallarta. The Mexican (and Latin and Moslem-Arab) concept or perception of Time is quite different from that in the puritanical U.S. and protestant Europe, where people rush around a lot, want everyone to be punctual, and seem to desire to live over-planned and over-formed lives. People in Mexico are generally late for appointments and parties - in fact it's expected! There is more emphasis on people and relationships rather than time, schedules and punctuality. The use of the word for tomorrow, 'mañana', should never be taken literally - it could mean anything from sometime in the near or distant future, to maybe not at all, or that the person is putting you or things off indefinitely without actually saying no.
Mexico Adventure in their page on Mexican culture puts it well: "Life is generally relaxed and unhurried, and what can be put off until tomorrow usually is. While people in the U.S. tend to use their Blackberries, cell phones and daytimers to plan and program every minute of their lives, Mexicans prefer to live in the moment because who knows what will happen tomorrow? This "mañana" attitude is ingrained in the culture and can drive foreigners crazy, but it should be appreciated instead of scorned. Mexicans are not lazy; their concept of time is simply different from that of many Westerners." The Mexican motto might be, literally, There is no time like the Present, or even better, There is no time but the Present.
Timeshare - The sale of timeshares has unfortunately been a big business in town. On nearly all the streets of the city frequented by tourists there are timeshare stations. Salespeople will try to get you to attend a "presentation" where they will sometimes use high pressure or misleading tactics to induce you to buy their product. Unless you are really interested in buying timeshare while on vacation in Vallarta, you should pass these people by and continue on your gay, merry way.
Time Zone - Puerto Vallarta is in the Central Time Zone, same local time as Houston and Chicago. We are one hour behind New York and Miami (Eastern Time), one hour ahead of Denver (Mountain Time) and two hours ahead of California, Oregon and British Columbia (Pacific Time). Like the rest of Mexico since 1997 we observe daylight savings time here which begins in early April until the end of October.
Tipping - Tipping is the same as in the United States and Canada, 12-20% for good to excellent service at restaurants. I encourage tipping for the maid at your hotel or condo or for the staff if you are staying in a villa. Wages here are quite often shamefully low (see below). My standard vacation rental advise is that the standard tip is considered somewhere around $3-5 US per day per staff person for each guest. It's also best to tip directly to the individual staff member so you can be sure they get it. Bellboys at hotels and porters at the airport etc. should be tipped, as should any masseur. Taxi drivers aren't generally tipped unless they help with your baggage, though people do tip them anyway. Many gay guys tip the reception desk staff of their condo, gay hotels and accommodations - a good practice.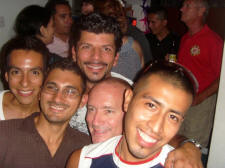 Wages - Mexico is a poorer country that sometimes suffers from the scarcity of both goods and services. You may not consider yourself wealthy by North American standards but your income is substantial compared to average Mexican wages. According to recent reports by the Center of Analysis and Projections for Mexico (CAPEM) median salaries, adjusted for inflation, have lost 36% of their buying power since 1980 and the minimum wage has lost nearly 70% of its value over the same period. New minimum wage rates take effect nearly every January 1st. The minimum wage varies regionally from 61.40 to 64.80 pesos a day in 2013 (and was 49.50 to 52.30 pesos in 2008), about $3.60 US dollars a day. This wage, or less, is paid to about 8 million workers in Mexico's 42-45 million strong workforce. Another 10 million workers live on an income somewhere between the equivalent of one and two minimum monthly wages. Wages and income in tourist areas like Puerto Vallarta are generally higher than the national average, so perhaps income would be around 250-450 pesos per day, about $14-26 USD. Imagine trying to live or support a family on this kind of salary. Please keep this in mind if you ask any local guys out for food or a drink, and when you are tipping for service in dining spots and to your housekeeper or maid in the hotel, villa or condo. People in Vallarta for the most part are quite appreciative of any help that is offered.

---
top of page | the marina vallarta | gay restaurant photos 2 | PV sunset pictures | Puerto Vallarta gay travel guide
more art & culture pics 2 | vallarta carnival | 5-6 bedroom villas | malecon photos | beach condos PM
vallarta pics II | 7-11 bedroom villas | gay bar photos 2 | apartments BTM | Email contact