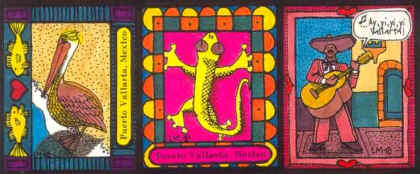 Puerto Vallarta Attractions Things to Do to See - Cruises,
Canopy and Eco-Tours, Excursions, Fun Day Trips, Fishing,
Horseback Riding, Scuba Diving, Sightseeing...
On this Puerto Vallarta Activities page
Biking | Botanical gardens | Canopy tours | Cruises | Eco tours | Fishing and sailing | Golf | Horseback riding
Private Home Tours IFC | Scuba diving | Things to Do Puerto Vallarta | Tropical & walking tours | Water park | Whale watching
Rentals & Lodging
Gay Vallarta Condos
- Condominiums LP
- Beach condos PB
- Beach condos ED
- Molino de Agua
- Beach condos PDS
Gay Hotels Vallarta
Gay Vallarta Villas
- 2 bedroom villas
- Three bedrooms
- 4 bedroom villas
- 5-6 bedrooms
More Vallarta condos

Gay Travel Guide
Art Galleries
Botanical Gardens
Cafes - internet
Calendar Gay Events
Community-Charities
Contact Info
Gay Bars & Clubs
Gay Beach
Gay Cruises & Tours
Gay Links, etc
Gyms - spas
Law & Custom
Lesbian Vallarta
Malecon
Malecon, New images
Map
Marina Vallarta
More Gay Bar photos
More Gay Beach pics
More Malecon pics
More Nightlife photos
Other Beaches
Quick Gay Travel tips
Restaurants
Sayulita getaway
Services
Shopping & malls
Straight Bars Clubs
Tourist Info
Vallarta Annual events
Vallarta Gay Pride
Vallarta Photos
Vallarta Weather

There are now more choices than ever of Puerto Vallarta things to do and tourist attractions for the adventurous traveler in Puerto Vallarta, including a wide and growing variety of activities, sightseeing and excursions, biking, canopy and eco-tours, snorkeling, fishing and scuba diving, boat cruises on Banderas Bay, horseback riding into the Sierra Madres and golf. Or perhaps some deep sea or fresh water fishing is to your liking. Check out the listings below for further information on these types of tours, adventures and excursions to know more about the best things to see and to do in Puerto Vallarta. For our own exclusively gay-owned and operated cruises and excursions, visit the Puerto Vallarta gay tours & cruises page. I do not reserve any of the following tours or excursions, so please don't inquire. And here's a cool guide for those who would like to know more about the local tropical marine life around Puerto Vallarta Mexico.

Most if not all of these Puerto Vallarta attractions: the tours, activities, cruises and excursions noted below can be booked either at a concierge desk in the hotel where you are staying or else from one of the many friendly beach vendors who spend their days walking the Puerto Vallarta beaches asking if you are interested in a tour or cruise. These vendors on the beach are licensed by the city and should be carrying visible ID.

Banderas Bay Cruises Puerto Vallarta
America Catamaran - Tel: 209-1306
Bora Bora Cruises - Tel: 224-3680
Marigalante and Jolly Roger - Pirate Ship Tour in Puerto Vallarta: the Marigalante is a replica of Columbus' Santa Maria - Tel: 223-0309; Mexico: 01-800-269-4445; USA: 1-866-915-0361
Princesa Cruises - Tel: 224-4777
Sail Vallarta -Tel: 221-0096
Santa Maria - Tel: 221-2511
Sea Mi Amor Cruise - Tel: 224-111
Vallarta Adventures - Tel: 221-0657

Biking
Echo Rides - Downtown - 382 Miramar at Iturbide. Tel: 222-7912, Cell: 044-322-118-8165
A young mountain bike and surf tour company with friendly guides and service. Bike rentals and mountain bike tours to Piedra Grande, San Pedro, Vallejo and Yelapa. Eco Ride Puerto Vallarta Mexico. Daily, 9am-2pm, 4pm-6pm.
Natura Expeditions - North side - Maritime Terminal. Tel: 224-0410.
Vallarta Bikes - North Side - 1442 Francisco Villa. Tel: 293-1142
Provides professional mountain biking & hiking adventures in the Sierra Madre Mountains that surround Puerto Vallarta. "The trips are dedicated to those adventurous people that enjoy the wild outdoors and our only goal is to provide our guests with unforgettable tours and excursions." All levels and the tours include lunch, equipment, guide and transportation.

Bird Watching in Puerto Vallarta
There are some 350 species of lovely birds living in Vallarta and the surrounding Banderas Bay natural habitats and ecosystem areas.
Birding Tours - With Gerardo Hernandez Vázquez, a bilingual guide specialized in Nature-oriented tourism. Further info Nature Vallarta. Tel: 227-9750
Birding Mexico - Villasol neighborhood - 591 Sol street. Tel: 222-7407, 221-0467, Cell: 044-322-303-8788
Offering four birding tours around Puerto Vallarta: in the farmlands of the Valle de Banderas (Banderas Valley, about 100-150 sq. miles) tropical deciduous forests, the Bay marshlands, at Las Marietas Islands, and in the pine & oak forests in the sierra of El Tuito. Tours include a certified specialized bilingual guide, transportation and food. Info at Bird Watching Mexico
Eco-Tours of Mexico - Marina Vallarta - Proa street Locale 20 Condo Marina del Rey. Tel: 209-2195, 222-6606
Further information on their Eco-tours website page for Puerto Vallarta Bird Watching Tours. Visits to Los Arcos nature reserve, Mismaloya and Nogalito. They recommend bringing along binoculars, camera, comfortable clothing and shoes, hat, insect repellent and the 'birding spirit'.
Wildlife Connection - Colonia Aralias - 154 Tordo and Marina Vallarta - 214 Paseo de la Marina Sur. Tel: 225-3621, Cell: 044-322-227-1645
Guides are biologists with masters degree in marine ecology, science journalist and professional wildlife photographer giving tours in river, mountain and coastal lagoon area. Also offers whale watching, turtle camp, hiking, snorkeling and dolphin tours. For further info visit their website Wildlife Connection.
Botanical Gardens
Puerto Vallarta Botanical Gardens - Carretera a Barra de Navidad/Coastal Highway 200 to Barra de Navidad at Km. 24
A non-profit educational research center and pleasure garden in the Sierra Madre Mountains. These lovely gardens are easily accessible, approximately 17 miles south of Puerto Vallarta on Coastal Highway #200, the Carretera a Barra de Navidad, just beyond Las Juntas y Los Veranos. Located on 20 acres of land, the botanical site features an amazing collection of 3,000 different species of plants, in other words a great side trip. Located in the heart of an old growth native forest, the Lonely Planet 2009 Guide to Mexico lists this as a "Puerto Vallarta must see" and will perhaps one day be a major Puerto Vallarta attraction. The Vallarta Botanical Gardens (see their website) also has its own on-site restaurant. Established in 2005, with an admission of 100 pesos. Tues-Sun, 9am-6pm. Local telephone: 223-6182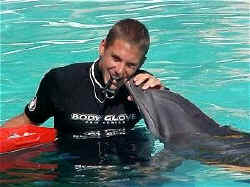 Canopy Tours Puerto Vallarta
Call these groups below for further information on canopy tours-excursions:
Canopy Adventure - Tel: 297-1212
El Eden - Tel: 222-2516
Los Veranos Canopy Tour - South Side - Francisca Rodriguez. Telephone: 223-0504
Office located on Francisca Rodriguez street across from the main Pemex gasoline station on the South Side. Around $79 USD per person but some 15% cheaper if you book on-line. Leaves on the hour from 9am-1pm, approximately 4-5 hours total. Reported to me by several clients and beach-vendors as perhaps the best tour of the bunch. Oldest zip-line adventure company in the city. In Canada and the US, Tel: 619-955-6993 or toll-free at 1-877-563-4113. Website for info: Los Veranos Canopy Tours - Puerto Vallarta. Mon-Sat, 8am-8pm; Sun, 9am-5pm
Canopy River - North Side/Hotel Zone - 1968-A Blvd Francisco Medina Ascencio. Phone: 222-0560, 222-0860
Several tours available including Canopy River zip lines, Cuale mountain expedition into the Sierra Madres and ATVs. Office across the boulevard from Centro Comercial Villas Vallarta. Visit Canopy River Vallarta.
Vallarta Adventures - Tour includes light snacks, bottled water and round-trip transportation from their offices in the Marina or Nuevo Vallarta to their canopy reserve in the Sierra Madre mountains. $79 for adults, $55 for children. Tel: 297-1212
City Tours and Sightseeing Tours
Gray Line Puerto Vallarta - Adventure, city, night and sea tours including the Marigalante pirate ship cruise, sailing to the Marietas Islands, canopy plus El Eden tour, horseback riding, dolphin swim, off road bicycle adventure, and a Vallarta city tour. graylinevallarta.com. Tel: 225-1190
Dolphin Tours Puerto Vallarta
Not only can you swim with the dolphins up in the facility in Nuevo Vallarta, but you can also learn something about dolphins through the research program.
Aquaventuras Water Park - Coastal Highway Km. 155, near Nuevo Vallarta
Main tourist attractions include sea lion, California seals and dolphin shows at "The Dolphinarium" with pacific Bottlenose dolphins. There are several different swim with dolphin adventures including Dolphin Royal swim, Swim Adventure, and Dolphin Encounter. See the Puerto Vallarta Aquaventuras water park website for prices and further info. (Formerly known as Splash Water Park and also Sea Life Park, and part of the Dolphin Discovery network with locations in Cancun-Isla Mujeres, Cozumel, Los Cabos, Mexico city, and the Riviera Maya). Located about a 5-8 minute drive north of the Puerto Vallarta international airport. Water park, Tues-Sun, 10am-6pm.
Vallarta Adventures - Marina - Edificio Marina Golf Local 13-C, Calle Mástil. Tel: 297-1212 ext 3, 221-2111
A well-known leading provider of Puerto Vallarta tours and things to do - among which are swim with the dolphins, boat trips, eco-tours to Las Marietas Islands, scuba diving, snorkeling and sailing excursions, whale watching during the winter months November to March, and the popular Rhythms of the Night dinner and show at Las Caletas beach resort area.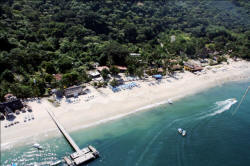 Eco Tours - Get out into Nature and revitalize yourself!
America Cruise Eco-Tour - Marina Vallarta - 214 Paseo de la Marina Sur in Marina Vallarta. Tel: 209-1306
On one of the newest cruise boats in Puerto Vallarta, the two-level 75' America Catamaran with day trips to Los Arcos, Colomitos cove & Las Animas beach (photo at left). This Puerto Vallarta tour includes snorkeling, kayaks, open national bar, continental breakfast and lunch at their Las Aniams beach club. 600 pesos for adults. Also available for private events and tours, contact Gonzalo Casillas. Mon-Sat, 10am-5pm.
EcoTours of Mexico - North Side - Proa s/n Local 20, Condo Marina del rey Marina Vallarta - Tel: 222-6606, 223-3130,209-2195,
Offering environmental friendly adventures for people who want to learn about Nature and are concerned about conservation: scuba diving and snorkeling at the wildlife sanctuary of the Marietas Islands; whale watching (December to March); sea kayaking; sea turtle releases (July-early Dec); hiking the rivers and exotic areas in the Sierra Madre mountains; and bird watching of the nearly 300 species living in the Puerto Vallarta area. Since 1991. Info: ecotoursvallarta.com
Ocean Friendly Whale Watching Tours - Los Peines Pier, Marina Vallarta. Cell: 044-322-294-0385; Telephone: 225-3774
Oscar Frey is an Oceanologist and whale photographer and started his Puerto Vallarta whale watching tours in Banderas Bay in the mid-1990s, while also running a research program involving humpback whale numbers, behavior and distribution in this area of the Mexican Pacific. Oscar is a consultant to the Department of Oceanography and Eco-Tourism. The Responsible Whale Watching Tours with Ocean Friendly includes oceanologist & naturalist assistants as your specialized bilingual guides, a meal service of homemade pannini sandwiches, condiments, fruit, snacks, bottled purified water and soft drinks, illustrated field guides, a hydrophone system (underwater microphone to listen the whales songs and dolphins while aboard) and other amenities. Tours are open to all, for 4-8 persons. Advance reservation required. I have received excellent reports of the Ocean Friendly tours, one of the most highly rated and regarded of any Puerto Vallarta tours-excursions. Highly recommended. Note: December 8 to March 23 only. $99 USD per adult; $79 USD for children 2-8 years old. See some pictures from his great Puerto Vallarta whale tours. Office hours daily, 10am-6pm.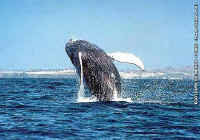 Vallarta Adventures - Marina - Edificio Marina Golf Local 13-C, Calle Mástil. Tel: 297-1212, 221-2111
A long time and well-known leading provider of Puerto Vallarta tours, excursions and things to do. Among these are boat trips, eco-tours to Las Marietas Islands, swim with the dolphins, air excursions to the mining town of San Sebastian, scuba diving, snorkeling and sailing excursions, whale watching during the winter months Nov-March, 4-wheel drive tours into the Sierra Madre foothills and the popular Rhythms of the Night dinner and show at Las Caletas beach resort area.
Wildlife Connection - Colonia Aralias/North Side - 154 Tordo. Tel: 225-3621, Cell: 044-322-100-2908
Dedicated to the study and conservation of dolphins and whales. Apart of their research activities and educational efforts, specialized tours are organized by the folks at the Puerto Vallarta Wildlife Connection to offer the general public an opportunity to experience a close contact with nature and its wild animals, whales, dolphins, turtles and bird watching. Led by Biologist Ma. Eugenia Rodríguez (Maru) and wildlife photographer Eduardo Lugo, who have been acting with eco-tours and whale watching guides since 1995.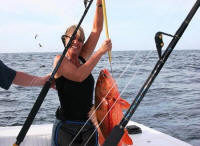 Fishing & Puerto Vallarta Sailing Etc.
The Bay of Banderas, with depths varying up to two miles in some places, provides some pretty good deep sea fishing and has become a major attraction to the PV area. There are dozens of companies in Puerto Vallarta that offer private charters for fishing in the Bay or out in the open Pacific Ocean. There is also fresh water fishing at lakes in the region. Depending on the season, look forward to catching amberjack, blue, black or striped marlin, swordfish, dorado, sailfish, sierra mackerel, roosterfish, wahoo, or yellowfin tuna. Travel tip: We ask our friends and clients to be extra mindful that over the years the Puerto Vallarta Banderas Bay and area has been fished intensively, so perhaps you don't need to take as much catch as before.
Bass Fishing - Telephone: 222-4159.
Charter Dreams - Tel: 221-0690 and 221-2522. Private sailing, fishing and cruising charters around Puerto Vallarta.
Charter Fishing in Puerto Vallarta - Tel: 221-5402 or cellular at 044-322-227-2158. Deep sea fishing and more, a fun site with interesting info and photos. info: vallartafish.8m.com
Fantasia Maritima - Tel: 221-0116
Fishing Charters PV - Tel: 114-1617, Cell: 044-322-779-4834. Office at 553 Venero street, Colonia Ojo de Agua. Offering Puerto Vallarta fishing charters on some 40 different boats. Warm water inshore fishing includes a variety of species of jacks, pargo, roosterfish, snapper and other sport fishing trophies. Cooler waters are particularly good for dorados and sierra, huge blue and black marlin, mahi-mahi, shark, breathtaking saifish and wahoos. The grand prize of them all, of course, is the stunning yellowfin tuna at up to 400 lbs, which is sure to give any fisherman one of the thrills of his lifetime. Contact Mauricio Fuentes. Complete info at Fishing Charters PV
Magical Moments Charters - Tel: 044-322-160-1342. Sailing trips and fishing charters aboard the 30' Newport sailing sloop M&M and the Laniack 36' M&M II, includes snorkel and fish gear, tortas, fruits, chips, snacks and beer/water/soda. Email captain Carlos carlosmm47@hotmail.com
Mr. Marlin Sport Fishing Center - Hosted by billfish tournament champion Captain Juan Moll, operating since 1957. A very useful website with seasonal fishing information, maps of the Bay area, fishing calendar, photo galleries. info: mrmarlin.com Tel: 221-0809.
Natura Expeditions - Horseback riding, sailing cruise and bass fishing. info: vivatours-vallarta.com Tel: 224-0410 and 224-8026.
The Puerto Vallarta Fishing Company - Tel: 222-1863.
Puerto Vallarta International Sailfish and Marlin Tournament - Tel: 223-1665 and 221-5434. The PV Sailfish Tournament is scheduled each year around November 9-12. Information: fishvallarta.com
Puerto Vallarta Sailing/Fishing Unlimited - Fishing, sailing, whale watching. Tel: 221-0920 and 209-0005. Info: travelvallarta.com
PV Fishing and Sailing - Local company with over 25 years of Puerto Vallarta sport fishing legacy. They have over 10 different fishing boats from the 24' Mako to a 46' Hatteras. Sailboats and yachts you can rent include: the 38' Victress, Italian designed 46' and 55' Azimuts, the 42' Fountain Pajot, a 52.5' Tinuviel and the 60' Isis. A selection of Puerto Vallarta tours as well; full and 1/2 day trips. They advertise in the local gay PV magazine. Contact Gonzalo Casillas, Tel: 185-2222, Cell: 044-322-120-1877. Information at PV Fishing and Sailing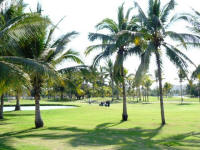 Golf Puerto Vallarta
El Tigre Golf and Country Club - 800 Paseo Paraiso, Paradise Village, Nuevo Vallarta, Nayarit. Phone: 226-8191, 226-8195
Reviewed as the Top 10 Best golf course of the country 2008 by Golf Guide Magazine and Golf in Mexico Magazine. Facilities and services include: Professional PGA golf instructions, equipment rental, lockers, bag storage, roaming beverage cart service, tournament and group operations, spa service, events and catering. El Tigre Golf Club. Daily, 7:30am-6:00pm
Marina Vallarta Golf Club - Marina - 430 Paseo de la Marina. Tel: 221-0073
Designed by American architect Joe Finger, with the beach on one side and Banderas Bay and the Marina on the other. An 18-hole par 71 course opened in 1989, it is located in the Marina and so it's close to most of the major hotels. Marina Vallarta Golf Club. Tel: 221-0073.
Flamingos Golf and Country Club - Nuevo Vallarta. Tel: 01-329-296-5006
This 18-hole par 72 public course in Nuevo Vallarta, approximately 9-10 miles north of Puerto Vallarta, also has a club house with pro shop, snack bar and several tennis courts. Designed by Percy Clifford in 1970 and with natural rolling hill terrain, lush tropical forest and natural lagoons-mangroves. Flamingos Golf Club.
Four Seasons Hotel Golf Course - Federal Highway 200, Punta Mita, Nayarit. Tel: 329-291-6000
Located some 25 miles north of Puerto Vallarta's airport. A Jack Nicklaus designed 18-hole par 72 course, plus one truly unique hole: a 194-yard par-3, located on a natural island in the ocean (Golfers are transported to the island in an amphibian cart). Opened in September 1999. 58 kilometres/36 miles to downtown Vallarta.
Vista Vallarta Golf Club - 653 Circuito Universidad. Telephone: 290-0030
Opened in 2001 with two 18 hole courses at par 72. About 15-20 minutes inland from Marina Vallarta in the higher elevations of the Sierra Madres so there are grassy hillsides, dense forests of palm and ficas trees, several natural creeks and arroyos. Full club house, restaurant and bar. Member hotels include Marriot Casa Magna, Velas Vallarta, Sol Melia, Grand Velas and the Westin. Two signature courses with designs by Jack Nicklaus (7057 yards, par-72) and Tom Weiskopf (6976 yards, par-72).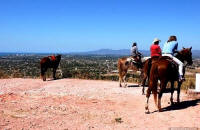 Horseback Riding Puerto Vallarta
Backcountry Tours - Tel: 222-0386
Rancho Capomo - Bilingual guide and daily rides from 9am to 3pm for three hours. Tel: 225-0450.
Rancho el Charro - The ranch is located in the rural village of Playa Grande, on the banks of the Pitillal river at the foot of the Sierra Madre mountains. Small groups for 3, 5 or 8 hours (photo at left) with bilingual guides, horses for all levels, children welcome. Horse rides-day trips go to the Pitillal river waterfalls. Visit their website for further information on Rancho El Charro Puerto Vallarta horseback riding tours. You can contact Pamela Aguirre, Tel: 224-0114 or cellular: 044-322-294-1689.
Rancho Manolo - From Mismaloya to El Eden, includes visits to sites of "Predator" and "Buccaneer" movies. Tel: 228-0018.
Rancho El Ojo de Agua - With 3, 5 and 7 hour mountain-river-waterfall rides from the ranch to a reserve in the Sierra Madre mountains. Small groups and children welcome. Since 1983, Rancho Ojo de Agua is a family-owned business by the Dr. Octavio Gonzalez family. 227 Cerrada de Cardenal, Colonia Las Aralias. Tel: 224-0607, 224-8240.
Natura Expeditions - Horseback riding, sailing cruise and bass fishing. Tel: 224-0410 and 224-8003.
Mexican Fiestas
Traditional Mexican fiestas are offered on a regular basis by at least two of the major local hotels, the Hotel Krystal, Tel: 224-0202 and the Sheraton Buganvillias, Tel: 223-0404. Please call for further details.
Private Home Tours - International Friendship Club (IFC)
The International Friendship Club kicks off the 2011-2012 season of Home Tours beginning on November 14, 2012, and continuing every Weds and Thurs until April 11, 2013. Four outstanding Puerto Vallarta villas/homes representing the architecture and variety of PV living will be visited each week. The tours begin at La Albufera restaurant at 242 Aquiles Serdan, just west of Ignacio Vallarta street and across from the Molino de Agua condos. Tickets go on sale at 9am each Weds and Thurs, with buses departing at 10:30am.
Donation cost of the International Friendship Club Home Tour is 450 pesos, cash only. The proceeds from the tours fund a number of Puerto Vallarta charities, primarily the Cleft Palate Surgical Program, Becas Vallarta, Refugio Infantil Santa Esperanza (R.I.S.E), and Positos de Luz, among others. On the tour it is suggested that everyone wear good walking shoes and bring a bottle of water; and don't forget the camera! I have received good reports. IFC has over 25 years assisting the local community. Contact Mike McGee the Home Tour Director at Tel: 221-5681 or main IFC office, Tel: 222-5466. Further info at: ifcvallarta.com
Scuba Diving Services
The dive sites for these diving service providers below generally include: Los Arcos Underwater National Park, with depths of 25-60 feet; Majahuitas beach and its caverns; the Marietas Islands ecological sanctuary with its bird populations and many lava tubes and cave formations; El Chimo on the far southern bay shore with its giant manta rays and interesting underwater terrain; El Morro some 30 miles out from Puerto Vallarta on the edge of Banderas Bay to see the underwater pinnacles and caves as well as the whale sharks, rays, jacks, sailfish and mantas.
Chico's Dive Shop - Central - 772 Paseo Diaz Ordaz. Tel: 222-1895, 222-1875, 222-1897
Puerto Vallarta's well-known scuba diving operator since 1968. With scuba and snorkeling tours to Los Arcos and Majahuitas Cove on Wed-Fri, 10am-4pm. Also at the Marietas Islands, El Moro and Chimo sites. Scuba lessons and courses; guided tours aboard catamarans or speed boats. More info Chico's Dive Shop - Puerto Vallarta. Daily, 8am-10pm.
Pacific Scuba/Ocean Quest Dive Center - South Side - 230 Lazaro Cardenas. Tel: 223-4103, Cell: 044-322-135-7884
Scuba diving and snorkeling tours to the Marietas islands, El Morro, Los Arcos, Majahuitas. PDAI courses. Only small groups with a max of 6 divers, with two PDI pros on every trip. Formerly known as Ocean Quest Dive Center. Info: diving-mexico.com
Vallarta Adventures - Marina Vallarta - Calle Mastil, Local 13-C, Marina Golf Building and #39 Avenue Las Palmas, Nuevo Vallarta. Tel: 297-1212
PADI-certified scuba instruction and scuba diving trips to Las Marietas Islands marine reserve, Las Caletas, Los Arcos natural reserve at night, Los Anegados, Corbetena, and the world class site at El Morro with its rocky coral reefs and wide diversity of marine plants and animals such as manta rays, large schooling fish, moray eels, octopus, sharks, turtles and dolphins. Info: vallarta-adventures.com
Vallarta Under Sea - North Side Marina Vallarta - Proa street, local 24, Marina del Rey building. Tel: 209-0025
Day trips to all local dive and snorkeling sites, with top of the line gear; lunch and drinks included. Charter trips available. PADI certifications. Founder of the Beach and Bay Underwater Clean Up. "We meet all safety requirements and educational standards including environmentally aware diving." More info Scuba diving - Vallarta Under Sea.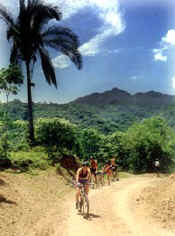 Tennis
Meza del Mar hotel - South side/Los Muertos beach, 380 Amapas Street. Tel: 222-4625
Continental Plaza Tennis Center - North Side - Tel: 224-4360
Flamingos - North Shores - Tel: 221-2525
Iguana Racquet Club - Tel: 221-0863

Tequila Tours
Tequila Tour Puerto Vallarta - Mezcales, Nayarit - 197 Puesta del Sol, Col. El Palmar. Tel: 329-296-5189
The first tequila factory in the Banderas Bay area. The Leyva family will take you through the cooking, fermenting, distilling and aging process of the Blue Agave into their brands, Agave Leyva and Mama Lucia tequila liquors. From an email they sent me years ago, "...here you can see tequila is really made here besides that we still keep the traditional way to make tequila as 'home made Tequila'. Besides making some liquors as cofee, almond and mandarin...". Located just 15-20 minutes north of the city. Tequila Tour - Puerto Vallarta. Daily, 10am-4pm

Tropical Tours
Harris Tours - Tel: 223-2972
Sierra Madre Tours - Tel: 221-1136
ATV Adventure Tours - Tel: 298-0261
Vallarta Adventures - Tel: 221-0657

Walking Tours
Walking is an excellent way to get to know a place by taking in its sights and sounds, discovering its real charms. It's also free and a good way to raise your spirits with a little exercise. Check out this Virtual Vallarta page for Puerto Vallarta walking tours which are outlined for Downtown, South Side/Olas Altas, and the Marina areas of Puerto Vallarta, Mexico.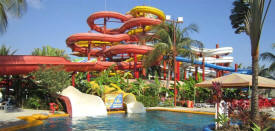 Water Park
Aquaventuras Water Park - Coastal Highway Km. 155, near Nuevo Vallarta. Mexico toll free Tel: 01-800-727-5391
With 10 water slides and more to enjoy (photo left). Other Puerto Vallarta water park activities include volleyball, basketball, a fun children's playground, sandbox and gardens. Main tourist attractions include sea lion, California seals and dolphin shows at "The Dolphinarium" with pacific Bottlenose dolphins. Formerly known on-line as Splash and also Sea Life Park. Entrance fee for the Water Park is around $19 USD per adult, $14 USD for children age 4-11 years old. Call for current prices. There is also a daily dolphin swim adventure 10am, 11:15am, 2pm and 3pm for $99 per person. Puerto Vallarta Aquaventuras water park has a variety of fast food stands, restaurant-bar and picnic areas. Located in Nayarit state a 5-7 minute drive north of the Vallarta international airport. Water park, Daily, 10am-5pm.
Mayan Water Park - Marina - Paseo de La Marina Sur. Tel: 221-1500, 221-1628.
Water slides, kids play area and swimming pools with pool-side restaurant and bar. Lifeguards on duty. Across the street from the Mayan Palace hotel.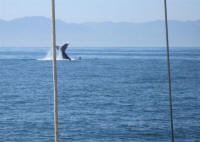 Whale Watching
Puerto Vallarta Whale Watching Forum - The Vallarta Whale Watching Forum is a privately funded, ecological group that promotes public awareness, education and responsible whale watching activities in and around PV and Banderas Bay. The official 2011-2012 season ran from Dec 8, 2011-March 23, 2012. The group distributes 100% of its profits to like-minded environmental organizations who are in the business of protecting the Humpback whale (Megaptera novaeangliae) and other sea creatures and marine mammals worldwide.
Responsible Whale Watching with Ocean Friendly Tours - Los Peines Pier, Marina Vallarta. Tel: 225-3774, Cell: 044-322-294-0385
See details above under Eco-Tours about Ocean Friendly whale watching excursions. Oscar Frey is an oceanologist and started his Puerto Vallarta whale watching tours in Banderas Bay in 1994. Oscar has been a consultant to the Department of Oceanography and Eco-Tourism. The Responsible Whale Watching Tours with Ocean Friendly include food, snacks, refreshments, narration and educational info, and a state of the art hydrophone system or underwater microphone to listen the whales songs and dolphins. Since January 2004 Oscar has developed the applications of Kite Aerial Photography for documenting and studying Humpback whales in Banderas Bay and the Gray whales up in San Ignacio Lagoon, Mexico. Advance reservation required. Tours are for four-eight (4-8) persons. Excellent reports and one of the most highly rated Puerto Vallarta attractions and tours. Fascinating and fun. Note: Dec 8-Mar 23 only. $99 USD for clients. See pictures from his and other Puerto Vallarta whale tours. Office hours daily, 10am-6pm.
Whalecome to Puerto Vallarta. Cell: 044-322-135-9260
Whalecome to Vallarta is a pioneer in whale watching and eco-tourism in Banderas Bay, where the company has been directed and operated by Oceanologist Izabela Cardenas (since 1995), who has been a certified whale watching guide by the Tourism, Environmental and Natural Resources Authorities for over 14 years. Izabela has participated in several research projects with the Natural History Museum of Los Angeles County, the National Geographic Society and with the Institute of Marine Sciences in Ensenada, Baja California. Check out the site for daily Whale Watching Tours, 9:30am-1:30pm, limited to 12 passengers and you can book on-line. Excursion includes hydrophone, a licensed bilingual guide, fruit, bottled water, sodas and snacks. Departures are from the Los Peines Pier in the Marina. $95 per adult; $75 per child.

Other Tourist Attractions - Fun Things to Do in Puerto Vallarta
Art Walk - Vallarta Downtown 2016-2017
The ever-popular Art Walk, a major city attraction during the high season winter months, this year has 9 participating art galleries in Puerto Vallarta which host complimentary cocktail receptions and expositions on Wednesday nights from 6pm-10pm starting this year October 26, 2016 until May 31, 2017. People wander downtown from gallery to gallery in search of art, conversation and the free glass of wine, certainly a good way to meet some Vallarta artists and make new friends. Galleries that have participated over the years include: Art Gallery Millan, Caballito del Mar, Colectika, Corona, Corsica Galeria de Arte I and II, de Ollas, des Artistes, Galeria Arte Latinoamericano, Galeria Uno, Galeria Vallarta, Omar Alonso, Pacifico Gallery, PV Santana, Sergio Bustamante, Uno, Whitlow, and The Loft Galeria. Look for a map or inquire at your hotel or in participating stores. Primary information here for the Vallarta Art Walk.
Festival Gourmet - November 10-19, 2017
The annual Vallarta Festival Gourmet in November features some of the best culinary talents of local chefs of Puerto Vallarta and Nayarit state, as well as some guest chefs from internationally acclaimed restaurants and hotels. Highlights of the Festival include cooking classes, cheese seminars, Tequila Madness Night and the exceptional Gourmet Brunch at Café des Artistes. Participating restaurants in Vallarta have included Blanca Blue, Cafe des Artistes, Coco Tropical, El Arrayan, Frascati, Kaiser Maximilian, La Palapa, Porto Bello Bistro & Lounge, Santa Marea, the River Cafe, Thierry's Prime Steak House, Trio, Vista Grill and some 15 or so other restaurants and PV hotels including Andrea at Hotel Velas Vallarta, El Patio at Dreams Villamagna, Gaviotas at Sheraton Buganvilias Resort & Convention Center, La Casona at Villa Las Estancia, Las Casitas at CasaMagna Marriott, L'isola at Fiesta Americana Hotel, Sea Breeze at The St. Regis, and Westin Resort & Spa. For further information Tel: 222-2247
Walking Art Tour of the Malecon
Galeria Pacifico sponsors a Public Sculpture Walking Tour that starts at 9:30am every Tuesday at the Millennium sculpture near the Hotel Rosita at the north end of the Malecon. You might be able to meet some of the sculptors of the statues and hear them speak about their work along the mile long malecon. Galeria Pacifico owner Gary Thompson acts as your guide and talks about the present local art scene. The Art Walk every Tuesday, 9:30am-11:30am, Nov 17 through April. Free, no reservation. For further information call the Pacifico Gallery, Tel: 222-1982
For more travel tips and ideas on fun places to go and best things to do and see, check out Trip Advisor Top things to do in Puerto Vallarta, Mexico. I'd recommend or consider such things as: the gay cruise; the Marietas Islands or whale watching with highly-respected oceanologist Oscar Frey; a day trip getaway to Yelapa or Sayulita village; a Mexican Folklore and Tequila Tour; going sightseeing downtown in walking tour of the Cathedral and the malecon with its many fine sculptures and statues, lovely ambience, and nearby restaurants, local art galleries and stores full of fashionable items and handicrafts.
If you come during the winter months the International Friendship Club home tours are every Weds and Thurs, November to April; in early Nov there's the Day of the Dead celebrations Oct 31-Nov 2, the annual Puerto Vallarta Arts Festivals in May, the Sailfish Tournament in mid-November; the Festival Gourmet Nov 16-21; and December 1-12 don't miss the fantastic yearly city-wide celebrations of Our Lady of Guadalupe. You might also want to simply check out my Annual Calendar of Events.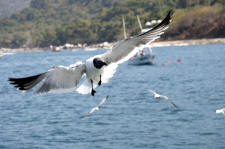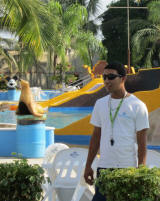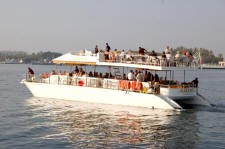 a flock of gulls during Boana tour; Aquaventuras water park; America Cruise eco-tour catamaran
"Do no ask pears of the elm." - Mexican proverb
---
top of page | vallarta condos PM | gay bar pics | 7-12 bedroom villas | gay tours photos | Vallarta gay guide
important phone numbers | day of the dead | PV sunset | vallarta pictures II | gay guesthouse casa cupula
new malecon photos | restaurant photos | guadalupe festivals | Email contact