Lesbian Puerto Vallarta
Vacation Travel Destination Attractions & Nightlife Scene
- Gay Puerto Vallarta Mexico Holiday Guide
Rentals & Lodging
Gay Vallarta Condos
Vallarta Gay Hotels
Gay Vallarta Villas

Gay Puerto Vallarta
Art Galleries
Cafes - internet
Calendar Gay Events
Community Groups
Contact Info
Gay Bars & Clubs
Gay Beach
Gay Cruises - Tours
Gay Travel Links etc
Gay Puerto Vallarta
Gyms & spas
Important phone #s
Law and Custom
Malecon
Map
More Activities
More Gay Bar photos
More Gay Beach pics
Other Beaches
Photos Gay Carnival
Quick Gay Travel tips
Restaurants
Services
Shopping & stores
Straight Clubs
Tourism Information
Vallarta Pictures
Vallarta Weather

Lesbian Puerto Vallarta
Lesbians are discovering that Puerto Vallarta, Mexico is not only gay male friendly but lesbian woman-friendly as well. Diana DeCoste, who has lived and worked in the local scene for well over 10 years now, organizes and runs various activities for lesbians in Puerto Vallarta. Here's a list of her current tours and cruise for the current high season, which are sometimes mixed lesbian/gay male. Diana also is an excellent cook and can sometimes prepare meals for you and your group of friends upon request or give you advice on a good chef.

Rasika Weinstein, who used to work as a local agent for a number of years, can also be a contact for lesbian-women planning their time in Vallarta, local Tel: 222-5919 or contact her via email at rasika63@hotmail.com. See also the listing under Bucerias (located in the state of Nayarit) on the Activities page for information on Joann and Patricia and their accommodations at Casa Tranquila. Perhaps the most lesbian friendly place to stay in the Puerto Vallarta would be the upscale Casa Cupula gay hotel resort.

Diana's Vallarta Gay and Lesbian Cruise 9:30am-5pm every Thurs
On a 48 ft. katamaran for a good time on Banderas Bay with swimming and sunbathing. Cruise includes continental breakfast, open national bar, snacks, lunch at Las Animas beach, swimming and snorkeling. During the winter includes some whale and dolphin watching. Goes to a South Shore beach, Colomitos. This Puerto Vallarta gay cruise is quite popular and often sold out. Diana DeCoste is noted for her good service. Advance reservations required-recommended and tickets available at the Hotel Abbey, Blue Chairs Resort and Hotel Mercurio. Boarding at Los Muertos pier. This well-established cruise, now celebrating her 10th year, is the longest running Puerto Vallarta gay tour-excursion in our community and runs every Thurs year round (except mid July-mid August) and goes out every Thurs and Fri in February. Diana also offers private charters on Tues, Weds, Sat and Sun only. $80 USD or 1,000 pesos. Contact Diana DeCoste at dianastours.com or local Tel: 222-1510. (Discovery Vallarta and Diana also recommend a gay and lesbian-friendly VIP transportation service from the airport for all our friends and clients of Diana's gay tours when arriving in Puerto Vallarta, Mexico.)

Diana's Tours, the River Canopy - every Wednesday (Dec-March)
Hosted by Sylvie, take a break from the beach scene to ride the longest and highest cables in Puerto Vallarta. Located only 5km from the town limits, this gay canopy tour will have you soaring through the Sierra Madres at a height of 200 meters or 655 feet! The last two cables take you down to the river where you can refresh yourself in cool pristine waters. Getting back up the mountain will be a 30 minute adventurous ride by mule. Don't miss this great chance to fly high in the sky. This Puerto Vallarta lesbian-gay tour includes welcome beverage and tequila tour. Bring comfortable shoes, swimsuit, pocket money. Leaves at 12:30pm. A private guide will be provided for groups of 5 or more. $60 USD. For more details, website at dianastours.com or call Diana at local Tel: 222-1510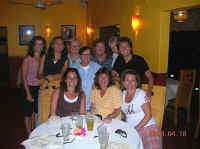 Diana's Tours, the Whale Tour - every Monday and Tuesday (Dec-March)
Hosted by Sylvie, who will take you directly to the areas where these gigantic, beautiful creatures can be seen playing and breaching and close enough for you to take that perfect photo of some humpback whales. This Puerto Vallarta gay-lesbian tour includes soft drinks, water, beer and a light snack. Please arrive 11:15am for check in, leaves at 11:30am from Los Muertos Pier. Fifteen persons maximum and only Dec-Mar for $50 USD. Mon and Tues, 11:30am-2:30pm. For more details, website at dianastours.com or call Diana at local Telephone: 222-1510

Travel tip: Best to get on-line reservations or at least get 24-48 hour advance reservations for any lesbian or gay tours or adventures.

Women may want to check out Annemarie Shrouder who wrote a good article in Curve Magazine about Looking for Lesbians in Puerto Vallarta back in January, 2009.

Vallarta Girl 2012 - February 16-20, 2012
Note: Sorry but Vallarta Girl 2012 has been cancelled, apparently due to issues of the host talent scheduled not being able to attend. Maybe next year, folks! Previously: After their first successful inaugural year in 2011, Vallarta Girl will be back this coming season in February 2012 as many women and the fine DJs will return to Puerto Vallarta, Mexico, one of Latin America's most popular gay and lesbian vacation and beach destinations. Running from Thursday, February 16 through Monday, February 20, 2012, there will be events at the beach, nightlife spots, and rivers and jungles of PV. Lesbian party-goers can enjoy 4 nights and 5 days of fun in the sun and around town. Vallarta Girl attractions will include a beach party at El Dorado restaurant and another at Lido Beach Club, as well as a jungle adventure in Nogalito, nightlife at Xtine/Hyde disco and other locales, a Cuale River horseback riding nature adventure, and final day brunch at famed gay-friendly Daiquiri Dick's restaurant.

Puerto Vallarta Lesbian Owned-Operated Businesses
Also, here below are most of the other woman owned and/or operated businesses that I know of in Puerto Vallarta that lesbians might want to visit and/or patronize while in the city.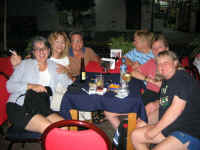 Apaches - South Side/Zona Romantica - 439 Olas Altas. Phone: 222-4004, 222-5235
Mari-Ann and Endra own and operate one of Puerto Vallarta's most festive martini and cocktail bars, serving all kinds of delicious drinks. This small and cozy nightlife locale has been extremely popular with gay locals and tourists alike for more than ten years. Women are advised to check out this bar scene as it's pretty much a favored socializing place for lesbians in Puerto Vallarta. Inside and sidewalk seating. Next door is Apaches Bistro restaurant serving steaks, seafood and continental fare from 5pm to midnight daily. Happy hour, 5pm-7pm. Apaches open Mon-Sat, 5pm-2am.
Bistro Teresa - Amapas - Highway to Mismaloya at 1.5 km. Tel: 113-0281
International fusion and Mexican cuisine typify this small but quaint restaurant with open air seating, run by Laura and Mirasol from Mexico City. Was ranked as #1 in all of Vallarta for well over a year, now at #6 out of 684 dining spots in the town. Travelers' Choice 2014 winner at TripAdvisor. Overlooking Old Town with beautiful views of the Bay and gorgeous sunsets. Best to make reservations as the place has about 12 tables and is quite popular these days. Noted for its quality food, atmosphere and service. Salads, meat, fish, seafood and vegetarian dishes. Somewhat pricey; since 2012. Mon-Sat, 6pm-11pm
El Arrayan - Downtown - 344 Allende. Tel: 222-7195
For five years in a row 2005-2010 locally voted "Best Mexican" food in Puerto Vallarta, El Arrayan restaurant provides old family traditional recipes from various areas of Mexico. The restaurant (photo below) has a pleasant and welcoming atmosphere with a courtyard that has an arrayan tree growing there and some lovely Huichol indian art throughout. Menu includes fish in 'Mone' sauce, ceviche, shrimp cremoso, empanadas, duck "camitas" and cochinita pibil from Yucatan. Frommer's Mexico 2007 guide included it in the chapter on the best of Mexico. Live music Saturday, 7pm-10pm with "Los FriXoleros", a duo with a repertoire of old revolutionary and folk Mexican songs; call for details. El Arrayan is available for special groups and offers cooking classes starting in Oct 2011. This gay Puerto Vallarta restaurant is owned and operated by Carmen Porras. Weds-Mon, 5:30pm-11pm
Lix - South Side - 178 Basilio Badillo. Cell: 044-322-147-0858
Ice cream, shakes, old fashioned sundies, chocolate covered bananas, yogurt, etc. Woman-lesbian owned and operated by Charlotte and Carole, the owners of Xocodiva chocolates. Daily, 3pm-10pm
Los Equipales - South Side - 315-A Lazaro Cardenas
New and spacious gay cantina-bar that plays mostly Mexican music and serving snacks as well. Woman owned and operated with mixed male-female clientele. Sometimes with shows on the weekends along with karaoke, jukebox, videos. In the same location as the old La Iguana Mexican fiesta night-spot. Thurs-Sat, 8pm-4am
Mail Boxes Etc. - Romantic Zone - 130 Ignacio Vallarta at the Rivera Molino. Tel: 222-2252
Safe international receiving and shipping, mail services, mailbox rental, internet, fax and copy services, greeting cards, office and packing supplies. Operated by Jessica Corley and Rhonda Manthei who recently arrived in 2011 from Albuquerque, New Mexico. Mon-Fri, 9am-6pm; Sat, 10am-2pm
Patti Gallardo Eclectic Art - South Side - 250 Basilio Badillo. Tel: 222-5712
Now Closed. Art gallery with sculptures and paintings, and interior design. During her early years in the city, Patti was known for her line of hand painted clothing, colorful pieces depicting whimsical women, animals and still life. Patti Gallardo has lived and worked in Puerto Vallarta since 1980. Mon-Sat, 10am-4pm and 5pm-10pm
Prestige Car Rentals - South Side - 114-A Amapas. Tel: 222-6506, 223-1683
Woman-owned and operated auto rental agency with friendly service and a wide selection of models and makes on a daily, weekly or monthly basis. Prestige Car Rental can deliver the jeep or car to your door or to the airport. Daily, 9am-6pm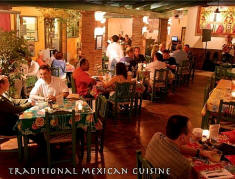 Red Cabbage Cafe/El Repollo Rojo - Remance - 204-A Rivera del Rio street. Telefono: 223-0411
This charming out of the way place in a typical and charming Puerto Vallarta neighborhood along the Cuale River is filled with an eclectic collection of art, theater and movie posters and pictures. Serving regional Mexican food with specialties from all over the country including chile en nogada, chicken mole from Puebla or Oaxaca, hearty carne en su jugo (steak in its juice), and soups and salads. Additionally, the vegetarian menu is tasty and diverse. Woman owned and operated with Lola Bravo. Frommer's travel guide-book has rated the Red Cabbage/El Repollo Rojo restaurant as "exceptional traditional Mexican cuisine". Known for its quality service. Closed in September. Mon-Sun, 5pm-11pm.
Uncommon Grounds Chill Out Lounge - South Side - 625 Lazaro Cardenas. Tel: 223-3834
Restaurant, cafe, aromatherapy bar, lounge and boutique. Unique in Puerto Vallarta, "a multi-sensory experience". Reservations recommended Fri and Sat evenings. Read up on the Uncommon Grounds restaurant menu, which includes shrimp nirvana salad, Bleeker street BLT, Casablanca and Mediterranean wrap, and other savory dishes. Lesbian owned and operated with friendly Lydia and Anne. Oct-Jun: Weds-Sun, Noon until closing; food until 11:30pm.
Xocodiva - South Side - 174 Basilio Badillo. Tel: 113-0352, Cell: 044-322-147-0858
Hand-made chocolates and truffles for those with a sweet tooth, "artisan chocolates". Owned and operated by Charlotte Semple and Carole Fast for several years. Their Xocodiva store has moved to over on the Puerto Vallarta Restaurant Row or Basilio Badillo street. Daily, 10am-10pm
Bucerias - a Puerto Vallarta Getaway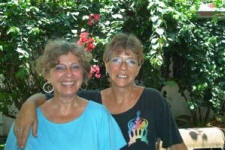 Also in Bucerias for lesbian women - Bucerias is a village of several thousand people located about 15 miles north of Puerto Vallarta in the state of Nayarit, Mexico (sometimes called the Riviera Nayarit coastal area). Bucerias is located between Nuevo Vallarta and La Cruz de Huanacaxtle, tends to be more relaxed than Vallarta and has a small but growing expatriate community. Many pleasant accommodations with moderate prices are on or near the water and the town has one of the longest stretches of beach on Banderas Bay. Now a popular vacation destination with many Canadian tourists because of its more economical prices for food and lodging, Bucerias' architecture is noted for cupolas (domes) and there are hundreds of them on buildings throughout the town. Open air palapa-roofed restaurants serve fresh seafood and the relatively uncrowded beaches have gentle surf. Joann Quickstad and Patricia Mendez (photo at left), who lived in Puerto Vallarta for 10 years and who have been a couple for many years, reside in Bucerias and manage Casa Tranquila at #7-A Morelos street with one bedroom apartments. Joann practices massage with Swedish, reflexology and aromatherapy. As well as managing lesbian-friendly Casa Tranquila, they have devoted their spare energy to volunteer work in the Puerto Vallarta community as coordinators of medical services for the International Friendship Club. Telephone: (329)-298-1767
Gay Guide & Straight Press
There is a pocket size publication that will help the gay visitor to Vallarta get oriented and find her or his way around town. Gay guide Vallarta is put out by Mark Page who used to run the Rainbow Dancer gay cruise (now defunct) a good many years ago. The guide is released several times a year and is widely distributed in gay and gay-friendly bars, hotels, shops and restaurants in town.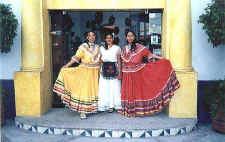 The publication is mostly advertising from local gay owned and gay-friendly businesses, has a detailed map of downtown Vallarta and the South Side, "Daily Specials" at clubs and bars, as well as listing such Puerto Vallarta things to do as the gay cruises, horseback riding and whale watching during the winter. The Gay guide Vallarta has a useful section on "the Scene" in Puerto Vallarta with some suggestions on where to go and at what time to show up, and a good calendar of events.

Please Note that while most of the Puerto Vallarta bars, clubs, bed and breakfasts and hotels that advertise in this publication are nearly all exclusively gay-owned or operated, a good number of the Puerto Vallarta stores, art galleries, restaurants, realtors and service providers that advertise in Mark and David's Gay guide are not gay-owned, but cater to the general public and conveniently advertise there for business purposes in the pursuit of gay money or "pink pesos" - so one might therefore consider them to be gay-friendly.

There is rarely any mention of the gay and lesbian community in the local English press, but here are the majority of them anyway. The most useful and best of these is perhaps Bay Vallarta a relatively new entertainment guide which has the most complete listings of what to do in Puerto Vallarta that I've seen. At more than 70 pages, just about everything and everybody is listed, from events, health, art galleries and home delivery to bars, live music and sports, and best of all the Puerto Vallarta gay community gets its own page. Additionally it has articles on a variety of topics such as ecology, culture, theater, movie reviews and cuisine. The local weekly the P.V. Tribune is useful and has some informative articles in English and French. Vallarta Today is the only local daily English newspaper and contains a lot of advertising, but there is a dining guide section and some general tourist information. These are all free and somewhat widely distributed. The glossy Vallarta Lifestyles is a quarterly magazine for sale, with top quality production value and many photos. Somewhat like this website it would include info on restaurants, shopping, art & culture, activities and tourist attractions, but also profiles and pics of local people out and about.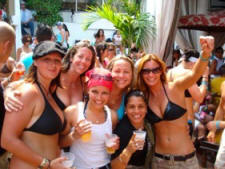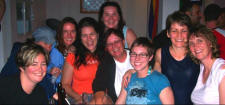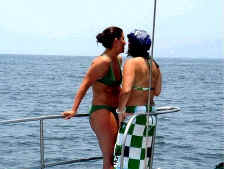 Some Puerto Vallarta tourist activities and attractions - Women's week Nov 2008, cruises, tours, horseback riding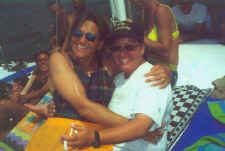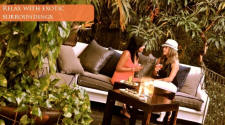 At Casa Cupula gay-lesbian hotel resort & Taste restaurant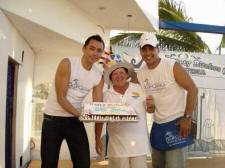 Diana DeCoste's birthday party in February 2010
on the Blue Chairs gay hotel rooftop after her cruise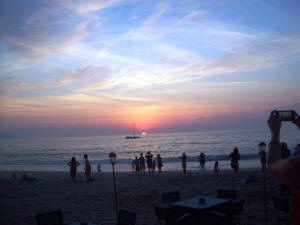 one of the best gay-lesbian resorts in the world, Puerto Vallarta sunset
on Los Muertos beach - picture thanks to Faith Lopez
-------------
The next five photos below from past Club Skirts women's week in Puerto Vallarta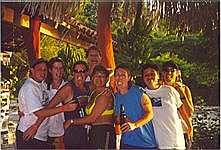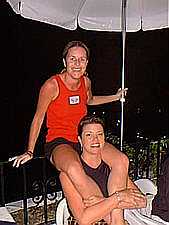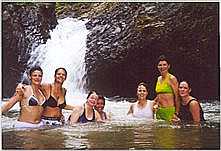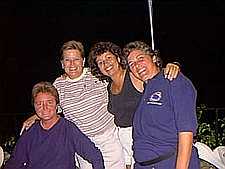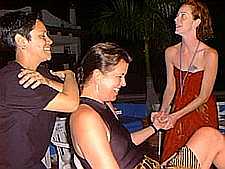 ---
Top of page | beach condos PB | vallarta pictures | 2 bedroom villas | vallarta condos | Gay Puerto Vallarta guide
condos molino de agua | 3 bedroom villas | day of the dead | gay tours pictures | 4 bedroom villas
gay bar pictures | vacation rentals LP | annual events | malecon photos | Email contact