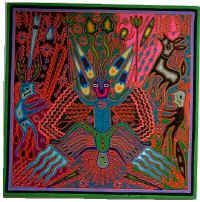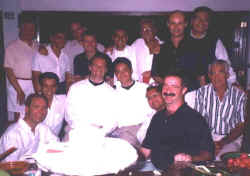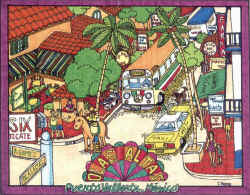 Huichol yarn art by shaman Jose Benito Sanchez; Vallarta commitment Chuck and Adolfo; Olas Altas by Lawrence "twig" Menne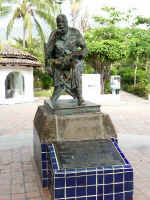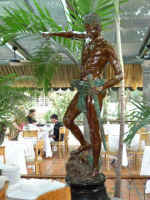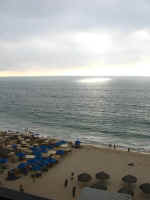 John Huston statue; Le Bistro Puerto Vallarta restaurant; Los Muertos beach afternoon; sights to see in town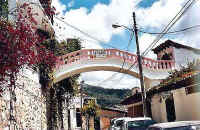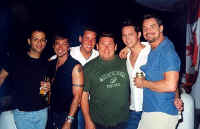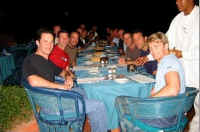 Bridge in Gringo Gulch between Liz Taylor's old house and Richard Burton's; two pictures Nuno and friends; Kurt Stamm & friends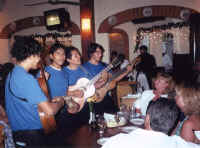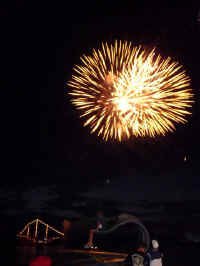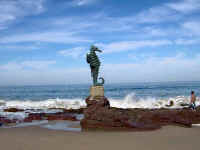 Los Bambinos at La Piazzetta restaurant; fireworks on the malecon; seahorse statue Los Muertos beach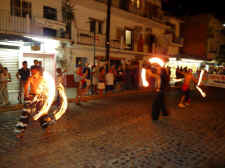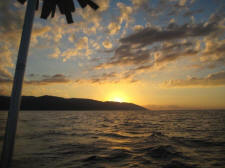 street performers at the annual Puerto Vallarta carnival parade; sunset January 2010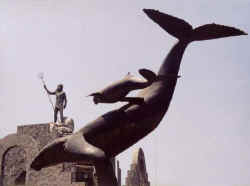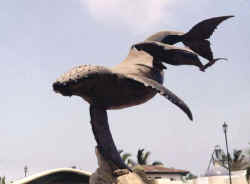 The beautiful bronze Humpback Whale sculptures by Octavio Gonzalez,
with the sea god Neptune in background at the entrance to the Puerto Vallarta Marina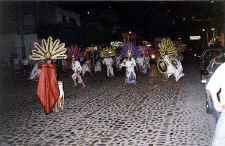 Combining traditional Aztec and Christian motifs, 'warriors' dance and blow their horns in the streets
commemorating the miraculous apparition of Our Lady of Guadalupe
to the Indian peasant Juan Diego on December 12, 1531.
The Our Lady of Guadalupe celebration (see more photos & info) goes from December 1-12
every year in Vallarta.
The local gay community has sometimes participated on December 1st,
World AIDS Awareness Day.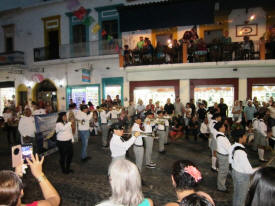 ---------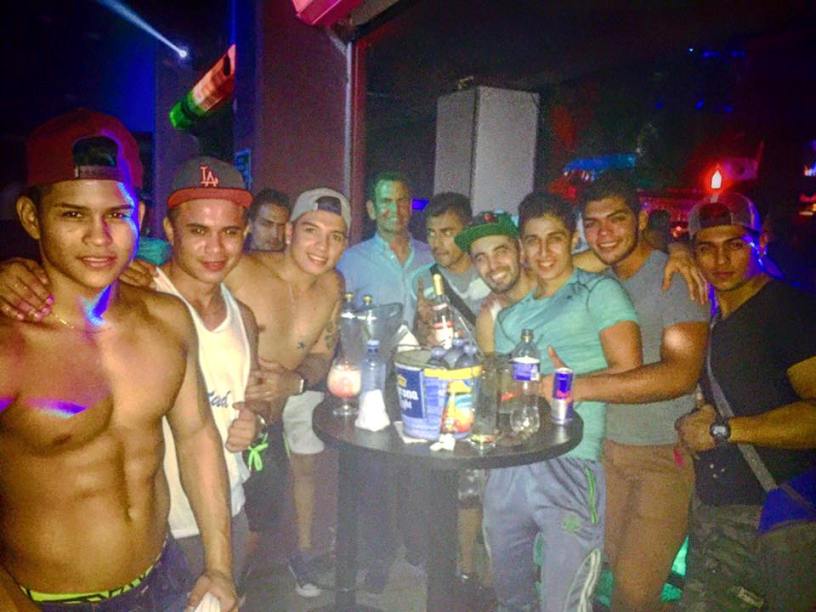 Fun nightlife and sexy guys at the gay nightclub CC Slaughters at the fabulous Lazaro Cardenas circuit area
With Neitan Fifness, Alexis Santiago G, Richard Michael, Israel Ramos Hernandez, David Villasenor and Edson Guerrero,
In this exciting area you'll also find Pacos Ranch, La Noche, La Margarita and Mr. Flamingo gay pub.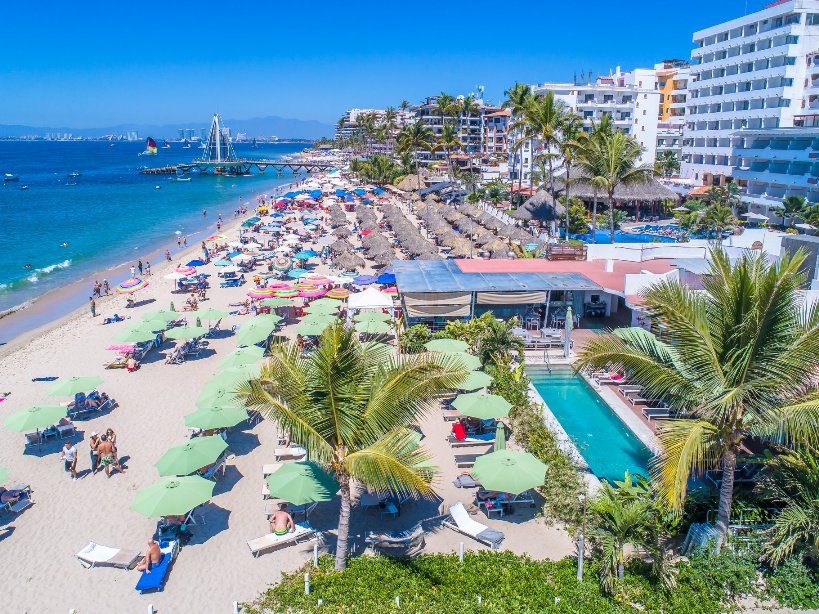 The gay beach at Sapphire Ocean Club, looking north to the Los Muertos pier with downtown Vallarta in the distance. Nice!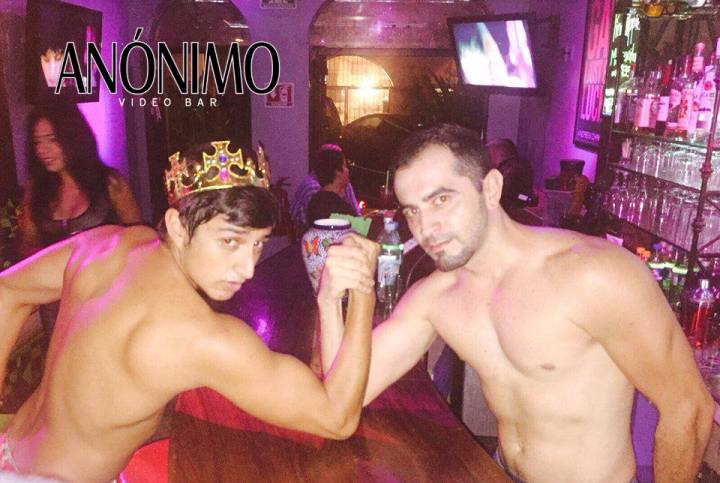 Arm wrestling at Anonimo gay bar - shirtless hottie on the left, papi chulo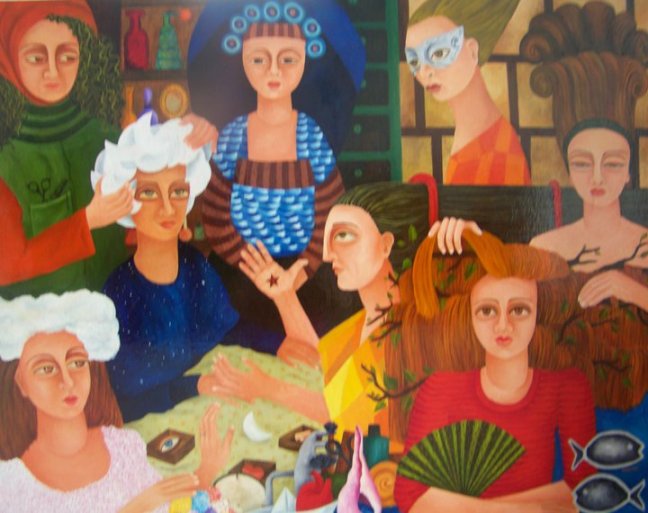 Painting by local artist Marenal

Another great sunset on Los Muertos beach in gay-friendly Puerto Vallarta, Mexico. Thanks to Faith Lopez for this picture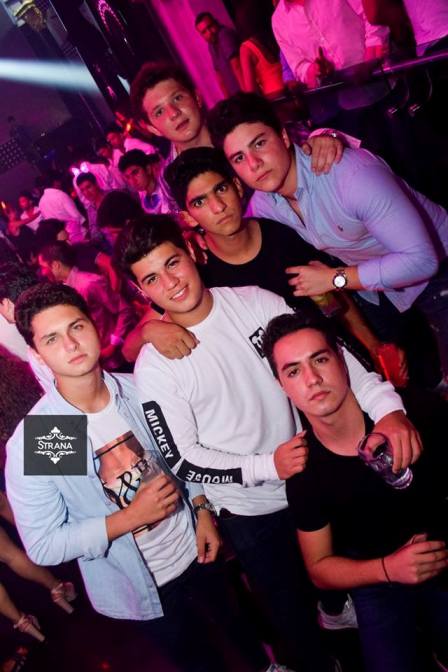 Handsome party goers on the scene at the popular straight nightlife hot spot Strana disco -
A posh, popular and upscale discotheque dance club which opened in November 2011
in the northern Hotel Zone of Puerto Vallarta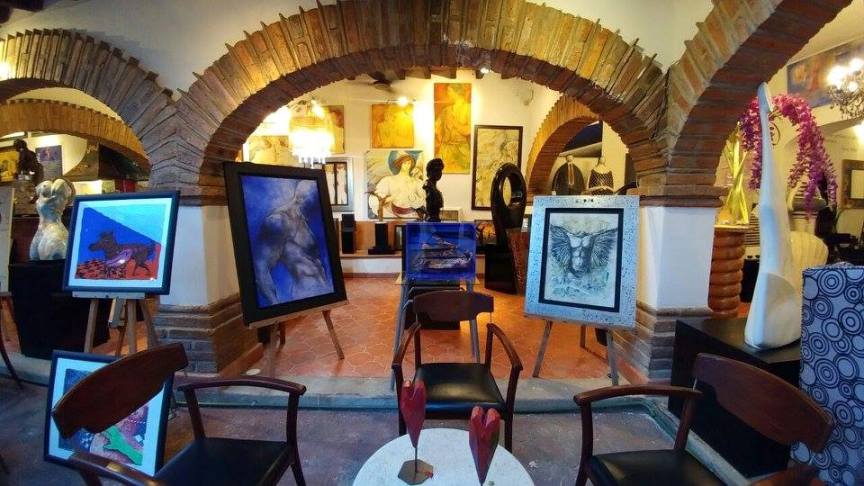 Sculptures, painting, artistic objects and exclusive jewelry at Sheol gallery. Friendly service with owner Jose Eduardo Gomez -
Located in a hacienda-style house on Morelos street, this is one of larger galleries in town, where some 750 pieces are exhibited.

The popular A Page in the Sun coffee shop at 179 Lazaro Cardenas - for delicious food, organically grown coffee, and
thousands of books. In the heart of the Romantic Zone. photo thanks to Page in the Sun, Daily 7am-11pm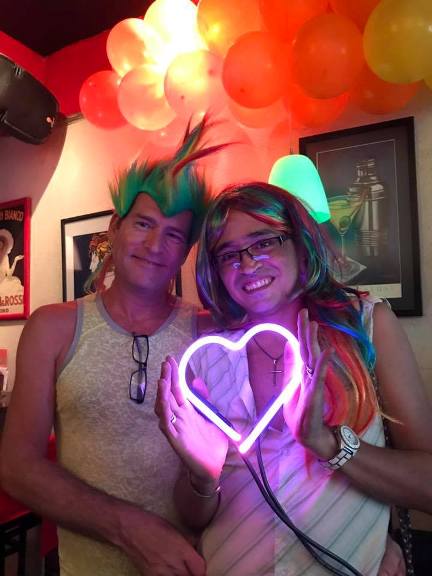 Funning around at Apaches bar on Olas Street on Vallarta's South Side
Photo by Aubrey B. Albano May 2017
Vallarta pictures - page II
photos - III
Vallarta pictures - page IV
photos - V
Pictures - page VI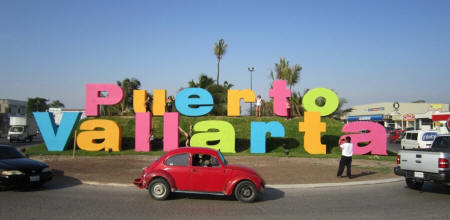 "Where fire was, ashes remain." - Mexican proverb