Condo & Villa Rentals
Gay Vallarta Condos
- La Palapa
- El Dorado ED
- Molino de Agua
- One Beach Street
- Playa Bonita condos
- Plaza Mar
Vallarta Villas
More Vallarta condos

Gay Travel Guide
Art Galleries
Cafes - internet
Calendar of Events
Community & charities
Contact Info
Excursions & Fun
Gay Bars
Gay Beach
Gay Cruises & Tours
Gay Travel Links etc
Gyms & Health spas
Law and Custom
Lesbian Vallarta
Malecon
Malecon photos
Map
Marina Vallarta
More Art photos
More Day of the dead
More Gay Bar photos
More Gay Beach pics
Other Beaches
Quick Gay Travel tips
Restaurants
Restaurant pics
Services
Shopping & malls
Straight Clubs
Tourist Info
Vallarta Annual events
Vallarta Gay Pride
Vallarta Photos
Vallarta Photos 6
Weather

Galeria Indigena Art Gallery



Downtown/el Centro - 628 Juarez street, between Aldama and Maraiano Abasolo
Tel: 223-0800


One of the largest and oldest ethnic art galleries in Puerto Vallarta, located in the Historic Center of Puerto Vallarta
Indigena invites you to explore and admire a fascinating collection of more than 5,000 handmade objects from around Mexico
on two display levels.

One block up from the Malecon boardwalk
Indigena (facebook) is one of largest galleries in Vallarta with several thousand pieces exhibited.


PV art store with an extensive collection from various indigenous cultures of Mexico: dance and ceremonial masks,
unique Day of the Dead items in ceramic and paper mache, sacred Huichol Indian bead and yarn work,
handcrafted Oaxacan black clay pottery by Zapotec indians,
hand blown glass, Nahua Indian lacquer art from Guerrero state, religious arts and figures, majolica pottery from Tlaxcala
and talavera ceramic pieces from Puebla with some 800 designs, finely designed and made Mata Ortiz pottery,
as well as extraordinary bark paper etchings by internationally-known Nahua artist Nicolas de Jesus.

The Indigena gallery is one of my personal favorites for gifts for my family and friends.


A walk through this gallery is a unique opportunity to admire and acquire some of the quality works
made by the expert hands of Indigenous Artists of the more than 52 Ethnic Groups of Mexico.
Come and admire the black clay of the "Dona Rosa" workshop recognized worldwide for its intricate trimming with reeds,
or the famous Alebrijes and wool rugs of the Zapotecas of Oaxaca.

The Indigena gallery is characterized for its service and kind attention, receiving all visitors with a warm welcome.
Service with owner Nacho and his brother, who are happy to give advice and detailed info on any of the work and pieces exhibited.


Hours of operation: Mon-Fri, 10am-8pm; Sat, 10am-6pm; Sun, 11am-3pm





Mata Ortiz ceramic art for collectors - pictured here is work by artist Angel Trillo
Pictures thanks to the friendly folks at the Indigena Galeria and to others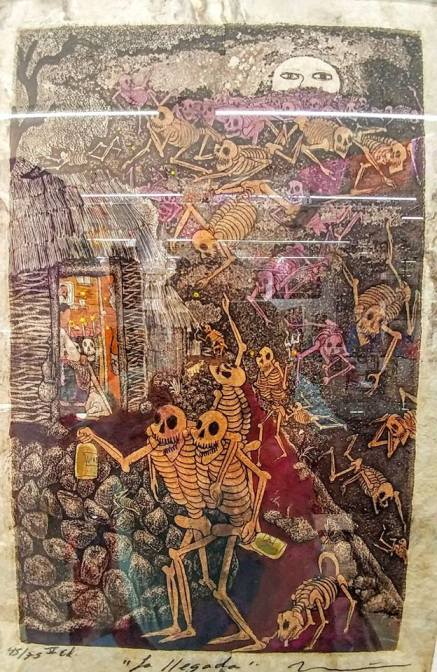 Bark paper etchings celebrating the Day of the Dead in November
by internationally famed Mexican artist Nicolas de Jesus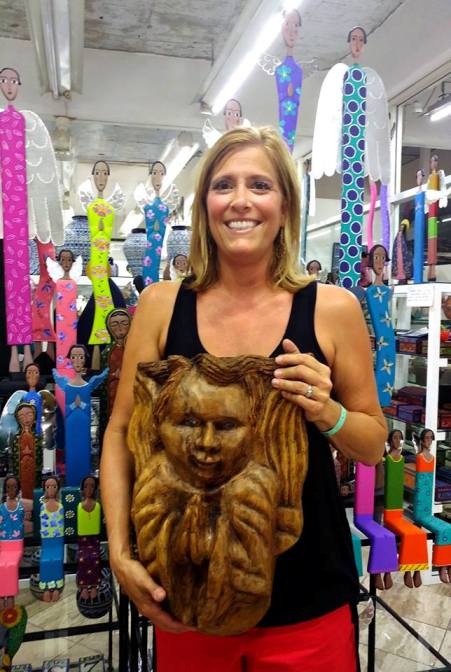 You can also check out the Catrines de los Tarascos of the Michoacan lands, with its unique art of lacquer with gold leaf on the madrono wood.
The lacquered art of Olinala, boxes painted and decorated with pigments on aromatic wood of linaloe, elaborated by the Nahuas de Guerrero.
The sacred art of the Huicholes with their extraordinary and complex and colorful designs on beeswax.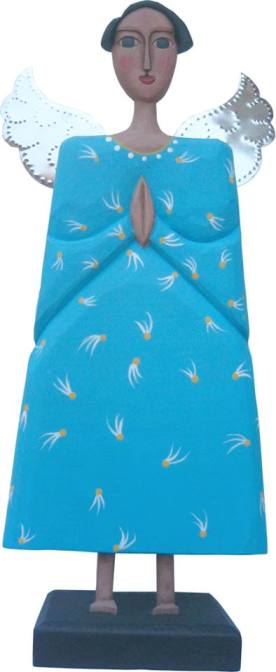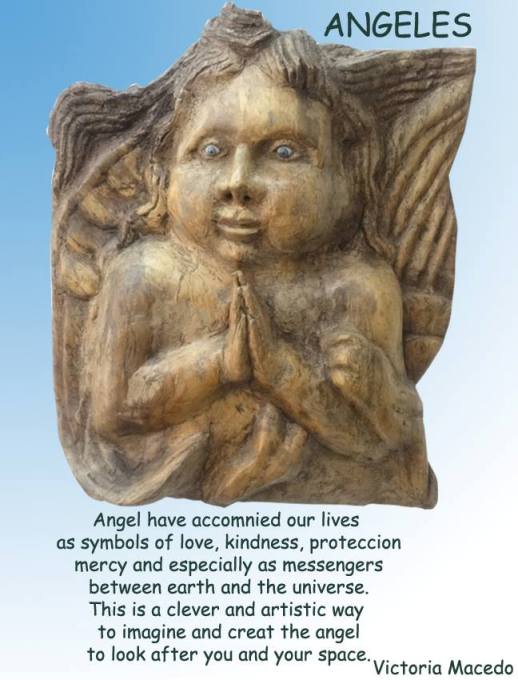 "Angels have accompanied our lives as symbols of love, kindness, protection,
mercy and especially as messenger between the Earth and the universe.
This is a clever and artistic way to imagine and create the angel
to look after you and your space." - Victoria Macedo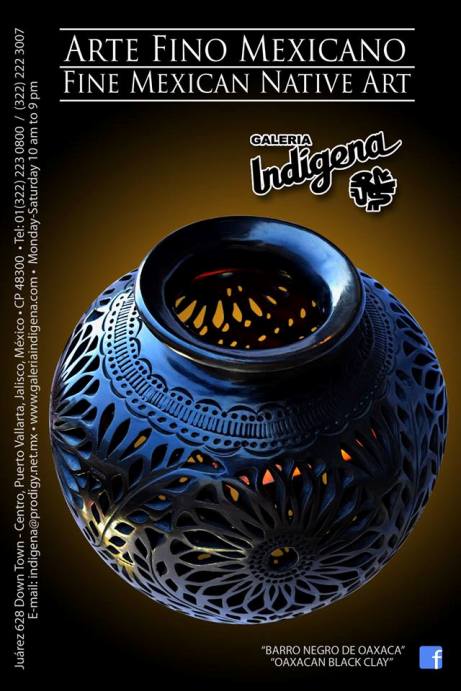 Oaxacan Black Clay on display


Decorative plate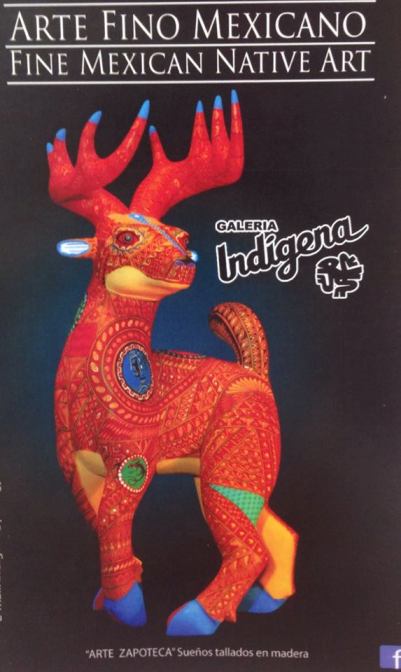 Many examples of fine Mexican native art to be seen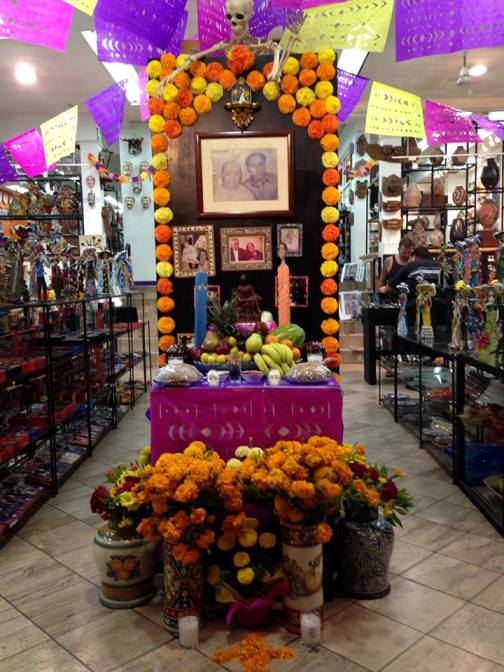 Dia de los Muertos - Day of the Dead altar to honor and welcome home deceased friends and family
with offerings of fruit, food, sweets, drink, personal affects,
and all with the lovely orange marigold flowers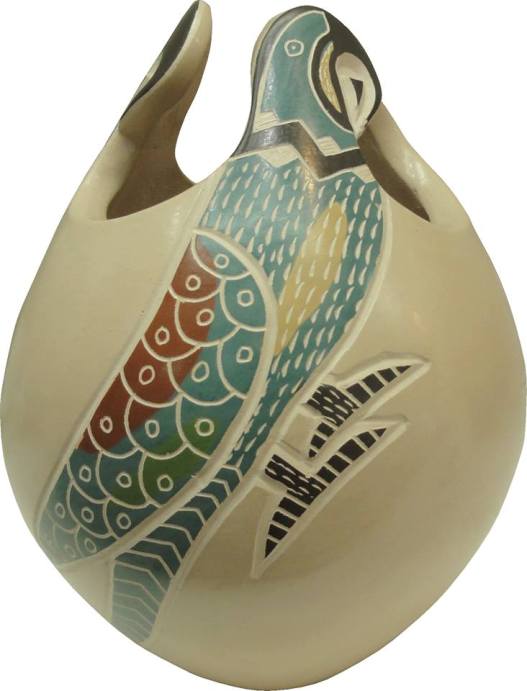 The incredible art in Ceramics, from "Mata Ortiz" worldwide recognized for its beauty, shapes, sizes, and designs of the Paquime Culture
of the Casas Grandes Region, Chihuahua, and hand painted with human hair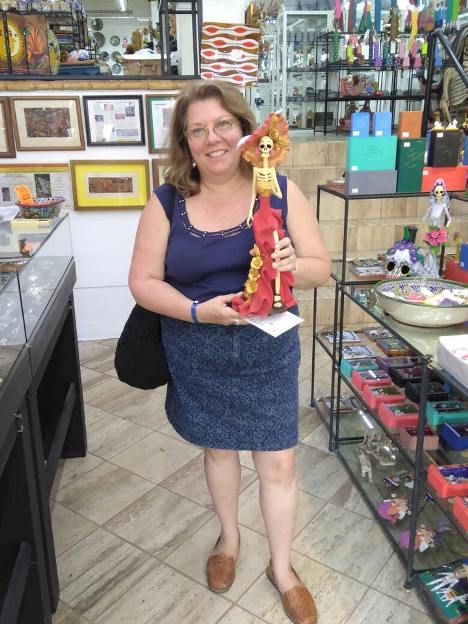 Showing off one of the catrinas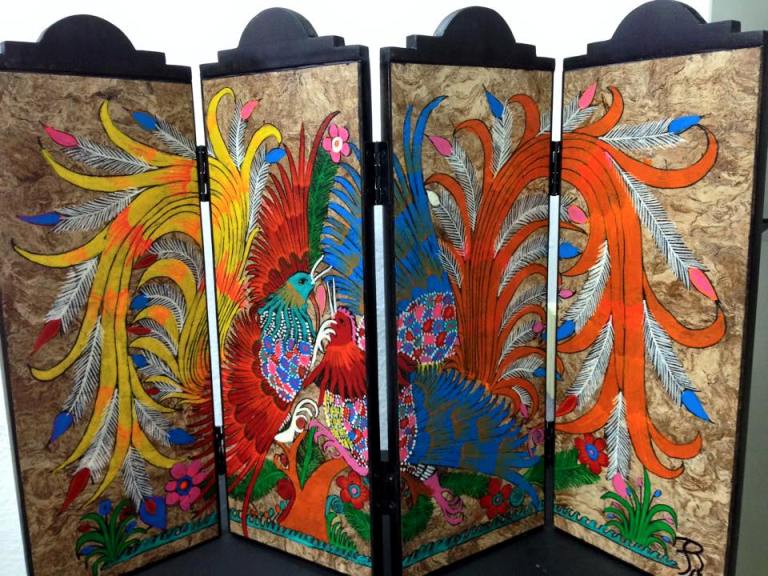 Brilliantly colored and beautifully done Nahua native Indian art, from Guerrero state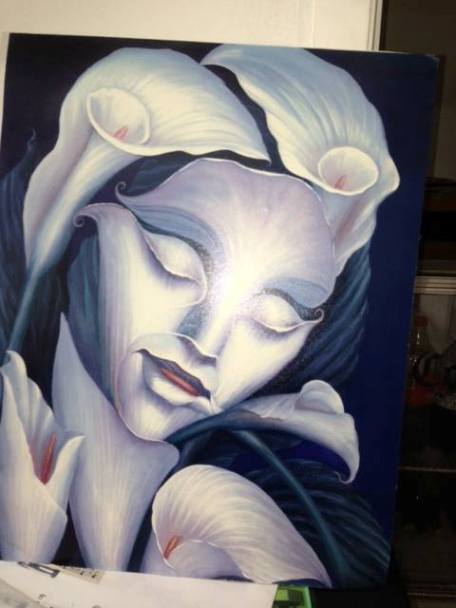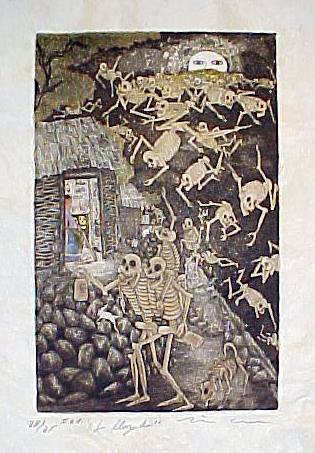 Bark paper etchings for the Day of the Dead by famed artist Nicolas de Jesus