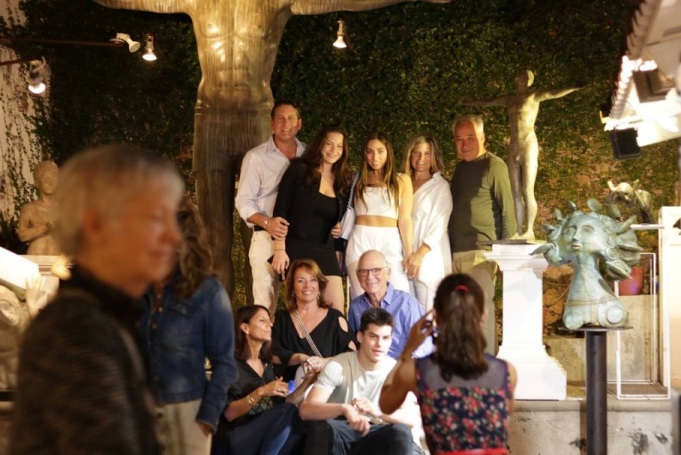 Some visitors having their photos taken in front of the sculptures in the inner courtyard
of the fine art gallery Galeria Corsica (since 2002),
located downtown just up from the Malecon boardwalk, at 756 Guadalupe Sanchez street.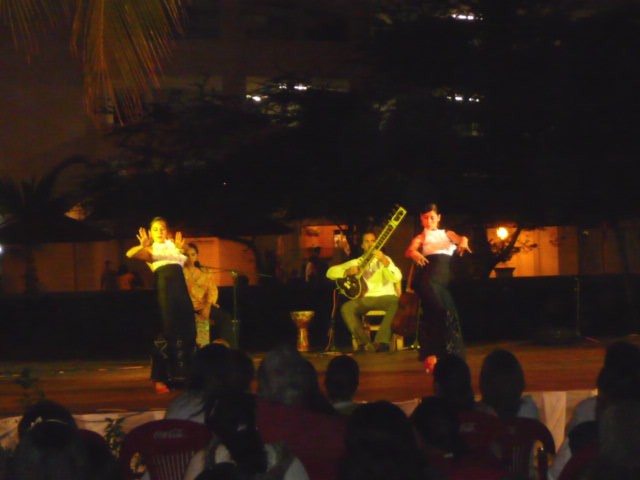 outdoor presentation of dance-music at the 2ndl Cuale Art Festival in January 2010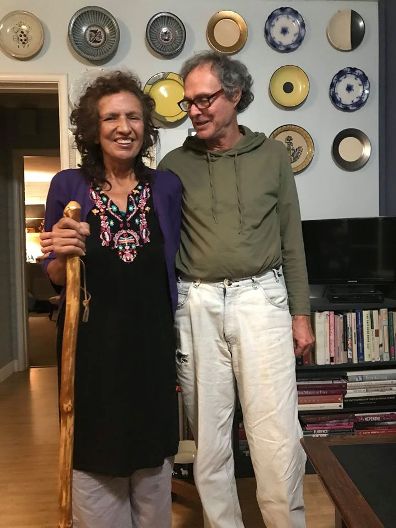 Lucy Munz and artist/author Gil Gevins, the owners of Lucy's Cucu Cabana shop
for decades at 295 Basilio Badillo street at Constitucion.
Unique Mexican folk art including items like wool rugs, hand-crafted Oaxacan pieces, talavera ceramics, etc.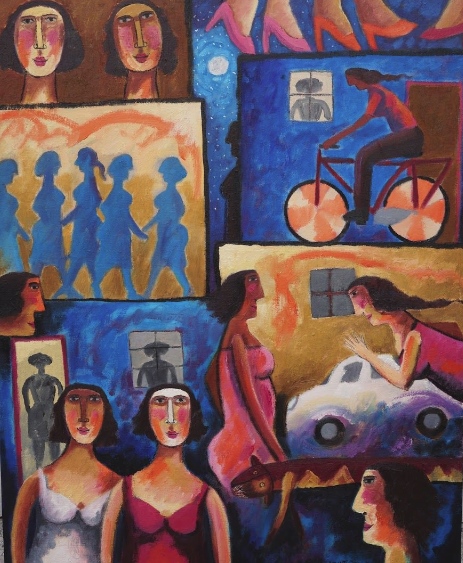 City of Women / Ciudad de las Mujeres, painting by Victor Uhthoff at fine art Galeria Contempo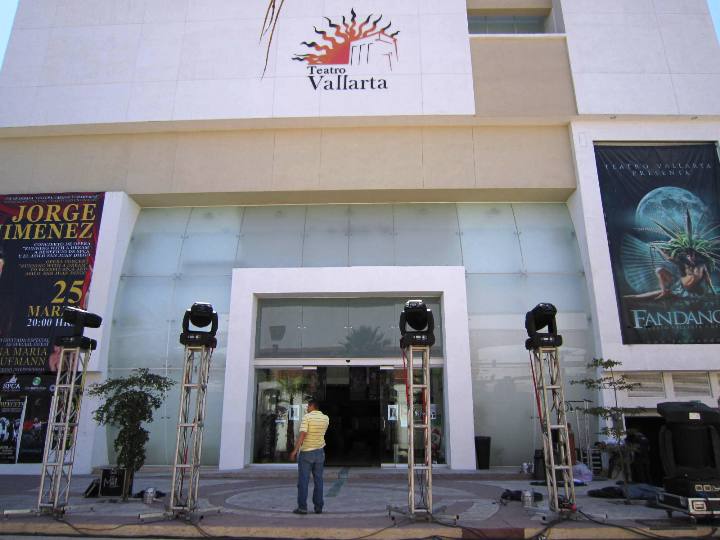 the Vallarta Theater / Teatro Vallarta downtown cultural center
presenting concerts, drama, spectacles, dance and video artists.
Located at 184 Uruguay street between Avenida Mexico and Peru. Tel: 222-4475, 222-4517
Opened in March 2010 - the PV Teatro on facebook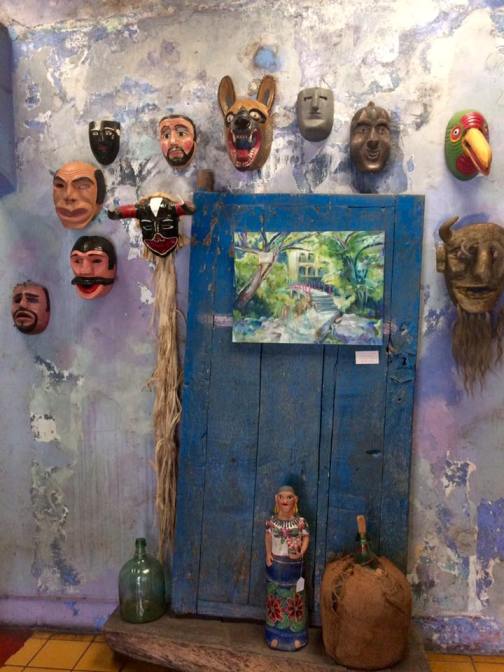 Authentic ceremonial masks at the Galeria Olinala on the South Side since 1978,
located at 274 Lazaro Cardena at I. Vallarta street. A one of a kind gallery, local Tel: 222-4995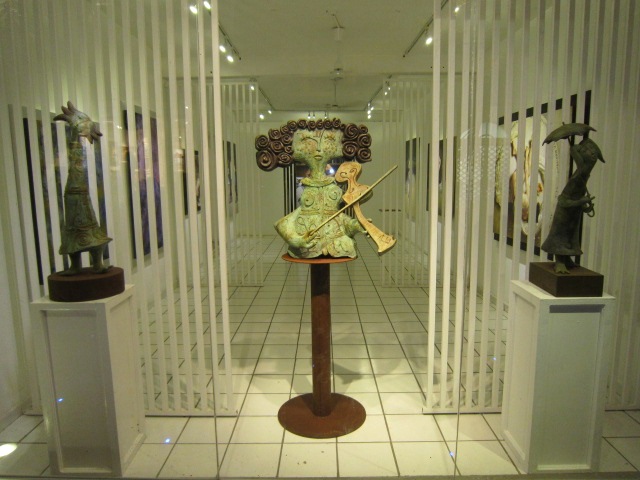 Seen along the Art Walk in December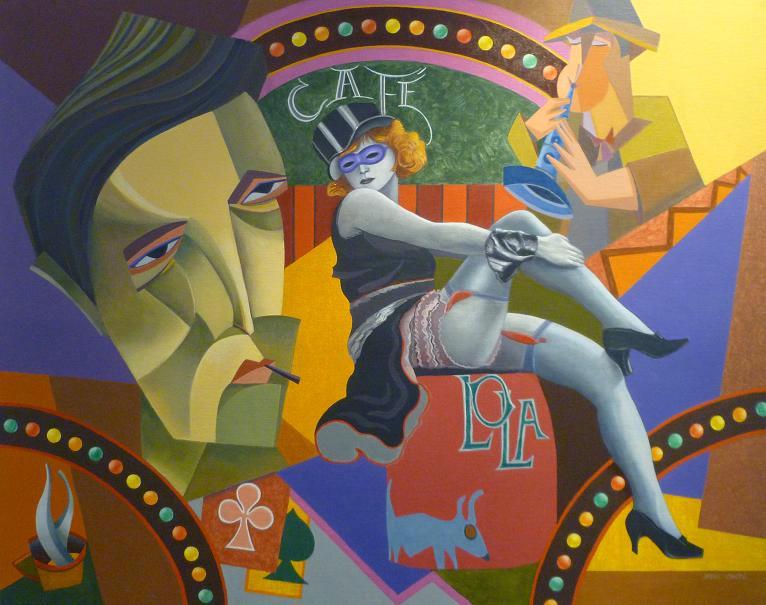 Mexico art in gay-owned Puerto Vallarta Galeria Contempo, painting by Jesus Cantu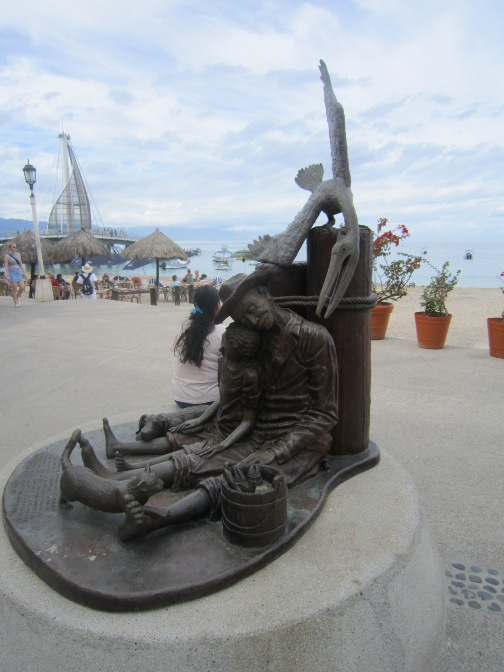 Local sculptors Jim Demetro and his daughter Christina Demetro's latest work of public art, The Fishermen (los Pescadores)
placed in May 2018 in the little square along the Los Muertos beach malecon between Hotel Los Arcos and
and Langostinos restaurant. Noted for its sympathetic portrayal of the father and son,
and the pelican trying to steal fish out of their bucket.
More info and a video here The Fishermen at puetovallarta.net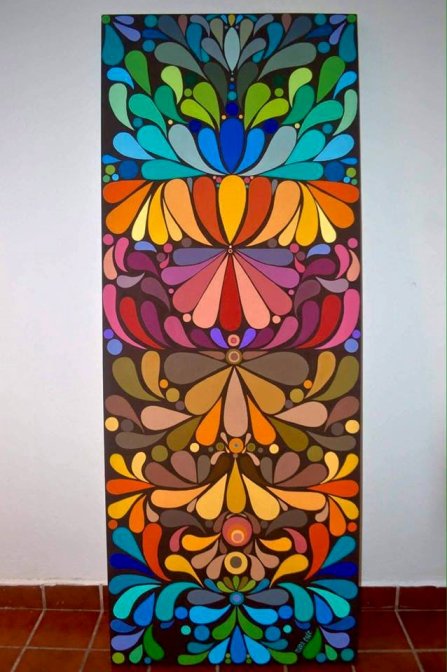 Amor y Abundania / Love and Abundance, painting by Mara Diaz
Acrylic on cloth, 70cm x 1m 70cm - further info here at her Facebook page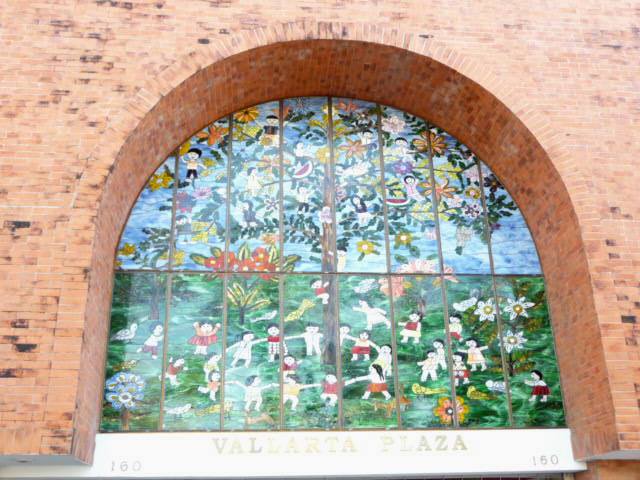 Lovely stained glass art scene over the entrance to Vallarta Plaza building on the main downtown plaza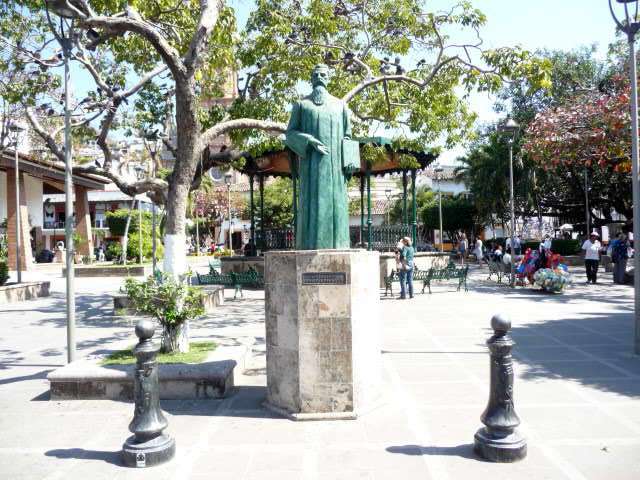 Downtown main zocalo or public square with statue to Ignacio Vallarta,
the governor of the state of Jalisco (1872-1876), who also
served as Foreign Minister under Mexico's President Porfirio Díaz.
In 1877 Ignacio Vallarta was named President of the Supreme Court of Mexico,
an office which he served concurrently with his role as foreign minister.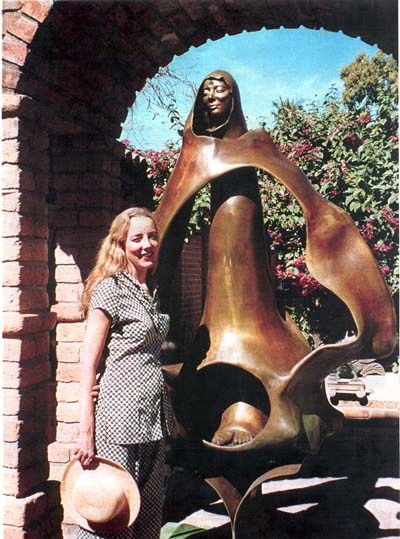 Puerto Vallarta artist Rocio Sanchez and her bronze statue Reina del Mar (Queen of the Sea)
which now graces the malecon in the city of La Paz, Mexico.
Picture thanks to Rocio and Galleria Dante at 269 Basilio Badillo street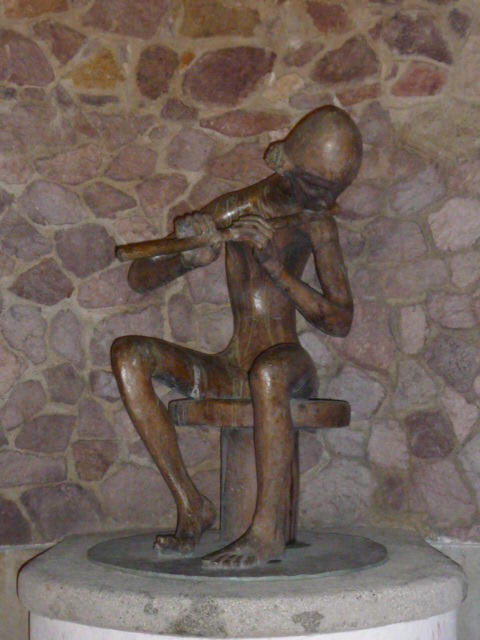 One of seven bronze public sculptures by Puerto Vallarta artist Ramiz Barquet
Further info from Galeria Pacifico on Barquet and his major contributions to the local art scene
This piece of artwork, the flautista or flute player, appears downtown on Galeana street at Hidalgo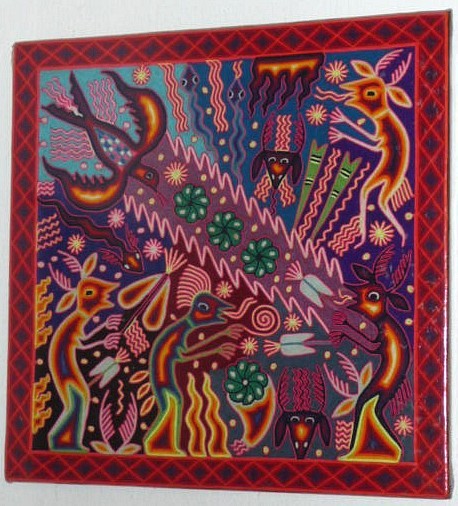 Arte Huichol yarn painting Puerto Vallarta by Maximino Rentenia de la Cruz
from my personal collection of ethnic indigenous art.
Some Huichol art symbols are as follows:
Deer: messenger of the gods; Eagle: power of the earth;
Muvieri: wand, most important tool-instrument of the shaman;
Peyote: symbol of life and success; Shaman: medicine man and healer;
Snake or serpent: god of the ocean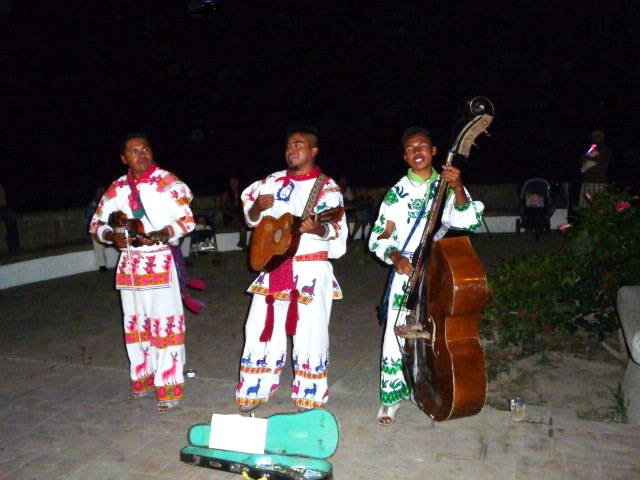 Puerto Vallarta outdoor culture - live musicians on the PV downtown malecon
in their colorful native clothing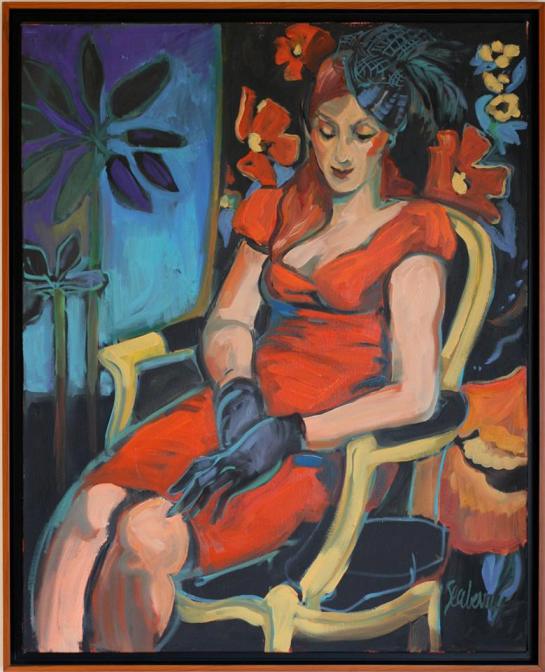 The Luncheon, a painting by Susan Seaberry, oil on canvas 30 in. x 24 in.
Emphasizing the strong, vivid color and painterly quality her work is known for,
at one of Puerto Vallarta's finest art galleries The Loft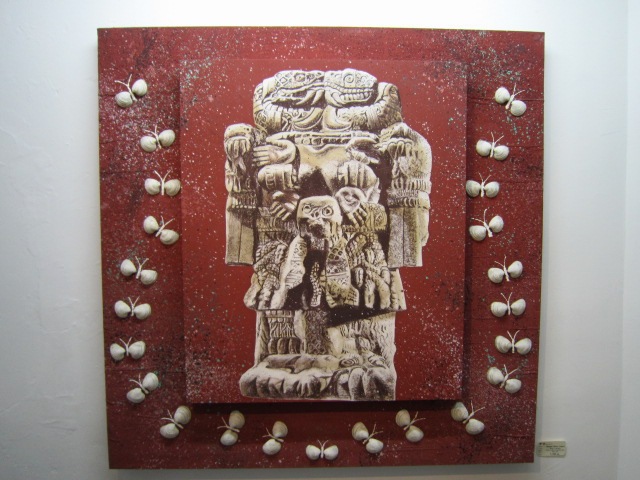 An interesting piece, Death and Sacrifice, with pastel, acrylic, cloth and shells by artist Sergio Diaz-Lopez
at the PV Santana Galeria (now closed) which was located at 188 Corona street just off the boardwalk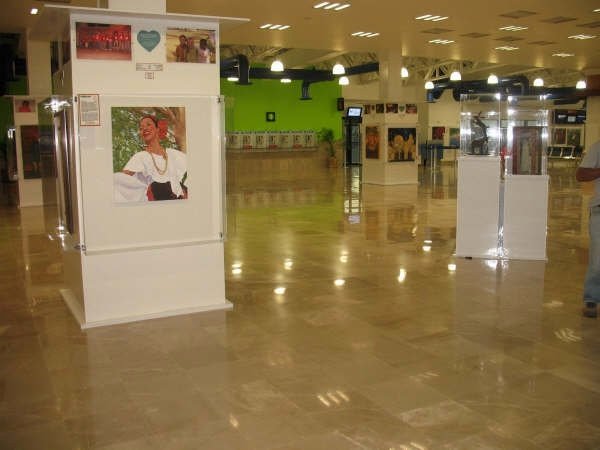 Thanks to the non-profit Ports of Art in the Puerto Vallarta and Guadalajara airports,
the Fresh Air Foundation since 2008 has helped hundreds of young people in attending
day and summer camps with programs in the arts, ecology, language and phys ed.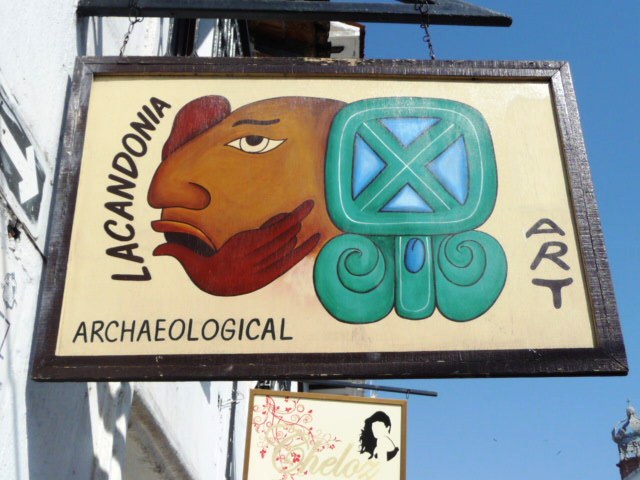 Lacandonia art gallery (now closed) located over at 313 Basilio Badillo street.
Original Maya art, with many pieces exclusively and exquisitely handmade by Mayan descendents.
Many of these art works represent a deep-felt religious sense from Maya culture.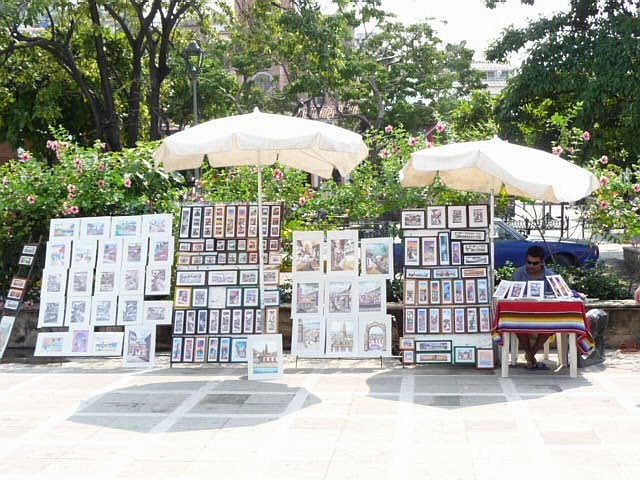 Puerto Vallarta arts & crafts - local artist and his watercolors on the downtown Malecon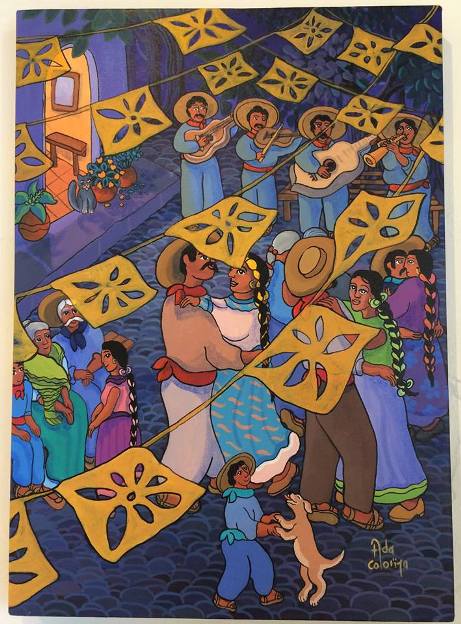 In her rural studio in the Paso Ancho neighborhood, and inspired by Puerto Vallarta's people, customs and traditions,
famed Ada Colorina gives life on canvas to what she enjoys most and makes her heart vibrate.
Her works are exhibited at the fine art gallery Galeria Corsica, located downtown at 756 Guadalupe Sanchez street.


Ryan Rigazzi in Broadway Baby at Act II Entertainment (facebook)
at Vallarta's newest theater company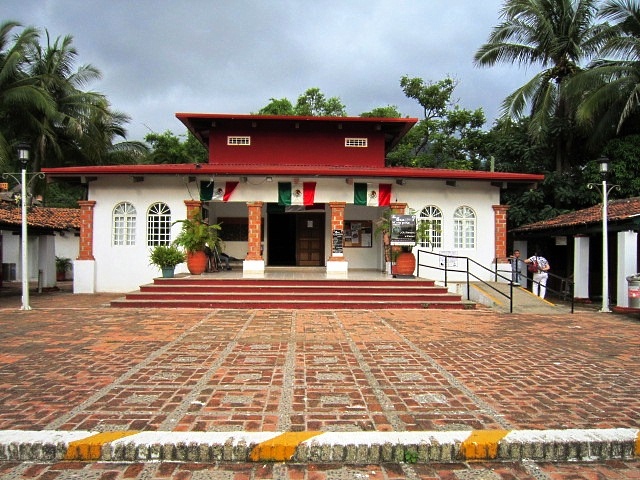 Puerto Vallarta Cuale Cultural Center on the Cuale River island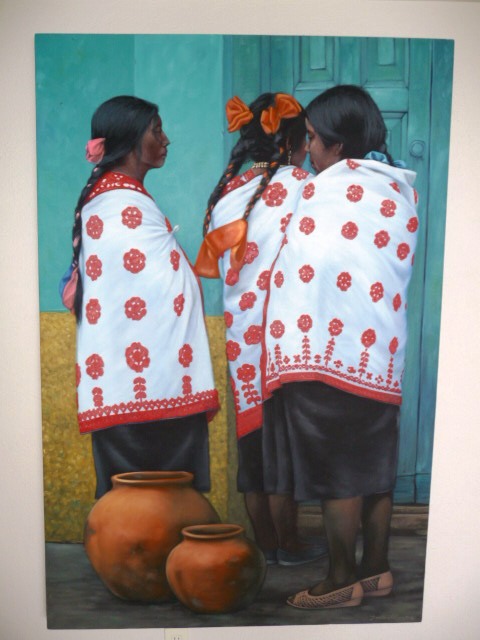 'Reunion' by painter David Villasenor -
from the private collection of my friend Carl Timothy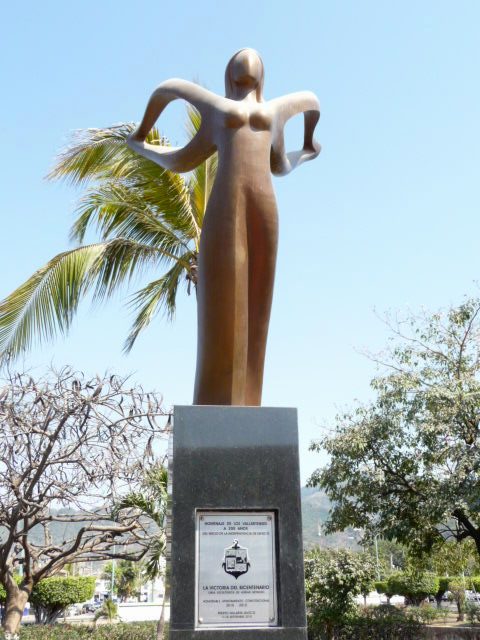 the sculpture "Bicentenary Victory" by local Puerto Vallarta artist Adrian Reynoso,
celebrating the 200 years since the Mexican Revolution of 1810
(time for another revolution, folks!)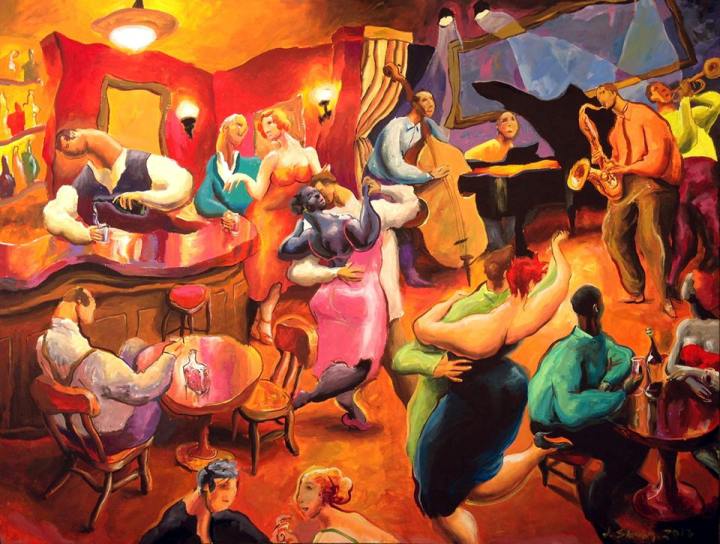 Conjunto - Musical Ensemble Gorup by Jaime Sanchez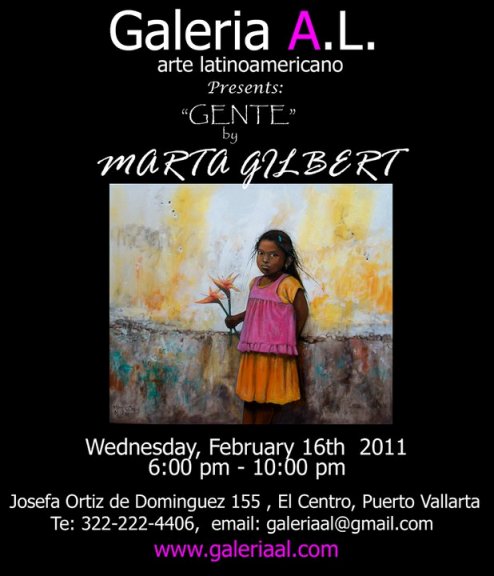 Galeria A.L. Arte Latinoamericano (now closed) at 155 Josefa Ortiz de Dominguez street
in downtown presenting works by well-known local painter Marta Gilbert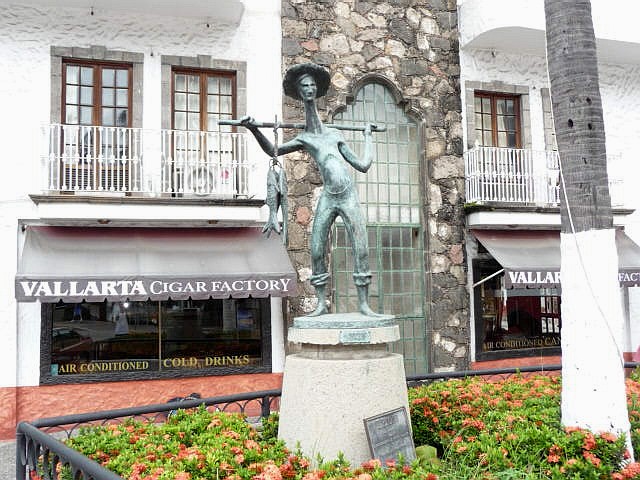 Located since 1996 at Libertad and Agustín Rodríguez streets across from the main municipal flea market
is Ramiz Barquet's bronze statue El Pescador - The Fisherman.
Barquet called his "fisherman/poet" Isidro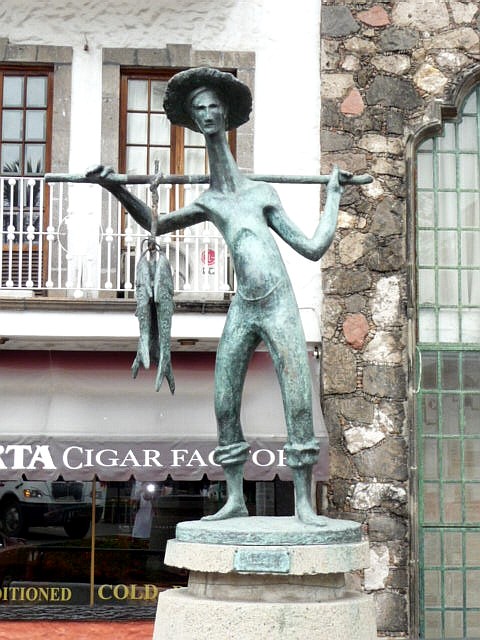 The only piece of public art work in the city that has been vandalized,
as far as I know, as the fish were missing for years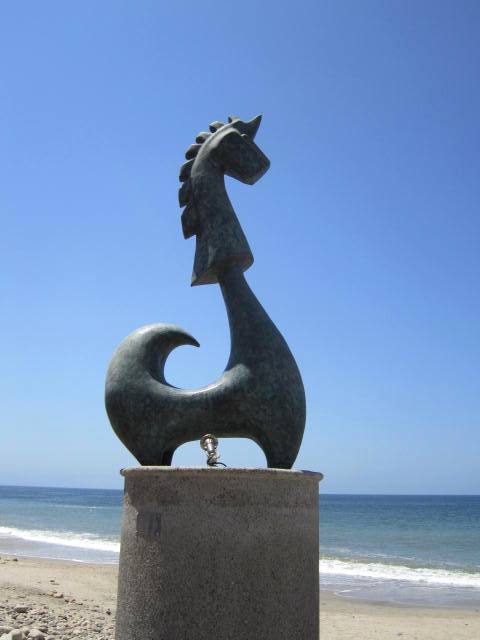 A new work of public Puerto Vallarta art along the downtown malecon,
the Unicorn of Good Fortune by artist Anibal Riebeling, on display since January 2011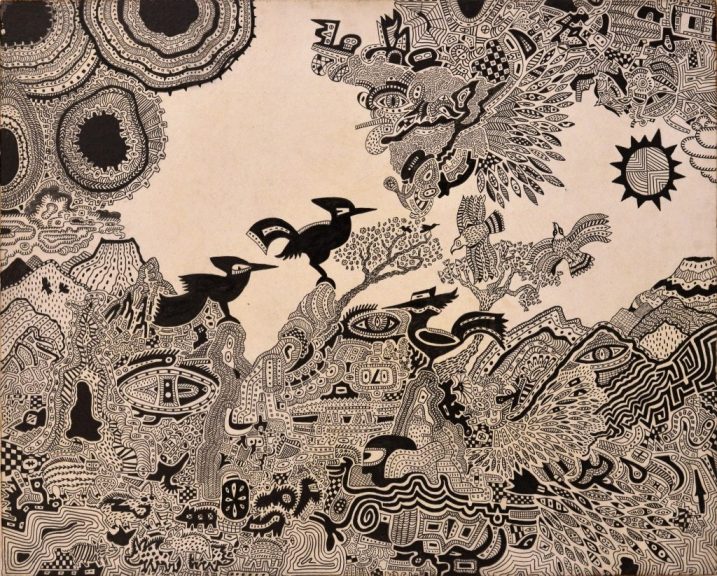 In the Mountains / En la sierra (2014) by artist Brewster Brockmann, owner of the Olinala Gallery
located at 274 Lazaro Cardenas on the South Side since 1978. Tel: 222-4995
58 x 72 cm, Graphite on paper on wood / Grafito sobre papel sobre madera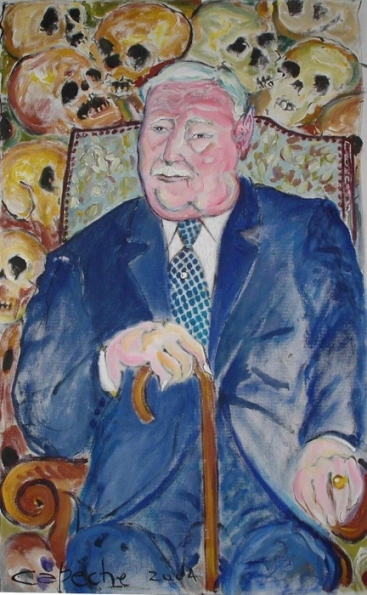 The General and His Dead - by noted local painter Oscar Capeche
One of the few pieces of political art I've seen in Puerto Vallarta,
rather a surprise, frankly, considering the social inequalities and endemic injustice in Mexico.
Thanks to Oscar and my friends at the excellent Dante Gallery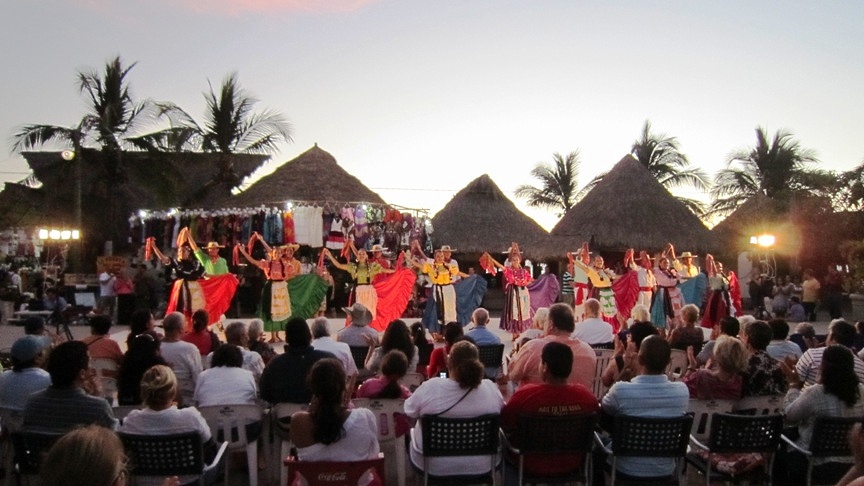 the Xiutla Folklorico/Folk Dance troupe during their final performance for that season in April 2012
at the Lazaro Cardenas Park where they perform November-April on Friday evenings starting at 7:30pm.
Now with 23 years (since 1994) under director Enrique Barrios Limon.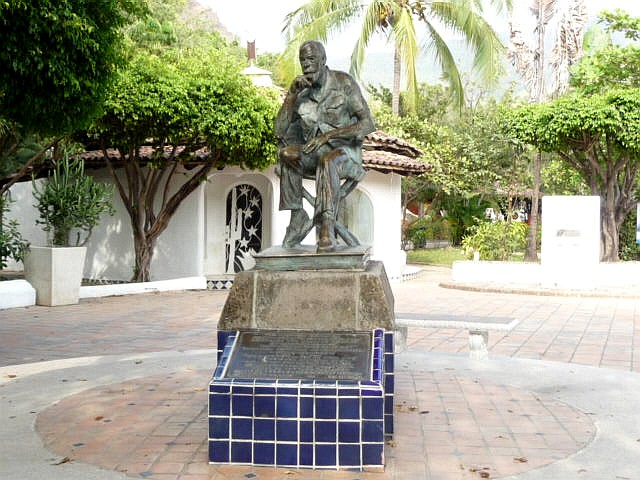 Puerto Vallarta statue to John Huston on the Cuale River island.
The famed director-writer-actor received 15 academy award nominations in his lifetime and lived
on and off for many years in his beachfront house/estate in Las Caletas on the South Shores.
He is of course remembered locally for filming gay playwright Tennessee Williams' brilliant play,
The Night of the Iguana here in 1963.
In the plaque is Huston's tribute to his friend, the actor Humphrey Bogart.
The sculpture was made by Carlos Ramirez and placed in 1987, a few months after Huston's death.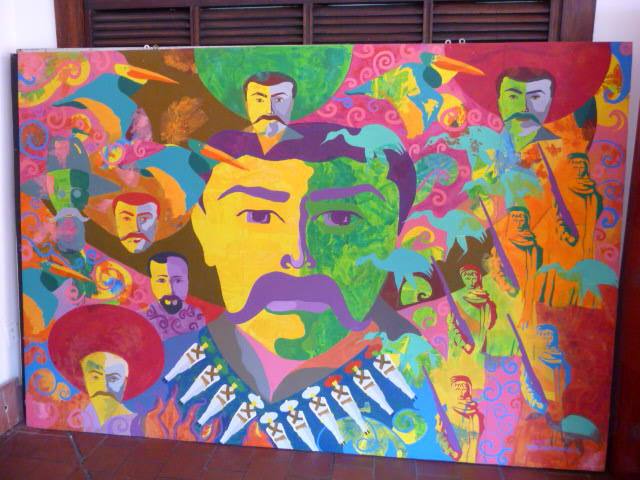 Painting at old city hall by Puerto Vallarta artist Hector Ponce Jimienez
who exhibited in several galleries in town including PV Santana and Ambos Galeria de Arte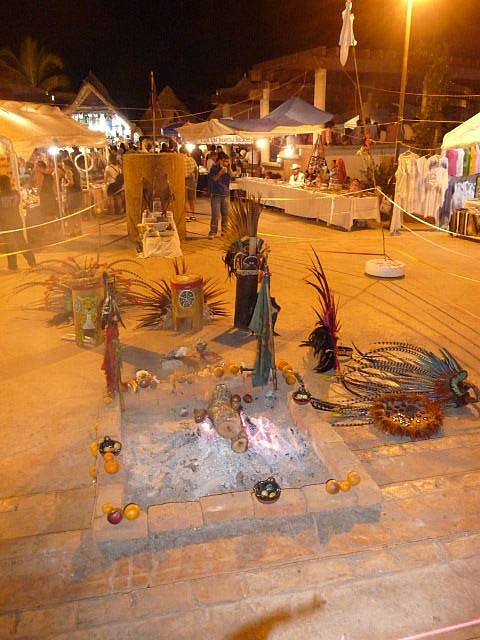 One of the frequent indigenous cultural fairs that takes place either in Lazaro Cardenas park (above)
or at Miguel Hidalgo park annually, usually in February and/or November.
Participants above appeared to be mostly from the state of Oaxaca.
Several indigenous communities will participate and share their dance and ceremonies, food,
healing / medicine, art and crafts. The dancing and drumming are among my favorites.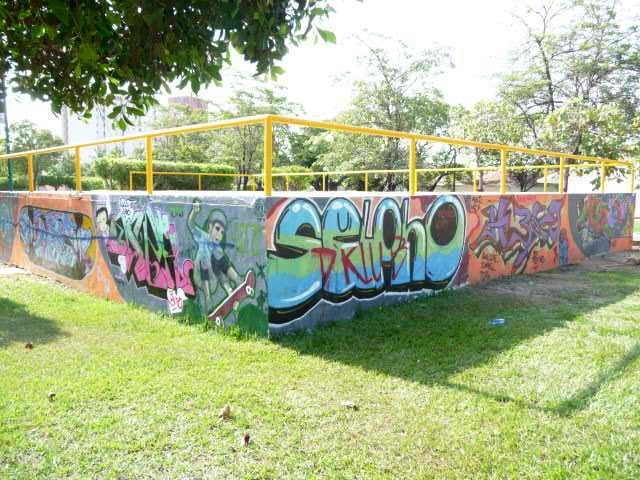 local street artists and graffiti drawings at the Vallarta municipal sports complex skateboard area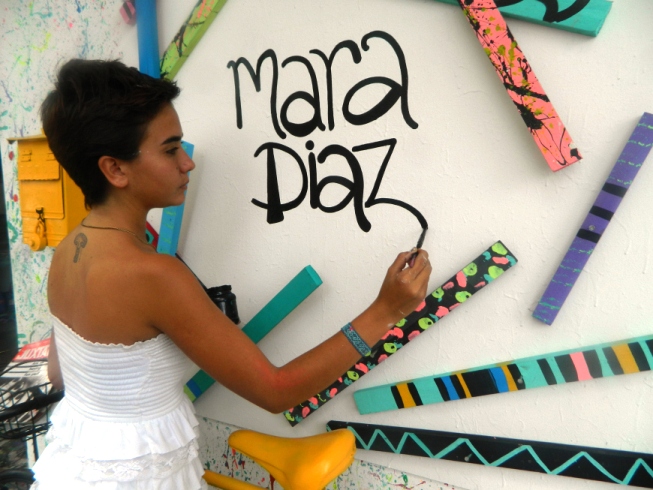 artist Mara Diaz who once had her gallery on Los Muertos Beach at 102 Pulpito.
She creates paintings and murals, hand-painted furniture, unique pieces and accessories.
further info here at her Facebook page