Rentals & Lodging
Puerto Vallarta Condos
- Condominiums LP
- Beach condos PB
- Beach rental ED
- Molino de Agua
- Beach condos PDS
- Vacation rentals PM
Gay Hotels Vallarta
Puerto Vallarta Villas
- Two bedroom villas
- Three bedrooms
- 4 bedroom villas
- 5 & 6 bedrooms

Gay Puerto Vallarta
Art & Art walk
Botanical Gardens
Cafes - internet
Calendar Gay Events
Community Groups
Contact Info
Excursions & tours
Gay Bars
Gay Beach
Gay Cruises & Tours
Gay Links, etc
Gay Puerto Vallarta
Guadalupe celebration
Hurricane Kenna
Gym - spas
Law and Custom
Lesbian Vallarta
Malecon downtown
Malecon pictures
Map
Marina Vallarta
More Gay Bar photos
More Gay Beach pics
More Malecon photos
Other Beaches
Pics Art & art galleries
Puerto Vallarta photos
Puerto Vallarta sunset
Quick Gay Travel tips
Restaurants
Restaurant pictures
Sayulita getaway
Services
Shopping & stores
Straight Bars & Clubs
Straight Nighlife pics II
Tourist Info
Vallarta Annual events
Vallarta Weather
Whale Watching tours
Sayulita, Nayarit - Twenty miles or so beyond Bucerias, but on the Pacific coast, is a favorite gringo getaway, the small picturesque village of Sayulita with its some 3,000-4,000 inhabitants. Surfers like it because the cove there gives good waves pretty much the whole year (the best waves are November to April, which depends on the north swell), and it is the favorite surf spot in the extended Banderas Bay area. A good number of the finest (and handsomest) surfers in Mexico live and surf here; long board and short board are both popular and surf lessons are offered on the Sayulita beach for all levels. There are a number of pleasant beachfront restaurants, including the upscale Don Pedro's and the popular Capitan Pablo's, as well as bungalows, villas, guest houses and camp grounds. Several of the world-class golf courses in and around Puerto Vallarta and Punta de Mita are a relatively short drive away. Located approximately 60-70 minutes north of us, along what they now call the Riviera Nayarit coastal region, it's a great place to vacation and a fine getaway from the often busy city life in Puerto Vallarta.

The dusty streets of the town all converge on the small town square, which has several restaurants, an ice cream shop and grocery store, a great coffee shop-eatery, the church and town billiard hall, a row of houses and a bar or two facing it. This is the look of hundreds of small villages in Mexico. As Janelle Brown reported in the NY Times in 2003, the town still "retains its traditional lifestyle: residents buy fish off the beach, chicken from the woman in the square, and everything else (mops, strainers, plastic chairs) from the trucks that occasionally drive around town." The town is being rather rapidly developed, alas, but still retains much of the laid back energy and small town Mexican charm that Americans and surfers find appealing.

The Sayulita beach is long and lovely and is one of my favorite getaways. One of the most useful sites for general info and photos is the Sayulita, Nayarit website which has been around now for over 13 years, and the even more informative sayulitalife.com site as well which has tons of info on bars and nightlife, restaurants, services, shopping, surfing schools, instructors and surf guides, and the rentals of local oeanfront and ocean-view villas and condos.

Since the beach town is such a great and well-known surfing destination in Mexico and catches the surf swell year round (the water temperature range averages from around 74-84 °F annually), here are some of the Sayulita surf shops and surfboard rental spots that I know of: Sininen Surf Shop at #4 Delfin, Tel: 329-291-3186 which has a big selection of boards, wax, and clothes; Lunazul Surf Shop & School at #4 Marlin street right next to Don Pedro's beach-front restaurant with Phone: 329-291-2009; Erizo's Surf Shop at the beach, Phone: 329-291-3738; Patricia's Surf School for over 10 years at Captain Pablo's on the beach, Telefono: 329-291-2070; Pazport Surf school and shop for lessons, rentals, boat tours at #20 Miramar; Quiverito surfboard rentals and sales, #12 Marlin, Tel: 044-322-171-6453; and the Duende Surf Shop which is located in Papa's Palapas beachfront center on the surf break for rentals and instruction. There's also Sayulita surf camps founded by Alberto Carlos Sanchez to check out. And of course along the way from the city, check out the popular Coral Reef Surf Shop in Bucerias at 114 Heroes de Nacozari just off Highway 200, Tel: 329-298-0261.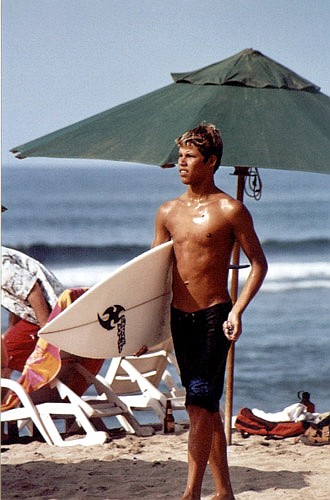 Adan Hernandez, now one of Mexico's top surfing champions.
Other fine surfers have included Kalle Carranza, Dylan Southworth, Diego (Tigre) Cadena,
Patricio Gonzalez Hernandez and Geovani Cervantes.