Puerto Vallarta Villas for Rent - Four Bedroom Luxury Villas
Ocean-View and Beachfront
To view photos of of the villas listed below, as well as with additional detailed info, click on the reference number after the villa description. Please allow time to download the photos.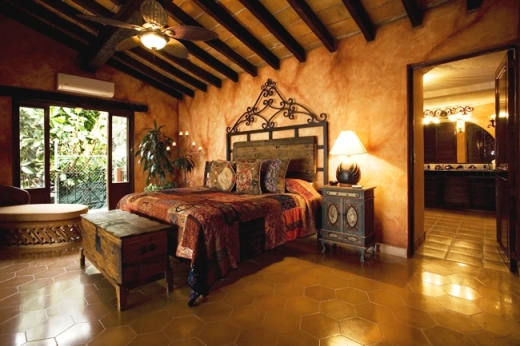 Puerto Vallarta luxury vacation villa Casa Paraiso CPA-4
Puerto Vallarta Four Bedroom Villas
Recently renovated four bedroom, four bath Puerto Vallarta villa that sleeps up to eight persons. Completely walled in, it has security and seclusion yet offers its guests magnificent views of the town and Banderas Bay from its hillside location in Alta Vista. This vacation rental is nicely decorated, has high ceilings in the combination living and kitchen area, and the dining/family room features a gas log fireplace. The amenities include three cable TVs, two VCRs, stereo system, air conditioning in all bedrooms, large patio and swimming pool with wet bar and thatched palapa for shade, an old moorish fountain, washer/dryer, and a staff. Cook available for extra. Nov 1-Apr 30, $500 per night; Summer: May 1-Oct 31, $500 per night plus free night/s; Holidays: Dec 19-Jan 3, $850 per night. Ref. CC-4

Mexican style jewel with spectacular views of bay and town. Lovingly restored with superb attention to detail providing the ultimate in luxury and comfort. Specialty Faux paint, handmade tiles, custom made furniture and hand-woven textiles are just a few of the high-end design details found in this classic hacienda-style villa. Vaulted beamed ceilings and floor to ceiling windows provide lots of light and fabulous views from all rooms. Expansive terrace off the main living area perfect for dining and sunset cocktails for viewing of the city skyline at night. Property includes: 4 bedrooms with ensuite baths, a/c, private terraces & ocean views; solar heated pool; media room with large screen TV, DVD and game table; stereo with CD Bose speakers with iPod access; high speed wireless internet; gourmet kitchen with purified water from tap. Three bedrooms with king bed, one bedroom with queen bed. Nov 1-Apr 30, $750 per night; Summer, $600 per night; Holidays: $1100 per night. Ref. CPA-4

Situated just above the Conchas Chinas beach with 6,000 sq. ft. of living space, the Villa Marea Alta offers four spacious air conditioned bedrooms, with an additional fifth bedroom in the "mother-in-law" apartment downstairs. The villa is beautifully furnished with antiques and Latin American art. One of Vallarta's loveliest beachfront properties, the villa features fully equipped kitchen, infinity pool, living and dining areas with balconies and ocean views, sun terrace, gas burning fireplace, hand carved stone fountains, four televisions with satellite, sound system, telephone for long distance, in-house water purification system, 5.5 baths with hand made ceramic tiles or Mexican marble, enclosed garage and an elevator to the beach. The crescent-shaped terrace finished in Mexican tile provides ample space for sun bathing, with lovely views of Banderas Bay. Staff of three: Houseman, cook and maid. The villa Marea Alta may be rented with 4 or 5 bedrooms. Nov 1-Apr 30, 4/5 bedrooms: $1025/$1225 per night; May 1-Oct 31, 4/5 bedrooms: $850/$1050 per night; Christmas and New Years weeks, 4/5 bedrooms: $2250/$2500 per night. Ref. VMA-4 Marea Alta

One of Puerto Vallarta's impressive old "Vallarta style" villas with some 12,000 square feet of indoor and outdoor living space. Built on multiple levels it is a study in natural elements with a soaring 70-foot tall and 50-foot wide palapa which embraces open air living. This luxurious vacation rental is located directly on a breathtaking white sandy beach in famed Conchas Chinas, and is a tranquil oasis just a short drive from the colorful energy of the South Side and the gay beach. The Vila Verde was built during the jet set Hollywood days with many of the traditional details and has been impeccably maintained, with all the amenities you might need for a perfect getaway. The architecture has a Mediterranean influence with vaulted ceilings with massive wooden beams and red tile roof. Winter: $1500 per night; May 1-Oct 31: $1200 per night; Christmas and New Years weeks: $2000 per night. Ref: VV-5

High-end design and architectural details make this newly constructed four bedroom, four bath villa a top luxury property. The villa offers spectacular views of Banderas Bay and the Sierra Madre mountains from the upper Conchas Chinas hillsides. Features four ensuite bedrooms plus a media room with giant flat screen TV and luxury amenities such as natural stone countertops, custom hardwood cabinetry, walk in closets, ocean views from showers and Master jacuzzi bath, gourmet kitchen and an infinity pool. Professionally decorated with imported Indonesian and Asian furnishings. Contemporary and organic elements such as palapa roof over the main living area, river rock accents in the floors, fountains and lounging bed with mosquito netting. Nov 1-Apr 30, $1200 per night; May 1-Oct 31, $1050 per night; Holidays, $1,700 per night. Ref CE-4

Great oceanfront location in the desirable lower Conchas Chinas area close to Puerto Vallarta. French doors, domed ceilings, white stucco walls, fountains and patios create a light and airy ambience in this romantic tropical setting. One of the best beaches in Conchas Chinas is just a few steps from this Puerto Vallarta beachfront villa. Three of the 4 bedrooms have ocean view; pool (not heated), landscaped gardens, wireless internet, cable TV with DVD, CD player and iPod dock, water purification system throughout this vacation rental. Cook service twice daily. Nov 1-Apr 30, $750 per night; Summer: May 1-Oct 31, $750 per night with free night/s; Holidays: $1,200 per night. Ref. CDM-4

Newly constructed villa combining upscale contemporary design and organic architectural details. The Amapas hillside location gives this spacious 7500 sq. ft multilevel villa breathtaking views of bay and town. Luxury finishing details include custom hardwoods, natural stone floors and countertops, handmade tiles, huge baths and walk in closets. Professionally decorated with designer furnishings, one of a kind decorative pieces, custom lighting fixtures and an impressive art collection. Property features: 4 ensuite bedrooms each with private attached bath, a/c and terraces with ocean view, a heated Infinity pool and jacuzzi spa, media room with plasma TV, wireless internet, broad band phone for free long distance to US and Canada, gourmet kitchen with commercial appliances, gas grill, and a water purification system throughout the villa. Ref: CHI-4

While filming "The Night of the Iguana" in the early '60s, director John Huston rented this villa to enjoy the fabulous hillside panoramic views of Puerto Vallarta and Banderas Bay. One of the original houses in the Gringo Gulch area, architect James Meares, a designer of Los Angeles Dorothy Chandler Music Pavilion, recently remodeled it adding contemporary flair so that it is now professionally decorated and with an impressive and lovely art collection. The villa's central location makes it an easy walk to Los Muertos beach and steps away from shops, fine restaurants and the Malecon boardwalk downtown. Villa amenities include four bedrooms, five baths, cable TV, a/c in all bedrooms, stereo/CD players, laundry service, two fireplaces, a maid and cook. Nov 1-Apr 30, $700 per night; May 1-Oct 31, $500 per night; Dec 15-Jan 5, $1000 per night (Add 15% tax to these rates). Ref: CTA-4

A new deluxe, contemporary four bedroom villa situated on a beautiful white sandy beach located on the scenic Mismaloya highway. Clean lines, granite countertops, seagrass furniture, large glass picture windows, stainless steel and original artwork add to the beauty of the natural setting. Four bedrooms each with a/c, satellite TV, VCR, and private bath. Villa features large living room, dining area and modern fully equipped kitchen, and an Infinity style heated swimming pool. outdoor grill, music wired to all bedrooms, and a water purification system throughout the entire villa. Bordered on one side by a rocky point with a sea cave, and a fabulous private beach on the other, the ocean views are spectacular and an ideal setting for relaxed and elegant entertaining. Minimum seven nights. Ref: CS-2

Air conditioned ocean front villa on two levels with 3,500 square feet of living space which has four bedrooms with king beds and sleeps up eight. The villa has four baths, private pool, fireplace in the spacious living room, ceiling fans, beach chairs and towels, daily maid service, cable TV, CD player, VCR and a fully equipped kitchen. Located right at sea level and features a jacuzzi. A personal cook can prepare two meals a day upon request. One of three sister villas in a large seven floor building on the Conchas Chinas beach, TVM-1 occupies the lower levels. Ref. TVM-1

Situated just above the Conchas Chinas beach with over 6,000 sq. ft. of living space, this villa offers three en-suite bedrooms, a guest room and five baths. Each en-suite bedroom with its own cable television and balcony with ocean view, the master with its own sitting terrace. The fourth bedroom with twin beds is up a private stairway and has a whimsical design perfect for children. The villa has been recently remodeled and has a Mediterranean influence with vaulted ceilings, hand painted murals, tile floors and one of a kind decorative pieces and original paintings and sculpture. One of Vallarta's loveliest beach front properties, the villa features fully equipped modern kitchen, spacious living and dining area opening onto the terrace, traditional timber beams, recirculating hot water, elevator, telephone, laundry room and an in-house water purification system. Ref: VAM-1

This stunning 4 bedroom, 6 bath villa, featured on the cover of 'Leading Estates of the World', is one of the more spectacular Puerto Vallarta rental homes. Villa Francisco offers a remarkable 180 degree view of beautiful Banderas Bay. Within its lush landscaped securely gated compound, this Puerto Vallarta luxury villa features over 7,150 sq. ft. of indoor and outdoor living space great for entertaining or for lounging on the expansive cantera stonework terrace beside the heated infinity pool or at the palapa covered outdoor bar. The interior living, dining, kitchen and bar areas of the house flow seamlessly outdoors through tempered glass doors and all four bedrooms have private balconies. All the usual high end amenities. Cook can prepared up to two meals per day. Winter: Nov 1-Apr 30, $1250 per night; Summer: May 1-Oct 31, $850 per night; Holidays: Thanksgiving, Christmas, New Years, $1500 per night. Ref: VFR-4
A four bedroom, 4.5 bath European style villa with sweeping views of Vallarta and Banderas Bay from nearly every room in the house. The winding staircase with stained glass windows leads to the second floor master suite with king sized bed. A palapa roofed terrace opens off the master bedroom and there you can enjoy the lovely views. On the third level are the other two main bedrooms, one with a double bed and the other with two doubles, private baths and terraces with ocean view. Fourth bedroom set up as studio apartment with two twin beds, bath, microwave and frig. Villa features dipping pool, sundeck patio with city and bay views, CD player, telephone with Vonage, two cable TVs, a/c in bedrooms, DSL wireless internet, water purification system, grill/BBQ, VCR, DVD, washer and dryer. Nov 1-April 30: $480 per night; May 1-Oct 31: approx. $335 per night; Holidays: $525 per night. Ref: VRO-3

This four bedroom beach front villa is nicely furnished with an emphasis on color and comfort. The open air living and dining area has a unique palapa-style ceiling with lovely ocean views, which is perfect for entertaining. The villa features satellite TV, commercial size kitchen with water purification system, and large heated infinity pool and terrace. The main part of the house has three bedrooms, each with a/c and private bath; on the upper level is a spacious master suite. Three kings and two singles/king. With it's spectacular ocean views, this villa is an ideal setting for relaxation or elegant entertaining. Sleeps up to 8. Staff includes cook, maid and houseman. Located approx. 3-4 miles south of Vallarta's South Side. Min 7 nights. Ref. CS-1

A lovely villa in the heights of Alta Vista near the South Side with three separate suites: a two bedroom of 1,600 sq. ft; a one bedroom penthouse of 1,600 sq. ft; and a casita one bedroom of 1,400 sq ft, each with their own kitchen, living and dining area, a/c and ocean view terrace. The villa includes common dipping pool and sun deck terrace, BBQ, daily maid service, lots of tropical plants and because of its hillside location, all levels have outstanding panoramic views of the city and Banderas Bay. A private cook and laundry service are available for extra. Accommodates up to eight persons total. (Can be rented as separate units or together, thus 2, 3 or 4 bedroom villa). Ref: CLA-8

Clicking on a link below will take you to a separate page.
Please be sure to note the important information below.

Puerto Vallarta Two Bedroom Villas
Puerto Vallarta Three Bedroom Villas
Puerto Vallarta Five & Six Bedroom Villas Puerto Vallarta Seven-Ten Bedroom Villas


Important Information
Rates: Rates are quoted per night, in US dollars. Quoted rates include all taxes, amenities and maid service. Note that maid and staff tips are not included, so please be generous to the staff, as I am sure that you will receive good to excellent service.
Inquiries, for further information or to make a reservation, contact Michael Mayo: email: michaelmayo72@prodigy.net.mx or Phone: 011-52-(322)-222-6918
Terms: Villa rentals are payable by cashier check or official bank money order, no personal or business checks or Post Office money orders. Credit cards not accepted, as the owners whom we deal with are not set up for them. To confirm your reservation, the 50% deposit needs to arrive in Puerto Vallarta within five-seven (5-7) days. The final payment is generally due 35-60 days before arrival, though the time varies from villa to villa. Many villa owners now consider the initial deposit to be non-refundable unless the villa can be re-rented for the exact same time period. Accommodations are subject to availability until your reservation is confirmed. Most villas require a refundable security deposit, which is held in case of damages and sent back within week of your departure. Maid service is usually six days per week, and Sunday is almost always the one day off for the staff. If you want a written confirmation of your rental or a rental agreement, please ask, otherwise the email correspondence and confirmation are sufficient.
Owner/Agent Responsibility - The owner is responsible for the following: A) That the property is well maintained and that any repairs needed be done in a timely fashion. B) Neither Discovery Vallarta/Michael J. Mayo nor the Property Owner, their agents or employees shall be held responsible for any injury, loss or damage to any person or property of persons occupying said property. C) Neither Discovery Vallarta/Michael J. Mayo nor the Property Owner shall under any circumstances be held responsible for any disturbance or inconvenience to Guest and invitees while occupying the Property, or for the actions of its neighbors or the surrounding area. D) All information provided by Discovery Vallarta/Michael J Mayo, while deemed true and reliable, is not guaranteed. Changes in inventory, items and decor may occur from time to time and such changes will not void the terms of any rental arrangement or agreement.




---
Top of page | gay beaches | vallarta condos | shopping & malls | gay nightlife | Gay Puerto Vallarta
excursions tours | vacation rentals PM | vallarta annual events | gay tours | downtown malecon
straight nightlife | vallarta pictures | restaurants | gay puerto vallarta hotels | Email contact