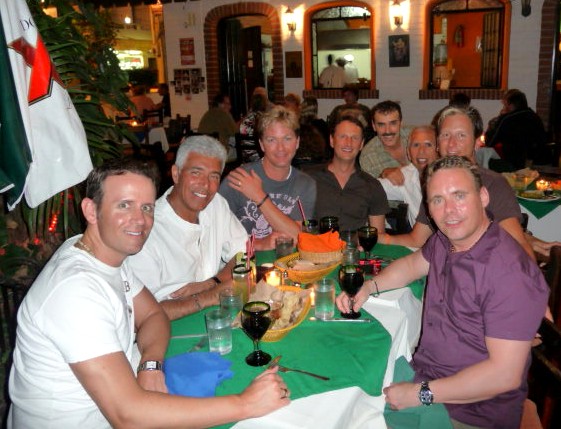 Cafe Bohemio in Puerto Vallarta Mexico - popular gay-owned restaurant in
Old Town at 127 Rodolfo Gomez street, serving dinner Mon-Sat, 5pm-Midnight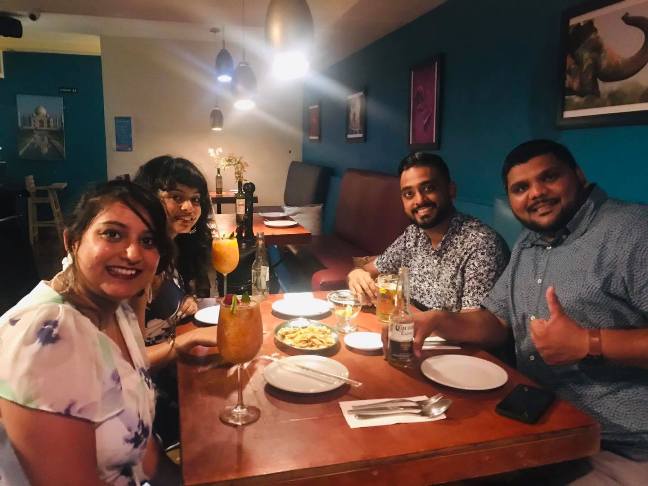 Downtown at India Gate restaurant, 124 Allende street
one block up from the Malecon boardwalk. Good to very good reviews overall.
Dinner, Tues-Sat, 5pm-10pm and Sun, 2pm-9pm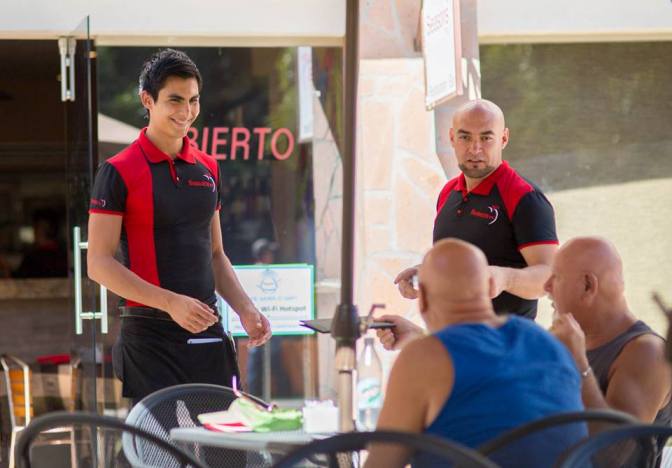 Seasons PV - new restaurant on the South Side at 130 Ignacio Vallarta in the Rivera Molino plaza
Canadian/American style with a touch of Mexican
Gay staff serving breakfast, lunch and dinner, Sun-Thurs, 9am-9pm and Fri-Sat, 9am-10pm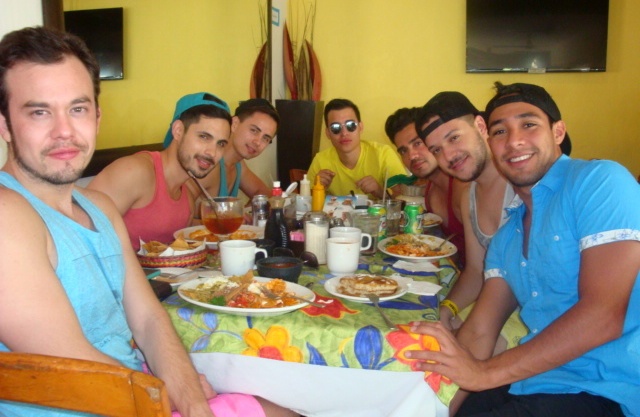 Over the years one of my favorite breakfast places has been Fredy's Tucan (facebook)
same location at 245 Basilio Badillo since November 1981.
Popular. Daily, 8am-3pm. Phone: 322-223-0078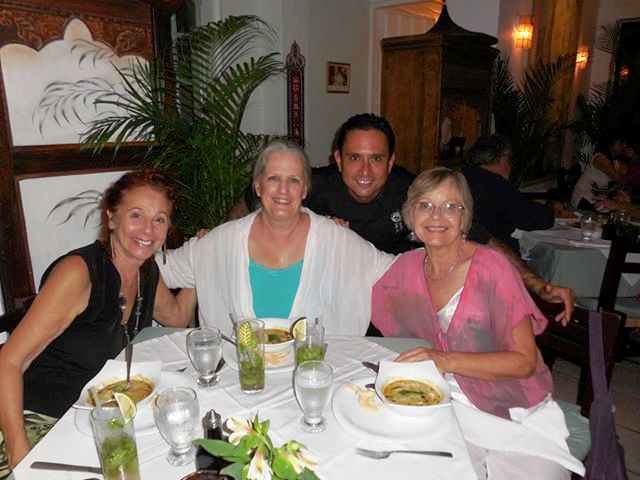 Opening night October 7, 2013 at Archie's Wok in the Romantic Zone near the Los Muertos pier
with Cathy and Barra on the left and my friend, owner Cindy Alpenia on the right, and in the middle her son Sergio.
Archie's is always voted the best Asian restaurant in town year after year.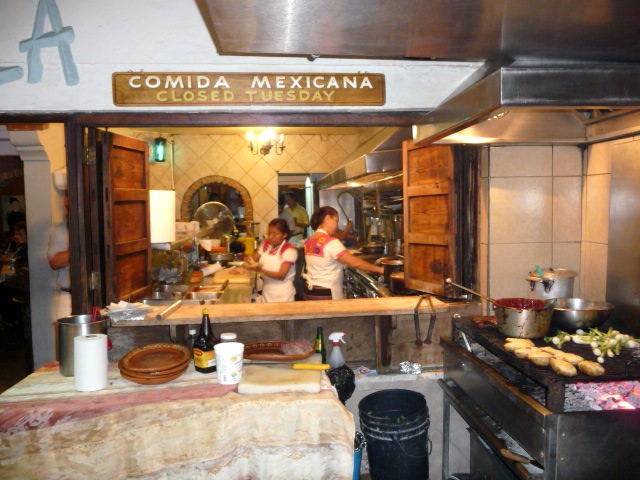 Cafe de Olla in Puerto Vallarta, among the best in Mexican food; a great restaurant; kitchen and BBQ

One of my favorite places for coffee, lunch or dinner has been Langostinos (facebook)
located on Los Muertos Beach near the pier for decades
Popular for food, service and location.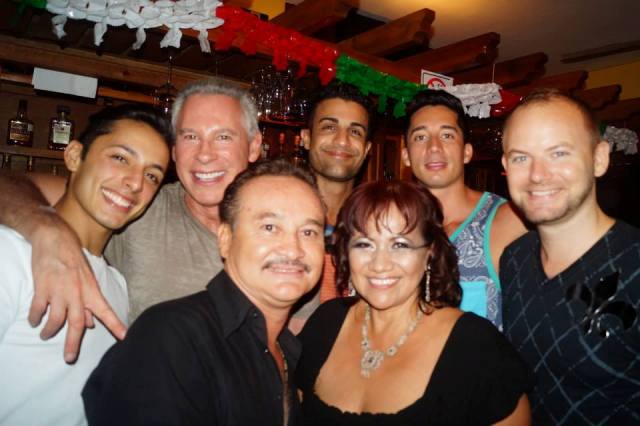 At popular award-winning and gay-friendly No Way José!, September 2014
Good reviews and word of mouth, and I've had several delicious meals there myself
Located in Old Town at 5 de Febrero #260, cross street at Ignacio Vallarta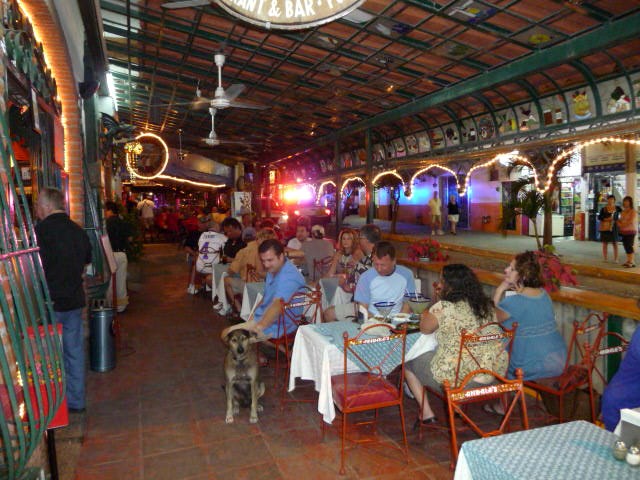 Andale restaurant and bar straight nightlife on the South Side Zona Romantica for well over 35 years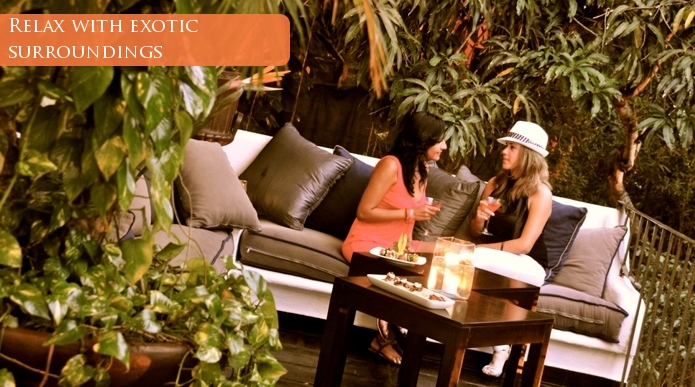 Puerto Vallarta gay restaurant bar Taste at gay hotel Casa Cupula, Tel: 322-223-2484
Taste restaurant menu with a taste of four different cuisines: Mexican, Asian, US and South American.
Daily for breakfast, 9am-Noon; lunch with fresh salads, sandwiches and light affaires;
Dinner, Mon-Sat, 6pm-11pm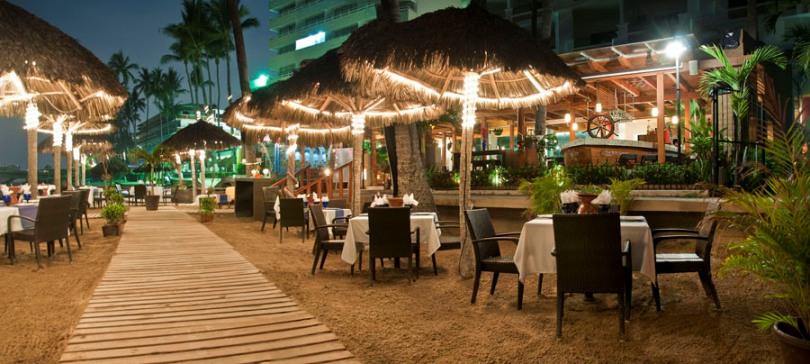 Gay-friendly dining beachfront at the Puerto Vallarta Si Senor restaurant, with Mexican and seafood.
Located right next door to the La Palapa restaurant on Los Muertos beach.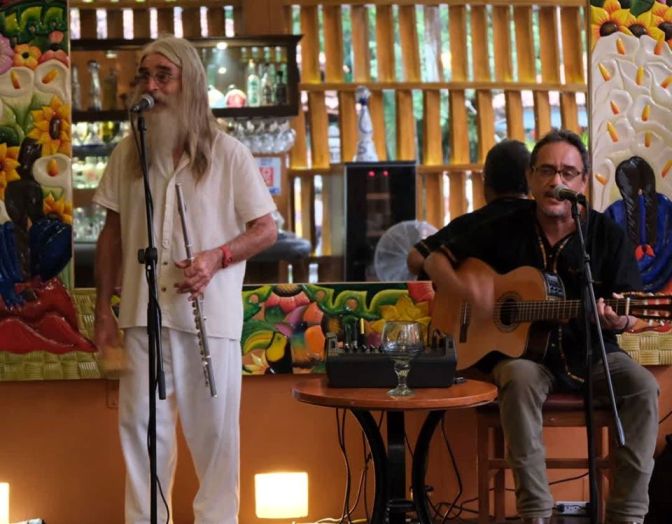 Live music several nights a week at the River Cafe located along the Cuale River which is noted for
its romantic atmosphere, excellent food and quality staff.
Daily, 8am-11:30pm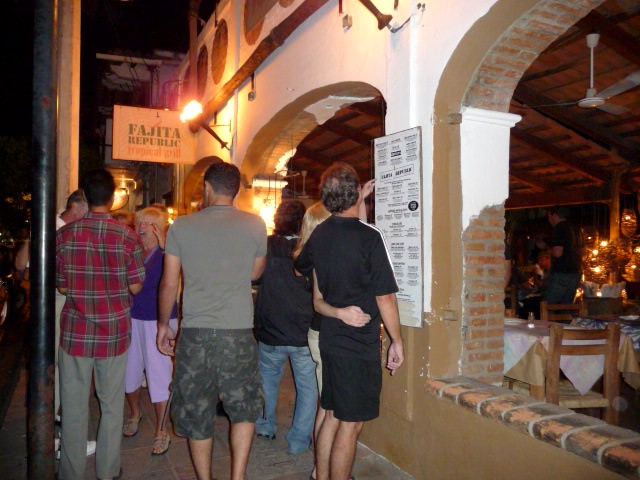 Vallarta restaurants - the Fajita Republic (before remodeling) on Restaurant Row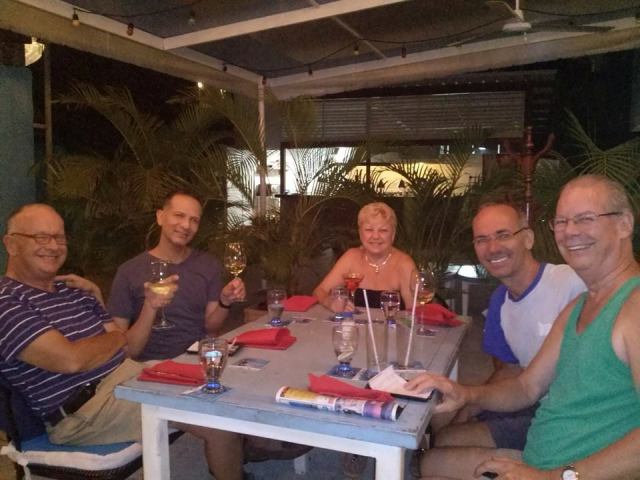 Joseph, John and friends having drinks and seafood dinner at gay-managed Mr.Pulpo (now closed)
Photo thanks to Javier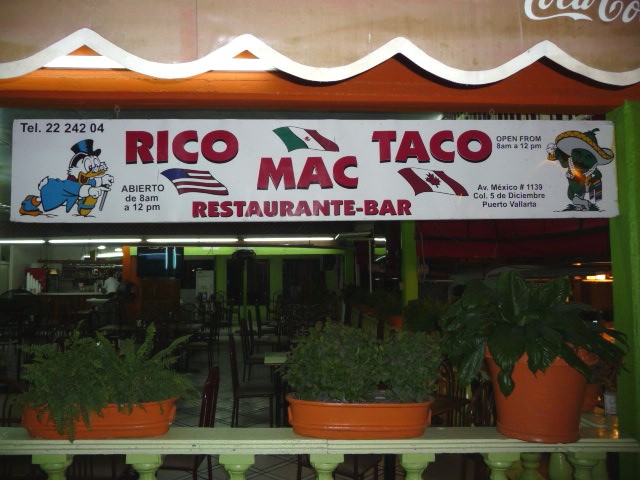 For a quick bite of Mexican food, Rico Mac Taco just north of the PV downtown Malecon boardwalk


Sports bar and restaurant Nacho Daddy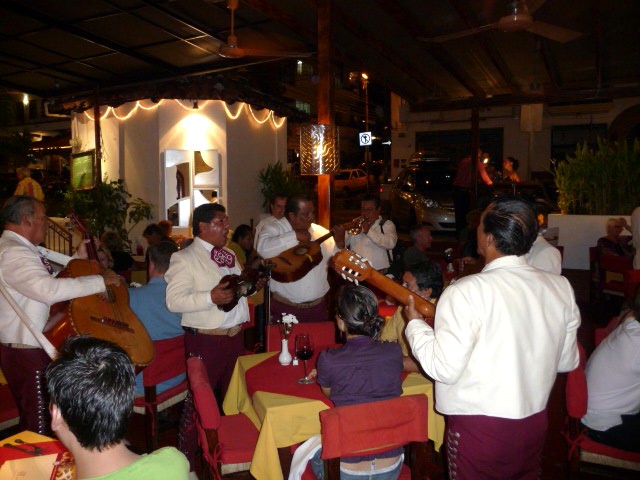 Mariachi music at La Piazzetta restaurant in the Romantic Zone / Zona Romantica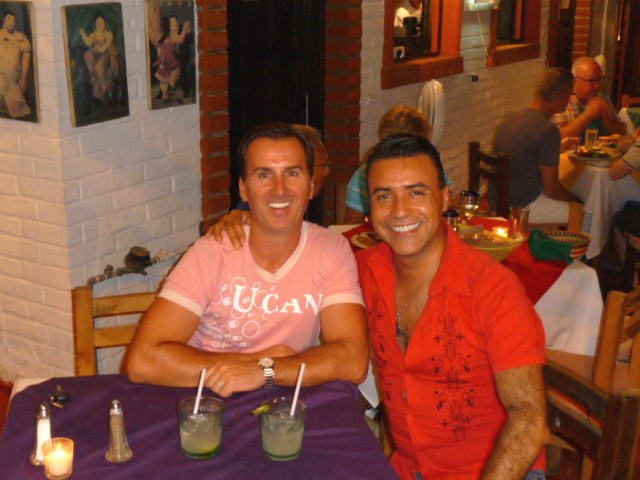 Puerto Vallarta gay restaurant Cafe Bohemio with Pierre and Francisco Rincon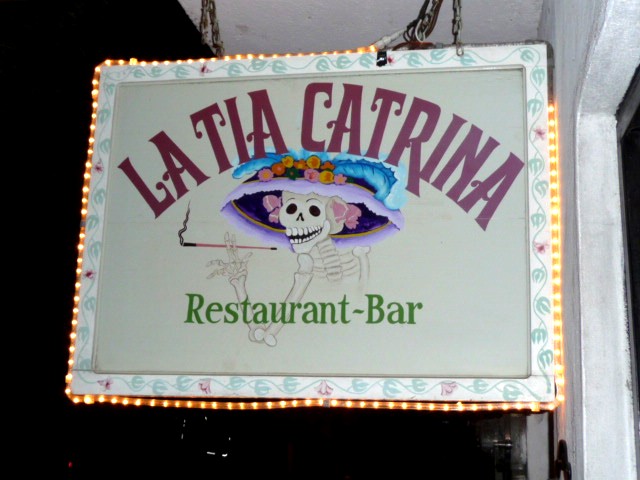 La Tia Catrina (now closed) on Restaurant Row or Basilio Badillo street - gay-friendly restaurant in Puerto Vallarta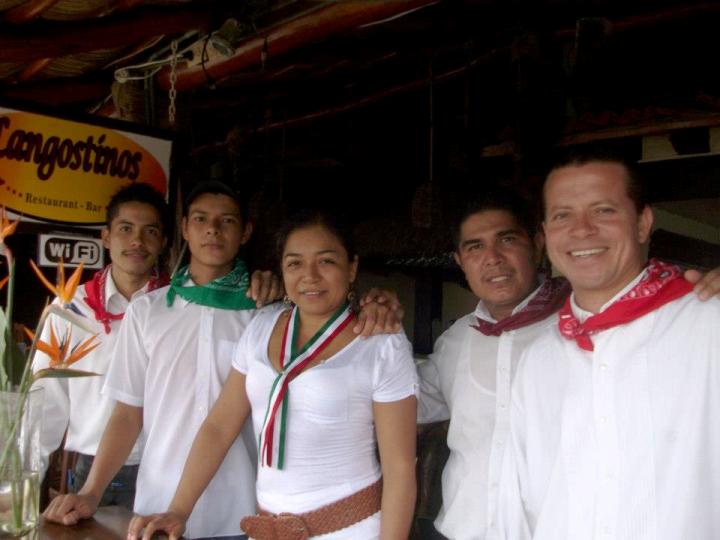 Some of the handsome staff at Langostinos restaurant bar -
with seating inside or on the beach under the palapas.
Located near the Pier and next door to the Cuates y Cuetes on Los Muertos beach.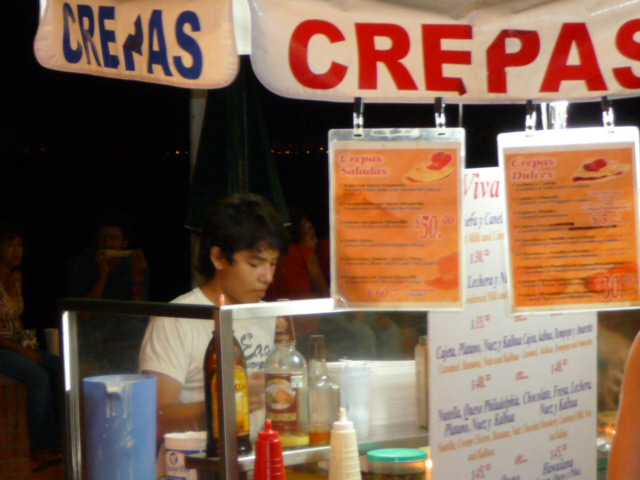 Evening crepes at one of the stands along the New Malecon Extension ocean-front along Banderas Bay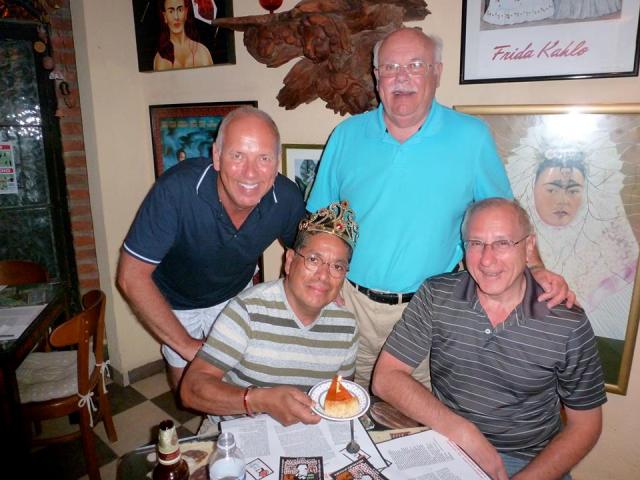 Mickael, Stan and Jim celebrating Rubin's birthday in December 2014 at the Red Cabbage Cafe
Recommended by Lonely Planet, Bon Appetit and the Toronto Star, Frommer's rated the
Red Cabbage/El Repollo Rojo as "exceptional traditional Mexican cuisine". Woman owned and operated.
Felicidades Rubin!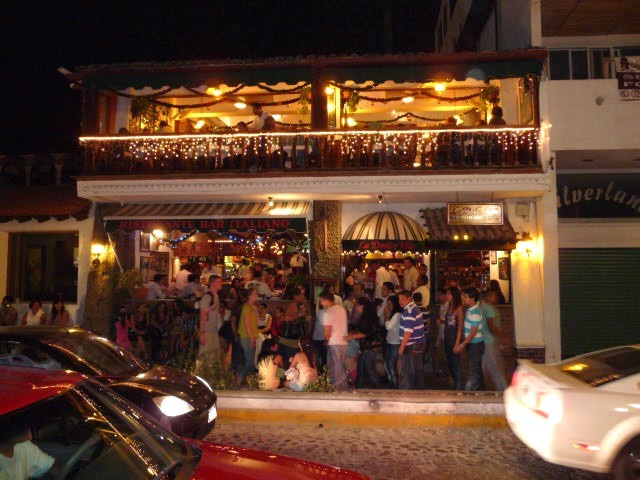 popular La Dulce Vita restaurant along the Puerto Vallarta malecon downtown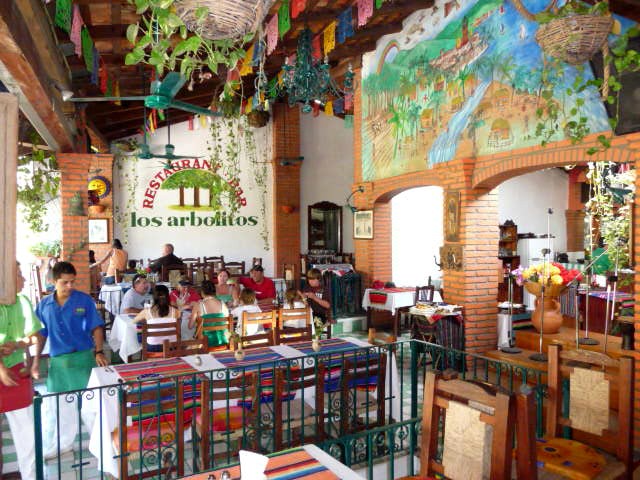 Los Arbolitos restaurant family owned and operated, along the Cuale River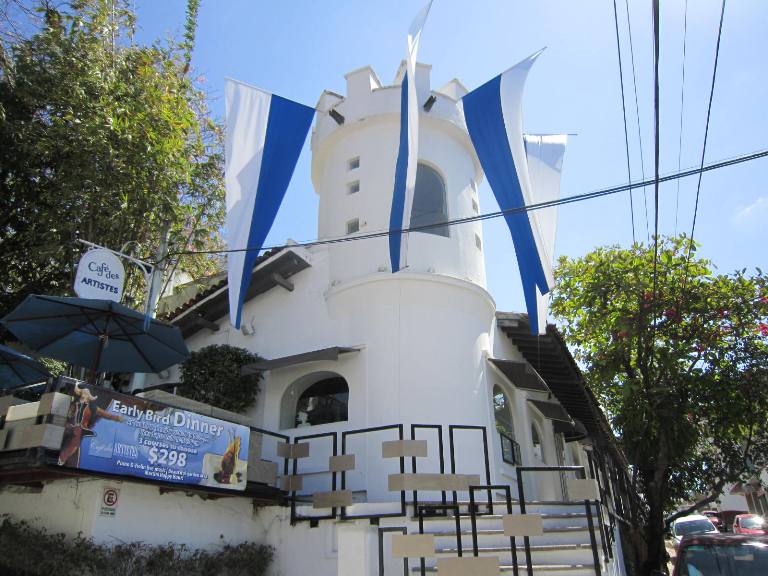 The great Puerto Vallarta Cafe des Artistes gourmet restaurant, recently celebrating 21 years of PV fine dining
with chef Thierry Blouet, located at 740 Guadalupe Sanchez.
Daily, 6pm-11:30pm. Dress code: Formal casual. Phone: 222-3228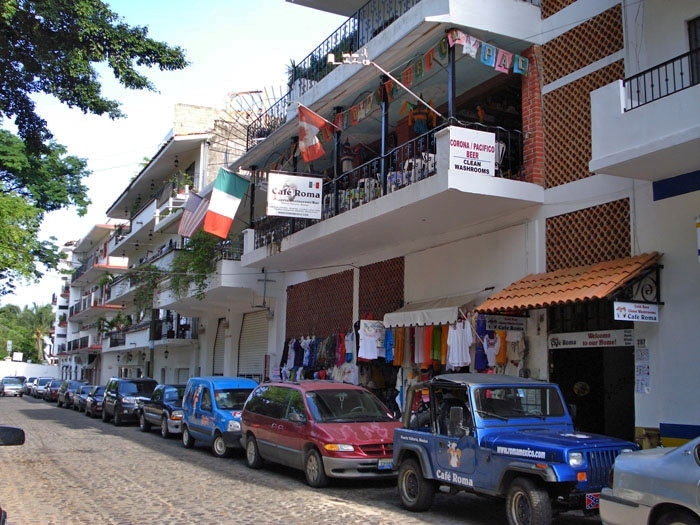 Puerto Vallarta downtown restaurant Cafe Roma located at 287 Encino street, upstairs. Phone: 222-7378
Italian restaurant-pizzeria and bar near the municipal flea market and across from the Cuale River.
Since 2006 noted for its home-style environment. Has karaoke and open mic nights.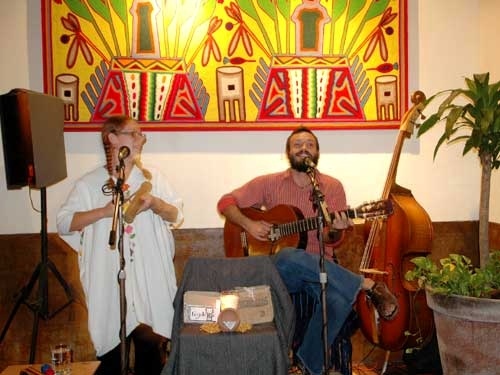 Local musicians at gay-owned Puerto Vallarta Mexican restaurant El Arrayan
downtown at 344 Allende corner of Miramar street, phone: 322-222-7195
Voted "Best Mexican" in Puerto Vallarta for five years in a row 2005-2010
El Arrayan restaurant serves many traditional recipes from various parts of Mexico
Notice the colorful Huichol yarn art in the background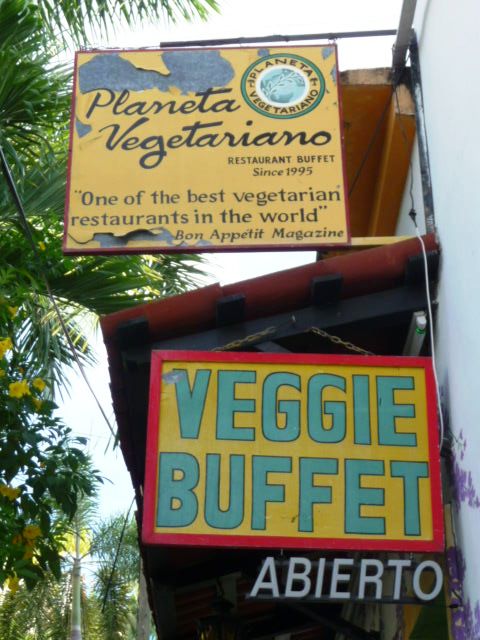 Planeta Vegetariano in downtown Vallarta at 270 Iturbide street
A wonderful popular little place with an all-you-can-eat vegetarian lunch buffet
A la carte menu for dinner, 7pm-10pm
Colorfully decorated and a tranquil atmosphere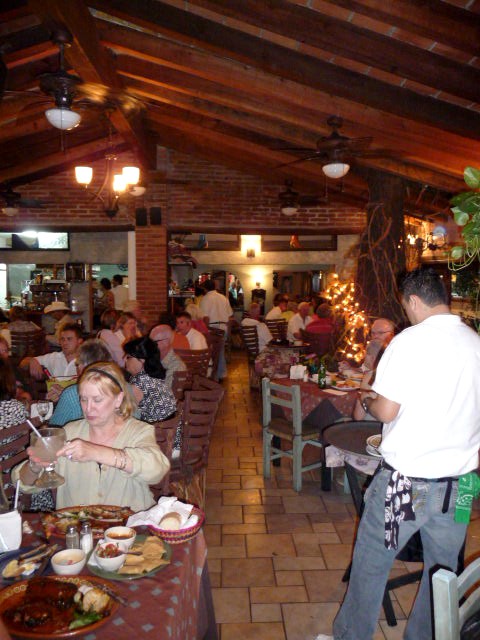 Puerto Vallarta Mexican food restaurants - famed Cafe de Olla at 168 Basilio Badillo street.
A long time favorite of mine for over 25 years on the South Side in the Romantic Zone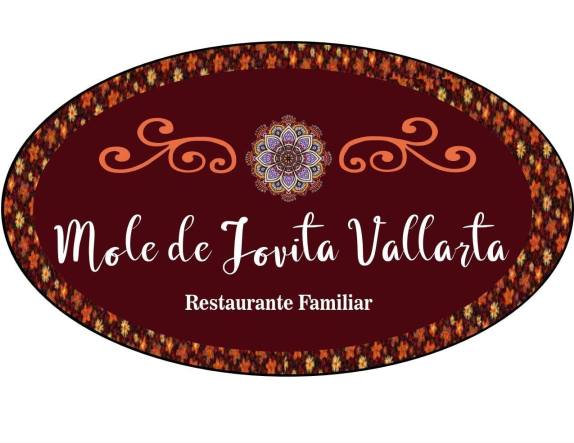 There's good word of mouth for Mexican restaurant Mole de Jovita Vallarta at 220 Basilio Badillo
Menu includes sopes, tacos dorados con mole verde, the Mexican platter, chiles rellenos,
and tasty fish dipped in mole Jovita or poblana sauce. With inside or sidewalk seating.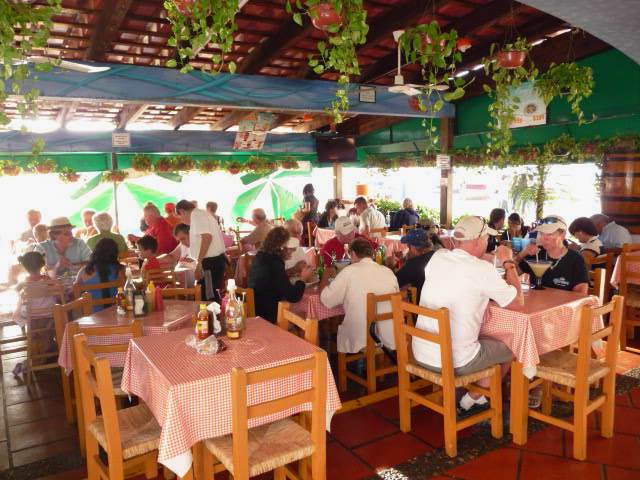 The popular marina Vallarta restaurant Mariscos El Coleguita
Popa Street local 17 at the Condos Marina del Rey
One of the most popular restaurants in the Marina with reasonably priced seafood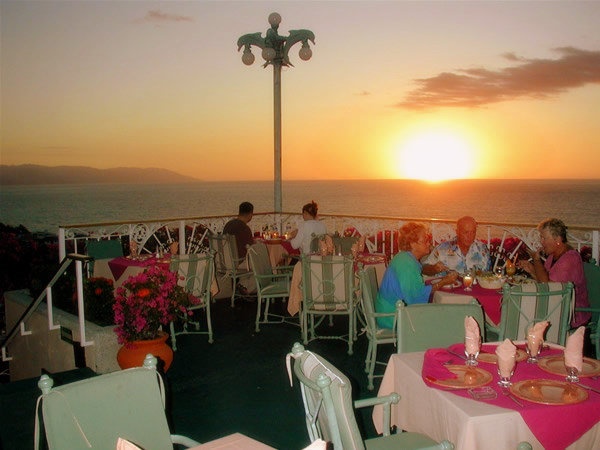 Puerto Vallarta sunset from El Panorama restaurant, downtown since 1973.
El Panorama is located at Josefa Ortiz de Dominguez and Miramar streets, Tel: 322-222-1818, 322-222-1824
The top four floors of the Hotel La Siesta make this restaurant and dining experience famous
for its incredible panoramic views of Banderas Bay and downtown PV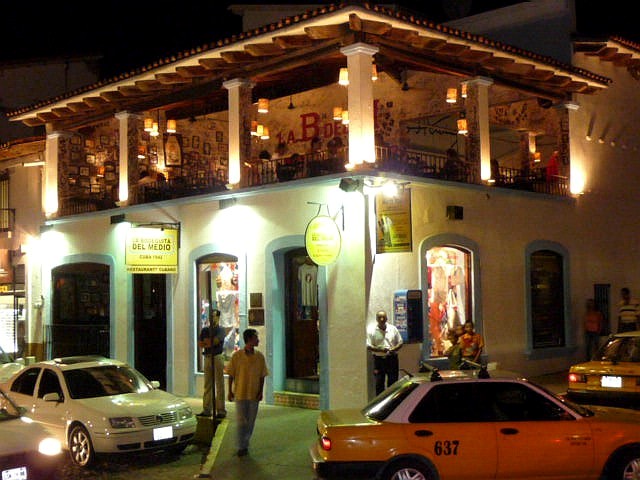 La Bodeguita del Medo restaurant bar with Cuban food and live music in downtown Puerto Vallarta, Mexico
at 858 Paseo Diaz Ordaz.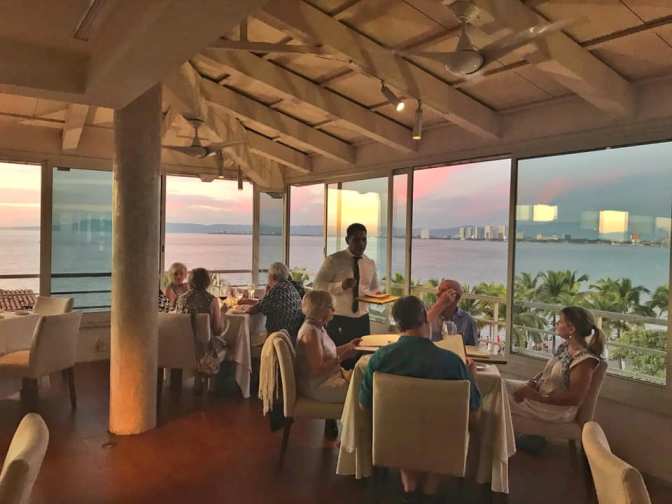 Fine dining at Bistro Teresa located in El Centro in the central Zocalo, rooftop at the main Vallarta Plaza
at 160 calle Zaragoza, Tel: 322-113-0281
Mexican and seafood dishes, vegetarian friendly, vegan options. Noted for its food, service and splendid views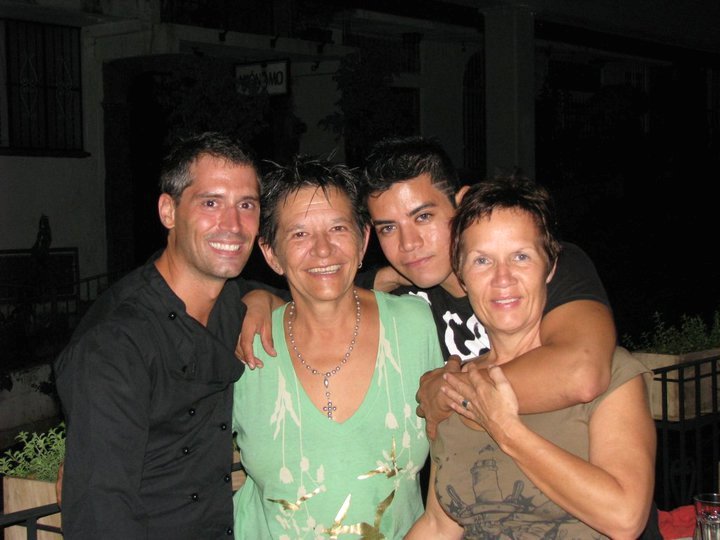 Old Town gay-owned restaurant Trattoria Michel with Michel Pascal Ferrari (rip), Charlotte and friends at the
3rd year anniversary in 2010.
Located at 507 Olas Altas street. Telephone: 322-223-2060


Puerto Vallarta Restaurants
more restaurant photos

"The right time to dine is: for the rich man, when he is hungry;
and for the poor, when he has something to eat." - Mexican saying