More Puerto Vallarta Beaches & Photos
Best beaches near Vallarta and around Banderas Bay -
Gay Puerto Vallarta Travel
Rentals & Lodging
Gay Vallarta Condos
- Condominiums LP
- Beach rentals ED
- Beachfront MDA-3
- Beach condos PDS
Gay Vallarta Villas
Gay Vallarta Hotels

Gay Travel Vallarta
Art Galleries
Cafes & coffee
Calendar of Events
Community & charities
Contact Info
Excursions & tours
Gay Bars & Clubs
Gay Beach
Gay Cruises
Gay Links etc
Gay Puerto Vallarta
Gyms - Spas
Important phone #s
Law & Custom
Lesbian Vallarta
Map
Malecon downtown
More Gay Bar photos
More Gay Beach pics
Quick Gay Travel tips
Restaurants
Services
Shopping
Straight Bars & clubs
Tourist Info
Vallarta Annual events
Vallarta Photos
Vallarta Weather



Some boogie boarding at Destiladeras beach near Puerto Vallarta, Mexico




More photos of great beaches of Vallarta and Banderas Bay
There are some one hundred miles of terrific and scenic coastline (with an estimated thirty to forty miles of sandy beaches) on Banderas Bay, the largest natural bay in the Republic of Mexico and the seventh largest in the world. Along much of the central area where the city of Puerto Vallarta in located and the northern parts of the Bay (which would include Nuevo Vallarta, Bucerias, La Cruz, Destiladeras and Punta de Mita in the state of Nayarit), you can find great beaches that often stretch for miles. To add to the pleasure of these beaches, many of which are swimmable, from late November through March it's not unusual or unexpected to be able to site schools of dolphins or whales. Swimming, parasailing, surfing, fishing, boogie-boarding, banana boat rides, sailing, scuba diving, snorkeling are popular outdoor attractions and things to do in the Banderas Bay area. You can find in Puerto Vallarta and the northern resort areas many beach-front restaurants and concessions, ranging from ritzy hotel dining to palapa-covered restaurants with basic amenities, good food and local prices.

Some places are more easily accessible than others and though all beaches in Mexico are technically supposed to be publicly accessible, some of the big hotel-resorts often co-opt the local authorities or effectively prevent free passage to the beach in their area. Below are some more pictures from some of the popular beaches around the Bay by Benoit Gagnon, and I'll be adding to these as time and interest permits.

Boca de Tomates - About a 30 minutes north of downtown Vallarta and just past the international airport is the rather hidden Boca de Tomates beach. It's located between the very northern end of the Marina and where the Ameca River (which divides Jalisco from Nayarit state) enters Banderas Bay. The Tomates estuary is one of the most important refugees for wildlife in the Bay area and is now a protected area. Less than a 1/2 mile past the turn off to Las Juntas and before the bridge over the Ameca River is the exit on the left from the coastal Highway 200 to Boca. This spot is favored by beach lovers, surfers, boogie boarders and windsurfers as well as turtles and crocodiles. Seven or eight palapa covered restaurants serving seafood completes the picture of another local tropical paradise-getaway.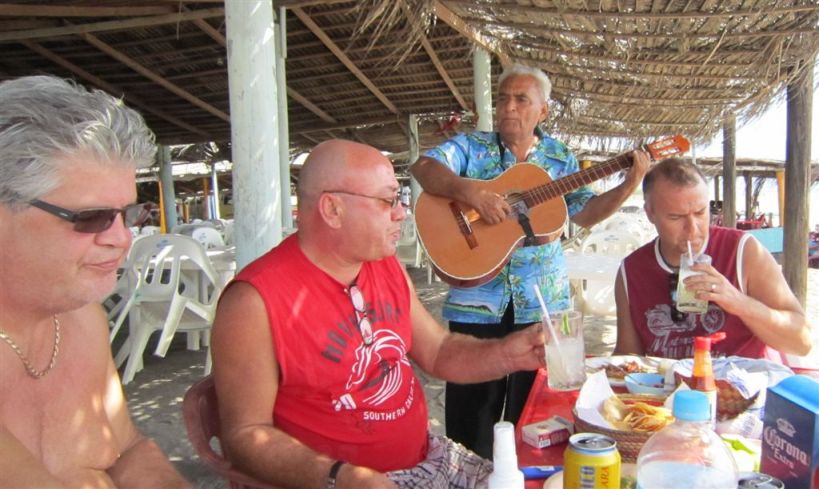 Destiladeras Beach - There are a good number of miles of wide sandy beaches and coves interspersed with rocky outcroppings north from Nuevo Vallarta to Punta de Mita in Nayarit state at the north-west end of Banderas Bay (Flags Bay). Approximately 5 miles north of Bucerias is Playa Destiladeras, with its stretches of white sands, palapa-thatched restaurants, and a great beach that gives some good waves/swells for boogie boarders or surfing (two to five feet) near the north end of the at what is called Punta Burros/Punta Veneros. Quite swimmable as there's a very gradual drop off in the water, so it's perfect for sun tanning and then a dip in the ocean. Located about 55 minutes north of Vallarta's Romantic Zone and a favorite for families and some of my friends, this one being more secluded than most and it's perhaps a mile long or so.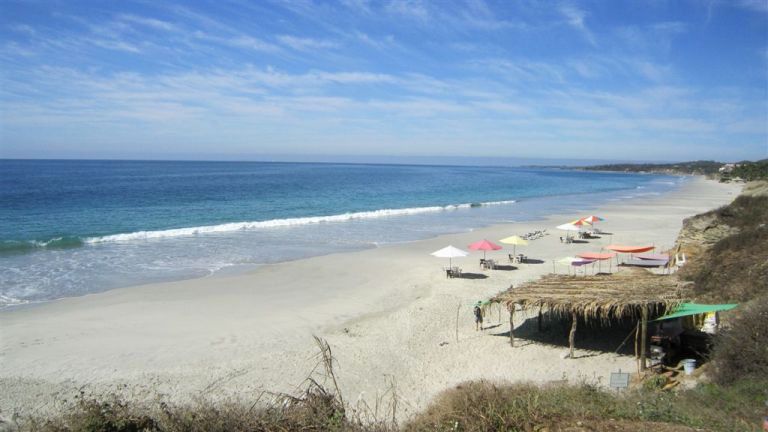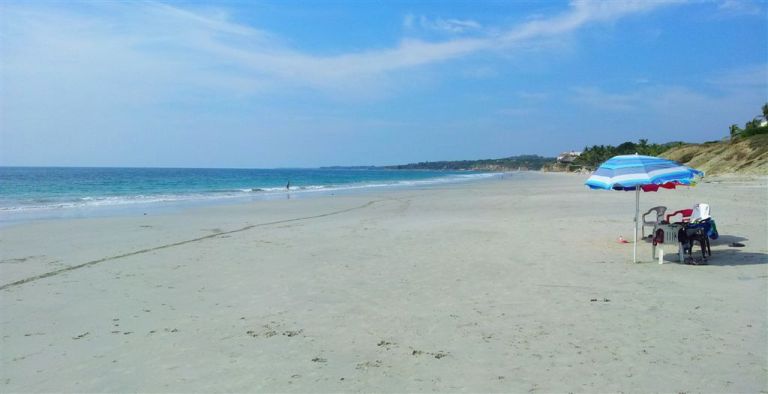 Looking north along Destiladeras beach in Nayarit just north of Bucerias and La Cruz - December 2012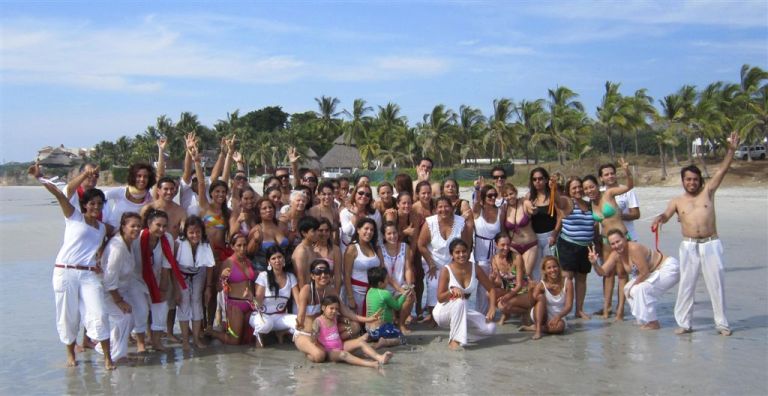 Some happy campers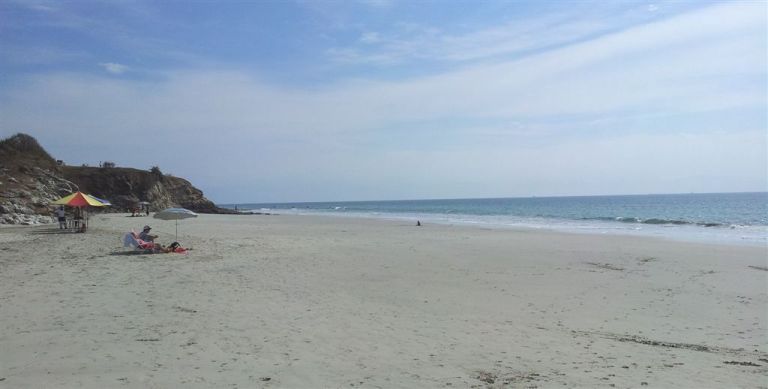 Puerto Vallarta would be visible in the far distance but it is obscured by the haze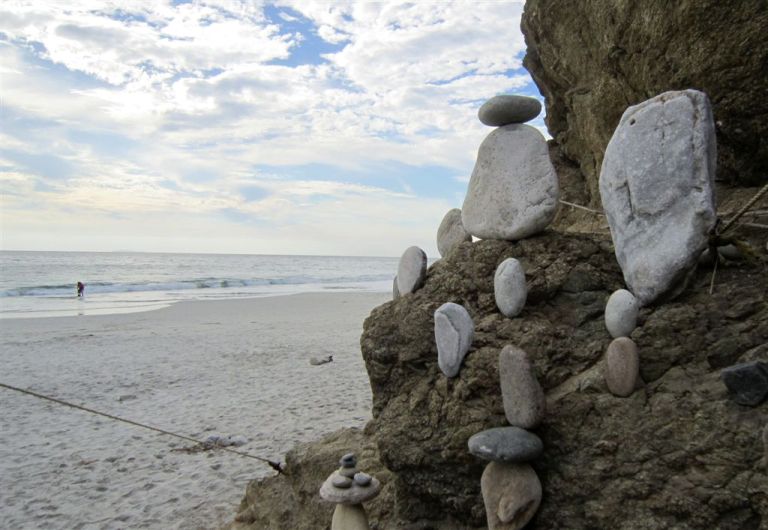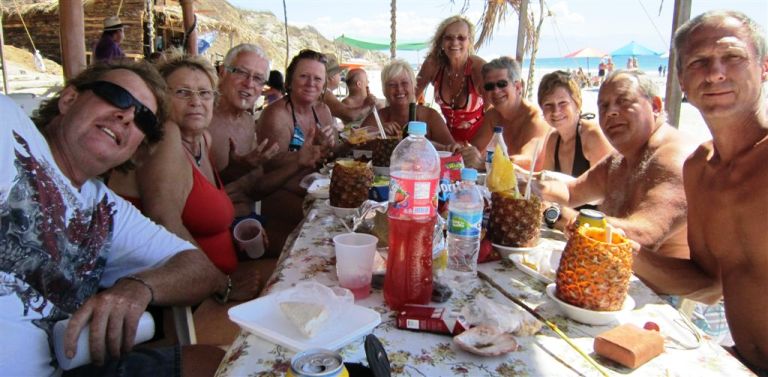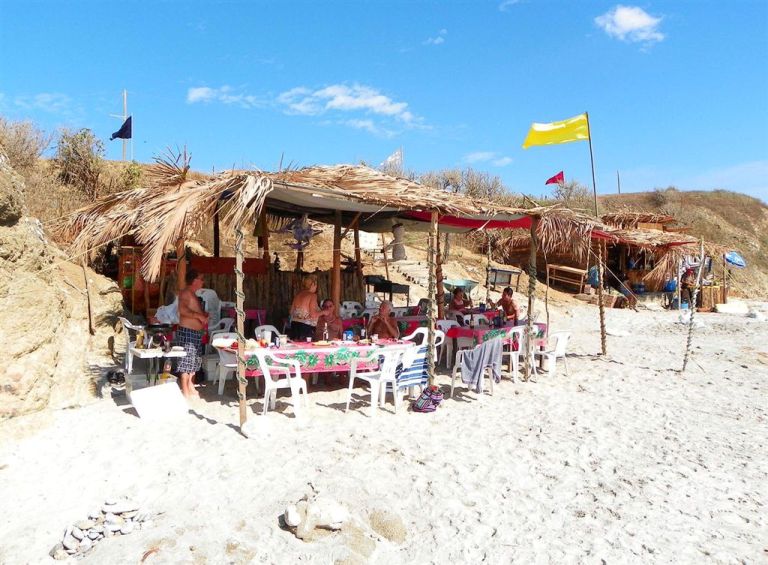 January 2012 in rather secluded and quiet Destiladeras beach with Benoit and friends
---
top of page | vacation rentals PM | beach condos PB | Gay Puerto Vallarta travel
Email contact