Gay Puerto Vallarta Travel and Rental Guide
- Getaways & Out of Town Excursions
Accommodations
Vallarta Condos
Vallarta Villas

Gay Travel Guide
Art Galleries
Cafes
Calendar of Events
Community Groups
Contact Info
Gay Bars & Clubs
Gay Beach
Gay Cruise & Tours
Gay Links, etc.
Law and Custom
Lesbian Vallarta
Malecon
Map
More Activities
More Beaches
More Beach Photos
Quick Tourist Tips
Restaurants
Services
Shopping
Straight Clubs & Bars
Tourist Info
Vallarta Annual Events
Vallarta Gay Pride
Vallarta Photos

Getaways
If you want to get away, there are cruises and tours that will take you out of Puerto Vallarta, some of which are listed above in Activities. Here below are a few of the lovely places you can visit to further enjoy your stay in Vallarta and the Banderas Bay area. For further info and photos on the beaches of Banderas Bay go to this page or for more Activities


Mismaloya
It was here in the village of Mismaloya, approximately 10 miles south of Vallarta, that the movie "The Night of the Iguana" was filmed by John Huston in 1963. A part of the original set is still in existence, and if one knows the movie, walking onto the set can be an experience. Nearby is a restaurant named in its honor, with good food and views of the bay. The small beach at Mismaloya has several restaurants and there are boats for rent for a trip to the rock formations at Los Arcos. The movie Predator was also filmed in Mismaloya in the 1980s. Horses are available for jungle rides, and a trip up the Mismaloya River to the restaurant Chino's Paradise is popular.

Paco's Paradise
Closed several years ago, alas.

Quimixto
A small village on the south bay past Mismaloya, accessible only by boat. Many of the day cruises drop anchor here for several hours so that their passengers can horseback ride up to the popular waterfall in the mountains. Several palapa roofed restaurants line the cove in Quimixto. If you want a quiet and still undeveloped area for relaxing and taking in some of the natural beauty of the Bay, try this getaway for an afternoon. You can get to any of the south bay villages by water taxi from the small village of Boca de Tomatlan. Or hire your own boat in Boca or in the nearby village of Mismaloya, and then you can take a spin to some secluded beach or village!

Majahuitas
Majahuitas (photo left) is a secluded, picturesque cove surrounded by verdant hills between Quimixto and Yelapa. A quaint beach resort hotel and restaurant can provide accommodations and food. The small beach is one of the loveliest in the south bay and the area is excellent for swimming and snorkeling. Majahuitas is well-known among local scuba divers for its underwater canyon just outside the cove.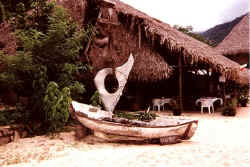 Yelapa
Yelapa is the most remote fishing village on the South Shore of the bay, also accessible only by boat. It is popular because of its beauty and the slow pace of life, and is known as something of an artist retreat and hippie hangout. Several day cruises stop there for a few hours and like Quimixto there is a river and popular waterfall. Yelapa is very laid back and has real charm, with palapas and seafood restaurants on the beach and small bungalows and houses that dot the jungle hillsides. There are few telephones and no cars. Electricity has recently made its way to this small village, which used to go dark around 10pm after everyone turned off their generators. One of the restaurants becomes something of a night spot/disco in the evening. Lodging is still reasonably priced. There are water taxis from Puerto Vallarta and the village of Mismaloya which go to Yelapa that run in the morning and afternoon. Here's the general schedule, but you should double check these times before making your final plans: Leaving at the Los Muertos pier to Yelepa: 10am, 11am, 11:30am, 12:30pm, 4pm and 5:30pm; leaving Yelapa to return to Vallarta's Los Muetos pier: 7:30am, 8:30am, 9am, 10:30am, 3pm, 3:30pm and 4:30pm.
Bucerias
Bucerias is a village of several thousand people located about 15 miles north of Puerto Vallarta in the state of Nayarit. Bucerias is more relaxed than Vallarta and has a small expatriate community. Many pleasant accommodations with moderate prices are on or near the water and the town has the longest stretch of beach on Banderas Bay. Now popular with many Canadian tourists because of its more economic prices for food and lodging, Bucerias' architecture is noted for cupolas (domes), and there are hundreds of them on buildings throughout the town. Open air palapa roofed restaurants serve fresh seafood and the uncrowded beaches have gentle surf. Joann Quickstad and Patricia Mendez (photo right), who lived in Vallarta for many years, now reside in Bucerias and manage Casa Tranquila with one bedroom apartments. Joann practices massage with Swedish, reflexology and aromatherapy. Tel: (329)-298-1767
Sayulita
Twenty miles or so beyond Bucerias, but on the Pacific coast, is a favorite gringo getaway, the small picturesque village of Sayulita with its two thousand inhabitants. Surfers like it because the cove there gives good waves pretty much the whole year (the best waves are Nov-Apr), and it is the favorite surf spot in the Banderas Bay area. Several of Mexico's finest (and handsomest) surfers live and surf here; long board and short board are both popular. There are pleasant beach front restaurants, including the upscale Don Pedro's and the popular Capitan Pablo's, as well as bungalows, villas, guest houses and camp grounds. The dusty streets of the town all converge on the small town square, which has several restaurants, an ice cream shop and grocery store, a coffee shop, the church and town billiard hall, a row of houses and a bar or two facing it. This is the look of hundreds of small villages in Mexico. As Janelle Brown reported in the NY Times in 2003, the town still "retains its traditional lifestyle: residents buy fish off the beach, chicken from the woman in the square, and everything else (mops, strainers, plastic chairs) from the trucks that occasionally drive around town." The town is being rather rapidly developed, alas. The Sayulita beach is long and lovely and is one of my favorite getaways. Go to this page for more Sayulita photos.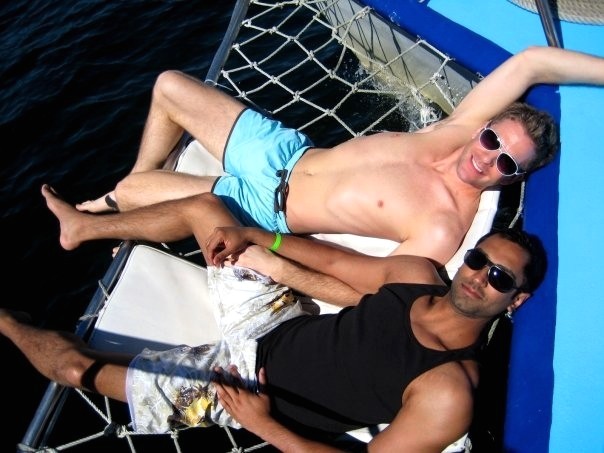 Tropical gay vacation getaways with Diana's tour around Banderas Bay
stopping at Los Arcos for snorkeling, Las Animas beach for lunch
---